We debated, dear readers, whether the 25th anniversary was Volume 25, Issue Number 1 when we put the "25" on the cover, or Volume 26, Issue Number 1 when we finished our 25th year of publishing and started on year 26. In the spirit of most anniversary celebrations, we finished the 25th year and marked this as our 25th anniversary issue.
It's been my honor to helm SAR as its Editor-in-Chief and Technical Editor from its first issue. SAR is a small, yet influential magazine. Our readers are real firearms enthusiasts, historians, scientists, end users, and manufacturers. It's an eclectic worldwide group we serve. With the addition of Small Arms Defense Journal 13 years ago, we were able to expand our pallet of articles to better serve the international military community.
In many ways, this has been a family endeavor; Debbie, my wife, runs the companies and provides guidance. Our daughter, Megan, is the publisher overseeing Chipotle Publishing, which publishes all our magazines, and also service as the director of operations of Phoenix Defence. And my son, Kyle, runs the shipping and fulfillment department, as well as writing articles focusing on guns in cinema.
Over the years, we've had a lot of talented people helping us bring this magazine to you, all of whom we remember and thank for their contributions. It's always been our hope the articles we publish help to preserve the knowledge of the small arms community, and our online archive is an immense help in this mission.
The future is bright, we hope to continue bringing you SAR and SADJ for many years to come, and thanks for being with us!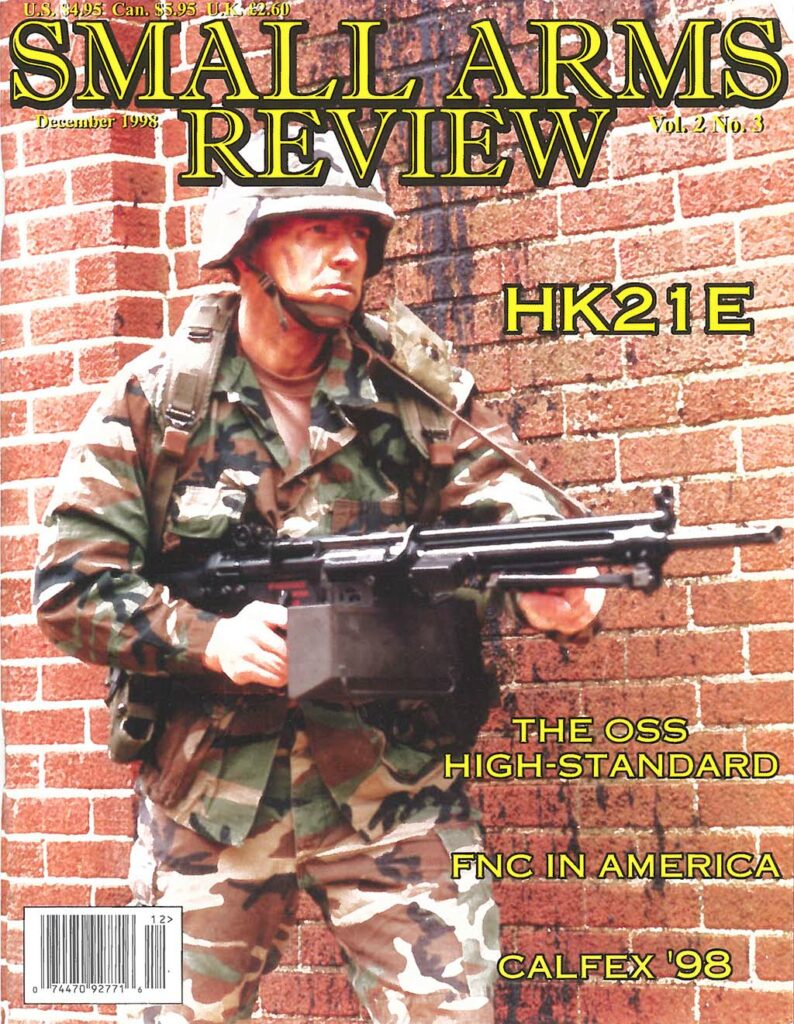 SAR Volume 2, Number 3. This cover is of the late Jim Schatz dressed up and testing his favorite HK21E 7.62×51 belt-fed machine gun. Jim was still with Heckler & Koch in this photograph.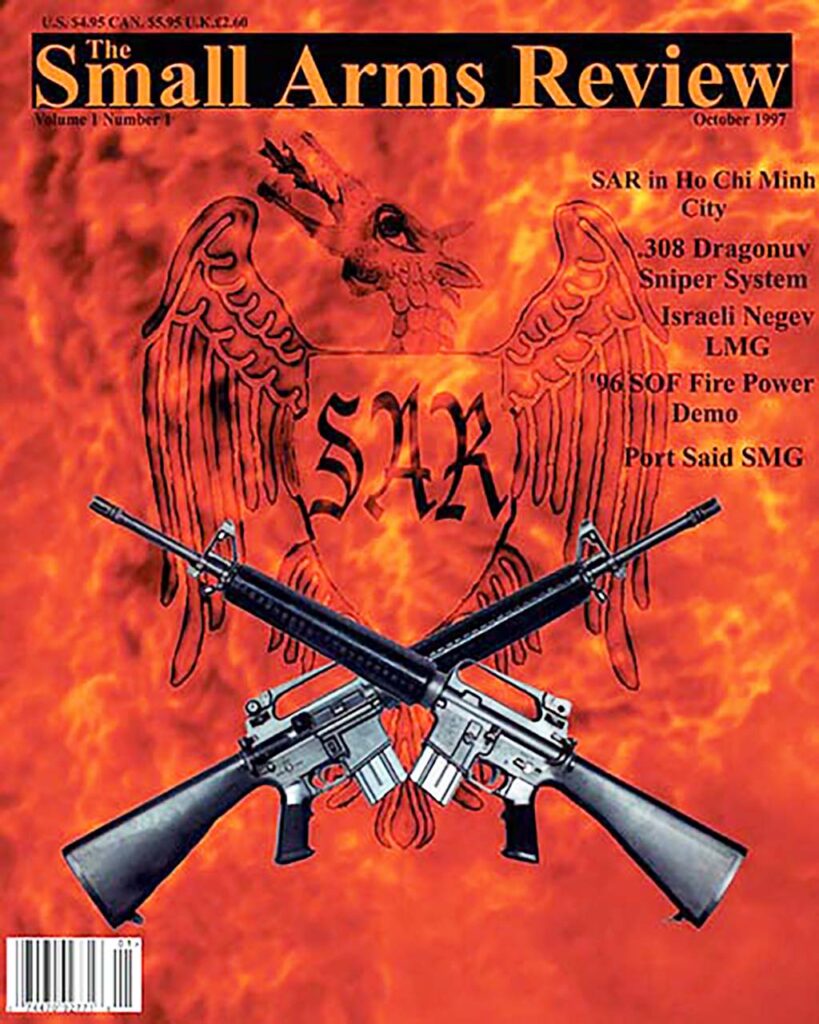 They've asked me to reminisce a bit about some of our older, weirder covers, so, here goes … Small Arms Review Volume 1, Number 1. We launched with a wing and a prayer. I went to a shoot, got a downrange of a flamethrower and took the pic for the cover. We put a stylized Phoenix on it, as well, and our symbol of the crossed M16A2 rifles.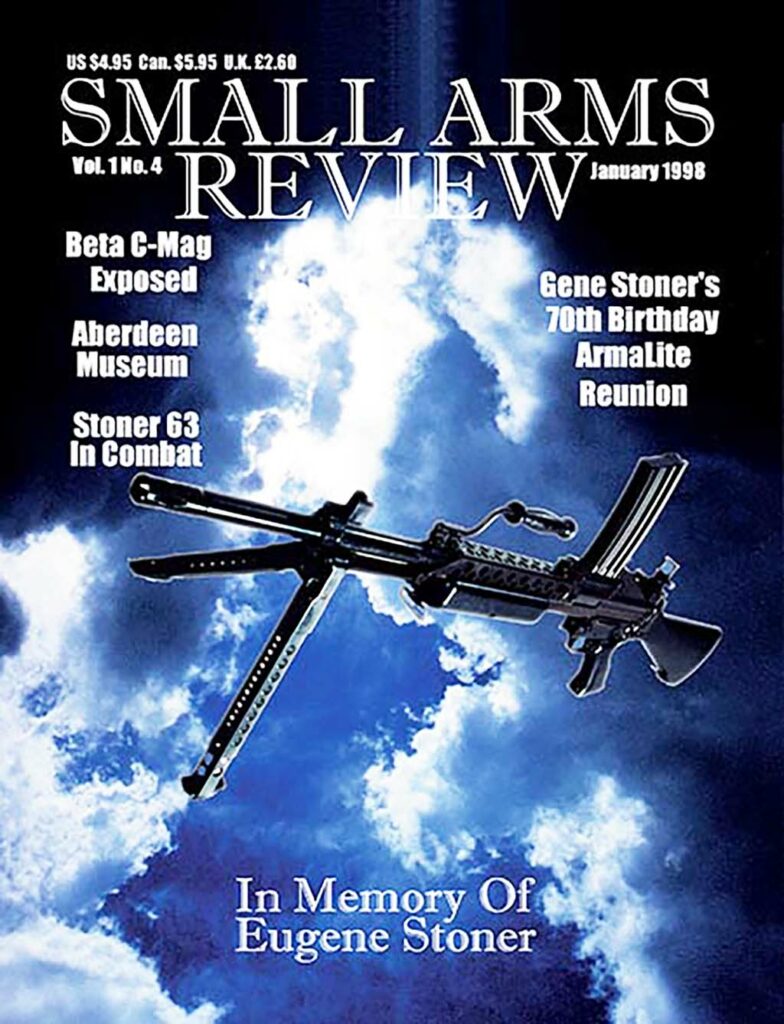 SAR Volume 1, Number 4. The cover photo is an odd one, I took this picture over Vero Beach when Eugene Stoner died, and we put a Stoner 63A Bren configuration on it, heading up to the heavens.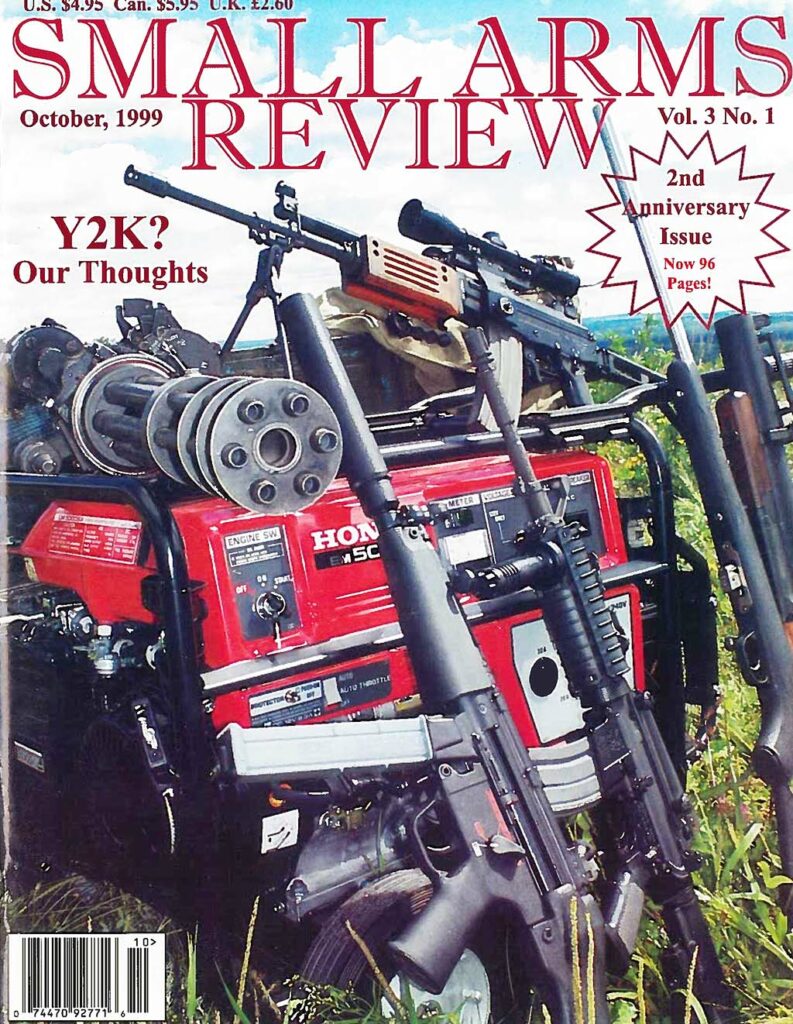 SAR Volume 3, Number 1. Y2K? Y2 Worry? This was our answer to the year 2000 "Y2K" computer calendar panic- a nice Honda generator, one of my M134 miniguns, a scoped Galil ARM, an MP5-10mm, an M4, a suppressed .22-cali-ber rifle, and an M79 40mm grenade launcher. This is looking over the fields from our Maine hilltop farm.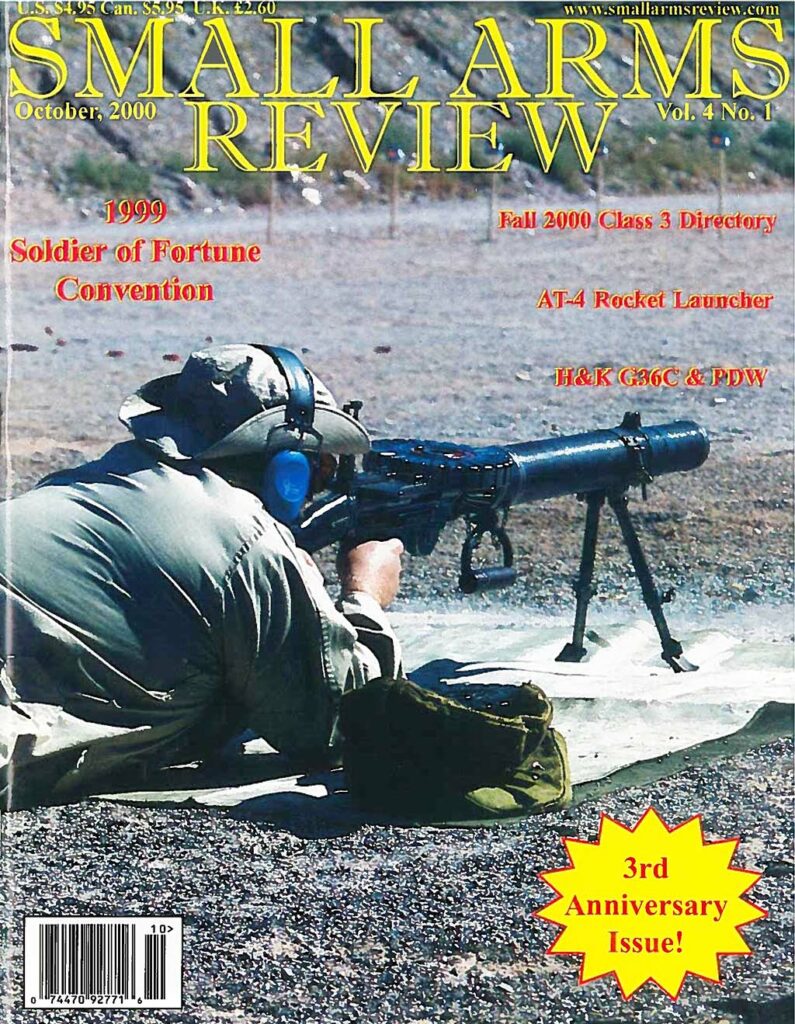 SAR Volume 4, Number 1. At the old Soldier of Fortune convention, I was a regular on the firing line. Kent Lomont and I refused to wear uniforms of any kind, making Pete Kokalis go into conniption fits. I was on the line in around 1994 in my desert kit, and then again here, and Robert Young Pelton took video of me in uniform with the 1914 Lewis machine gun and labeled me as a mercenary in his TV show. Thanks a lot, Pelton.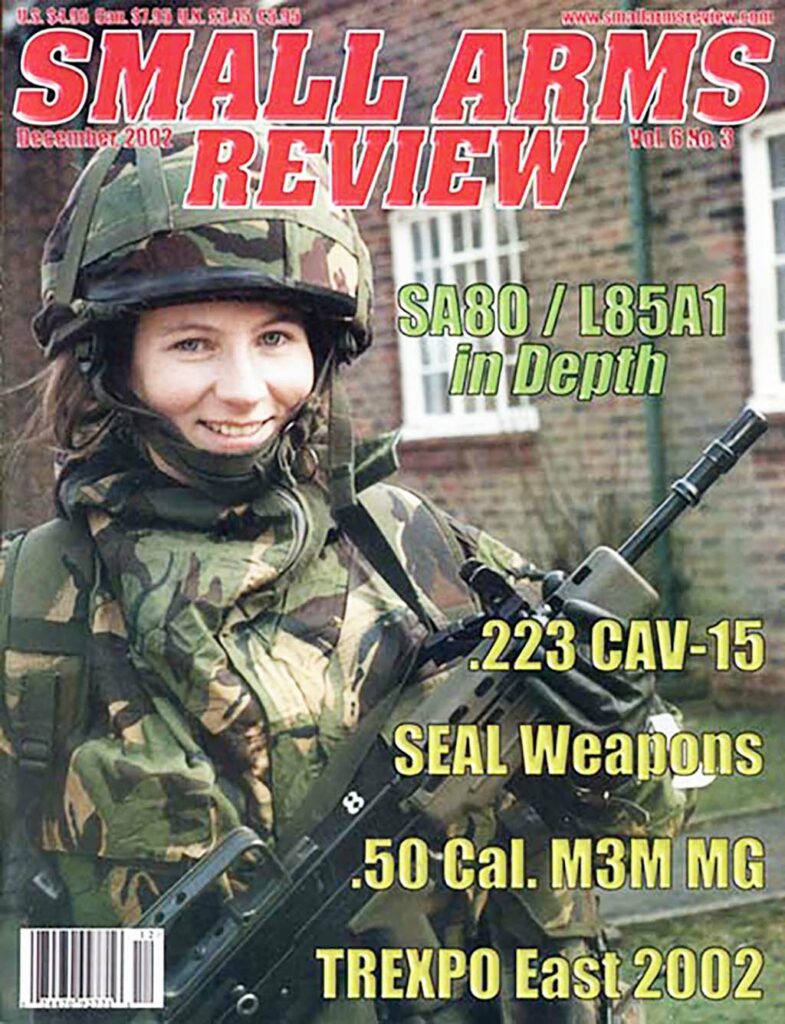 SAR Volume 6, Number 3. Probably the most in-depth look at the British SA80/L85 bullpup service rifle ever published. We covered every aspect of the original and its upgrades, in clear photography.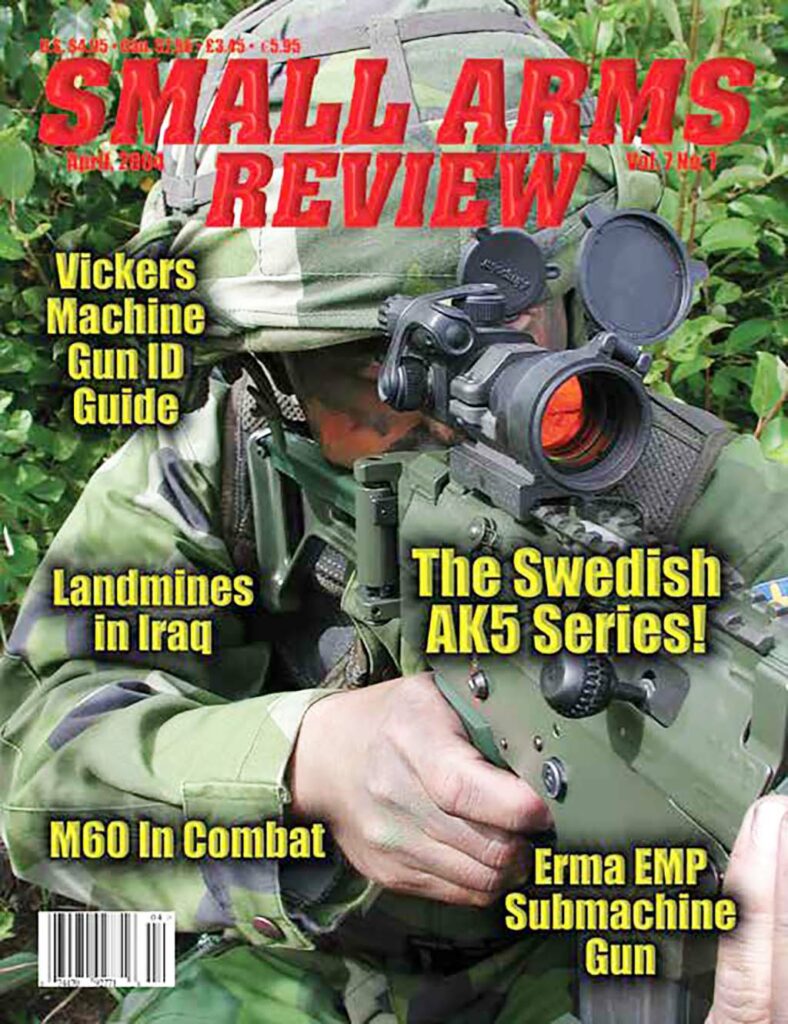 SAR Volume 7, Number 7. One of our more famous issues –and the cover is pretty special. I was in Sweden working with Nammo and SAAB on items for various government agencies. At the time, there was a lot of interest among collectors in the Swedish AK5. I spent some time in Bosnia, among other places where the weapon was in use, so I decided to do a feature on this famous FNC variant.
The cover photo was taken near Möckeln Lake in Karlskoga, Sweden. Mart Pella, a Swed-ish soldier I'd met in Bosnia was now working in international sales for Nammo. Volunteer-ing for a photo session, he got into his old uniform, camo'd up, and we took the picture that would become the cover of this issue. Not only was he hiding in the only bush on the shore, but the picture was so dynamic that the Chinese reprinted the whole issue of SAR without permission in Chinese characters and handed out tens of thousands of copies. I was in Beijing, attending a military trade show, and saw this cover everywhere. I sought out the booth where they were giving away the bootlegged magazine and showed them my name in the masthead. The booth attendee ran and got their boss, who told me how honored she was to meet me. I tried to explain the concept of intellectual property rights to her, but she was so friendly that I just gave up.
We had a timely article on Iraqi land mines that was helpful to deployed troops in Iraq. Pete Kokalis went on one of his "I hate the M60" rants and Doc Ed Weitzman gave us a thorough parts comparison of British and U.S. Vickers machine guns. All in all, a thoroughly interesting issue!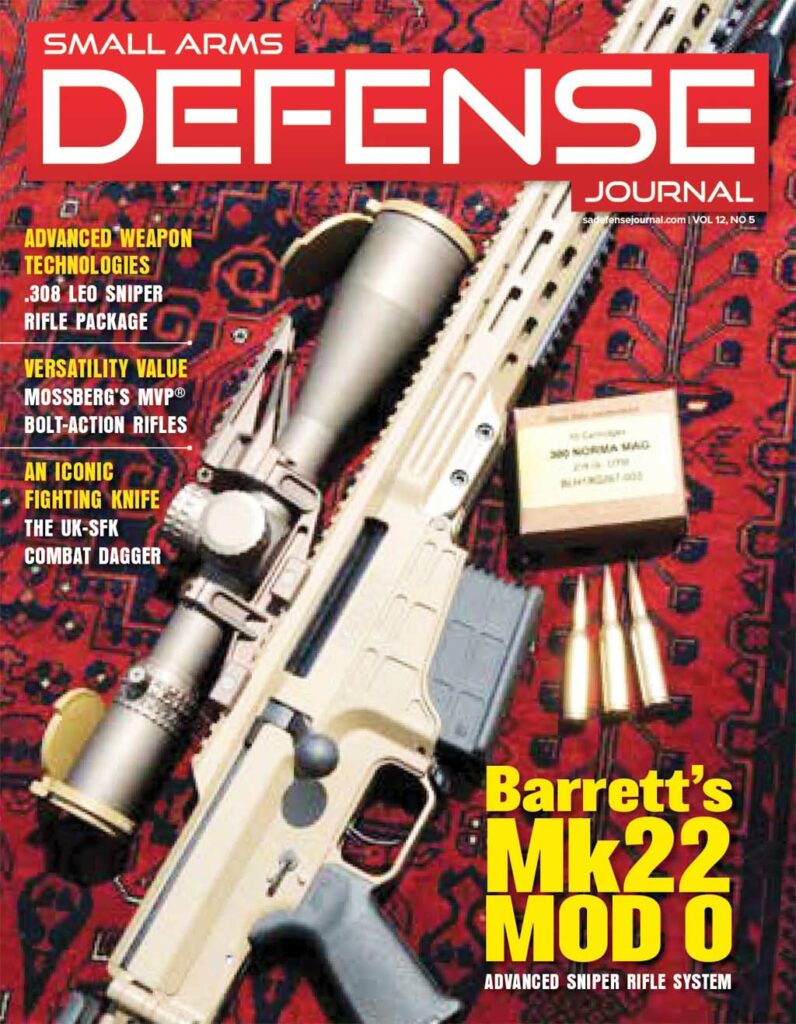 Small Arms Defense Journal Volume 12, Number 5. On the cover is a Khal Mohammadi rug from Kunduz, in northern Afghanistan. Khal Mohammad created this style when he lived in Afghanistan and it's very popular. So, I took this from my collection and placed SOCOM's newly adopted Mk22 Mod 0 ASR on it. Barrett asked me to test their rifle, so we put it through its paces for a 21-page feature. The multicaliber MK22 Mod 0 system runs in 7.62x51mm, .300 Norma Magnum, and .338 Norma Magnum. It's probably the best long-range sniper rifle I've tested in the last 45 years. SOCOM and Barrett get accolades for this accomplishment!
This article first appeared in Small Arms Review V26N1 (January 2022)