by Tom Davis, Jr.
The year 1939 was a time of change at the Auto-Ordnance Corporation. The Thompson family was no longer involved with the Company; Wall Street Financier J. Russell Maguire was now in control. Mr. Maguire invested a lot of his own money to take charge of a practically defunct company whose only assets were, "…in January 1939 approximately 4500 guns remained unsold." (Blish v. Thompson Automatic Arms Corporation, 64 A.2nd 581). But Mr. Maguire saw the clouds of war developing over Europe and believed General Thompson's nearly twenty year old "Trench Broom" would be one of many answers to face the ever growing German war machine. As the deal for Auto-Ordnance was being finalized in the summer of 1939, the United States government unexpectedly purchased 951 Thompson guns and spare parts for $435,418.63. Mr. Maguire must have been all smiles knowing he had a large order in-hand on the first day of his presidency. But this one order would not sustain the company for long. There were many more guns to sell.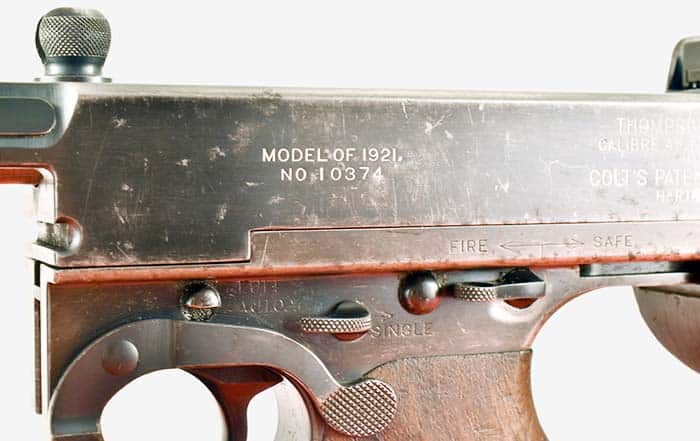 France was one of many soon to be targets of Germany. The French government had to act fast to secure arms for a near certain invasion. Unfortunately, the production of military arms around the world had progressed at a snail's pace after World War I – except in Germany. The French Purchasing Commission wasted little time engaging in negotiations with Mr. Maguire's corporate attorney, Eugene Daniel Powers, for the purchase of thousands of Thompson guns. A deal was soon consummated and the French government purchased 3000 of the long ago Colt manufactured Thompson guns.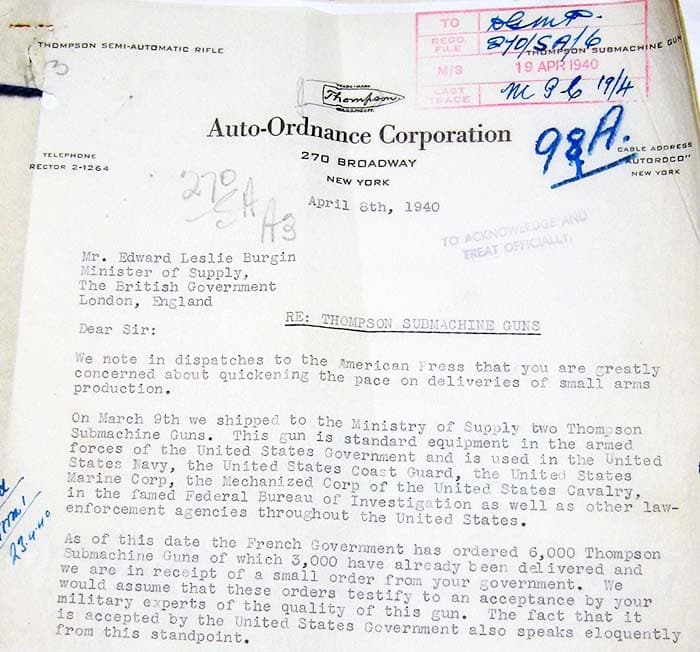 There has been much misinformation about the French November 1939 order of Thompson guns. The number sold has been stated as 2000, 3000 and 3750 from several different sources. An April 8th 1940 letter from Russell Maguire to the British Minister of Supply resolved this mystery once and for all. Mr. Maguire stated that the French government had ordered 6,000 Thompson guns, "…of which 3000 have already been delivered." Since the initial delivery of 201 Thompson guns by Savage Arms did not roll out of the factory until later in April 1940, there is no doubt the 3000 delivered guns referenced in Maguire's letter were of Colt's manufacture. Of note, 180 of these first Savage made 201 Thompson guns were shipped to the British. What's not in doubt is the purchase by the French government of 3000 Thompson guns represented the largest sale in Auto-Ordnance history to date.
The number of surviving Thompsons from this very large order of Colt guns is extremely small. As was the customary business practice during the World War II, there were no serial number lists of the guns sold. Like the Thompson guns purchased by the British Ministry of Supply (MoS) under the cash and carry program, 10 guns to a crate was most likely the method of shipment; 10 crates, 100 guns; 300 crates, 3000 guns. The known serial numbers of most documented French Colt's appear to be in the higher serial number ranges – 9,000 and above.
Of course with everything Thompson, exceptions do exist. It is also believed the great majority of the 3000 guns sold were in the original Model of 1921 with no compensator configuration.
Colt Model of 1921 Thompson guns were not equipped with sling swivels when delivered to Auto-Ordnance Corporation by Colt's, nor when sold to the French. The French military solved this problem by modifying the Thompson guns in a manner that made identification of the French Colt's much easier in the years to come. It has been reported many times over the years that rotating Berthier sling swivels were fitted to the vertical fore grips and butt stocks. A close examination of eleven known French Colt's revealed this is only half true. Non-rotating sling swivels that appear to be from French Lebel rifles were installed on the butt stocks of 10 of the 11 examined French Colt's, including NO 10374. Only one exception (NO 12551) has been found to date. Further research continues.

Of the 3000 Colt's purchased by the French government, only 23 have been identified from various sources to date. Known serial numbers include: 5771, 8207, 8540, 9259, 9283, 9639 (frame only), 9873 (frame only), 10171, 10374, 10384, 10592, 10623, 10697, 10709, 11659, 11733, 11848, 11944, 12290, 12551, 12592, 12784, 12799. Approximately one-half of these have not been personally observed so be aware of possible discrepancies. It is believed more French Colt's will surface in the future and undergo the deactivation process in Europe. How many is the unanswered question?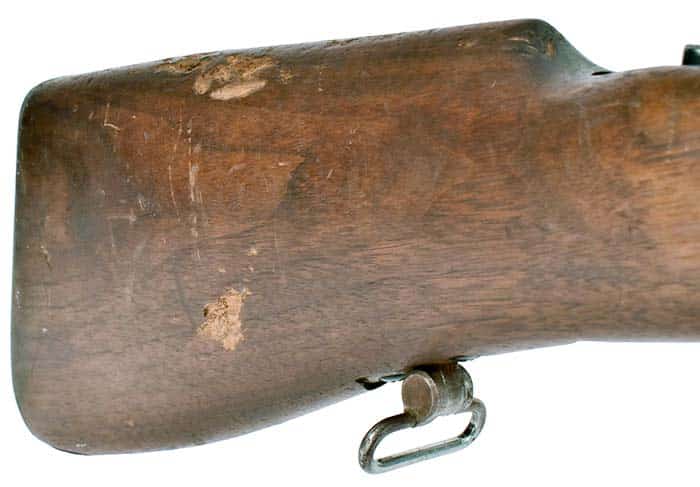 Robert Watson, Jr., enlisted in the U.S. Army in December 1942. He attained the rank of Corporal before being commissioned as a Second Lieutenant in September 1944 with duties in Mess Supply and Transportation. Lt. Watson was stationed in Landstul, Germany shortly after World War II ended and placed in charge of the Motor Pool. He was promoted to First Lieutenant in March 1946. Like many American soldiers, Lt. Watson was an avid gun aficionado. Germany in 1945 was awash with weapons, many just for the taking. Watson is known to have collected 6 or 7 pistols along with at least two rifles while stationed in Germany. He also acquired Thompson submachine gun NO 10374, the focus of this story. Watson was very careful to follow all the necessary Army rules and regulations in sending his gun collection to the USA. He completed and filed with the Internal Revenue Service on June 28, 1948 a Form 6, APPLICATION FOR IMPORTATION OF FIREARMS, to legally import and register NO 10374. The Form 6 was approved on August 31, 1948. NO 10374 is listed as a "Thompson Submachine Gun (Not Stamped U.S. Government property)" and described as a "…souvenir of the late war." Watson was promoted to Captain in October 1953. He transferred to the Reserves in 1969 and retired from the U.S. Army with the rank of Major in 1984.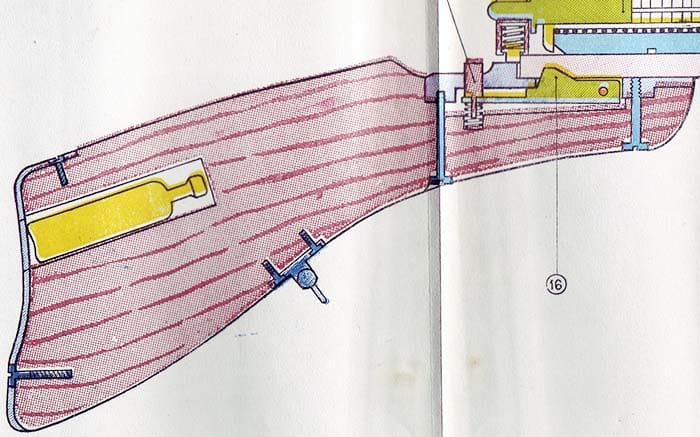 Members of the Watson family knew about the Thompson submachine gun, but it was never displayed or brought out at any family gatherings or get-togethers. Watson's son, Robert III, was told his father mounted the Thompson gun on a motorcycle and supposedly rode around his farm shooting rabbits. Watson's involvement with family functions greatly diminished after his first wife passed away and he remarried. Watson passed away in 1992. Shortly thereafter, his second wife called his son, Robert III, and told him all Watson's guns were going in the trash if he did not come immediately and remove the guns from the house. Robert III wasted no time in retrieving all his father's firearms, including NO 10374.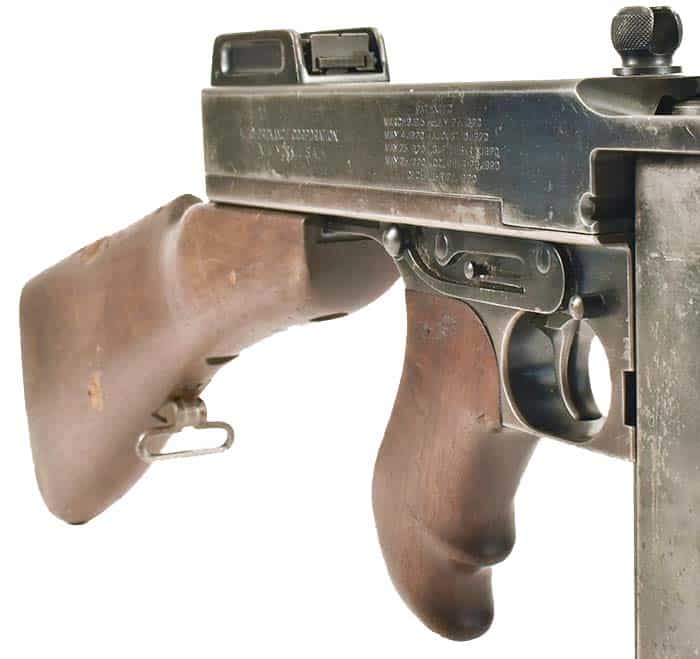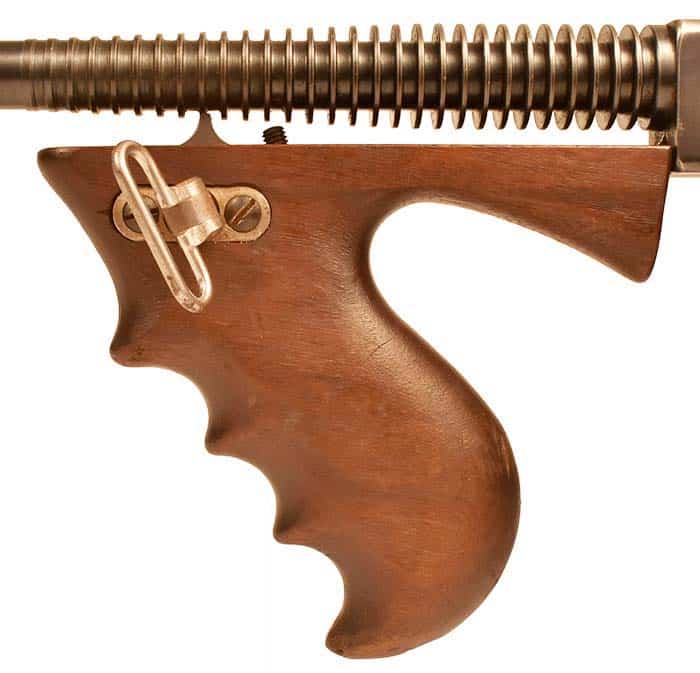 Thompson submachine gun and war souvenir NO 10374 is now part of the Watson family trust. The family did not know about the French pedigree until joining the Thompson forum on MachineGunBoards.com. They used to shoot NO 10374 on occasion until learning original Colt 1921 actuators are fragile – and expensive. Future shooting plans involve a GI 1928 actuator and buffer pilot!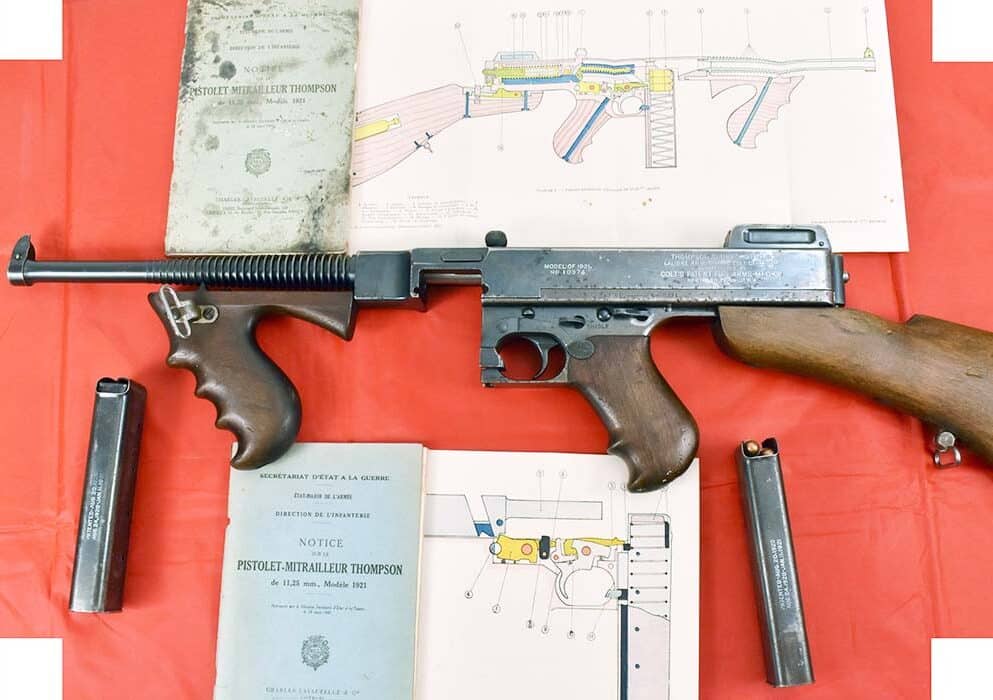 A special thank you to Mr. Pierre Blaise for helping with the research on the French Colt's sling swivels. His knowledge of the French Colt's was invaluable. Tom Davis, Jr. is known to readers of Small Arms Review magazine for his stories about the Thompson submachine gun. He has written three books about the Thompson gun. The story about the French Colt is one of many stories featured in his latest book, A Thompson Compendium. All of Tom's books are available at Amazon.com.
This article first appeared in Small Arms Review V25N9 (November 2021)