EvoLite with Aimpoint T1 affixed proved good combination in moving fluidly to engage targets.
By Todd Burgreen

Adams Arms has sought to engineer a complete solution to the deficits they felt are found in the direct impingement AR family of rifles and carbines. Adams Arms was an early innovator in the piston AR surge; even offering piston retro fit kits for direct impingement ARs. The principle improvement offered by the Adams Arms gas piston system comes from eliminating the venting of hot, carbon-laden gases into the receiver and bolt carrier group. This reduces the cleaning requirements associated with direct gas-impingement ARs. It also means the bolt carrier group and associated springs are not subjected to the searing heat of the tapped gasses; this being one of the major causes of small parts failure. Other attention to detail components further round out the Adams Arms EvoLite rifle evaluated in this article such as Mil-Spec forged 7075-T6 upper and lower receivers Type III hard coat anodized with beveled magwell, M4 feed ramps, 1913 Picatinny rail flat top with dry lube internal finish and laser engraved T-markings. An Ark Defense adjustable buttstock, trigger, Ergo pistol grip, and Samson Evolution free float light weight modular rail system with two 2-inch rail sections flesh out the EvoLite.

The Adams Arms EvoLite focuses on providing an accurate well handling light weight piston driven AR that is controllable during rapid shot strings while maintaining reliability. This is accomplished through design intent, fit/finish, sights, trigger, and barrel. Adams Arms starts with their Ultra Lite Voodoo 14.5 inch 1:7 barrel. This 4150 CMV (Chrome Moly Vanadium) is precision honed with special attention paid to the gas vent hole. A VDI Jet Comp is permanently affixed to the 14.5 inch barrel allowing it to be considered a rifle versus an NFA short barrel rifle (SBR). Adams Arms then incorporates their patented mid rifle length inverted adjustable gas piston system. The longer dwell time offered by mid length piston allows for a smaller gas port minimizing the amount of energy being applied to the piston to cycle a round. All these things add up to a soft recoil pulse as touted by Adams Arms.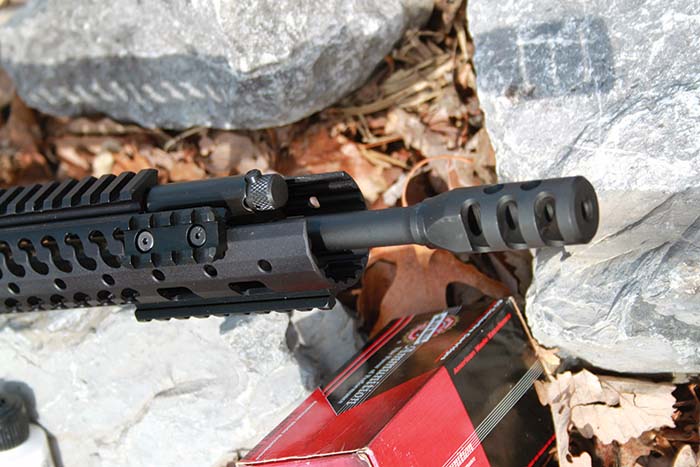 Adam Arms' ARs have from the beginning addressed reducing carrier tilt, cam pin wear and carrier bounce. Proponents of piston-driven ARs point to greater reliability in adverse conditions and less reliance on routine maintenance compared to the direct impingement operating method. At the heart of the short stroke gas operating system is an operating rod, three-position gas block and forward venting gas plug that retains the piston. The piston can be accessed through the front of the gas block without removing the handguard so optical sights or laser devices do not need to be zeroed after routine maintenance. Adam Arms' piston system uses a port on the barrel to tap gas to operate their inverted gas piston. The tapped gas is directed into a drive rod sleeve. The gas is harnessed inside the drive rod sleeve and pushes the bolt carrier rearward via an operating rod using the gas pressure to cycle the action. Total forward and rearward movement of the piston is approximately 1/2 inch. Once the action is cycled the remaining gases are pushed out of the front of the gas block, purging and cleaning the system while keeping the gases out of the face of the user and the receiver. The Adams Arms gas piston components and gas block are Melonite treated and the bolt carrier is ion bonded for increased parts endurance. All of the parts that operate the rifle come with a lifetime warranty. The Adams Arms gas block has three settings – normal, suppressed, and closed/single shot. With this said, the pinned flash Jet Comp on the EvoLite limits options in terms of adapting over to a suppressor. Other Adams Arms rifle models take full advantage of the suppressor capability. The Adams Arms EvoLite weighs less than 7 pounds and measures 32 inches stock fully collapsed and 35.25 inches extended.

It was crucial to verify functioning reliability with the Adams Arms EvoLite. A variety of 5.56mm and .223 Rem rated ammunition was tested from Black Hills, Federal, Hornady and Winchester. No reliability issues were encountered. Accuracy test protocol consisted of three 5-shot groups with each ammunition type. Velocity figures ranged from 2,600 fps to 2,800 fps over a RCBS chronograph from the 14.5 inch barrel. For this evaluation, a Meopta Meostar R2 1-6x was mounted on the EvoLite to assist in determining the rifle's intrinsic accuracy. The EvoLite kept all loads tested at 2 inches or better at 100 yards included the Federal XM193 55gr FMJ and Winchester 55gr FMJ. This accuracy level will justify too many leaving a magnified optic such as Meopta MeoStar R2 1-6x scope. This scope selection is certainly not that common or well known to many shooters.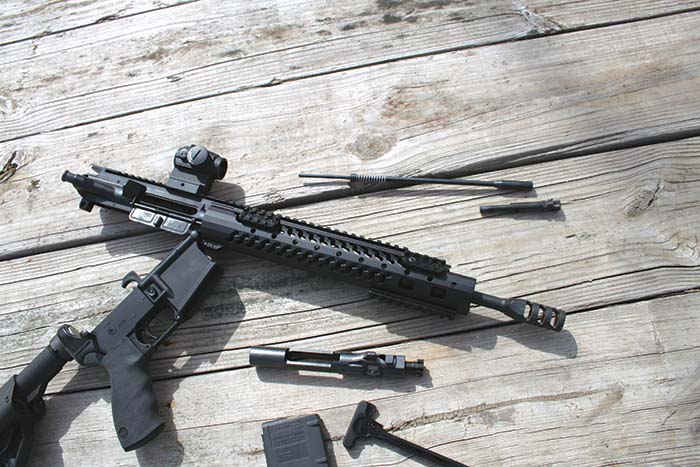 Most have no idea what they are missing in terms of rifle scope optics offered by Meopta. Many in our community hold strongly to preconceived notions regarding rifle scope optics. There are times when one must get past these comfortable set beliefs to truly appreciate what another product may offer. Granted, we all deal with budget pressures either as individuals or as a work entity. This does not change performance ratings; only what we are willing to pay for to best get the job done. Meopta optics may be beyond reach either for reasons of economics, more pressing equipment needs, or upon reflection, a lack of understanding of what Meopta offers in terms of capabilities. Meopta is a leading European and American optics manufacturer that has been in existence since 1933. Meopta produces one of the most diversified high performing line-ups of rifle scopes on the market. The new 30mm MeoStar R2 1-6×24 RD is not only the first in the R2 line, but also Meopta's first riflescope with a 6x zoom ratio. The true 1x magnification, wide field of view, edge-to-edge clarity and illuminated reticle options allow for extremely fast and accurate target acquisition. The versatile Meopta R2 is also excellent for close quarter situations on an AR platform and much longer shots depending on the caliber being used and the shooter's proficiency.

Another optic choice for the EvoLite, and one that would be considered more "standard" in comparison to the Meopta R2, would be the Aimpoint T1 red dot sight. The T1 is superior in facilitating engaging targets at close distances with the red dot easy to pick up rapidly. The Aimpoint T1 red dot sight offers the capability to engage multiple targets in rapid sequence compared to open sights, while at same time providing adequate accuracy out to a couple hundred yards. This is due to the red dot superimposing an aim point on the target while not totally obscuring the target due to the dot not being that large. As many "maturing" shooters can attest to the single focus plane with the red dot is easier to shoot accurately than coordinating front and rear sights.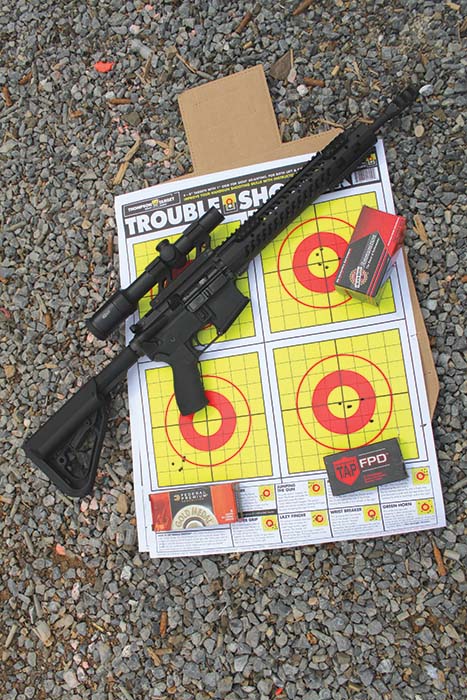 The T1 weighs 4 ounces including the quick detach mount used. The Aimpoint T1 is one of the most durable red dots available and features the longest lasting battery on the market and it has an adjustable intensity 4 MOA dot. Aimpoint uses a special coating that only reflects the red dot's specific frequency of light allowing almost 100% of all other radiation straight through, which provides superior clarity for both daylight use and if night vision devices are employed. The Aimpoint T1 has 12 intensity settings – 4 night and 8 daylight.

A US Palm (US Primary Armament Logistical Manufacturing) Agile Combat System (ACS) chest rig/plate carrier with High Speed Gear "Taco" pouches affixed was used in evaluating the Adams Arms EvoLite. US Palm is a company helping equip our military, law enforcement, and private security contractors (PSC) as well as not forgetting/ignoring civilians. The ACS plate carrier evolved out of US Palm's Desert Tracker and Ronin plate carriers and ingeniously allows for the combining of several different US Palm products to create the ACS that best suits individual needs. The ACS evaluated for this article joined the US Palm Hardened Back Pack (HBP) with Desert Tracker Plate Carrier (DTPC) via the U.S. Palm Enhanced Harness System (EHS) "horse collar" shoulder straps. The HBP pack is a small assault pack with a dedicated internal pocket designed to hold ballistic armor, while maintaining utility as a pack. The HBP also accommodates a hydration bladder. A multitude of MOLLE panels allows you to adapt the HBP to any mission need. The HBP is made from 1000d Cordura and measures approximately 18 inch x 14 inch x 6 inch adding up to a listed 1,800 cubic inches of storage. The front plate carrier panel can be configured any way a user wants thanks to its own MOLLE panels with magazine pouches or other gear selection. This is how the HSG "Taco" pouches were incorporated. The HSG magazine "Taco" pouch allows for multiple types of magazines to be utilized without having to switch out – a very convenient feature.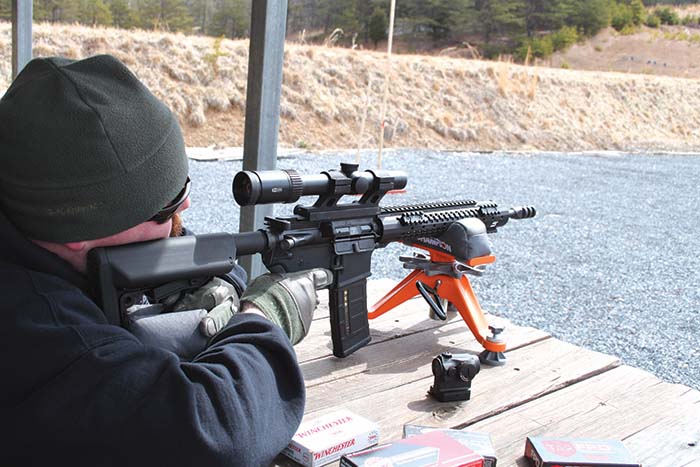 Both the HBP pack and front carrier can be fitted with either hard or soft armor depending on user preference and mission profile. US Palm developed the ACS around rapid "plug-and-play" mission driven adaptation. As stated by US Palm, "Things change, and you're trained to adapt – your gear should too." This is what drove the R&D for the ACS. The ACS's modularity allows mission specific US Palm components to be combined along with choosing a level of ballistic protection that always has an impact on weight. If you are riding or flying to contact or patrolling, it has an effect on how you load out. The increased protection associated with Level III and Level IV armor comes at the expense of weight and greater rigidity in armor construct. Even in the best condition this increased weight affects operator performance and efficiency; the degradation in performance is further enhanced if the individual does not utilize a properly designed armor and plate carrier system.

Initial impression of the EvoLite was favorable based on handling and feel from the box. There is a reason why the M4 profile AR is preferred by our troops who get a voice in the matter. What is not to like with a lightweight, compact, reliable, well handling rifle? While the EvoLite's standard trigger was serviceable with a pull weight over 6 pounds, it was decided to take advantage of an opportunity presented by installing a Tactical Fire Control Tac-Con 3MR Trigger. Much of the buzz surrounding the Tac-Con 3MR Trigger System is its three modes/positions of operation. The modes are Safe (selector horizontal at 9 o'clock), Match-grade Semi-Automatic (selector vertical 12 o'clock), and the Tac-Con patent pending 3rd Mode of operation (selector horizontal at 3 o'clock). The 3rd mode provides an alternate type of positive reset that reduces split times between shots. The positive reset characteristic is achieved by transferring the force from the bolt carrier through the trigger assembly to assist the trigger back onto the front sear enabling split times that rival automatic rates of fire once familiarized with operation. Both semi and 3rd mode positions feature a non-adjustable 4.5 pound trigger pull weight with zero over travel. The drop in Tac-Con 3MR trigger is simple to install by anyone with rudimentary AR maintenance skills taking only a few minutes and instantly enhances shooter to rifle interface. The only nuance needed is to tilt the trigger group up while sliding under the Tac-Con provided safety lever. Tac-Con designed the 3MR not as a finicky fragile match trigger, which can be less than hardy under robust conditions, but rather as single stage 4.5 pound trigger with a short reset suitable for all conditions of use. The Tac-Con 3MR meets or exceeds military specifications for drop safety –something that "match" triggers usually can not represent as doing. All in all, the 3MR allows for multiple rounds to be sent downrange quickly/accurately and for precise longer range shot placement better than your standard trigger unit; yet retains reliability lacking from some of the other trigger units on the market.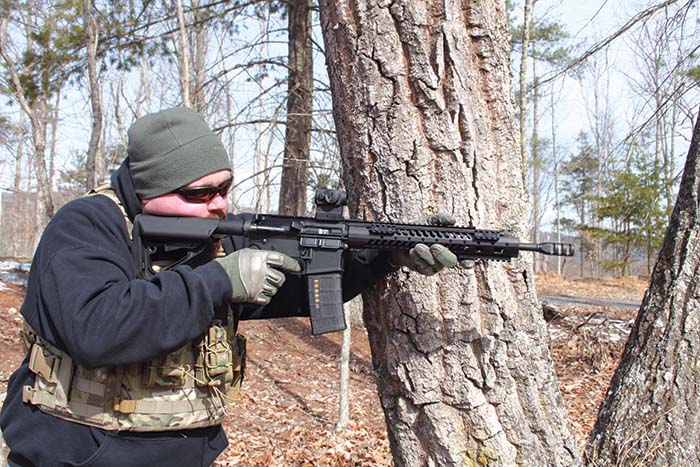 It was decided to expand normal T&E protocol by running both the Meopta R2 and Aimpoint T1 through Echo Valley Training Center's (EVTC) 360 and "Jungle Walk" ranges. Training scenarios involving team tactics along with patrolling to contact allowed the Adams Arms EvoLite to shine in terms of potent firepower and accuracy, especially when augmented with the Tac-Con 3MR trigger. No surprise with the pros and cons of the two different sights. The Aimpoint T1's red dot is not dependent on a specific eye relief distance to be effective in accurately placing rounds on target in a rapid fashion. Firing from unorthodox positions while working around range vehicles showed why the light weight EvoLite combined with the Aimpoint T1 is such an effective combination. The Meopta R2 enabled target identification and more precise fire. Close range engagement of targets is still a viable proposition with the R2; just not as seamless as the Aimpoint T1. The Meopta MeoStar R2 1-6x is a combination of a red dot optic and magnified scope. It was developed for use at short and medium distances. With a low magnification setting the illuminated dot inside the reticle can be used like a red dot sight. The Meopta MeoStar's variable magnification settings allows CQB speed at lowest power setting and enough magnification to make headshots at 200 yards or more. The illuminating unit offers eight illumination stages for the use in broad daylight no matter the background. Conversely, the T1 can place accurate fire at greater distance than anticipated for a non-magnified optic; obviously not as precise as a 1-6x scope like the Meopta R2. However, not being a prisoner to a defined eye relief distance offers a certain advantage.

While the Adams Arms EvoLite is not going to be issued to our military services or law enforcement agencies, civilians could easily consider using the rifle for multiple roles. There are an overabundance of AR style rifles vying for consumer attention. The EvoLite is worthy of consideration based on attention to detail and quality of materials used in its manufacture. The cliché of buy right the first time comes to mind with the Adams Arms EvoLite being a good example.

Sites of Interest

Adams Arms
www.adamsarms.net

Meopta U.S.A., Inc.
www.meopta.com

Tactical Fire Control, Inc.
www.tacfirecon.com

Aimpoint Inc.
www.aimpoint.com

Echo Valley Training Center
www.echovalleytrainingcenter.com
This article first appeared in Small Arms Review V19N1 (January 2015)