By Philip H. Dater, M.D.
Sitting here in relative isolation watching the snow fall, my mind drifts to pondering over two of many gifts from China, the most recent being the novel coronavirus with its social distancing. The other, a number of centuries ago, was gunpowder which permitted engaging targets at relatively great distances with the disadvantage of significantly more noise than that of the bow and arrow. A little over 100 years ago, Hiram Percy Maxim applied some of his automotive muffler concepts to firearms, thereby starting the modern firearm silencer (or, more correctly, suppressor) industry. Initially popular for backyard shooting, silencer technology and interest languished with passage of the original National Firearms Act of 1934. The imposed tax of $200 (over 7 ounces of gold) for a $7 silencer was prohibitive during the Great Depression of the 1930s.
World War II saw military development of silencers primarily for clandestine operations by the British SAS and our OSS. Weapons included the De Lisle carbine, STEN MK IIS, Welrod, OSS High Standard HDM-S Military and a number of other similar designs built experimentally for various platforms. Our involvement in Vietnam spurred development of newer, silenced weapons by small companies (such as Military Armament Corporation and Knight's Armament) for the military market. In the same time frame, a young entrepreneur with a class 2 Federal Firearms License, Jonathan Arthur Ciener, started modifying mostly Ruger .22LR weapons into silenced versions and advertising widely with small, one-inch-column ads in periodicals aimed at the sportsman, collector and shooter. These ads mostly sold his catalogs, but they did spark interest in the general public.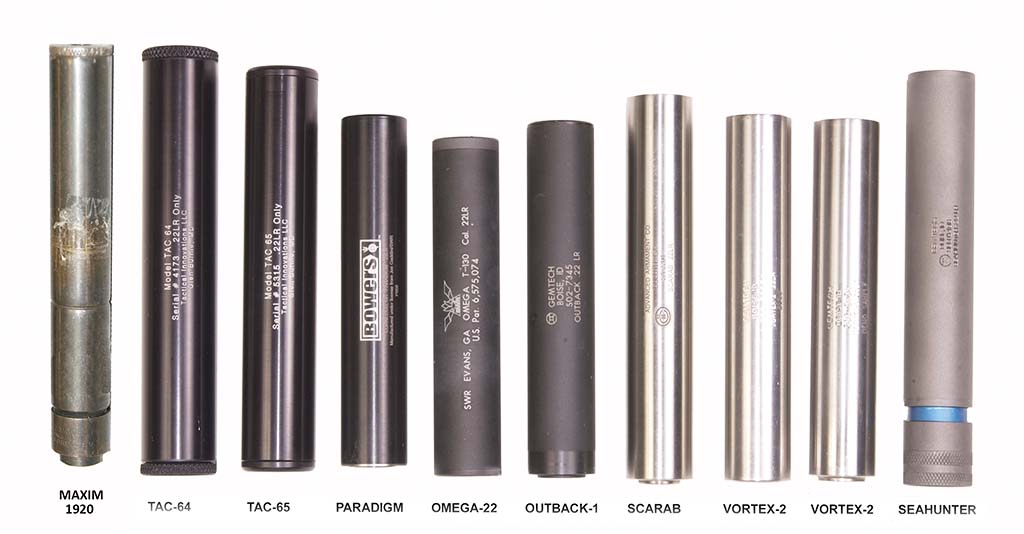 It was only a few years until the number of civilian-oriented, small manufacturers grew in size and quantity to what we have today, where silencers are pretty much mainstream. The technology has also blossomed over the past half century from dimpled washers in a piece of tube or glass-pack muffler designs to more complex machined baffles, monocores and now 3D-printed exotic designs. Each has its advantages and drawbacks. In a similar vein, user-serviceability has also run a cyclic gamut from the sealed units of Maxim's suppressor, to user-maintainable in the post-Vietnam era, back to sealed units around the start of the 21st century, and again back to user-serviceable today (especially in the dirty rimfire calibers).
Prices have increased also. Where Maxim sold his rimfire silencers for $7, today's rimfire units run in the vicinity of about $200 dollars. His $15 .30-caliber rifle silencers have morphed into today's retailing in the vicinity of $1,000. However, if one considers the price of gold that rose from $35/ounce to the vicinity of $1,800/ounce (12/1/20), the cost is comparable. The difference is that the tax has not changed since 1934, meaning that instead of the tax being 10 to 20 times the value, it is now about a tenth or fifth the value depending on caliber. And the technology, durability, performance and lifespan have increased significantly.
Today's consumers have changed also. I have been legitimately involved in the industry for nearly half a century, first as a hobbyist and later as a businessman. In days gone by, the primary concern was sound level. The designs were relatively large and often heavy. Reputation and marketing were primarily spread using word of mouth, print advertisements and reviews published in gun magazines. The design approach was often simplistic and based on WWII experience. The Department of the Army's Frankford Arsenal Report—Silencers: Principles and Evaluations, Report R-1896 (Leonard W. Skochko and Harry A. Greveris,
August 1968) was one of the early scientific discussions of silencer technology, and a number of the discussed principles and analyses are still valid today. The report's early attempts at sound level measurement seriously missed the mark, but at least it was an attempt to quantify the degree of sound reduction. In the 1970s and for many years to follow, the standard instrument for measuring firearm sound levels was the Bruel & Kjaer (B&K) 2209 (with a ¼-inch pressure microphone) to be joined by the Larson Davis 800B in the 1980s. Both measured peak levels reasonably accurately. Today, we have the B&K Pulse system which is probably the most accurate-to-date instrument for measuring the short duration peaks of gunshots.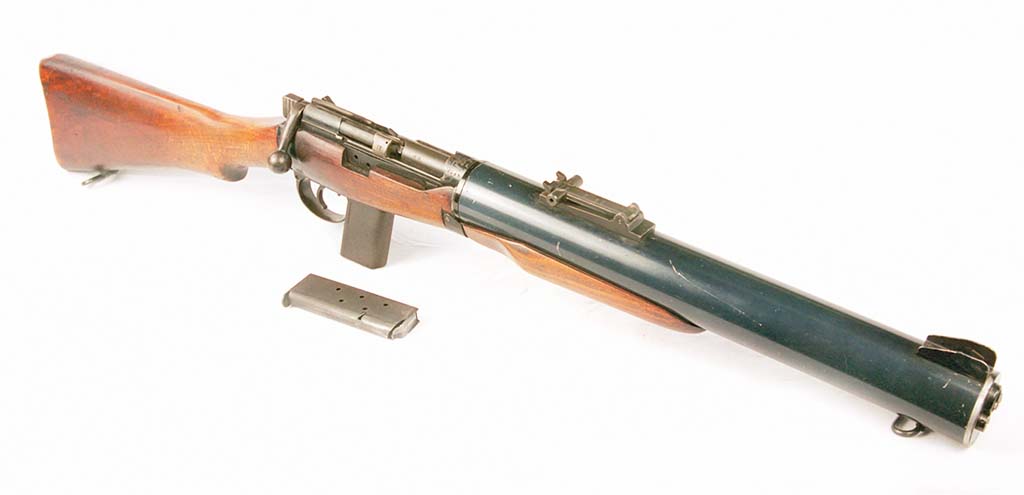 While initially the emphasis was on quieting the muzzle blast for near-silent shooting, hearing damage issues have assumed greater concern. Many of us older shooters, especially veterans, can trace significant hearing loss due to gunfire. Today's shooters often have similar hearing loss, but the main etiology has been painful rock concerts and headphones used with the Sony Walkman cassette player and subsequent MP3 music players, not firearms where they have used hearing protectors.
In my opinion, the purpose of a silencer is to decrease the sound level generated by the sudden release of high-pressure propelling gases. So doing makes shooting more fun. Sound decreases according to the inverse square law wherein the pressure drops in a linear manner with each doubling of the distance from the source. Additionally, significant sound is generated by supersonic bullets in flight, but the shock wave is not perceived by the shooter until it reflects off a downrange object. This sound also decreases by the inverse square law, and because it is a reflection, the origin of the sound cannot be determined by an observer. As a result, the ballistic crack is never a source of hearing damage to the shooter. Silencers do an admirable job in concealing the origin of the shot, and in hunting scenarios the target will either be blissfully ignorant of the danger, be simply confused or run toward the hunter.
Do I think silencers should not be regulated? Most definitely. It is a shame that the Hearing Protection Act iterations have failed, but deregulating silencers is not politically correct. Further, it would involve Congress forfeiting a tax source, albeit small.
Today's silencers are definitely smaller and lighter than the ones from 30 to 40 years ago and are usually more efficient. However, there are limits to the degree of suppression for a given size unit governed by the laws of physics. There are wide choices of manufacturers and models. The majority of promotion today relies on the internet with manufacturers' websites, digital magazine reviews and discussion forums (which are too often a source of intense misinformation). While military users weigh flash/dust signature, length and weight issues above sound concealment, in the civilian market cosmetics and cool factors seem to be the dominant driving force rather than sound. I have heard more than one silencer marketing director state that he can't sell round pieces of pipe (regardless of performance) and that new cosmetics are needed every 6 months to remain competitive—kind of like Detroit cars. Exterior-enhancing cosmetic cuts and swirls are too often necessary to sell a proven interior design. Monocores are the current rage, and while many are effective, many are marginal in sound reduction, and virtually all have a significant first-round pop. They do make service simpler (if user disassembly is desired), and they are less expensive to produce, considering parts count and today's robotic manufacturing machines.
What I have real difficulty in understanding is the love affair with so-called "micro silencers"—tiny, short silencers that don't appreciably reduce sound levels but that are expensive and command a $200 tax stamp. We have measured several for 5.56 NATO weapons that reduce the sound level by less than 10 db. In my opinion, when one wants something Hollywood-quiet and Hollywood-sized, a suppressor in .22LR is really hard to beat. Most are in the 1×5- or 1×6-inch platforms, fairly inexpensive, have a classic appearance and perform slightly better than Maxim's suppressor from a century ago. I also have difficulty in understanding the mindset behind investing several cubic dollars plus a tax stamp in a silencer just to see how many rounds it takes to destroy the unit in a machine gun. Guess I am just getting old. Beware of symbolism over substance.
The snow has stopped, and the sun came out. I think I'll bundle up, go outside in the back yard and hone my skills with my suppressed .22 pistol while shooting pigeons off my roof.
This article first appeared in Small Arms Review V25N4 (April 2021)