Compiled by Robert Bruce, SAR Military Affairs Editor
Editor's Note: Over several decades of research on small arms for his books, as well as for SMALL ARMS REVIEW and other magazines, Robert Bruce has captured many thousands of copy photos in libraries, archives, and private collections.
Some sources have included U.S. National Archives, Springfield Armory National Historical Site, U.S. Army Center for Military History, U.S. Navy Historical Center, USMC Museum, U.S. Army Ordnance Museum (at both Aberdeen and Ft. Lee), U.S. Army Quartermaster Museum, U.S. Army Infantry Museum, Library of Congress, and more.
What follows here is the first of an occasional series, this time providing a look at some representative images from his own files as well as some that are available to anyone from America's National Archives and Records Administration (NARA).
Many of us who are fascinated by the evolution of man portable weaponry aren't content to merely examine actual examples of historic firearms, ammunition, sighting devices and such. Accordingly, we become virtual time travelers, seeking contemporary documentation as well as photos, drawings and other imagery.
While enormous amounts of authoritative documentation are readily available for casual purposes in countless numbers of books from the last many decades, copyright restrictions must be strictly honored when formally publishing photos and quoting passages. (Details at copyright.gov)
Perhaps the very best source for copyright-free "public domain" info and imagery is NARA – the National Archives and Records Administration.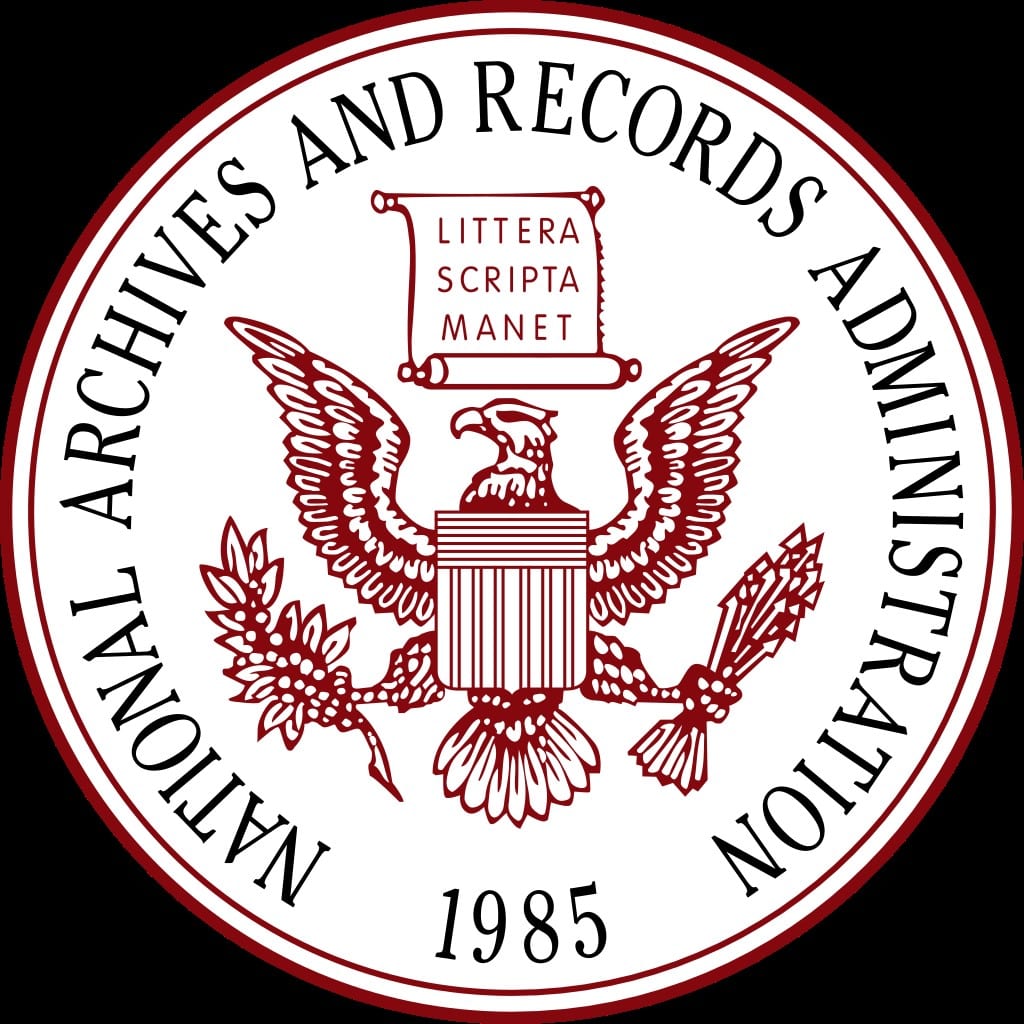 Decades ago, in a quest for imagery to accompany early efforts at providing feature articles to various magazines including Machine Gun News, predecessor to Small Arms Review, this author would venture into downtown Washington, D.C., where the ornate original building housing the National Archives was located. This arduous journey presented a number of challenges, not only in fighting the District's notoriously complicated and congested traffic, but also finding rare parking places anywhere within walking distance.
Fortunately, later forays became much easier when much of NARA's main holdings – notably including the Still Picture Branch – were relocated in 1994 to Archives II, a sprawling, sparkling new facility in nearby College Park, Maryland. Easily accessed from the Capitol Beltway with plenty of free parking right on site, it was a vast improvement in both accessibility and efficiency for researchers.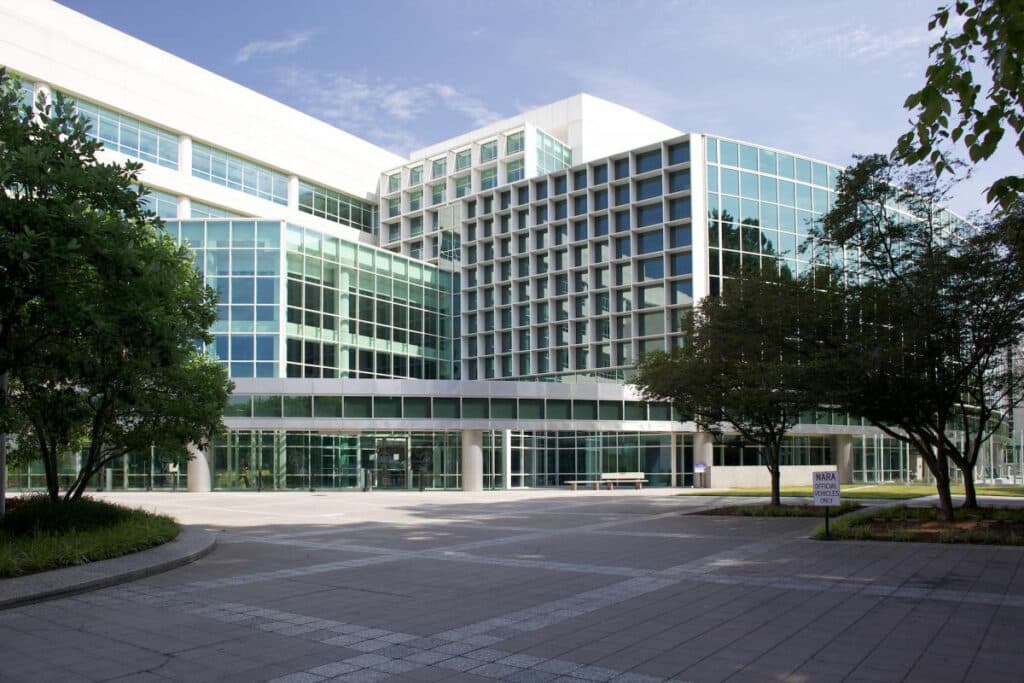 America's official repository of its government, military, and diplomatic activities since 1934, the collection has grown to include more than 30 billion items. Of greatest interest to those of us who research and write about military small arms is a wealth of information to be found among 44 million still pictures, astonishing numbers of motion pictures, 5 billion paper records, and much more.
Although a daunting task that will never be completed, work is ongoing to digitally scan these and post on the internet for anyone to freely access, view, download, and even publish.
The search for any and all begins at www.archives.gov where researchers are prompted to select specific areas of interest in "record groups including paper documents, microfilm, still pictures, motion pictures, and electronic media." 
Since the focus of this featurette is on still photos, click "Research Our Records" and scroll down to bottom left to "Online Research by Format" for "Photographs and Graphic Works." Choose "Still Picture Branch" in College Park, Maryland, review the introductory info and get off and running.
COPYING PHOTOS ON OLD-FASHIONED FILM
These first several photos that follow are representative of a thousand or more copies the author had to make on 35mm black & white negative film and sometimes on color slides. Not only were there no digital scanners available in the cramped and poorly laid out downtown D.C. research room, but we also had to bring our own copy stands, lights, and even extension cords.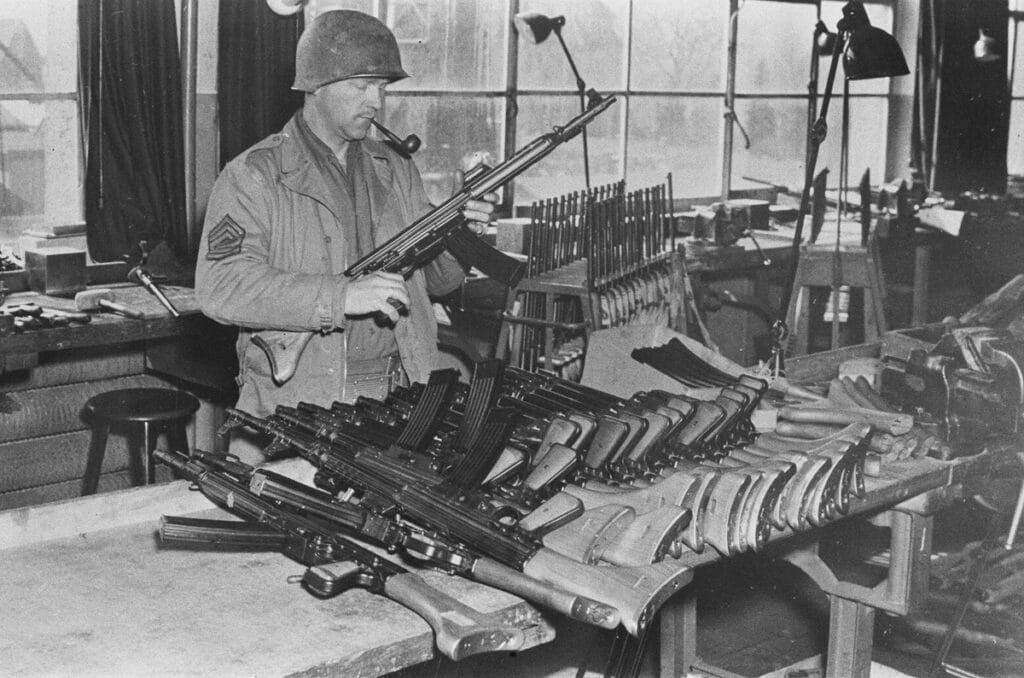 Noting the date and location in the last days of Hitler's dying Third Reich, U.S. Ordnance and Military Intelligence units were encountering previously unknown weaponry. It's understandable that Walther's 1941 prototype Maschinenkarbiner MKb 42 (W) was a new discovery since only about 200 had been made for a competition that was lost to the Haenel entry. Haenel's production model was fielded in vast numbers and best known today as the iconic Sturmgewehr ("storm rifle").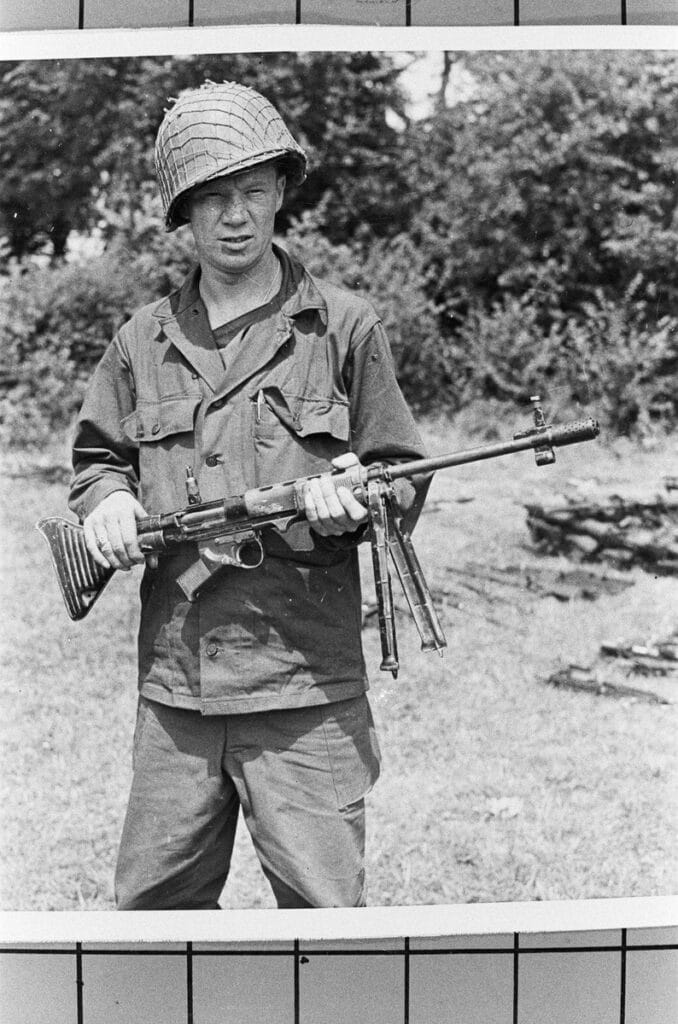 This is the first production model of the remarkable Fallschirmjager Gewehr (paratrooper rifle), initially fielded for Germany's airborne infantry early in 1943. The 9.3-pound, selective fire machine rifle fired full powered 7.92 Mauser cartridges from a side mounted 20-round box magazine. Along with the improved Type 2, only about 7000 of these impressive but expensive weapons were made, soon overshadowed by the cheaply made and much more controllable Sturmgewehr assault rifle, firing 7.92 x 33 mm Kurz (short) cartridges.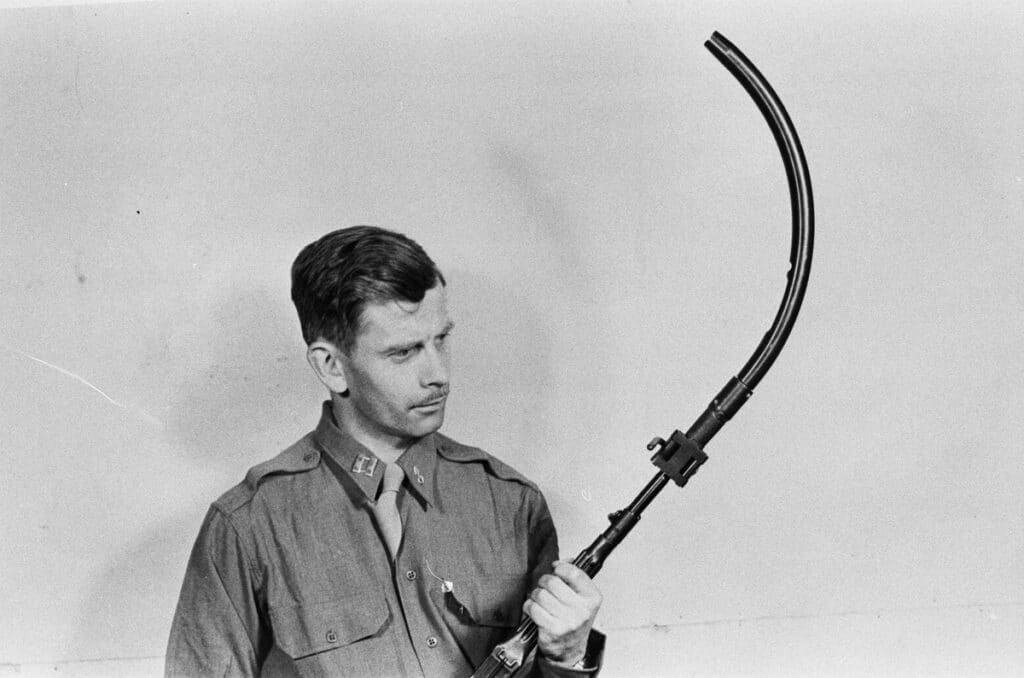 This is the 90-degree Krummerlauf (curved barrel) device, clamped to the barrel of a Sturmgewehr. Originally intended to be mounted through the top of a tank turret and fired from inside to sweep away enemy infantry, it also came in a more practical and controllable 30-degree version with prism sight for hand-held use, literally "around the corner." With his 1938 masterwork The Rifle in America, Philip Sharpe was already internationally famous as an authoritative writer on guns and ammunition, a distinction that continued to grow after the war.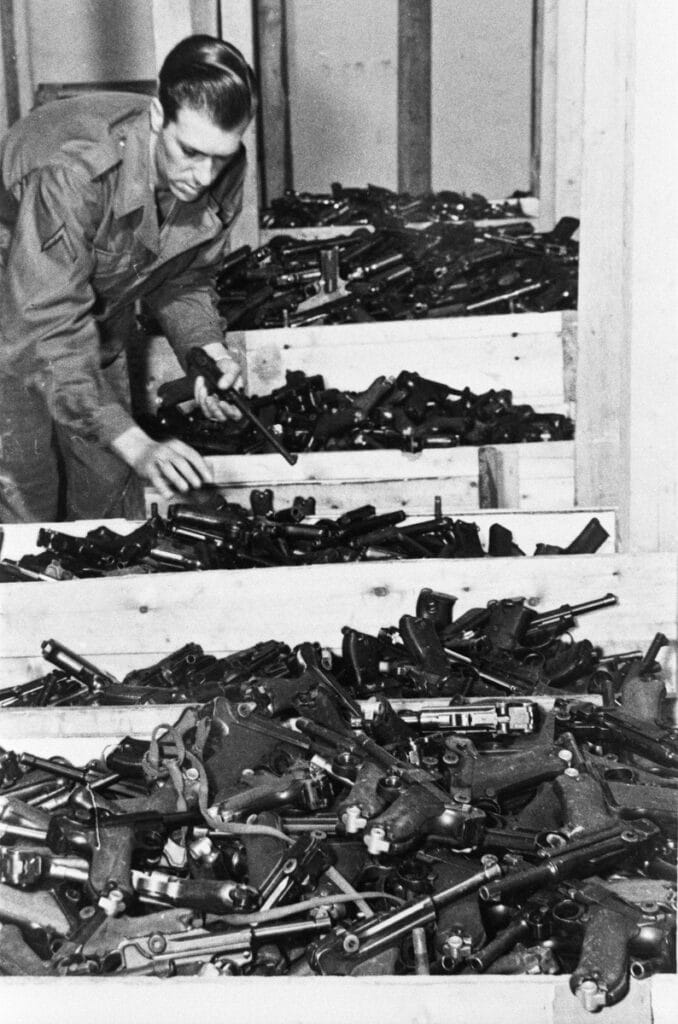 After Germany's surrender, untold numbers of all types of small arms had to be secured and inventoried. In the foreground are dozens of Pistole 08 "Lugers," a war souvenir highly coveted by American GIs.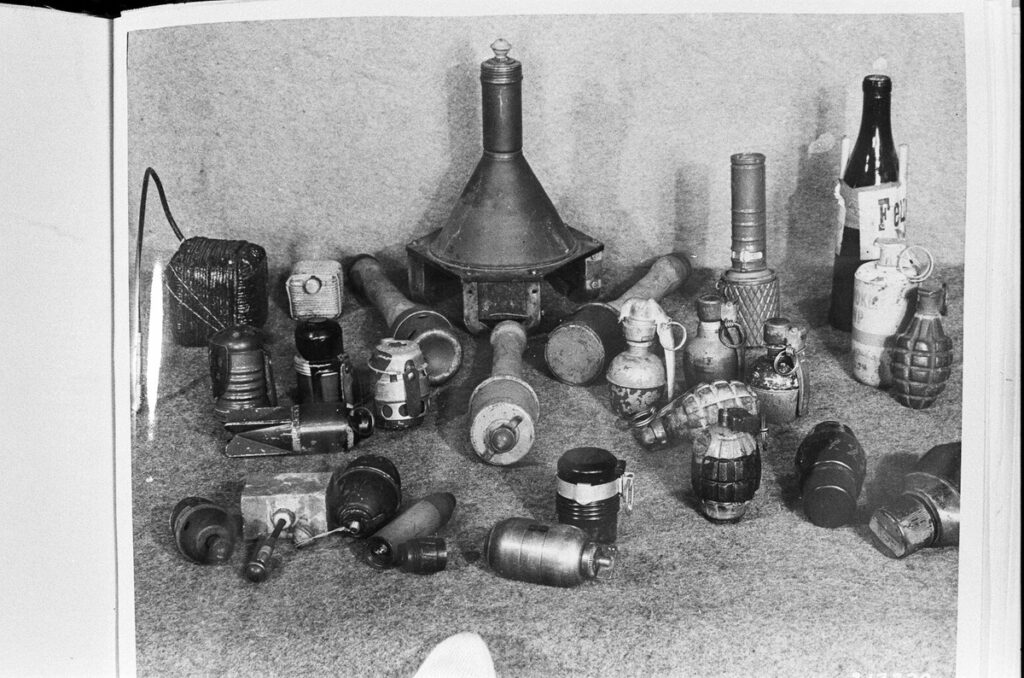 At the end of the war, Europe was awash in explosives as used by all of the combatants, presenting Allied forces with the dangerous and daunting task of identifying and clearing munitions from not only minefields and battlegrounds, but also scattered around in innumerable cities, towns and villages.
SOME FROM THE 'PICTURE PALACE' AT COLLEGE PARK
Things got a lot easier for the staff archivists, as well as for those of us doing photo hunting, when the palatial College Park facility opened. Meticulously cataloged photos were now carefully arranged and stored nearby in seemingly endless rows of racks, readily accessible for the staffers to find and deliver carts of requested items. There, in a spacious, clean and well-lit setting, we found both professional grade photocopy stands with attached soft lights, along with a kiosk for scanning and digitizing. These next couple of examples are from both digital copy cameras and scanners.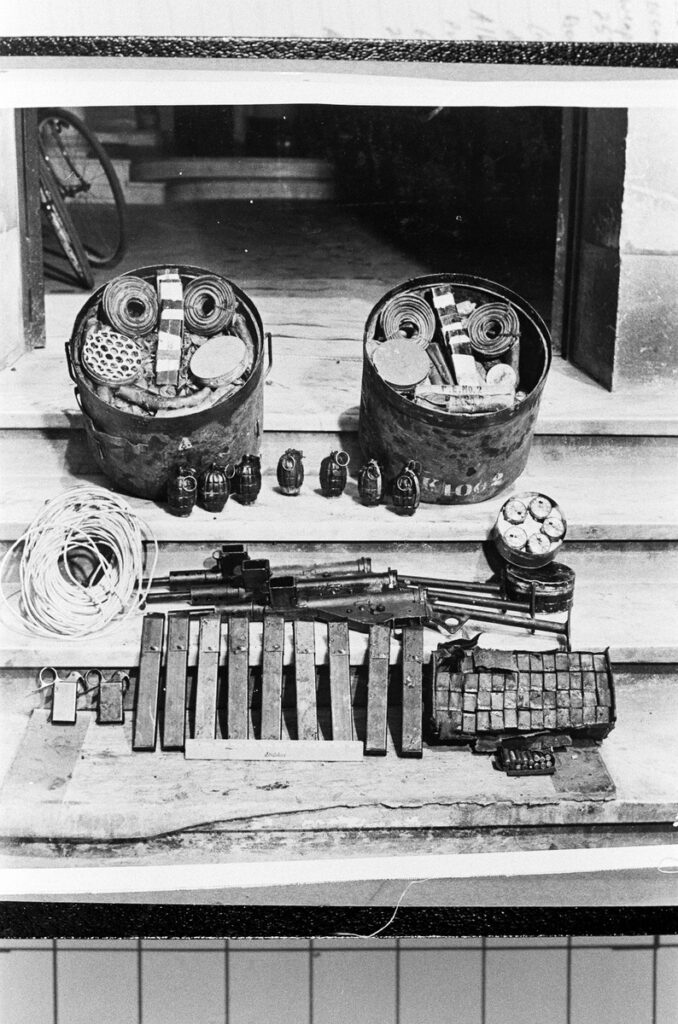 Clever fellows of the British Army's secretive SOE (Special Operations Executive) had packed these diabolically useful tools for parachute delivery in long, cylindrical CLE drop canisters containing stackable H Cell cans. Nighttime airdrops in secluded countryside locations were recovered by the Maquisards (guerrilla fighters) and Allied Jedburgh teams who would put the guns and explosives to deadly use against the hated German occupiers.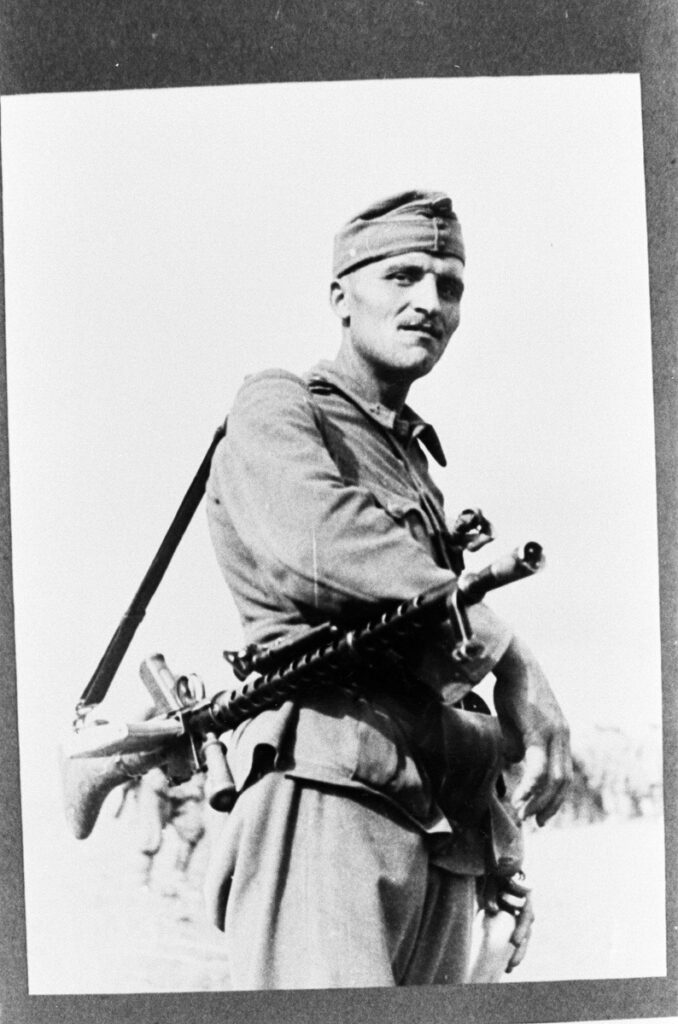 Subsequent research shows this fellow to be a Hungarian soldier armed with what is most likely a Solothurn Golyózóró 31.M. Originally built by Solothurn of Switzerland as the MG 30, some 3000 were bought by Hungary, specially chambered for their 8x56mmR M30 cartridge. Fed by a side-mounted 25-round detachable box magazine, this efficiently handy light machine gun previewed some of the characteristics later utilized in the excellent German MG34, notably including a quick change, air cooled barrel.
SEARCH AND RETRIEVE IMAGES RIGHT FROM YOUR OWN COMPUTER
As described in the introduction, we armchair photo enthusiasts of today need only crank up our computers, access the internet and begin trolling America's National Archives. We conclude here with a modest handful of examples, spanning various conflicts from the "War to End All Wars" to "Enduring Freedom." All are available to download with the click of a mouse. Happy hunting!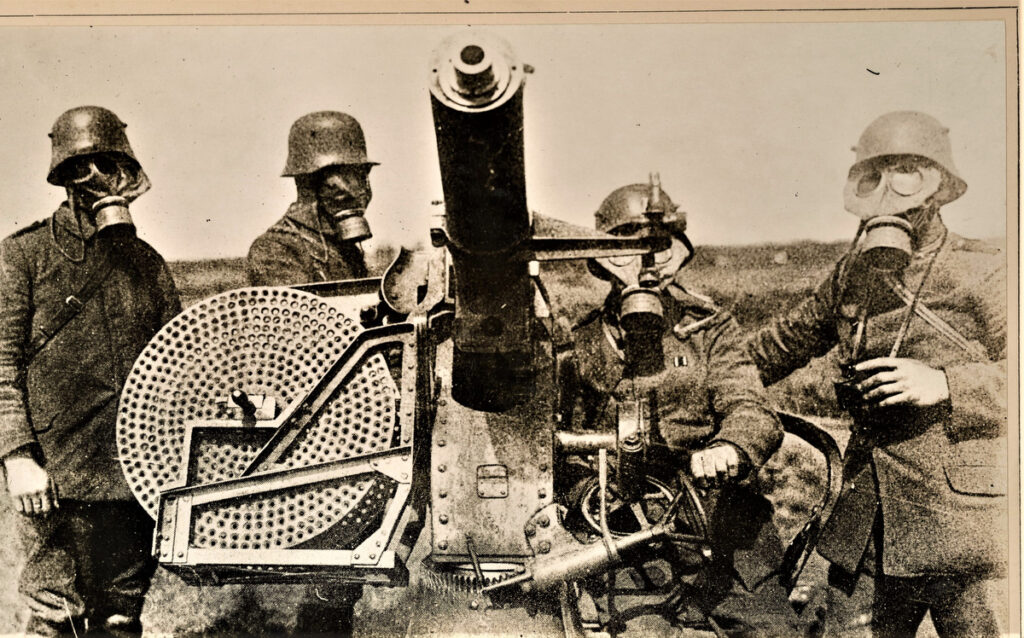 With information not apparently known to Central News Service, the supplier of this image in September 1918 near the end of WWI, we know that the "NEW GERMAN GUN" is actually a 37mm Maxim-Nordenfeldt Quick Firing Gun. It was first fielded around 1890 and universally called the "Pom Pom" due to its distinctive sound when firing at 300 rounds per minute. Additional photo research tracks the original image to files in Germany's Bundesarchiv where its modern caption for this enormous anti-aircraft gun reads (in translation): German soldiers with gas masks and M1916 steel helmets with 3.7 cm-Maschinen-Flak M 14.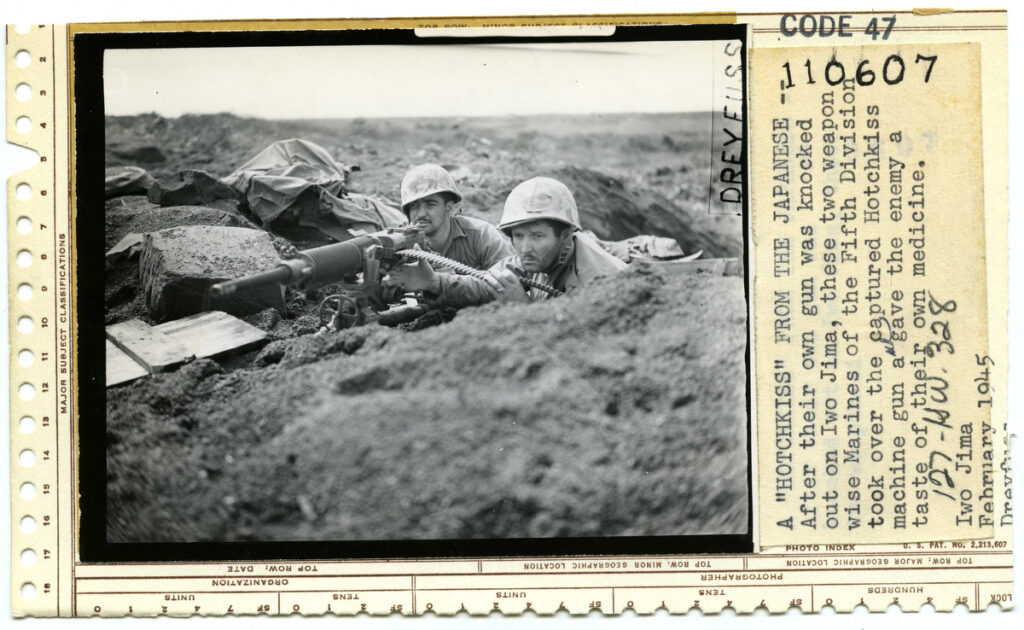 Scanned in high resolution right from its mounting card, this real battlefield photo shows these undaunted Marines with a Taisho 14 Type 3 heavy, air-cooled machine gun, originally a French Hotchkiss design modified by Kijiro Nambu. Note the prominent radiator style cooling fins and 30 rounds of 6.5 x 50mm Arisaka rifle cartridges on the feed strip.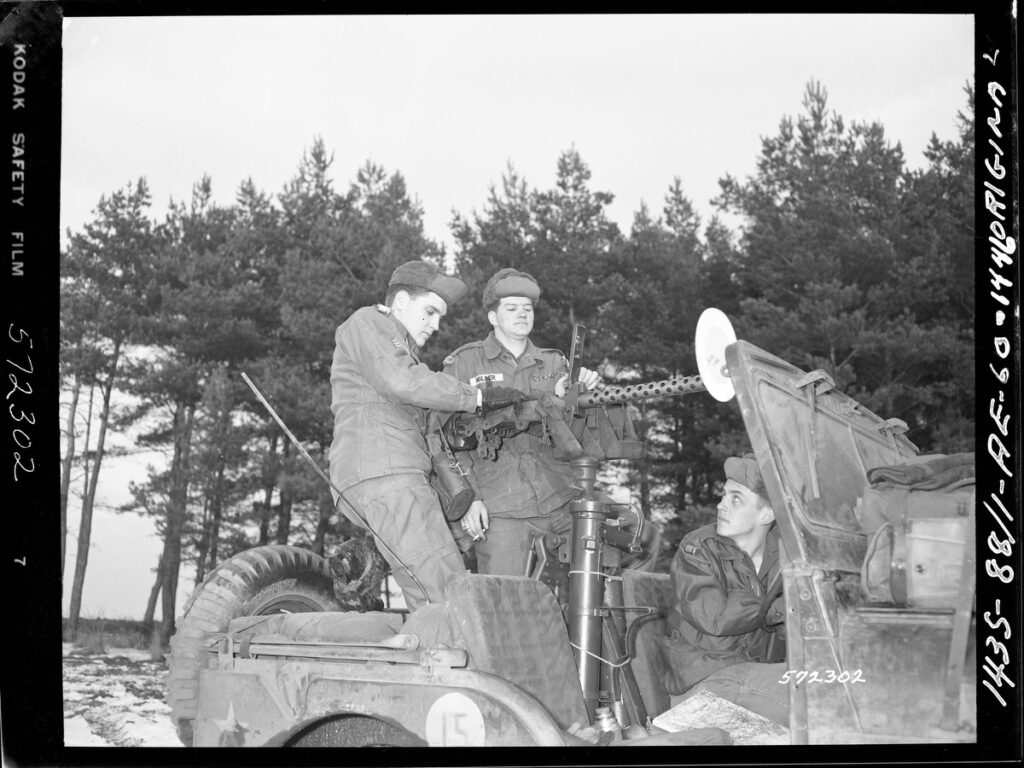 Searching with the key words "machine gun," we stumbled on this amusing photo of the "King of Rock 'n Roll," drafted into the U.S. Army, serving from 1958 to 1960 during what was known as the "Cold War." Elvis insisted on being assigned to a regular combat unit and he proved to be a fine soldier, well-liked by his superiors and his fellow GIs. Looks like in the photo he's probably adjusting the headspace for a blank-adapted Browning .30 cal. M1919A6 (heavy barrel) machine gun. Also note the back half of a 3.5 in. rocket launcher "Bazooka" tied to the pedestal mount.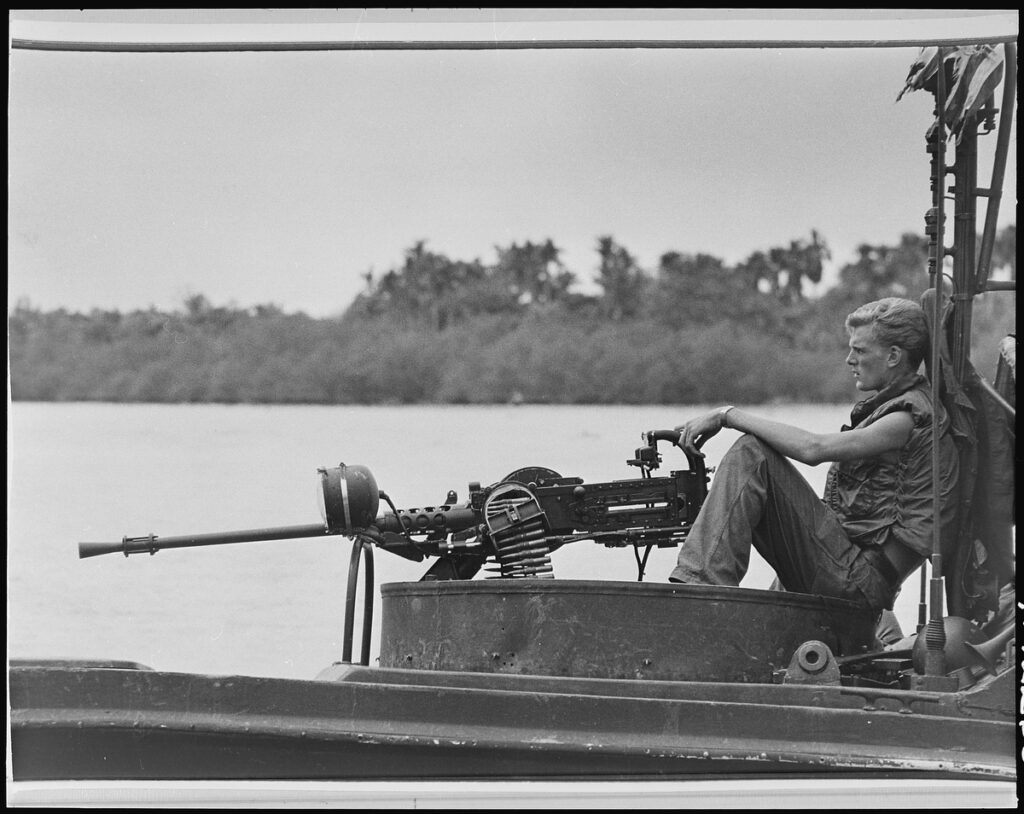 Although seemingly relaxing in the PBR's forward gun tub, this young, flak-jacketed Sailor is no doubt ready to "light up" enemy attackers with devastating .50 caliber rounds pumped out at nine-per-second from his "Ma Deuce." The formidable, combat classic Browning Machine Gun, Cal. .50, M2 Heavy Barrel, Flexible, has its origins at the end of WWI and is still serving with distinction to this very day with all branches of the U.S. Armed Forces and many Allied nations.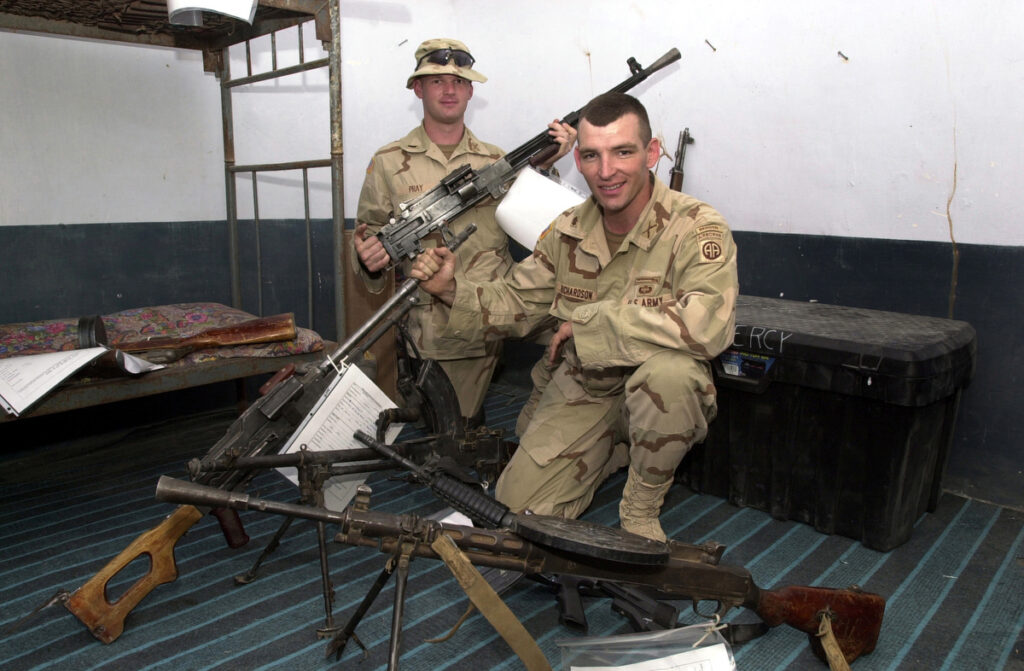 ENDURING FREEDON is the American Military's official name for two decades of conflict for operations in Afghanistan against the Islamofascist Taliban from 2001 until the Biden administration's withdrawal in 2021. Will the National Archives eventually catalog photos of the mountains of American military weapons, munitions, vehicles, aircraft, and other materiel abandoned to the enemy?