By Thomas Murphy –
Battle Arms Development (BAD) is an armament research and development corporation located in Henderson, Nevada. Founded in 2009; it began as an internet retail outlet. Their first product was a multi-tool for the M/14/M1A/M1 family of battle rifles. Next in line were upgraded parts for the AR-15 type rifle. These include titanium gas blocks, ambidextrous safeties, enhanced bolt catches, modular mag release buttons, Sabertube lightweight stocks, and numerous other products. Their premium product is their lightweight billet receiver set. The receiver is precision CNC milled from 7075-T6 aircraft grade aluminum, it weighs 6.84-ounces, and is made entirely in the USA. The BAD lower receiver can be ordered as a complete set with all internal components except the trigger assembly. It has a Vertical Stock System with the Ultra Compact Buffer System that extends from 4.75-inches to 8.75-inches when fully extended. Stripped upper and lower receivers are also available.
It was only a matter of time before BAD decided to build their own complete rifle utilizing all of their premium parts. Thus the BAD556-LW was born. It's available in two versions – the 300 Spartan Rifle and the BAD556-LW Lightweight Rifle – custom Vader themed rifle. It's this second rifle that was tested recently.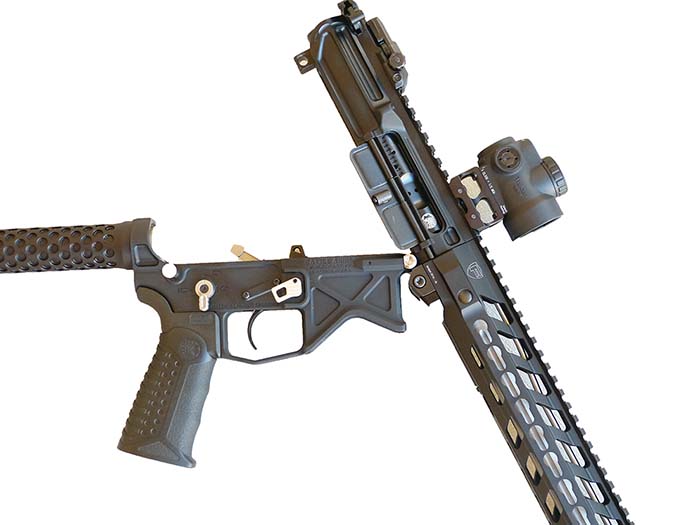 Opening the black, foam-lined case brought to light a rifle that bears a distinct resemblance to the Star Wars DLT-20A Battle Rifle. It also reflects a certain Art Deco appearance. Art Deco is a style of visual arts, architecture, and design that first appeared in France that became very popular in the 1920s and 1930s. It influenced the design of furniture, jewelry, cars, radios, and vacuum cleaners.
The underpinnings of the BAD556 start with their proprietary lightweight billet 7075 T6 aluminum upper and lower receiver set. A 16-inch Ultramatch 416R Stainless Steel Wylde 1:8 twist fluted barrel designed by Bill Wylde to chamber both .223 and 5.56 mm ammunition is installed. This barrel's chamber is made with the external dimensions and lead angle as used with NATO 5.56x45mm ammunition; the .2240 inch free bore diameter as in the .223 Remington cartridge. This allows either caliber to be used in the rifle.
BAD uses its lightweight titanium gas block, which weighs just about as much as the mid-length stainless steel gas tube. The barrel's BAD muzzle brake also acts as a flash hider/compensator. The bolt carrier group is MIL-SPEC M16 with a black nitride finish. The rifle is cocked using a BCM ambidextrous charging handle forged from 7075 T6 aluminum; it is designed to move the operating force to the body of the charging handle when using the support-hand-only operations. This relieves the stress on the 1/16-inch roll pin. Repeated hard support hand racking of the charging handle can lead to breaking the roll pin which would down-check the rifle.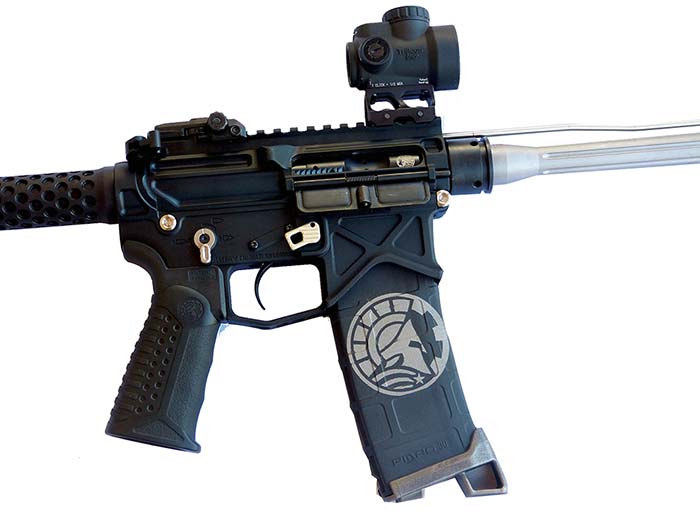 Fortis supplies the 6061 T6 aluminum 556 Switch Rail System which is completely free-floating, attached only to the upper receiver. It can be quickly removed utilizing a locking lever that allows tool-less removal. It is configured with KeyMod slots at the 3, 6, and 9 o'clock positions, and has a continuous Picatinny top rail along its entire 14-inch length.
The lightweight billet lower receiver uses BAD's SSL ambidextrous safety selector, detent, and spring. The pivot and takedown pins are BAD-EPS titanium. Their heads are undercut, and the bottom of the pin shafts have slight detents, easing pin retraction and removal. The trigger group is an in-house product, adjustable, but factory-set to 3.5-pound pull. The stock is the BAD Sabertube mid length lightweight combo. However, the stock is only compatible with the BADD lower receiver because the lower uses a captive rear takedown detent spring, which eliminates the end plate and castle nut. A Hilsabeck Firearms Flatline dual rate buffer spring aids in muzzle lift reduction, providing a faster return to target, the buffer is a standard M4 Carbine item.
MIL-Spec parts in the lower receiver include the magazine catch spring, bolt catch detent and spring, and the buffer catch and spring. Bad produces the pistol grip, bolt catch, and magazine release. Norgon LLC supplies their Ambi-Catch ambidextrous magazine release catch. Total empty weight without optics is 5.4-pounds. The rifle comes with a Patriot rifle case fitted for the BAD 556-LW. Along with the rifle and magazine, are a Certificate of Authenticity and a BAD T-shirt.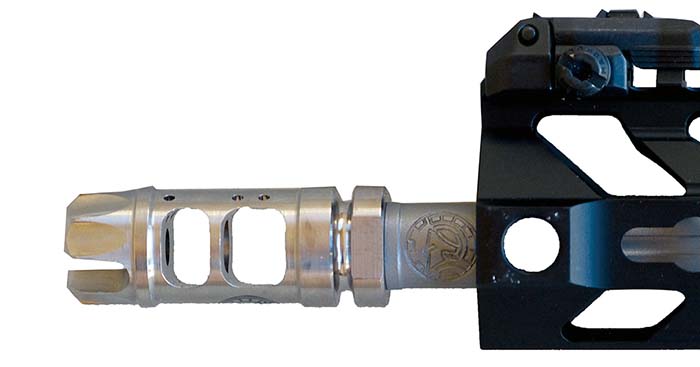 This particular rifle had a number of accessories added. The forward grip is a Fortis Shiftshort hard coat anodized; billet aluminum angled grip that attaches via KeyMod or M-Lok. The iron sights are Magpul MBUS Pro folding that can be stowed when optics are used. The magazine is a Magpul Gen 2 PMAG 30-round magazine, Ceracote finish with BAD helmeted logo emblazoned on the side. A Magpul Magpod 1 replaces the floorplate and turns the magazine into a compact monopod. It also functions as an extended grip when removing the magazine. In this particular case, it was used as a monopod, but its extended grip feature wasn't needed as the magazine slid in and out, loaded, or unloaded like it was on ball bearings.
The finish on the BAD556-LW is a Vader/Star Wars inspired Ceracote paint finish. Ceracote is a ceramic-based finish that can be applied to numerous surfaces including metals, plastics, polymers, and even wood. The Ceracote ceramic coating enhances a number of physical performance properties not limited to abrasion/wear resistance, corrosion resistance, impact strength, and hardness.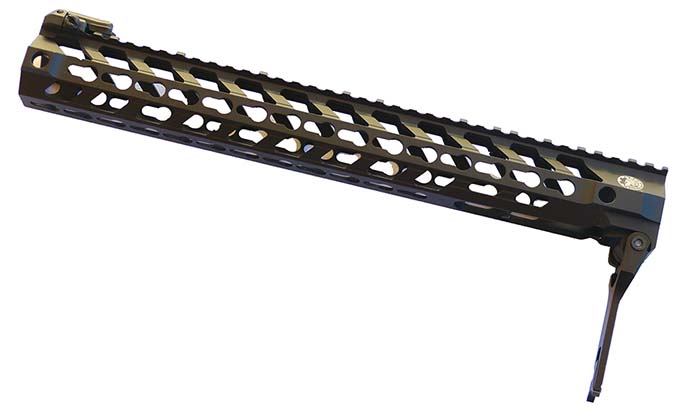 A Trijicon MRO optic is mounted on top of the receiver using a BAD-MRO mount. This is a sealed miniature red dot sight intended for use on carbines, rifles, shotguns, and revolvers. Its large aperture allows rapid target acquisition and increased situational awareness. The shooter can select any brightness setting level from one to eight, including two-night vision settings. It runs on a single CR2032 lithium battery that has a constant-on life of five years when running at its middle 3 setting. The brightness knob is large enough to be easily adjusted, plus it's silent; no loud clicks. It uses a slightly canted 25mm objective lens which keeps the total length to 2.6- inches. Weight with battery is 4.1-ounces. There has no magnification, so it works well with both eyes open. One click of adjustment equals ¼ MOA. The glass lenses are multi-coated, and the optic is parallax free.
Some of the more subtle features on the BAD556-LW are the right rear rail of the trigger guard that is slightly cut away to stop it from hitting your finger during recoil. There are lightening cuts to reduce weight on the upper and lower receiver. The pistol grip is BAD's 3-position adjustable tactical grip. Overall fit and finish are excellent.

Time at the range was limited by weather and other constraints. The BAD556-LW came out of the case without a speck of dust and was clean inside and out. The rifle was gone over lightly with a cloth during shooting sessions. That was the limit of maintenance for a little over 300 rounds.

The simple story is that it ran flawlessly from the first round to the 300th round. Because of the limitations of the red dot sight (and my aging eyes), ranges were limited to 75-100 yards. It was fired slow-fire, and magazine-dump fashion. Five shot groups stayed right at 1 – 1.3-inches. The barrel was allowed to cool between groups. The best one-inch group came from off the bench using the Magpod as a rest, and pausing between shots.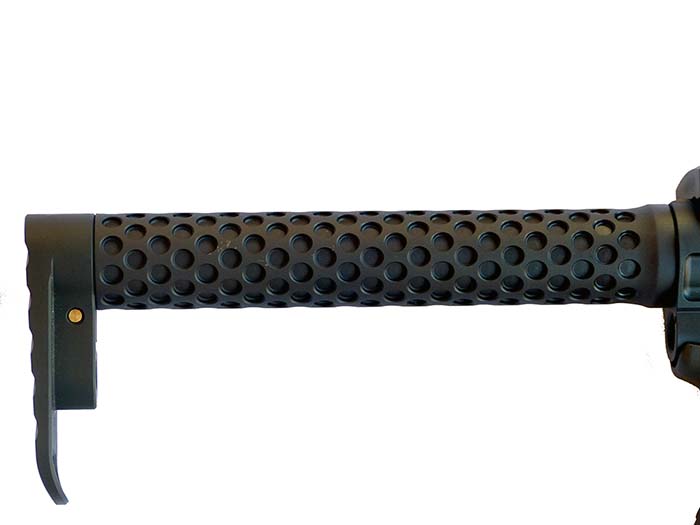 At the end of shooting the target was set at 75-yards, and a full 30-round magazine fired as fast as the target could be acquired. The group in the photo measures 2.3-inches. The gun was certainly warm after that, but the forearm was almost cool to the touch. Ammo used in the shoot was Black Hills 5.56MM 77 Gr Match HP, and Black Hills 5.56MM 77 Gr OTM.
Opinion? The BAD556-LW sure makes for interesting range jewelry, Star Wars and all, but it definitely is a fine piece of equipment that ran flawlessly from the first shot – this when some firearms manufacturers state that their products require 200 rounds, or more, before they break in. If you're looking for a nice present for yourself, and an AR is on your short list, you would be hard-pressed to find a better rifle.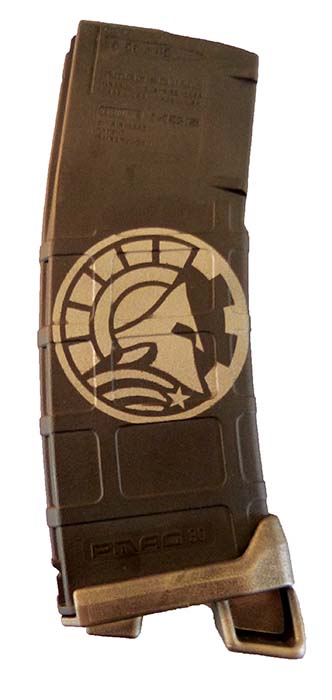 This article first appeared in Small Arms Review V21N1 (January 2017)