By Christopher R. Bartocci

The popularity of the AR-10 platform of weapons is unprecedented in the industry today. The design from the late 1950s was initially cast off into the Ordnance Corps scrap heap as one of those just too new ideas; as well as the self preservation of the government run armories losing a contract to private industry. Many companies offer different variations of the proven 7.62x51mm caliber rifle: and now there is another. Battle Rifle Company has introduced both 5.56x45mm as well as a line of 7.62x51mm rifles geared toward law enforcement use.

In 2009, Chris Kurzadkowsi's son was going to go through SWAT training so he built his son an AR rifle to go through the SWAT school. The rifle was built particularly to the needs of a SWAT operator and his son scored his best in the SWAT school with the rifle his dad built. Other members of the SWAT team started to ask where he got the rifle and then Chris started building guns for those SWAT members. In 2010 Chris got his licenses and opened up Battle Rifle Company.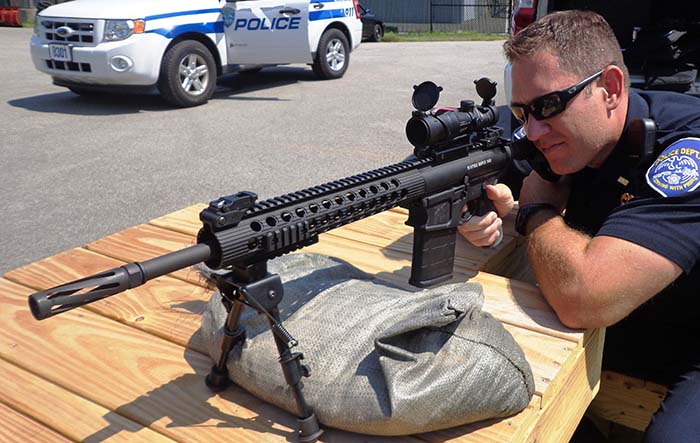 Chris Kurzadkowski was not new to firearms. While serving active duty in the Army he was on the 9th Infantry rifle team and eventually would become the division sniper. Then he was off to Korea, then to the 7th Infantry Division where he was assigned to CEDC while on active duty with a test battalion. Then he entered the Army Reserves where he wound up in Mechanized Infantry units and finally to test and evaluation units until he retired. He tested small arms and served in test and evaluation units until his retirement from the reserves.

Battle Rifle Company debuted at the 2012 SHOT Show where he introduced his standard lines of rifles. In 2013 the company attended SHOT Show as well as the NRA Annual Meeting and Exhibits.

With all these different Black Rifle manufacturers, something has to set each of them apart from the other. Battle Rifle Company has many areas they stand out.
Every rifle is assembled by an armorer. There is no production line. Each rifle is individually crafted and custom for the customer if special ordered. It is Chris' plan to remain this way. Although only 30 rifles are made per month at this point, he plans to hire additional experienced armorers to increase production to 100 per month.
Battle Rifle Company manufactures their own design flash suppressor that eliminates 98% of the flash according to Battle Rifle Company.
All of the barrels are cryogenically treated to increase the life of the barrel.
Each rifle is custom tuned to run optimally.
Every rifle has a rail of some sort on it. Knowing most every customer would want one to add accessories, the rifle is provided this way so it may be pulled right out of the box and put into service.
Every rifle is equipped with back up sights. Early rifles have either A.R.M.S., Inc. folding polymer sights or Magpul polymer sights. As of this writing, Battle Rifle Company is phasing in their own design folding back up sights on their production rifles.
Each rifle comes with a C Products steel magazine or PMag LR polymer magazine.
Each trigger is polished giving a trigger pull from 4 1/2 to 5 1/2 pounds. Also what is a referred to as rapid reset spring are added to increase the speed of follow up shots.
All components are manufactured by manufacturers that make Mil-Spec parts for the U.S. government as well as the OEM that produce them such as bolts, carriers, receivers and so on.
The customer has options of stock assemblies such as the Damage Industries Enhanced Combat System Stock, Magpul stocks, Chaote M4 stock and Enhanced M4 stock to name a few.
Depending on the model, the barrels are manufactured by Ballistic Advantage, Green Mountain, DSS or Blackhole Weapons.
Every mag well is currently inspected with numerous manufacturers of magazines to insure compatibility with all commercially available magazines.

The rifle submitted for test and evaluation had an 18-inch barrel with the Battle Rifle Company designed Disintegrator flash hider. The precision machined barrel has a 1 turn in 11 inch twist and is cryogenically treated to relive stress from the steel. There is a low profile gas block, which is under the handguard. The rifle was equipped with a Troy Industries fully free floating handguard. There are removable rail sections on the handguard as well. There are two-inch rail panel sections on the front left and right side and a 4-inch rail panel on the front bottom of the handguard. Attached to that is a Harris bipod, which is standard on the 18 and 20-inch barrel versions of the rifle. The 18 inch barrel uses a mid length gas tube.
The upper receiver is DPMS pattern with the combination of forward assist and fired cartridge case deflector all in one. This particular rifle had a standard charging handle/latch. There is an ejection port dust cover as well. The front and rear back up sights provided on this rifle were the A.R.M.S., Inc. #17 folding polymer buis.
The bolt carrier group provided was the JP Enterprises low mass bolt carrier and enhanced bolt. The low mass bolt carrier is designed to regulate the bolt velocity with regulation of gas pressure rather than by the mass of the bolt. The enhanced JP Enterprises bolt is a high pressure bolt and deals with ammunition incompatibility that plagues .308 rifles. Primer blowback and case head ejector flow modifications have been made. The bolt uses a more durable extractor over a wide variety of ammo. The firing pin mass has been reduced and that gives a 30% increase lock time.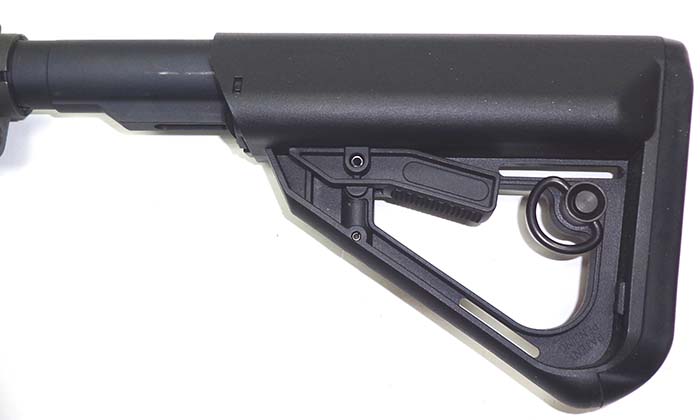 The lower receiver also is DPMS based. The receiver extension offers six positions for the buttstock. The rifle was equipped with an Enhanced Combat Stock system with a sling swivel and easy grip adjustments. The stock has a triangular shaped cheek weld with the Battle Rifle logo on it. The rifle features a custom heavy buffer. The rifle has an Ergo grip that makes a much more comfortable and stable grip on the pistol grip. An ambidextrous safety lever was provided on the lower receiver. The trigger guard is part of the lower receiver making it very strong and durable. The magazine well is adapted for the standard SR-25/original AR-10 pattern rifle. The rifle was supplied with one Magpul PMag LR magazine and was also tested with a Knights Armament steel 20-round magazine as well as a C-Products steel magazine. The trigger provided in this rifle was a standard one stage combat trigger that broke at 7 1/2 pounds. On the rear of the receiver extension plate is a one point sling adapter mount. There is a tensioning screw located in the bottom of the lower receiver that permits tension to be put on the upper receiver to keep the receiver's tight similar to that of the SIG 517 rifle.
The rifle was equipped with a Trijicon ACOG 4×32 TA31RCO-A4CP. This optic is powered by both fiber optics in day time use and tritium lamp by night. The scope is manufactured from 7075 T6 aircraft aluminum forgings, same as the Mil-Spec M16/M4-series rifles. The scope was equipped with a flash kill on the end to eliminate glare being seen that may give away the shooter's position. The reticle was a red chevron with a bullet drop indicator. This particular optic has bullet drop compensation for the M855 62gr 5.55mm projectile but zeroing at 100 meters worked just fine for this 7.62x51mm rifle.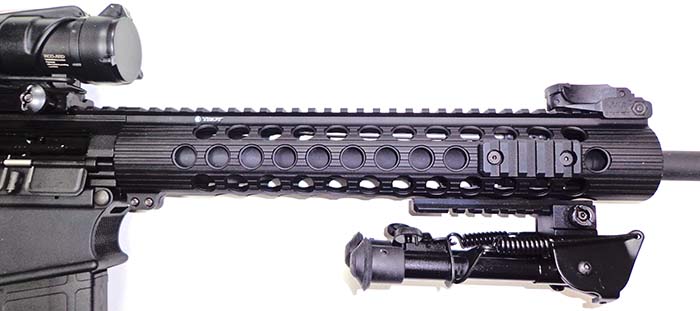 The ammunition chosen for this test and evaluation rifle was U.S. military M118 Match 7.62mm ammunition, Hornady 175gr Superformance Match OTM and Black Hills 168gr OTM. Silver State Armory 7.62x51mm M80 FMJ ammunition was used for function testing. The rifle experienced no malfunctions with any of the ammunition. More than 200 rounds of M80 ball were fired. The best group of the day was 1.565 inches at 100 yards using Hornady Superformance Match 178gr BTHP (#8077) ammunition. All ammunition fired was under 2 MOA. The only issue encountered with this rifle, and it may have affected the accuracy, was the trigger. The trigger had significant creep and was scratchy. In speaking with Chris Kurzadkowski, he stated that all new production rifles will come with a two stage trigger. I expect this rifle would have shot even better with one of these newer triggers.
The rifle can be had in 14.5, 16, 18 and 20-inch barrel lengths. There are various offerings with different rail assemblies and ambidextrous charging handle/selector lector lever. BRC also offers their logo to be left black or colored in their trademark yellow. Battle Rifle Company is a new entry into the Black Rifle market and just finding their way in. Although they do not make many rifles they do make fine quality rifles.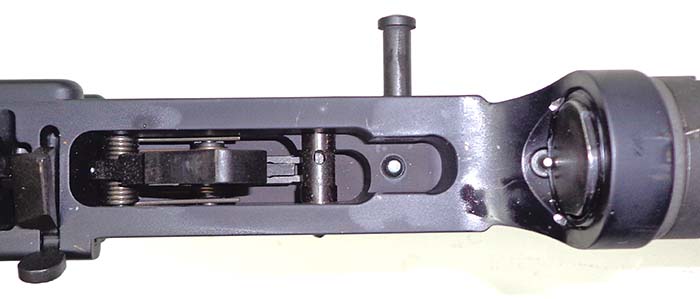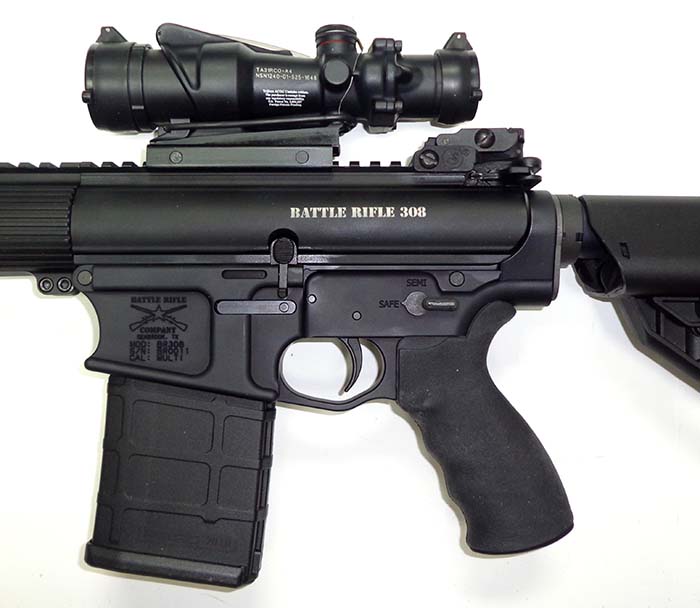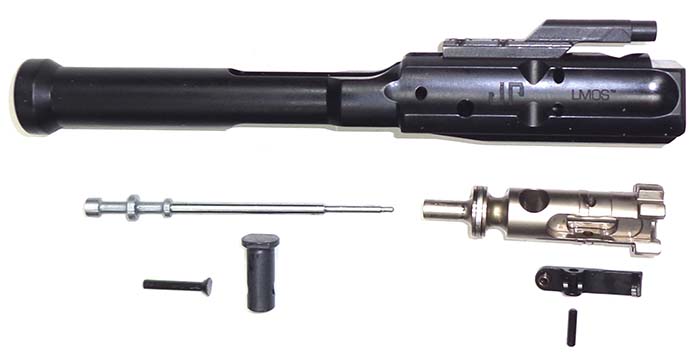 This article first appeared in Small Arms Review V18N2 (April 2014)