Battle Rifle Company's BR-4 Odin is a lightweight, fast handling rifle with all the tricks of the trade for the role of a 3-gun competition rifle, a fast firing varmint hunting gun or just as a versatile recreational plinker. It is well put together with the best parts available and runs perfectly.
By Chris A. Choat
Battle Rifle Company (BRC) is a Texas based company that specializes in manufacturing quality built AR based rifle platforms. They have been in business for about five years and started out just building 5.56 guns. They later evolved into taking the next logical step by building .308 rifles. This year, at the SHOT Show, they were showing the new pistol version of their .308 rifle as well as their new AR-15 9mm pistol called the Attache. In fact, they make 5.56 and .308 pistols as well and they also carry the Attache
model designation.
BRC offers nine different variations of their 5.56 caliber guns designated the BR4. They run the gamut from 14.5 to 20 inch guns with varying types of different accessories. The firearm tested herein is their BR4 Odin rifle. This rifle is a carbine style gun with a 14.5 inch barrel and a 2 inch permanently attached muzzle brake making it a legal 16 inch length. The BR4 Odin is a joint project between Battle Rifle Company and Odin Works, as a premium carbine in their line of rifles. The base model BR4 rifle is a direct gas impingement operated carbine with all of the features of a standard AR-15 carbine. The Odin model has quite a few added features that set this gun apart from others of its kind. The rifle has a 14.5 inch barrel with one of Battle Rifle Company's Disintegrator Flash suppressor permanently attached. This flash suppressor is advertised as having the ability to reduce 98% of the muzzle flash and it works as advertised. The barrel is cryogenically treated for the ultimate in accuracy.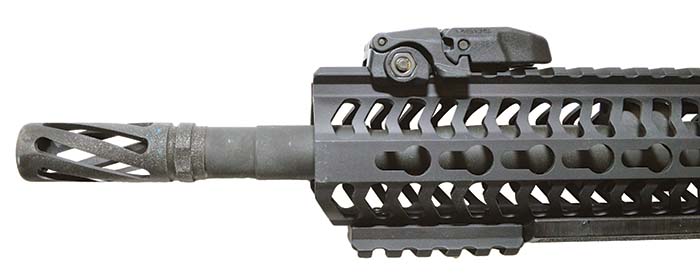 The gun has a mid-length gas system covered with Odin Works' 12.5 inch K-Mod forearm. This forearm is made to VLTOR Weapons Systems KeyMod specification from 600T651 aluminum. It is a free-float forearm with a continuous uninterrupted Picatinny rail across the top. It has KeyMod slots at 3, 6 and 9 o'clock for adding lights, lasers or other accessories. The top rail matches up perfectly with the rail on the upper receiver. The forearm is light (10.15 ounces) and very sleek being engineered to allow for a low profile gas block to fit inside. With an outside diameter of just 1.8 inches it is very comfortable to hold onto. The forearm comes with one five slot accessory rail installed.
Sights are included installed on the Odin rifle and are MagPul MBUS folding sights. Other MagPul accessories include their Extended Trigger Guard as well as their B.A.D. bolt release lever. You can also order the rifle with several different buttstock options including any of MagPul's outstanding stocks.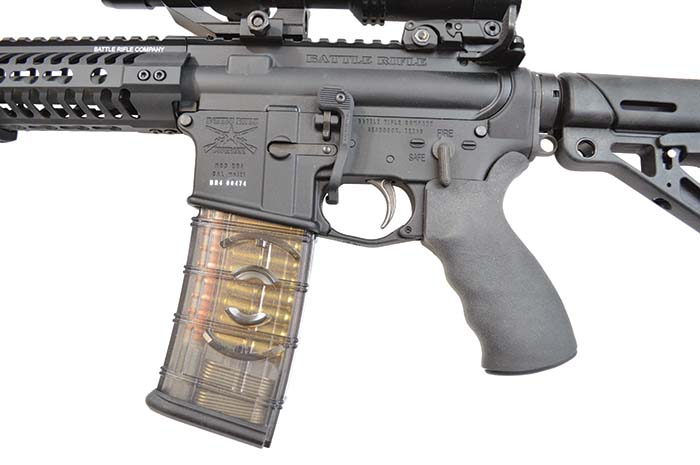 The test rifle came with a Hogue Overmolded Collapsible Buttstock. This was the first time that this author had used one of these stocks and came away very impressed. The Hogue stock features reinforced polymer construction with a built-in rubber cheek piece and a rubber/polymer hybrid butt pad that provides snag-free shouldering. The design of the stock creates a snug anti-rattle friction fit on the buffer tube. The stock is available for both Mil-Spec and commercial buffer tubes. The test rifle came with a Mil-Spec tube. The stock also has multiple sling mounting slots as well as several quick attach sling mounting sockets. The stocks are available in black, tan and OD green. An Ergo pistol grip concluded the list of furniture.
The fire control parts on the rifle are the standard AR-15 type except that the trigger and hammer in the test gun had been nickel boron coated. Nickel boron has a natural lubricity that gave the test gun a very smooth trigger pull. The gun's charging handle was equipped with an extended tactical latch to make charging the weapon easier with an optic mounted.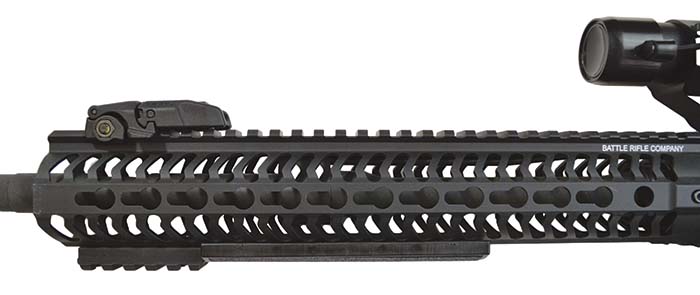 For an optic the author chose to mount one of the new Bushnell AR/223 scopes. The scope used was a 1X4 24 mm power scope with a 30mm tube. It features their Drop Zone-223 bullet drop compensating reticle designed especially for the 5.56 cartridge. The AR Optics riflescopes are available in 6 configurations for every AR platform rifle from .22 rimfire to long range .223. The reticle features a center crosshair with a row of 4 aiming dots on the bottom crosshair. These dots are placed to coincide with ranges from 200 through 500 yards. So simply zero the scope at 100 with the center crosshair and then use the dots at all ranges out to 500 yards. The scope also features target turrets with 0.1 mil click adjustments. The scope offers the best in CQB as well as long range accuracy. The scope would make an excellent choice to use in 3-gun matches, which the Odin rifle seems made for.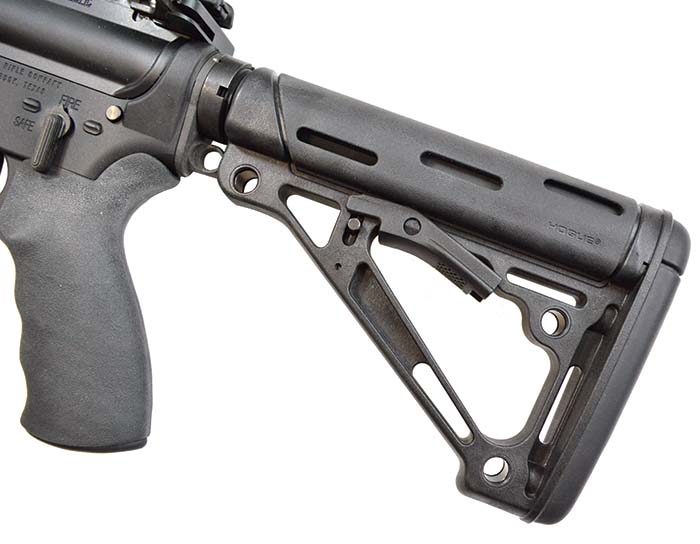 The rifle comes with a single MagPul 30-round Pmag but will naturally take any Mil-Spec AR-15 magazine. The author used the Pmag as well as two of the new Elite Tactical Systems (ETS) magazines that were also received for testing. The new magazines are available in 10-, 15- or 30-round capacities and are made from smoked translucent polymer. One of the most unique features of the new magazines is that they can be had either with or without a built-in coupling system. The couplers are molded right into the magazines and only make the magazines about 1/8th of an inch wider allowing them to still fit into standard AR-15 magazine pouches. The magazines can be coupled by simply turning them 90 degrees to each other and then rotating them a 1/4 turn to lock them together. They remain firmly locked until the magazine tops are squeezed together and then they can be rotated to unlock them. The connectors allow any number of magazines to be coupled together. The magazines are marked 5.56 x 45 as well as 7.62 x 35 because they work equally well with .300 Blackout. The new magazines use stainless steel springs and come with clip-on dust covers that can be instantly detached with the shooter's thumb. Elite Tactical Systems has also just come out with what they call their R.R.S. (Rapid Recognition System). These are their excellent anti-tilt magazine followers and base plate inserts molded in different colors so that the user can color code his followers and base plates to different calibers or even different bullet types. Where the magazines are translucent you can even see the follower at any angle even when the mags are loaded.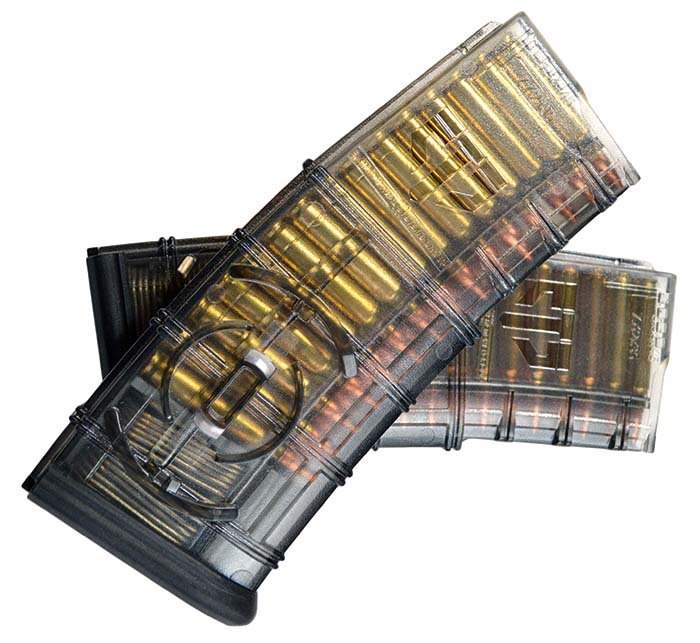 The rifle was tested in a variety of 3-gun scenarios as well as some varmint hunting sessions. A gun like the Odin seems to be at home competing in 3-gun matches where the gun weight and reliability come first. The gun proved fully capable of performing 3-gun match requirements. Its lightweight and reliability were second to none. The rifle was fired 200 plus rounds on the first outing and never had so much as a hiccup. It was fed only quality ammunition and it just ran and ran. It was also used on a couple of varmint hunting expeditions where it had to be carried for long periods. Night time coyote hunting proved that the manufacturer's claim of 98% flash reduction was indeed accurate. The rifle's light weight was a welcome relief after going through a phase where it seemed to be that the latest craze was to hang as much stuff as possible on a rifle. Shooting this lightweight fast-handling rifle was a pleasure. In the accuracy department the gun proved to be a winner as well. From the bench, the rifle would print groups inside an inch all day long. It also scored a 100% on its reliability test having fed and ejected all ammunition that it was fed. The Bushnell proved to be an excellent optic for this rifle whether it was used as a games gun or in a hunting role. Probably the addition of an offset red dot optic would be perfect for those distances under 100 yards. Other than that this author wouldn't change a thing.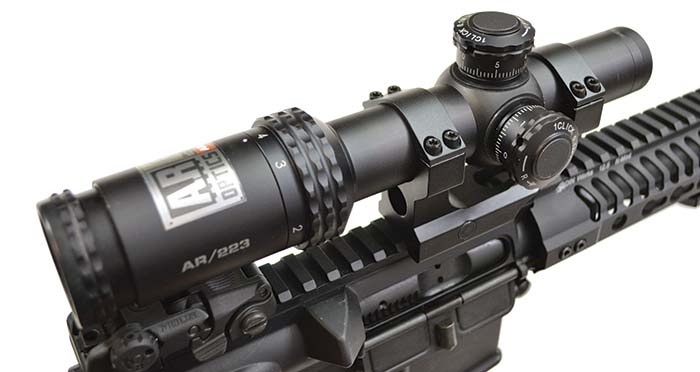 Battle Rifle Company has proved to this author that they make an excellent product. The great thing about them is that they are a small enough company that customer service is one of their main goals. You can call them up and tell them what you want and they will build it just as you request. You won't be disappointed with a Battle Rifle Company gun.
Battle Rifle Company
1056 Hercules Avenue
Houston, TX 77058
(281) 777-0316
www.battleriflecompany.com
Bushnell Outdoor Products
9200 Cody
Overland Park, KS 66214
(800) 423-3537
www.bushnell.com
Elite Tactical Systems Group LLC
P.O. Box 18511
Knoxville, TN 37928
(855) 887-5452
www.etsgroup.us
This article first appeared in Small Arms Review V19N7 (September 2015)