By Dan Shea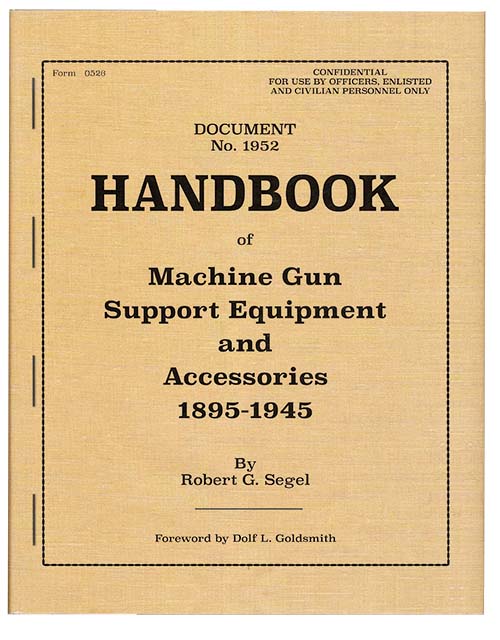 Handbook of Machine Gun Support Equipment and Accessories 1895-1945 
By Robert G. Segel
Foreword by Dolf L. Goldsmith
ISBN: 978-1-5136-4013-6 
Full Color, 415 pages, 1035 pictures
Price: $125 (Shipping free in the U.S.) 
Order from: emmageeman.com 
The machine gun collector community, as well as museums and forensic analysis institutes, have a serious lack of information on the accessories for historic machine guns. There are many individuals with knowledge, and some online sharing, but a comprehensive reference guide to these has been missing from the knowledge pool. We each have our manuals and photos; however, nothing solid to help with general knowledge. 
Robert Segel, long-time Senior Editor of Small Arms Review, who wrote over 400 articles on historical machine guns as well as being published on this subject around the world, decided to take on this task. His lifetime fascination and collecting of machine guns stretches back over 50 years, and it shows in this book.
The book covers 77 different weapons; no index is needed because the Table of Contents clearly presents the weapons—simply select a firearm, go to the start page, and you'll be presented with a summary/history of the model firearm with variant notes, then a photo of the firearm to further help in identifying it. After that, there are clear photos (in most cases, some photos had to come from manuals) where the author lays out the gunners' kits, spare parts and tool boxes with their contents and also number lists what each piece is. Frequently, the belt, link or strip loader for the machine gun is covered with photos, and many times other accessories are covered as well. The Vickers and Maxim sections are amazing.
When I received the book, we happened to have a 50-year collection of MG parts kits and accessories that came from an estate and were in mixed boxes. Various Vickers and Hotchkiss tools and accessories were quickly identified by some of the newer employees; it made fast work out of the two truckloads. I went into my stash of tools that I didn't remember what they were and identified a Lahti-Saloranta M/26 Combination tool with brass hammer and some Lewis tools. Now they are labeled and in their proper places.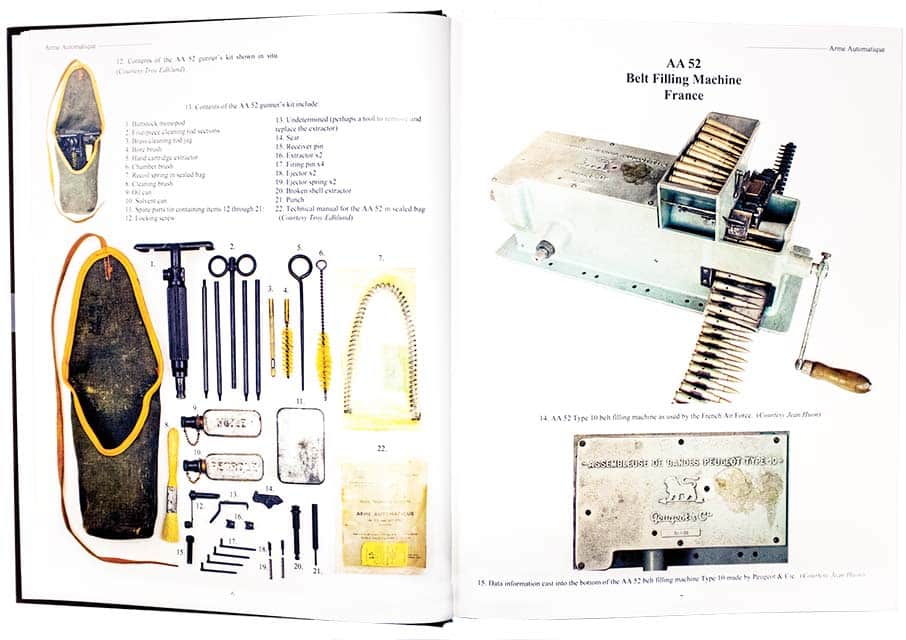 We've been in the business for well over 40 years, and I have to say that this book has been extremely helpful. There are aircraft sights, spare lock pouches, drum hangers and many accessories identified in clear, precise properly labeled photos. Interestingly, Segel covers many of the machine gun carts used to transport the guns and kits—this information is worth the cost of the book alone. 
It's not possible to cover every single accessory ever made for every single machine gun ever made; that would be many thousands of pages. Robert Segel has done a tremendous job of presenting the accessories and kits that go with 77 machine guns, as well as preserving some of the lore surrounding how these items were used and imported. While this is a U.S.- based book, it is global in coverage and should be a great addition to any collection or museum library, not to mention to those of us who deal in surplus firearms and kits, where this book is also very helpful.
Some of the firearms covered in this book include:
Alfa 44
AA-52 
Berthier M1917
BESA
Breda Model 30
Breda Model 37
Bren
M1918 and M1918A2 BAR
KG m/37 Swedish BAR
A whole list of Brownings, Maxims, Lewis, Hotchkiss and Japanese MG variants are discussed in-depth.
On a personal note, I've traveled around the world with Robert Segel, in all kinds of museums and military collections, and his knowledge is exemplary, his research and photography are in-depth; he has used more than half a century of studying and collecting to present to you, the collector, this amazing book. Buy one and start looking through it; you will not regret it. You'll also be on the internet searching for the parts/accessories for your cherished MG— things you didn't know you needed but now will simply have to have, or be sitting there, knowing you don't have a proper clinometer and case for your 1917A1. 
This article first appeared in Small Arms Review V23N10 (Dec 2019)