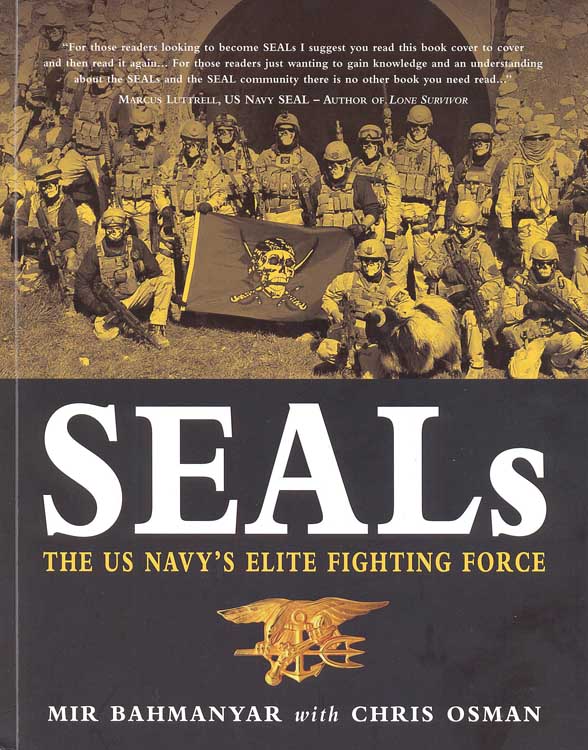 Osprey Publishing,
Midland House, West Way,
Botley, Oxford
OX2 0PH
United Kingdom
Originally published 2008. Soft cover version published 2011. 256 pages

With the U.S. Navy SEALs suddenly being cast into the spotlight following the hugely successful raid and killing of terrorist Osama bin Laden, this book is sure to find an even larger audience.

You know the SEALs (SEa, Air and Land) are a force to be respected when an Army guy writes a book praising them.

SEALs – The Navy's Elite Fighting Force is co-authored by Mir Bahmanyar and Chris Osman. Bahmanyar previously served with the US Army 75th Ranger Regiment, while Osman is a former Marine and Navy SEAL.

The bulk of this book is based on personal interviews with current and former SEALs. Consequently, the bulk of the accounts are from the last two decades. Not every action is covered, as they did not interview anyone involved in operations in Somalia, the Philippines, etc. As well, many SEAL operations are still classified. However, plenty of first person accounts from Afghanistan and Iraq, as well as action from the former Yugoslavia are given. Yes, the "frogmen" even see action in landlocked countries such as Afghanistan.

Part I deals with Command Structure, as well as Training. I found the Command Structure portion to be somewhat dry reading, but that is to be expected. The Training segment is the real eye opener. This is where you really gain an appreciation for just how tough the BUD/S (Basic Underwater Demolition / SEAL) course is. It is 26 weeks in length, and there is roughly a 75 – 80% dropout rate for most classes. One photo shows about two dozen helmets in a row, representing those that quit. The photo was taken three days into the course. Special attention is given to the notorious "Hell Week", in which recruits are allowed only four hours sleep in total from early Sunday morning until late Friday night.

Richard Whiteside, a former SEAL officer, offers a very detailed account of his own training from Aug 1975 to Jan 1976. Following the 16 pages of recollections from Whiteside, Chris Osman gives his own nine pages of memories from his training in 1997 and 1998.

The book details the training that follows the BUD/S portion. The student then goes on to do additional training such as parachute, cold weather, etc.

Part II Small Wars 1989-2003 deals with various operations in Panama, Bolivia, and the former Yugoslavia and Bosnia.

Part III Global War on Terrorism: Afghanistan 2001-2007 follows the reaction to the Sept 11, 2001 attacks. It ends with a detailed account of operation Redwing, in which 11 SEALs and 8 Army Night Stalkers (160th Special Operations Aviation Regiment Airborne) lost their lives on June 28, 2005. The only SEAL member to survive was Marcus Luttrell, who also wrote a Forward for this book. This is the largest loss of life for Naval Special Warfare Command since World War II.

Part IV Global War on Terrorism: Iraq 2003-2007 is the largest chapter. Much of it revolves around SEAL sniping action. Kyle (no last name given) is quoted extensively, based on interviews given to Bahmanyar and Osman in 2007. Kyle has the highest kill score in SOCOM (Special Operations Command) at time of printing, at 137, including one at 1,600 yards.

As this book relies heavily on first person interviews, it does tend to jump around somewhat. It does not read like an academic history volume. Rather, it reminds me of listening in on veterans swapping combat experiences over a few beers. As such, this book does not give an all encompassing history lesson of the entire battle plan. Instead, you get a glimpse of street to street fighting as told by those that were there.

One thing that stands out was how several members made harshly critical comments towards the senior leadership. One said that that SEAL Team 3's leadership "was the most f***ed-up ever." The endnotes mentioned that several SEALs made the same point.

Another quote attributed to a British Marine officer was that the SEALs are "lions led by dogs." Other comments mention that certain upper ranks are more concerned with promotions than military objectives.

The final page of Part IV ends with the future of the SEALs. Most SEALs interviewed do not believe that the U.S. can win the War on Terrorism, despite overwhelming force. No military can win without clearly defined political objectives, no matter how honorably the armed forces serve.

Following Part IV is a sizable Appendix section listing the organization of Naval Special Warfare Command, Seal equipment and weapons, and ending with Appendix 5, a list of all Frogmen, UDTS, and SEALs killed in action from WW2 to present.

Overall, I found this book to give a unique insight into the life of a SEAL. Between the interview quotes, and the many high quality color photos (many with faces digitalized for security), the reader is given a glimpse into a very secretive group. As well, the book features many sidebars that help to fill in details. I would have preferred a more detailed index, as well as a list of all the many initial and acronyms that the military loves to use. Aside from that, this is a book that anyone at all interested in the SEALs should have.

This article first appeared in Small Arms Review V15N1 (October 2011)