Haling all the way from Austria, the Bubix Bro is a brand-new striker-fired subcompact pistol conceived specifically for defensive carry: familiar features blend with others previously seldom seen in a design with the potential to astonish!
By Pierangelo Tendas –
Firearms enthusiasts, shooters, and scholars who are most in the know with the workings of the gun industry will be familiar with the Bubits surname; Austrian designer Wilhelm Bubits has a solid background connected to Glock, and as the years go by he's been responsible for numerous, solid handgun designs – all of them technically successful, some less than fortunate in a commercial sense– such as the Walther P99, Steyr M-series and S-Series, and Caracal pistols.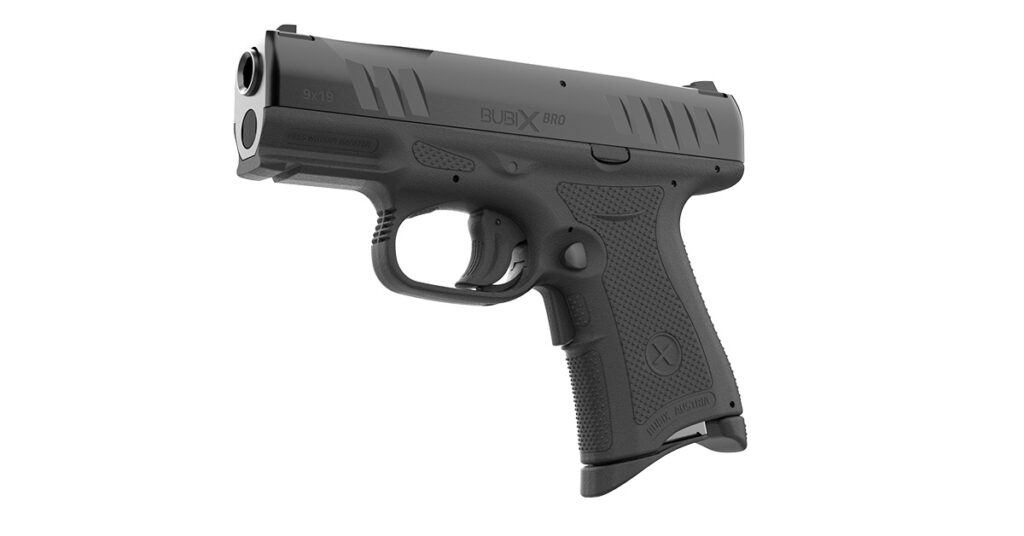 In the past few years, the signature feature of Bubits-designed handguns has become what is now more or less formally known as the "Bubits-modified Browning locking system." It's a short recoil, tilting barrel lockup system where the lock is provided by a rectangular steel wedge at the top rear of the cartridge chamber, which engages a notch machined on top of the slide.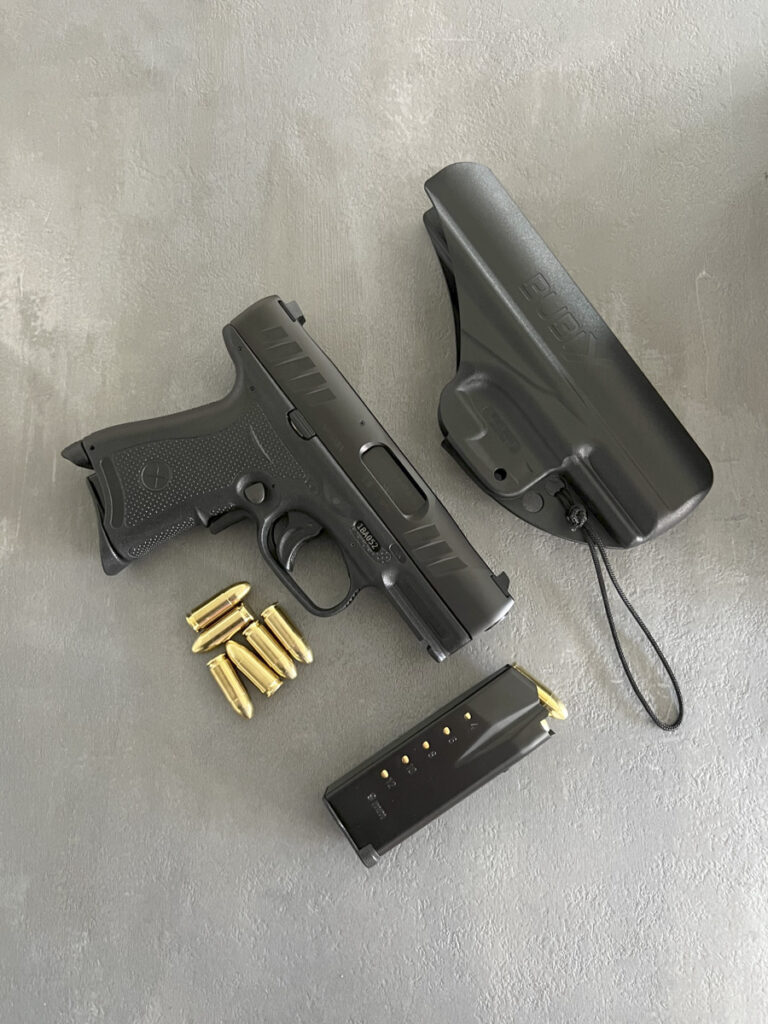 Handguns with this working system are made distinctive by a closed-top slide design, and a recessed ejection port on the right side. Advantages of the Bubits locking system include increased reliability in conjunction with the continuous use of high pressure rounds, and a reduction in the unlocking angle, which in and by itself translates into less muzzle flip. As of today, handguns based on the Bubits-modified locking system include the BB Techs BB6, the Taurus TS9, and the Kimber R7 Mako.
And now, the Bubix Bro.
Family Ties
Enter Benjamin Bubits. Following on his father's footsteps, the son of Wilhelm Bubits established his own company – Bubix GmbH – in 2019, and announced his first pistol in late 2021. The pistol, called the "Bubix Bro" was introduced to the public in numerous trade shows (such as EOS, in Italy) in early 2022. It could seem odd for a European company to focus on a concealed carry handgun in a continent where concealed carry licenses are seldom – if ever – granted, but aside from export, subcompact handguns have their own market in Europe as well, starting from smaller-handed shooters who want a more comfortable firearm for the range as well as home protection, to private security guards who, in numerous European countries, do carry pistols and, more often than not, must buy their own.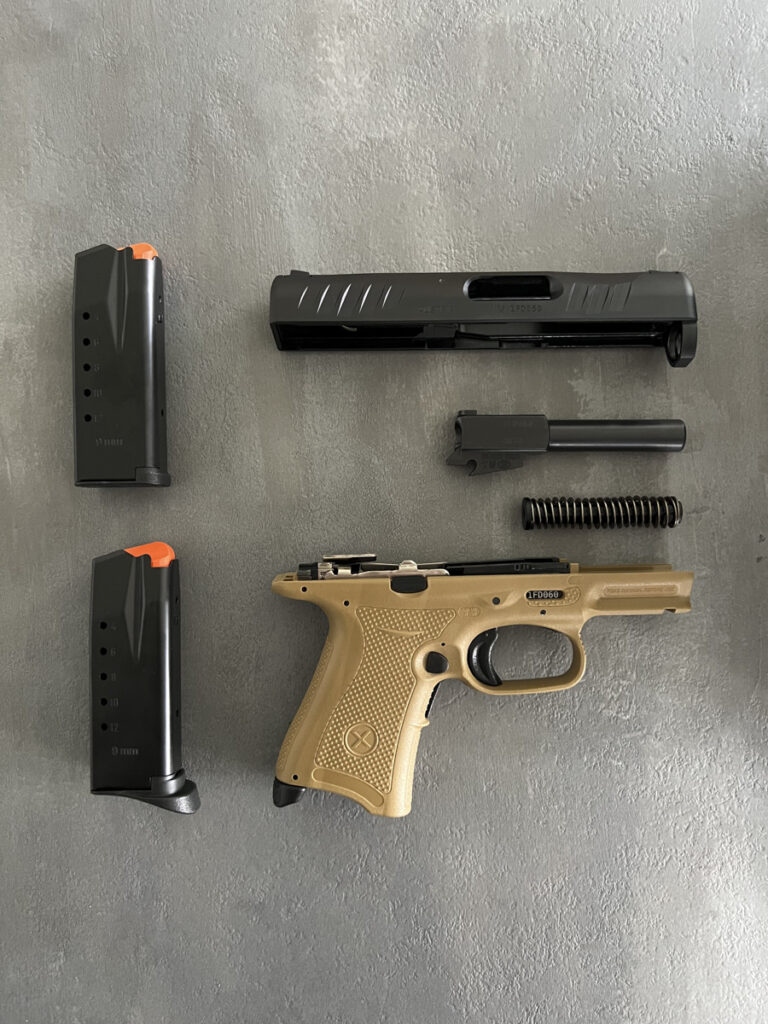 Not only, thus, the Bubix Bro aims at the demanding and competitive concealed carry market in the United States, but also offers numerous desirable features that could better appeal to the European market, as well. Being restricted and regulated – in some countries more than in others, but still – the European market is not just as price-driven as the American market. The average European gun owner will be more willing than the average American gun owner to spend some extra money and get his or her hands on a firearm that will provide the extra reliability and quality to last for a lifetime.
This is particularly true for the selected few who enjoy the privilege of a concealed carry license, which in most European countries is released only to those who can demonstrate a special need for protection; those users will be looking for a firearm that they feel comfortable and confident in using, and that can provide performance and reliability for a long time.
A Better Idea(?)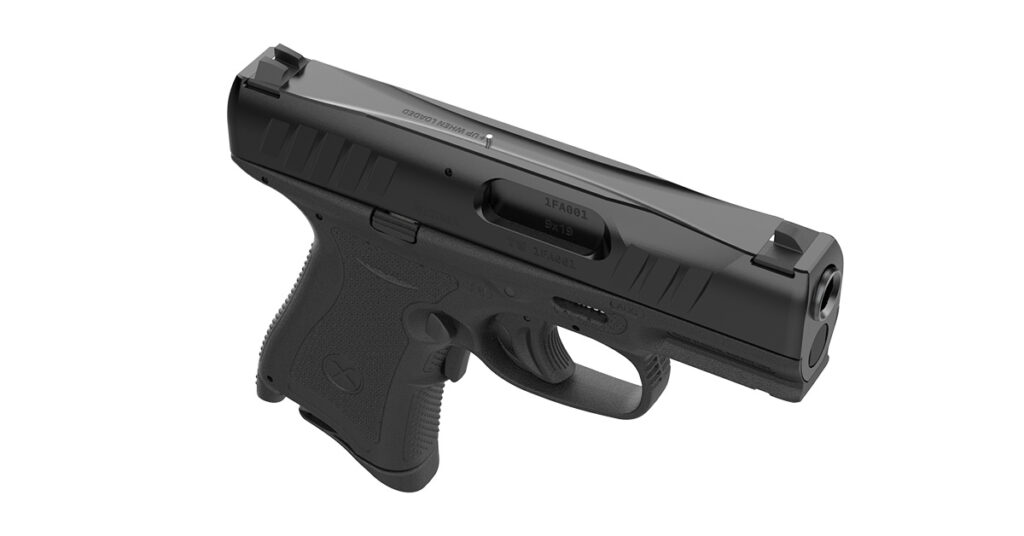 According to Benjamin Bubits, the idea to develop the Bubix Bro as a subcompact comes from a market analysis showing how the market is lacking in suitable subcompact pistols that offer "the full package" – referring to subcompact pistols with features that would make them suitable for all purposes, including those in which a full-size pistol would normally still be king.
As such, the Bubix Bro is, first and foremost, very small, being just 6.36 inches long overall and 1-inch wide at the grip, featuring a 3.54-inch barrel and feeding from a 12-round, double-stack metal magazine with a polymer follower and interchangeable floorplate.
Calibers
The Bubix Bro has been announced in three calibers so far: 9×18 Makarov, 9mm Luger, and 9×21 IMI. More specifically, 9mm Makarov was chosen over .380 ACP – a far more popular option for concealed carry subcompact pistols in the U.S. – due to the extra power factor, and to the capability of a handgun chambered in said caliber to appeal to eastern European markets as well as mostly everywhere else the diminutive but sturdy Makarov has had a chance to prove its worth and gain acceptance and recognition.
9×21 IMI, also known as 9 Italian, is a likewise curious choice. The caliber was developed in the early 1980s by Italian gunsmith Armando Piscetta to circumvent the long-standing ban on 9mm Luger for civilians in Italy; it's called 9×21 IMI because the first lots were manufactured and marketed by Samson – which, back then, was the commercial small arms ammunition brand of IMI – Israel Military Industries, Ltd. – but Italian laws have since been amended to repeal said ban completely: long guns in 9mm Luger were legalized in 2011, while the last vestiges of the ban, which covered handguns, were finally lifted by a new law that passed at the end of 2021 and went into effect in early January 2022.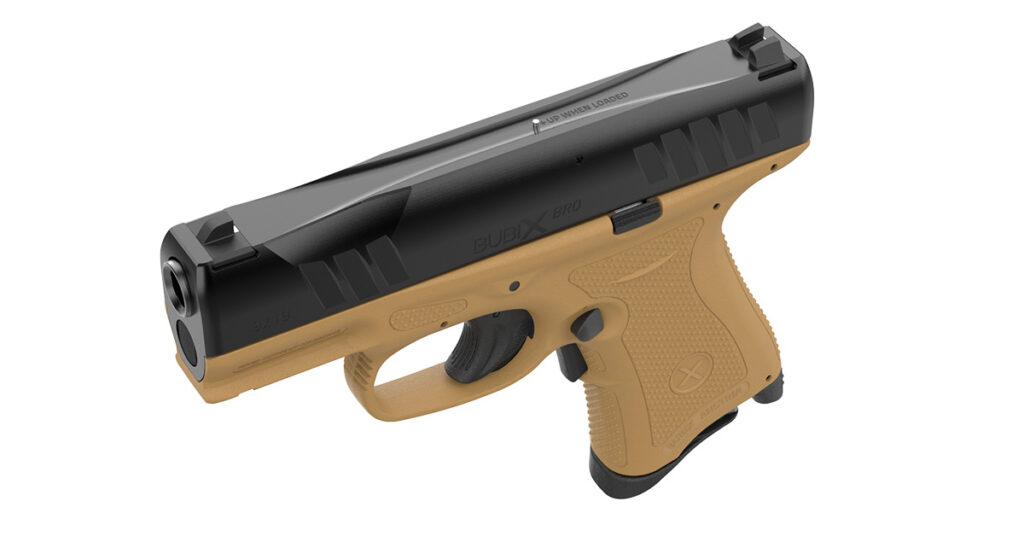 Nonetheless, after over forty years, 9×21 IMI has gained popularity on the Italian civilian market, with hundreds of thousands, if not millions, of firearms chambered in this caliber in circulation. Converting a handgun from 9mm Luger to 9×21 IMI – and vice-versa – takes nothing more than a barrel change, not to mention the fact that firearms chambered in 9×21 IMI can readily chamber and fire 9mm Luger much in the same way as a .357 Magnum will readily use .38 Special ammunition (the contrary being impossible since 9×21 IMI is slightly larger than 9mm Luger).
Indeed, the Bubix Bro can be converted from and to each of the three calibers through factory conversion kits.
The Bubix Bro is manufactured on the basis of a modular trigger group encased in metal, which represents the serialized component. The trigger group is of the sliding type, featuring a drop safety and a trigger safety; unlike other striker-fired light double-action pistols, the Bubix Bro does not feature a Glock-style trigger safety, nor a traditional backstrap-mounted grip safety, opting for a smaller, front-strap grip safety which is easier to disengage and is more comfortable and gentler on the shooter's hand.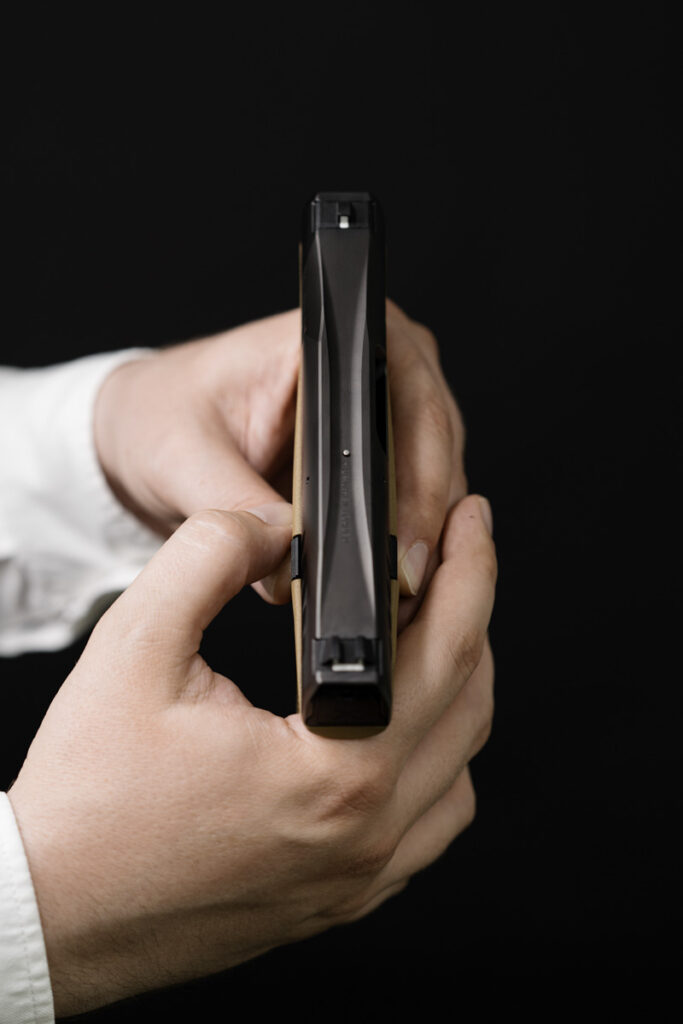 Alternatively, the shooter may go for an optional manual safety version, consisting of a flip-up, ambidextrous paddle located at the base of the trigger guard, easily engaged and disengaged by the shooter's thumb. Readers will recognize this solution as the one adopted on the Taurus TS9 and the BB Techs BB6.
Striker-Fired, Slimmer, Smarter
The trigger pack is contained in a reinforced polyamide frame with a light aluminum chassis, currently available in black, olive drab green, or desert tan camo, and soon-to-be-released in red, blaze orange, dark brown, or pink. The frame will also be available as a separate component and features a Picatinny rail for accessories on the dust cover, fully ambidextrous slide stop and magazine release catch, and numerous stippled and checkered surfaces on the grip and in front or over the trigger guard for a firm hold and to incentivize a safe positioning of the trigger finger when the gun is handled. Grip size can be adjusted by changing the magazine floorplate, with flush-fit and extended pinky rest variants available.
A striker-fired design, the Bubix Bro features a black DLC-coated steel slide with front and rear serrations and a set of dovetailed black polymer sights with white high-visibility inserts. The geometry of the sights favors both fast alignment for quick self-defense use and more accurate, reflexive aiming for target practice. A pronounced loaded chamber indicator on top of the slide protrudes visibly when a round is chambered.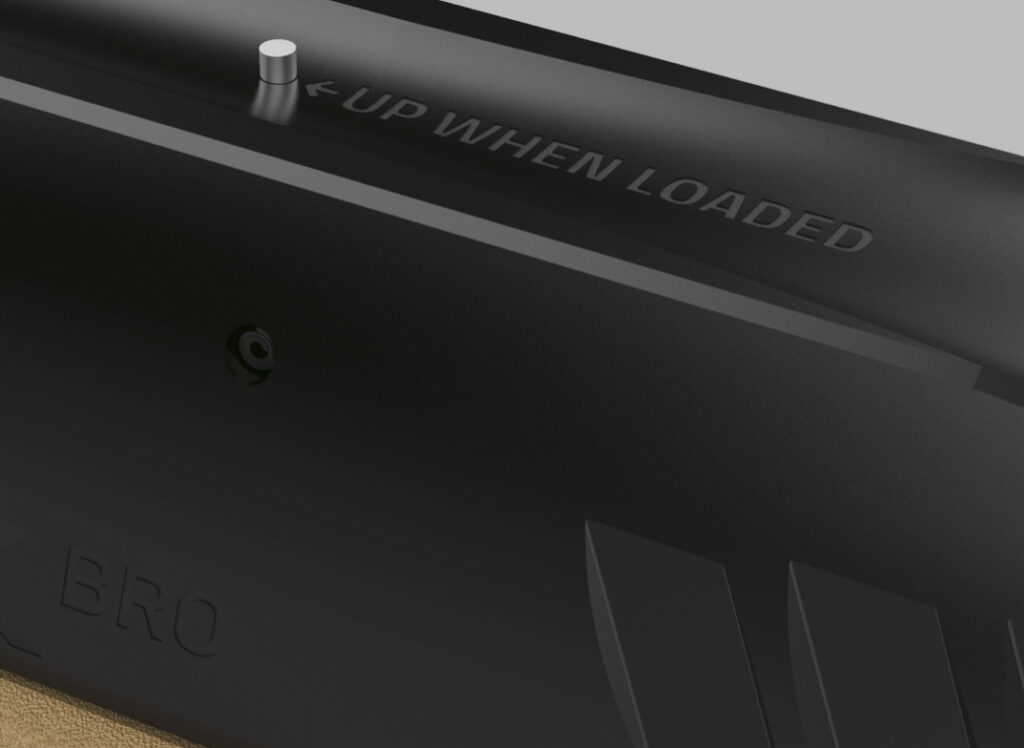 The rear portion of the slide is tightly plugged by a removable cap, arguably tighter than those found on many other striker-fired pistols – which, in turn, translates into less possibilities for dirt or other elements to penetrate the striker seat. As of today, the Bubix Bro isn't compatible with optical sights, but at the 2022 European Outdoor Show (EOS) expo – held in Verona, northern Italy, back in February – the company showcased a prototype slide with side cuts for a proprietary snap-on/snap-off interface that will allow the use of a wide array of micro red dot sights.
All controls are extremely comfortable, well textured, and particularly the slide stop lever doesn't feel like a sharp metal wedge ready to cut through the shooter's hand, as is the case with so many others around. The ambidextrous mag release is located in a set of twin recesses in the grip, remaining practical and comfortable to operate without resulting obtrusive or risking accidental magazine release if the pistol is gripped too tightly. The trigger is light and short, with a noticeable take-up and a short reset. The takedown control is even less obtrusive, located as it is within the trigger guard, in form of a recessed button.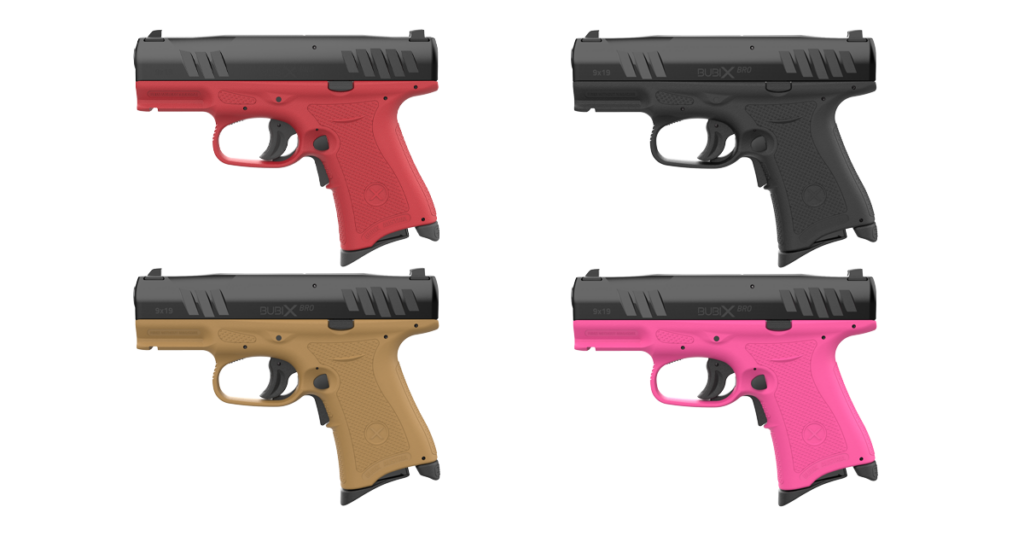 To field- trip the Bubix Bro, the shooter must remove the magazine, clear the chamber, and make sure that the striker is dropped. At that point, he or she may press the takedown button and slightly push the slide forward, then lift it up to complete the disassembly. The barrel and captive recoil spring assembly may then be removed. The takedown button requires a substantial amount of pressure to be released, which prevents accidental activation by either the shooter or sheer recoil energy.
The Unexpected
It is not usual to see a micro-compact pistol – a concealed carry-oriented firearm – engineered and manufactured abroad without having the super-receptive, but also super-competitive, U.S. civilian market as its main focus. And yet, with the Bubix Bro, this is exactly what we have: a modern, modular, multi-caliber, soon to be optics-ready handgun manufactured in a country known for its quality guns, conceived to provide an all-round shooting experience in an extremely compact size.
The Bubix Bro comes from factory with a proprietary holster, dubbed the BROGuard, which is molded out of polymer and features a retention catch cord. The BROGuard is an IWB holster which locks and retains the gun completely at the trigger guard, avoiding accidental discharges when the Bubix Bro is holstered or drawn. With the retention catch cord attached to the shooter's belt and the holstered gun tucked inside the waistband, when the gun is drawn the holster will follow it until it reaches the breaking point – by which, it detaches, freeing the handgun. The BROGuard is ambidextrous and features a loop at trigger guard height for the factory-issued trigger lock, which turns the holster into a safe storage device.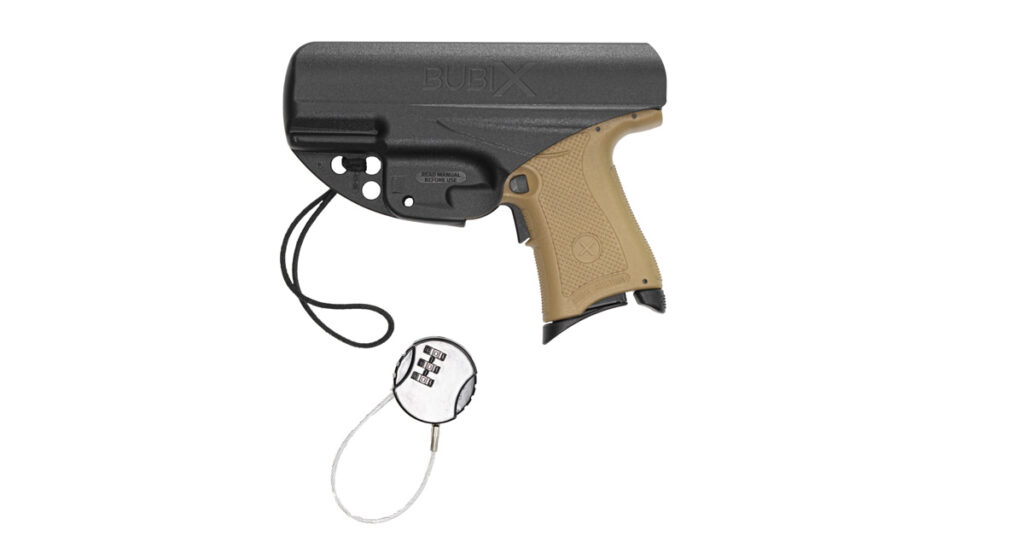 The manufacturer's suggested retail price for Europe ranges around 830 Euros – which may seem steep and not competitive on the U.S. market but is actually around the price of a Glock in numerous European countries with VAT and other taxes applied. Larger variants of the pistol will come in the future, but by now, let's look at the Bubix Bro for what it is: a smooth, quality European-made concealed carry pistol that manages to be different without representing a radical departure from what we already know, appreciate, and trust. There's no need to reinvent the wheel every time, right?
| | |
| --- | --- |
| Manufacturer | Bubix GmbH |
| Model | Bubix Bro |
| Type | Semi-automatic pistol |
| Caliber | 9×18mm Makarov, 9×19mm Luger, 9×21 IMI |
| Action | Striker-fired, Semi-automatic, locked breech |
| Trigger system | Light double action, striker-fired |
| Safety | Drop safety, firing pin safety, grip safety; ambidextrous manual safety |
| Capacity | 12 rounds in double-stack magazine |
| Sight systems | Dovetailed polymer with white inlays |
| Barrel length | 3.54in – 6 grooves, RH, 1:12 twist |
| Total length | 6.36in |
| Weight (empty) | 19.7 to 20.8oz, depending on caliber |
| Materials | Fiberglass-reinforced polyamide frame, milled steel slide |
| Finishes | DLC black on metal surfaces; various colors for the |
| MSRP | Starting at $847 |
| URL | bubix-arms.com |