Mystery Ranch is dropping a limited number of special build Gunfighter 14 and Gunfighter 24 packs on its site today at 1pm MST.
The limited edition packs, dubbed "Special Blend" builds, are EDC-friendly versions of packs from the company's new Military Assault pack line. The Ranch is dropping 300 each of the Gunfighter 14 SB and Gunfighter 24 SB packs that feature genuine MultiCam Black fabrics along with laptop and tablet capabilities not found in the standard versions of the packs. The company says these packs create the perfect combination of military heritage and designs with everyday carry features everyone can appreciate.
Common features between the two versions include:
• 330D Cougar Nylon with DWR and PU coatings
• IR complaint fabric and YKK zippers
• Lightweight design considerations throughout
• Rip-zip style opening for quick access
• Fixed harnessing
• Top zipper port for antennae, cables, and hydration access
• Laser-cut ULTRACOMP PALS on exterior for MOLLE accessory attachment
• External detail pocket for documents or ID
• Outer side stretch-woven pockets for mags or hydration
• Large outer pocket for mags or sustainment
• VELCRO on lid for identification and patches
• Two internal zip mesh pockets
• PALS web on interior panel for MOLLE accessory or radio carry attach
• Interior laptop sleeve fit laptops up to 15 inches
If this is your jam, act fast as they are sure to sell out fast!
GUNFIGHTER 14 SB – A Minimalist Workhorse
With a low-profile, minimalist design, the GUNFIGHTER 14 SB is equally adept at packing extra ammo out in the field or a laptop on a daily commute. Reimagined with lightweight design considerations, this day-to-day workhorse offers all the tactical versatility short missions call for.
Color: MultiCam Black
Weight: 1.0 kg (2.3 lbs)
Volume: 14 L (854 cu-in)
Dimensions: 16.75 x 10.25 x 9.25in
MSRP: $399
URL: MysteryRanch.com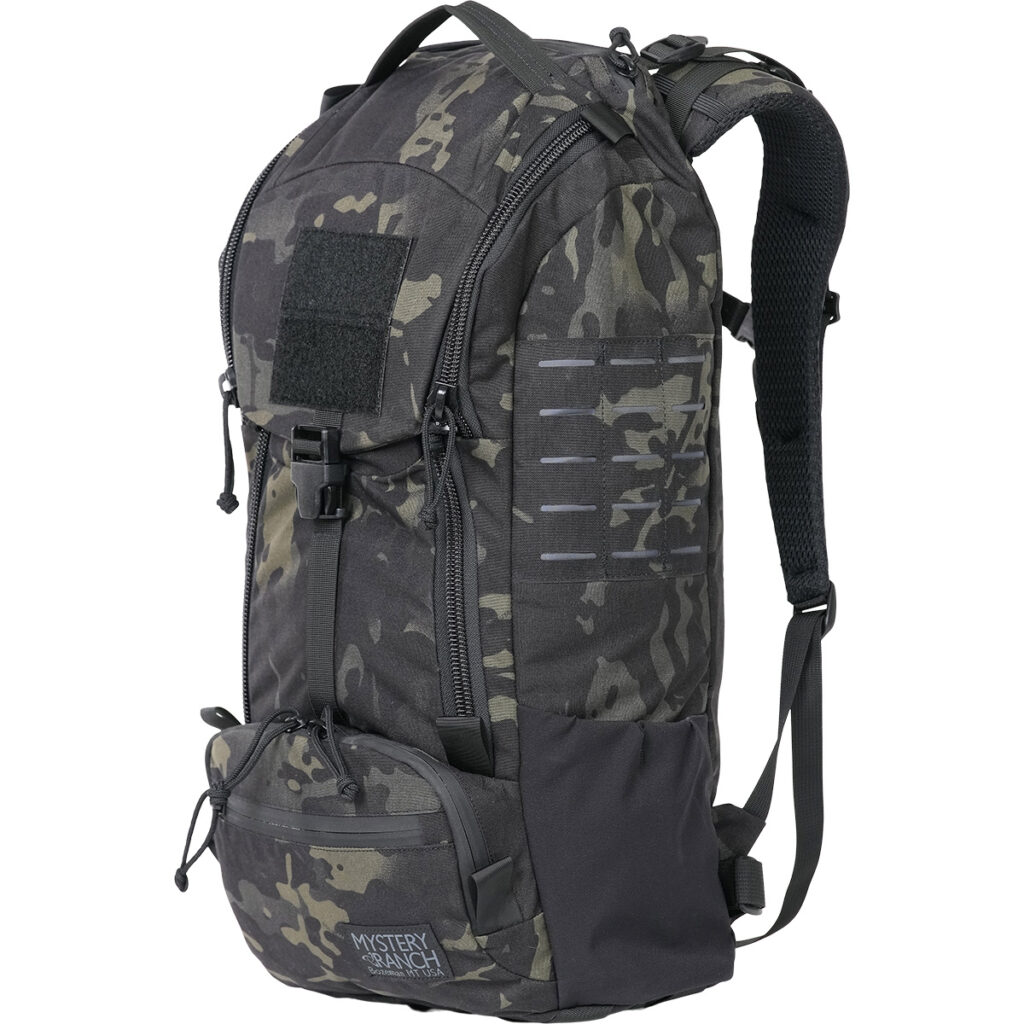 GUNFIGHTER 24 SB – A Little Extra Heft
For daily missions requiring a little more heft, the GUNFIGHTER 24 SB provides just the right amount of space and organizational storage for everything from a laptop to daily-driver gear and hydration. It's designed as lightweight as possible without compromising durability or tactical versatility.
Color: MultiCam Black
Weight: 0.87kg (1.91 lbs)
Volume: 26 L (1485 cu-in)
Dimensions: 21.21 x 10.25 x 10.25in
MSRP: $425
URL: MysteryRanch.com