By Todd Burgreen
Century International Arms has long been a contributing factor to the increasing popularity of AK rifles in the U.S. stemming from the multitude of AK products offered by Century over the years. Century's latest AK in the form of the Centurion 39 Sporter Rifle is innovative in many ways compared to its other AK offerings. Century's decision to maximize the use of U.S. manufactured parts in the Centurion 39's assembly makes it a true "All American" AK. The most significant aspect of the Centurion 39's construction is the U.S. made milled receiver that is unlike most AKs that feature stamped receivers. The Centurion 39's receiver is created from an eleven pound block of 4140 ordnance quality steel. For years, users have sweated the details of complying with 18 USC 922R and the potential of even more legislated compliance on the horizon related to allowable imported parts: the Centurion 39 eliminates this concern. Century maximizes the "All American" theme by shipping two U.S. made Tapco 30-round magazines with the Centurion 39. The U.S. made milled receiver is not the only Centurion 39 feature that sets it apart from other AKs on the market.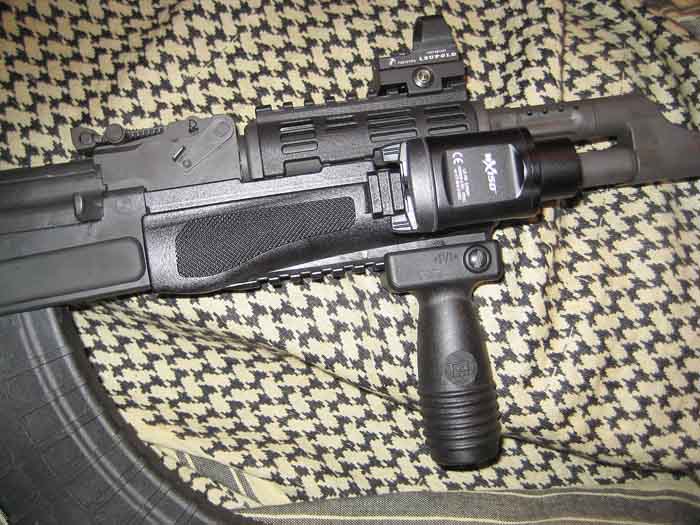 The Centurion's non-chromed lined U.S. made barrel is 16.5 inches long with a 1:10 twist rate. Overall length of the rifle is 37 inches with a weight of 8.2 pounds. The milled receiver adds about a pound of weight to the Centurion compared to a similarly configured stamped AK. Yes, the con is a heavier rifle, but the pro is reduced felt recoil allowing for more controllability during rapid strings of fire. Further, enhancing the Centurion's controllability is the proprietary "V" shaped Chevron compensator Century has designed and installed on the Centurion 39 that directs gases upward mitigating muzzle climb during firing. The compensator is attached via typical AK 14x1mm LH thread pattern.
Century incorporates a different open sight configuration with the Centurion 39 compared to standard AK style sights. The rear sight is adjustable for windage unlike most AKs that have the user drift the front post for sight alignment. This allows for the Centurion's front sight post to be of a high visibility design compared to an AK47s normal front sight post. The rear sight is also adjustable for range/elevation via sliding the rear sight along the rear sight plate.
The Centurion's buttstock is one inch longer than normally associated with the AK in recognition of the larger stature of shooters found in the U.S. The stock can be switched out if it is not what a shooter desires since stock choice is an individual choice to begin with. The Centurion 39 follows the 1960 Polish pattern in terms stock furniture and angle the rear stock sits in relation to the receiver. Attention needs to be paid in stock choice related to the milled receiver. A milled receiver stock attaches differently than a stamped stock due to the milled receiver having upper and lower tangs that are integral to the rear of the receiver compared to a stamped receiver's connection points.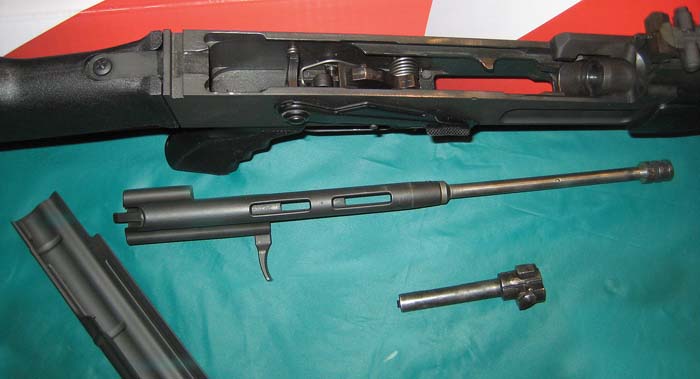 The cross influence of the ever popular AR-15 is evident in the Centurion's configuration utilizing handguards featuring multiple rails for the mounting of accessories such as optics, lights, lasers, and vertical forward grip. The railed forends are manufactured by Century specifically for the Centurion 39. Some may find accessorizing the AK an act of heresy, but many more will take advantage of the capability offered by the railed handguards. As of this writing, Century lists the Centurion 39 at only slightly over $800. This is reasonable compared to other AKs on the market, especially so considering the milled receiver and multiple enhancing features found on the Centurion.
What more can be written about Mikhail Kalashnikov's ubiquitous AK47? Models/versions proliferate around the world and now are spreading across the land of its Cold War nemesis the M16/AR-15. Despite the nefarious 1989 Import Ban and expired 1994 Assault Weapon Ban, the AK series of weapons have never been as popular in the U.S. as now. This is due to their well earned reputation for ruggedness, reliability, and low price point for rifles and ammunition compared to ARs. Lessons rediscovered in Iraq and Afghanistan about terminal ballistics further enhances 7.62×39 AK credentials. 7.62×39 loads ranging from 122-154gr FMJ, HP, and SP perform very similar to the .30-30 in terms of ballistic performance. A recently introduced Hornady offering is further proof that the AK47 has come to stay in the U.S. The Kalashnikov long-stroke gas-piston operating system is a benchmark in terms of reliability for other actions. A key component in the AK design is the looser tolerances in its moving parts, giving it more latitude to function when dirty from field conditions or hot and grimy after firing numerous rounds over extended amounts of time. This translates into reduced sensitivity to debris in the action and ultimately lower maintenance requirements to keep it functioning.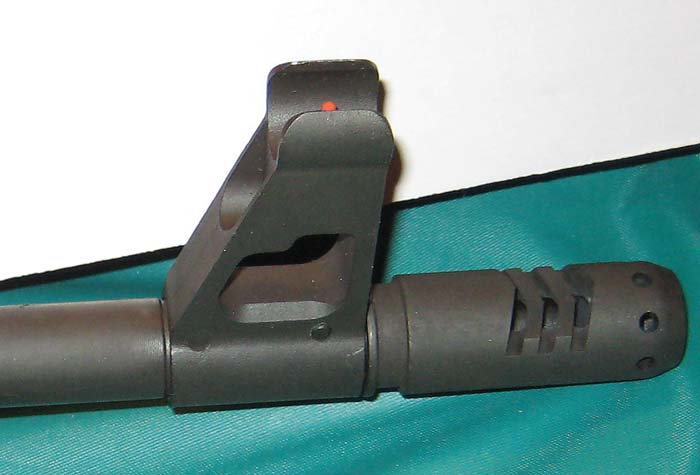 After a quick verification of 25 yard sight zero, range evaluation commenced with a function test involving firing several magazines in rapid succession at various steel man targets and vehicles that dot the range where testing was done. While not unique, this is a good way to establish a baseline for reliability. Let's face it; if an AK-type weapon does not have faultless reliability, its major attribute is nullified. Additionally, different types of AK47 magazines were used to further root out any manufacturing quirks that might exist in the Centurion. Metal and polymer 30-round magazines of various manufacturers performed fine with no issues inserting, removing, or feeding.
An interesting sidebar involved with testing the Centurion was the use of the U.S.-made U.S. Palm AK30 magazine. The U.S. Palm magazine follows the "All American" theme of the Centurion. The AK30 magazine is molded together so that disassembly is not possible or warranted. The AK30 magazine uses a low-friction semi-floating slotted follower for reliability and ease of maintenance. A heat treated stress relieved moly-coated chromium silicon spring has a life span of over 100,000 cycles. The magazines feed lips and locking surfaces are reinforced with stainless steel and molded into the top of the magazine. Finally, aggressive texturing front and rear offer positive tactile feel while the waffle pattern on the sides aid in extraction from magazine pouches.
A more comprehensive 100 yard sight zero confirmation took place after functionality was established. The recently introduced Leupold DeltaPoint reflex sight was mounted on the upper Picatinny rail for use during some of the testing. Red dot sights increase the user's capability in engaging multiple targets in rapid sequence compared to open sights. The Leupold DeltaPoint's single focus plane translates into more rapid and accurate shooting due eliminating the need to coordinating front and rear sights, especially as ranges increase; not to mention a shooter's age. The Leupold DeltaPoint sight withstood the recoil and heat generated by repeated long strings of fire. At only .6 ounces and dimensions slightly over one inch in length, width, and height, the Leupold DeltaPoint adds minimal weight and size to a weapon's forend, while providing for increased capability. The Leupold DeltaPoint is powered via a single CR2032 3V Lithium battery. Battery life varies depending on light conditions due to the Auto-Brightness feature. There is no "On/Off" switch with the DeltaPoint due to Leupold's patented motion sensor technology activating the unit once the cover is removed. The DeltaPoint has two reticle options consisting of 3.5MOA dot and 7.5MOA delta. The motion sensor and auto-brightness control kept the unit operating at optimum levels during range evaluations. The DeltaPoint comes with a cross slot mount intended for Picatinny rails making mounting it on the Centurion's forend simple. Other mounts are available for a variety of handguns as well.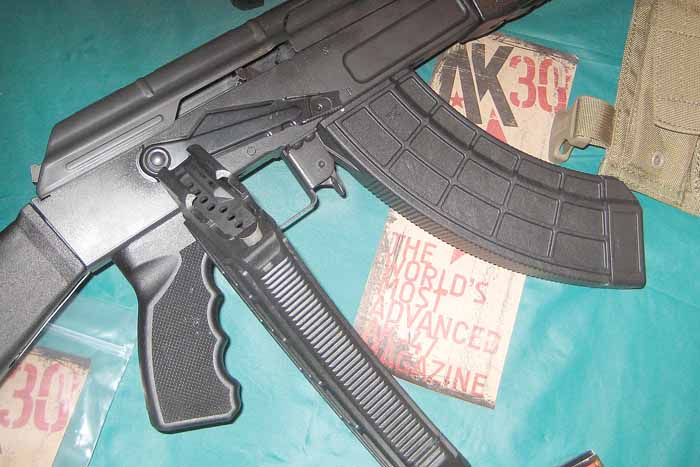 Attention needs to be paid when installing a forward vertical grip on an AK47 to ensure magazine changes are not compromised. The vertical forward grip aided in weapon manipulation and did not cause any issues with magazine changes during range visits with the Centurion 39. There is another reason to prefer vertical forward grips. When a rifle's handguard is smoking after taking abuse that an AK is famous for and staying operational, a vertical forward grip is perfect for keeping your hand away from the barrel. An Insight WX150 tactical light was mounted on the right side of the handguard within easy thumb reach of the vertical forward grip. Many find a vertical forward grip as an aid to off-shoulder transitions and other types of improvised shooting positions. The increased leverage offered by a vertical forward grip allows more control over the weapon across a variety uses.
Wolf Ammunition Polyformance 122gr and Military Classic124gr loads hovered in the 3-inch range at 100 yards with surplus Egyptian and Yugoslavian 7.62×39 producing slightly larger groups. One downside to most surplus ammunition is that it utilizes corrosive primers. Something the Russians and other ex-Soviet bloc states insisted on using due to concerns with cold weather ignition and long-term storage capabilities offered by corrosive primers. However, stocking up on it cannot be resisted considering that it can be still found at .25 cents a round or lower. Corrosive ammunition is not the destroyer of rifles many will lead you to believe as long as proper cleaning methods are followed to remove elements left over from the primer residue.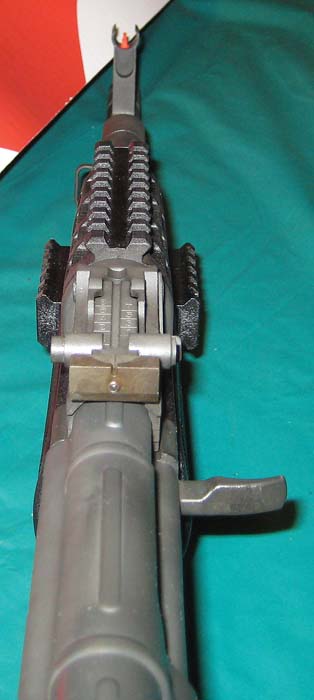 The Centurion 39 does not feature an integral side scope rail prohibiting mounting of a magnified optic for more precise accuracy tests. 3 inches at 100 yards with a 15.25 inch sight radius is more than acceptable for an AK or any other open sighted rifle. The forward mounted Leupold DeltaPoint reflex sight produced similar accuracy findings. Other range tests consisted of completing numerous runs on a carbine course previously set up for a law enforcement competition. Several clusters of IPSC-style man targets are engaged from various firing positions. Multiple shots were fired at each target with a magazine change mandated before leaving cover. The various stages consisted of three different styles of barricade with one including coming thru an operable door frame. Time was stopped by engaging two steel man-targets placed approximately 125 yards downrange. The Leupold DeltaPoint reflex sight assisted in engaging targets at close distances with the red chevron easy to pick up rapidly, while at the same time allowing for more than enough accuracy out to a couple hundred yards due to the red chevron superimposing an aim point on the target while not totally obscuring the target due to the chevron not being that large and focusing on the point of the chevron as the aiming point.
Team Tactic exercises involving moving to and from a designated target area using cover while either changing magazines or engaging targets while partner is reloading or moving is another good weapon evaluation drill. One gets a good sense of the way a weapon handles along with reliability due to the sum of ammunition expended in short time frames characteristic of these Team Tactic drills. Further training exercises such as magazine changes, shooting from the non-dominant shoulder and unconventional positions helped to put the Centurion 39 through its paces. Strings of fire ranged from 15 rounds to 130 rounds with target distances measured in feet out to a couple of hundred yards. The Centurion 39 handled as expected from an AK combined with perfect reliability. Other non-scientific tests consisted of blazing away at targets of opportunity located around the range such as car hulks, manhole covers, and steel MGM Precision Steel targets. Total rounds fired involving multiple range visits was over 1,100. The rifle was cleaned between range visits due to use of corrosive ammunition.
It is ironic in many ways that Century's "All-American AK" Centurion 39 makes use of a milled receiver. This resembles the experience of the AKs original birth in the Soviet Union. The first mass produced Soviet-made AKs used milled receivers to take advantage of existing manufacturing capacity the Soviet Union had available in the aftermath of the devastation of World War II. The AK was intended to utilize a stamped receiver to maximize production and minimize cost, but stamping machinery technology and manufacturing methods were relatively new in the Soviet Union creating problems with quality control; thus necessitating the use of milled receivers until production issues were solved with the stamped receivers. While only a supposition, it is reasonable to assume the U.S. commercial manufacturers with their commitment to CNC machines have no incentive to convert to or make the investment in stamping machinery just to make AKs. Millions of AKs are not the order of business for the U.S. consumer, thus no benefit from the economy of scale represented by stamping manufacturing. The Century Centurion 39, typified by its U.S.-made milled receiver and other enhancing features, is a significant moment in the AK evolution.
Sites of Interest
Century International Arms
430 South Congress Ave. Suite 1
Delray Beach, FL 33445
(800) 527-1252
www.centuryarms.com
Leupold&Stevens, Inc.
14400 NW Greenbrier Pkwy.
Beaverton, OR 97006
(800)-LEUPOLD
www.leupold.com
US PALM/SGCUSA
14860 N. Northsight Blvd.
Scottsdale, AZ 85260
(480) 222-4369
www.us-palm.com
Wolf Ammunition
PO Box 757
Placentia, CA 92871
(888) 757-9653
www.wolfammo.com
This article first appeared in Small Arms Review V13N10 (July 2010)