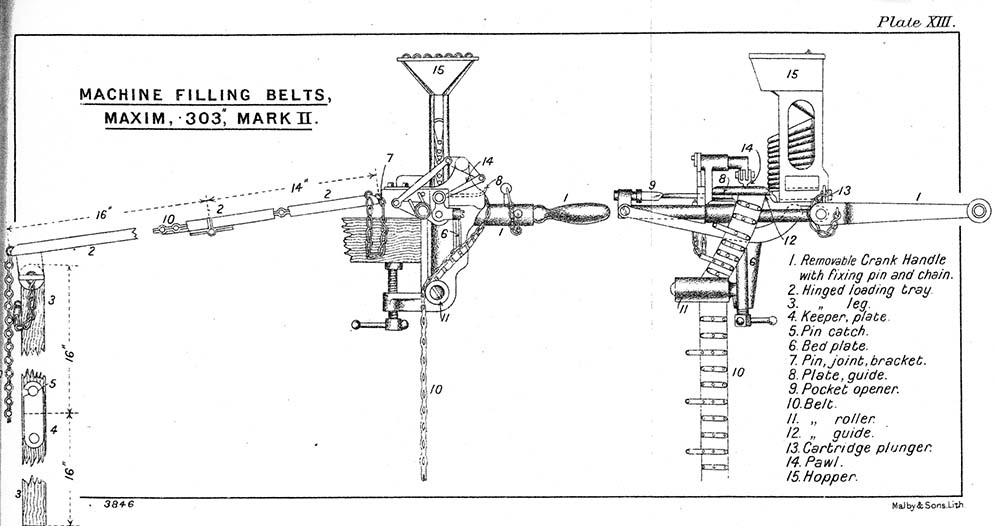 By Robert Bruce

"The belt-filling machine is designed to place the cartridges expeditiously and evenly in the ammunition belts, and is constructed so that it may be readily clamped on to the most convenient place." Handbook For The .303" and .303" Converted Maxim Machine Guns (Magazine Rifle Chamber) Mounted on Carriages, M.G. Infantry; Carriages, Parapet: Tripod and Cone Mountings. War Office, London, 1911

This special section shows complimentary implements for some of the best known and least known military weapons dating back to the earliest years of automatic fire. Even casual students of the history of military weaponry usually know what an old Maxim or Hotchkiss gun looks like and the difference between the heavy tripod for a .30 cal. Browning water cooled and its little brother used with the lighter air cooled version. But SAR takes justifiable pride in being a resource for serious researchers in the field of military small arms.

There are a number of benefits that accrue to all of us from learning about such decidedly arcane things as Maxim receiver cartridge removal tongs or Schwarzlose water jacket pumps. Certainly, museums and collectors that have them need to know their purpose and technique for use. Others are well advised to seek then rescue old, odd, and unusual gun things that might otherwise be overlooked in bargain bins, cluttered workshops or dusty antique stores. Like the time a friend bought a big box of Benet-Mercie feed strips and original GI loading tool for $5 at a yard sale….

While proudly offering the following pictures, I caution that many are admittedly lacking in technical quality. This is due to the inevitable deterioration over time – in some cases more than a century — of prints on file, or the fact that they have been copied from old military manuals that weren't real good to begin with. Actual captioning information which accompanies these images has been carefully transcribed.

Other information in the captions comes from numerous reference materials in the author's technical library. Your comments, corrections and observations by straight text email message are welcomed at RBRUCEPIX@aol.com. Due to the necessity for antivirus safeguards, I regret that no attachments will be opened.
This article first appeared in Small Arms Review V6N9 (June 2003)