A Firepower Package Like No Other
By Todd Burgreen
The urge to capitalize on AR modularity, firepower, ergonomics and accuracy potential with cartridges other than 5.56mm has constantly appealed to the shooting community. CMMG was an early soothsayer who tapped into this sentiment. In 2019, CMMG decided to bring their braced pistol and SBR models under one product heading—BANSHEE. Ten different calibers are currently offered from .22LR to .458 SOCOM with many stops in between. Various barrel lengths and accessories/furniture levels are broken into Series 100, 200 and 300 models. Exact configuration in each Series is dependent on the caliber chosen.
With the Series 100 BANSHEEs you will find a classic A2 pistol grip and birdcage flash hider. Series 100 pistols receive no brace on the buffer tube. Series 200s are outfitted with upgraded furniture choices like Magpul's® MOE pistol grip, CMMG's RipBrace™ and CMMG's single-chamber SV muzzle brake. The gold standard of the BANSHEE lineup is the Series 300. Highlighting the Series 300 is the option to choose from 10 different Cerakote colors. The BANSHEE model name is laser-engraved on the lower receiver. Ambidextrous controls, charging handle, sling points, premium trigger, Magpul pistol grip, CMMG's RipBrace and CMMG's SV muzzle brake are further upgrades. All BANSHEE Series 300 firearms are the shortest configuration CMMG offers in their respective caliber. The Series 300 MK47 BANSHEE chambered in 7.62x39mm will be focused upon later in this article.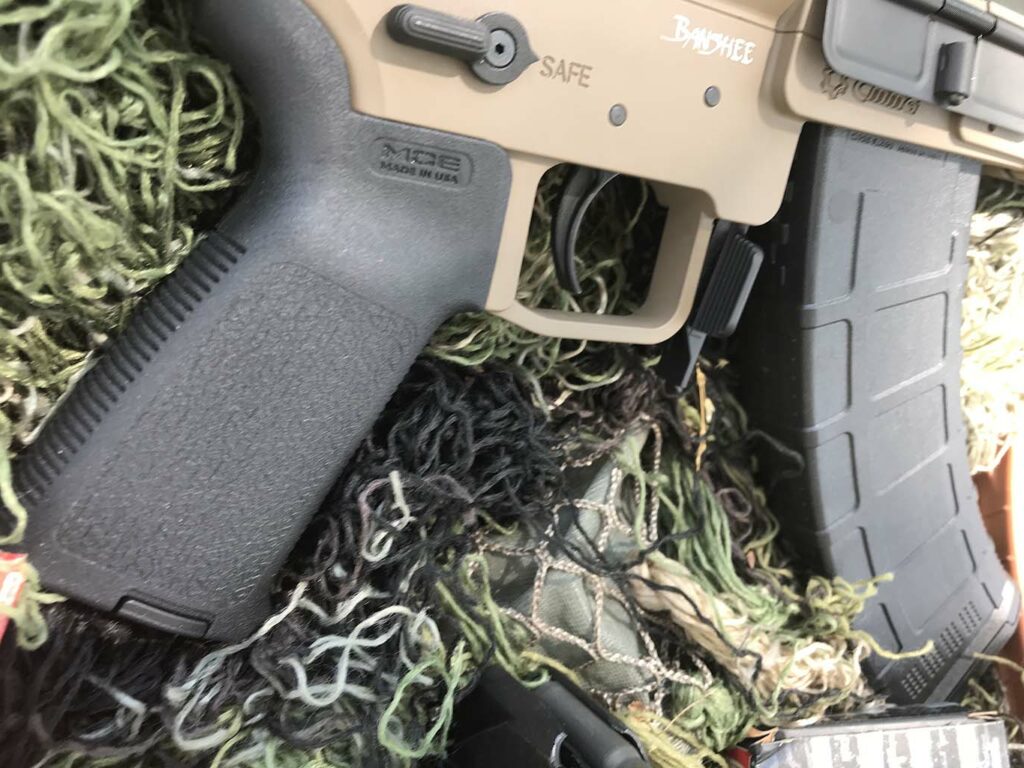 The number of pistol models stemming from what was typically associated with rifle pattern weapons has exploded. Every major manufacturer is now compelled to offer a pistol version of what was traditionally considered a rifle model. CMMG tapped into this positive market sentiment early on and lead the way with multiple caliber options and configurations related to braced pistols centered on AR-like weapon patterns.
AR-type pistols dominate the braced pistol scene due to the overall popularity of the AR in the U.S. and the way the AR buffer tube interacts with the user. Early AR pistols relied on the buffer tube only for interface. People forget that the current plethora of brace options were not present initially. The AR pistol genre gained prominence/legitimacy with the arrival of braces; the AR buffer tube proved an ideal, natural mounting point.
For individuals who have no legal access to an NFA Class 3 Short Barrel Rifle (SBR), the braced pistol may well be the closest they can get to achieving rifle-like firepower in such compact packages. Along these same lines, the expansion of states issuing concealed carry permits, plus other states honoring these permits, is another reason why braced pistols are so popular currently. The ability to maintain handgun status with a semblance of SBR rifle performance cannot be resisted. The legal classification as a handgun offers users who have a concealed carry license a certain amount of flexibility compared to a true rifle or NFA SBR-classified weapon.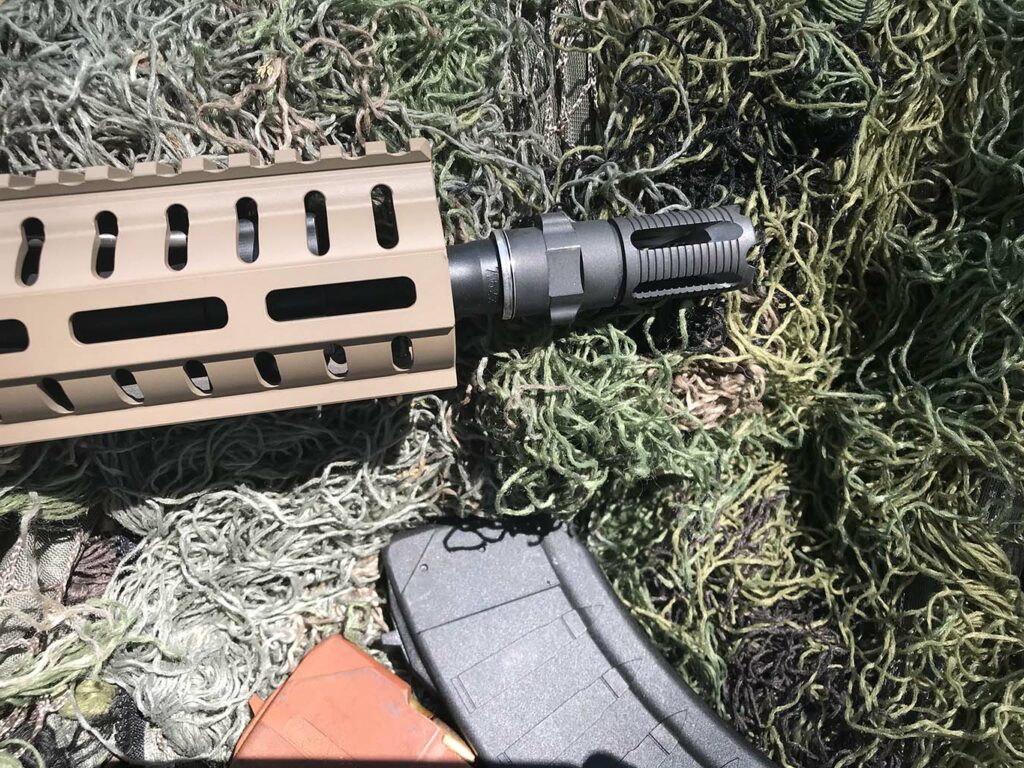 The direct impingement BANSHEE MK47 features an 8-inch barrel with a CMMG DefCan™ 3 flash hider. Upper and lower receivers are billet 7075-T6 aluminum. CMMG's own M-LOK-compatible handguard is utilized along with a CMMG oversized, ambidextrous charging handle. The MK47's weight is 6 pounds, 3 ounces with an overall length of 24.5 inches with the brace collapsed.
Do not think that CMMG only adapts existing technology or merely assembles parts. CMMG innovation is the key to their success. A great example of this is the BANSHEE MK47 chambered in 7.62x39mm. The BANSHEE MK47 7.62x39mm receiver and bolt group are derived from CMMG's MK3 series of 7.62x51mm/.308Win rifles. CMMG describes this as a mid-sized AR receiver (3/4 inch shorter than an AR-10) and views its adaptation from the larger AR-10 receiver/bolt group an important component of the BANSHEE MK47's reliability and durability. In lieu of trying to force an AR-15-sized receiver into accepting the 7.62x39mm cartridge, CMMG decided to go with a scaled-down AR-10 receiver to facilitate the dimension tolerances required. This decision has important benefits.
The MK47's mid-size receiver allows CMMG to be one of the few AR manufacturers to accommodate the natural feed mechanism for the 7.62x39mm—the AK-47 magazine, including drums. Early AR rifle attempts that utilized non-AK magazines were dead on arrival due to negating a major component of the 7.62x39mm appeal—the reliable, widely available economical AK-47 magazine. One of the less appreciated aspects of the Kalashnikov's original AK design is how the front of the magazine is hooked into place and kept steady behind a wide feed ramp allowing the bullet nose and case a smooth path to the chamber. This is one factor contributing to the AK's "hell and back" reliability that the CMMG BANSHEE MK47 benefits from. This is an important consideration for any 7.62x39mm connoisseur. The BANSHEE MK47's larger-than-typical AR-15 receiver offers plenty of room for the wider and longer feed lips of the AK magazine compared to an AR-15. The same can be said for the CMMG MK3 AR-10-type bolt carrier in terms of providing the necessary bolt momentum/velocity for reliable operation in lieu of a more compact/lighter AR-15 bolt group.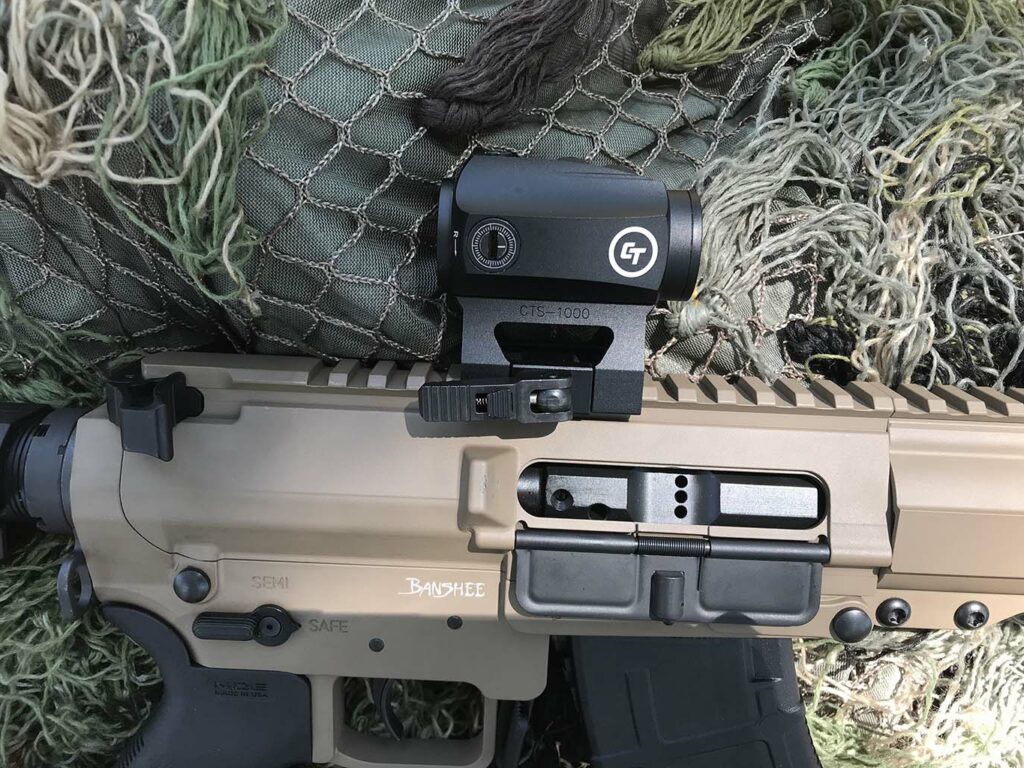 Magazine Compatibility
AK magazines are not made to a tight "standard" pattern as associated with typical Western methods. This translates into some previous 7.62x39mm chambered AR rifles being confined to working within a narrow range of AK magazines offered. The BANSHEE MK47 avoids this pitfall. A plethora of AK magazines were evaluated with the CMMG BANSHEE MK47. This consisted of polymer Magpul, TAPCO®, Bulgarian (smooth and waffle) as well as surplus steel magazines. The CMMG BANSHEE MK47 proved capable of accepting and working with all magazine types tested. Even drum magazines, which are often the bane of AR 7.62x39mm rifles, were tested successfully with the BANSHEE.
Since typical AK magazines do not have a follower to hold the bolt open after the last round is fired, CMMG eliminated the bolt catch mechanism on the BANSHEE MK47. This eased design constraints associated with the magazine well area and alleviated the need to intrude into the trigger housing for space, thus enabling the use of AR-15-type triggers. This approach further extends to the magazine release arrangement decided on by CMMG. CMMG installed a wider than normal AK paddle-style lever in front of the trigger guard. This has the dual benefit of giving users increased leverage when changing the magazine and making the release ambidextrous.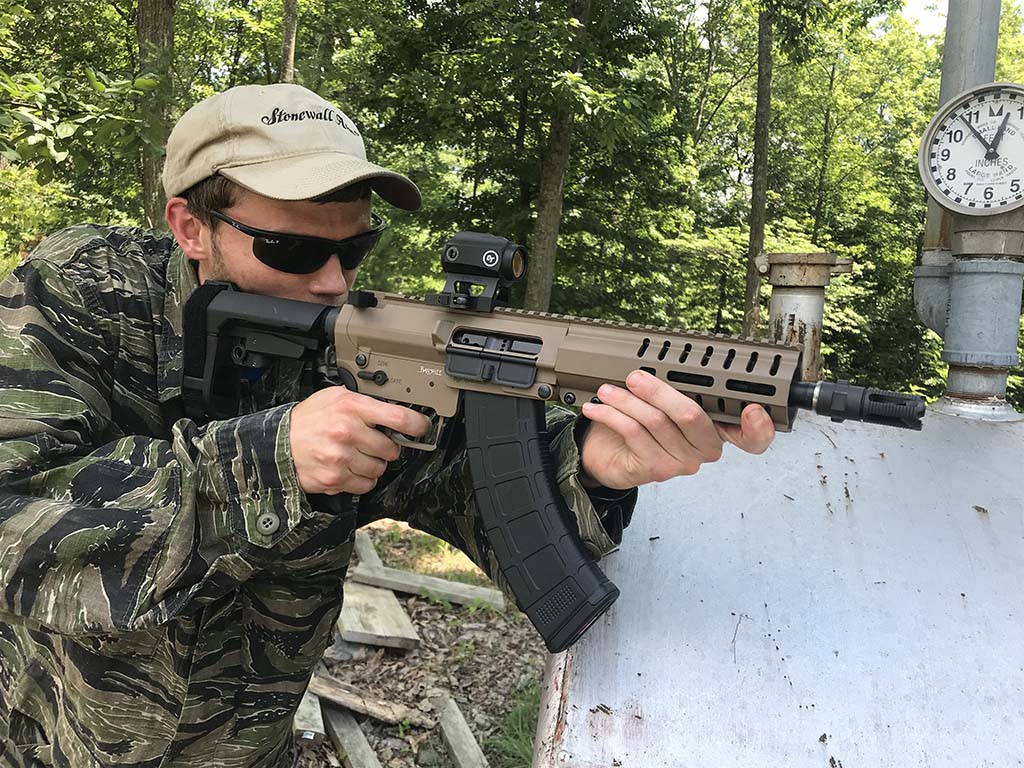 Other Features
An AR-15-compatible trigger and ambidextrous sling mounting plate are implemented so users can access plentiful AR after-market options if desired. CMMG was able to do this while still minimizing the BANSHEE MK47 weight at 6 pounds. Significantly, the BANSHEE MK47's AR upper receivers allow for easy mounting of optics to the envy of classic AK owners. A weapon like BANSHEE MK47 is a perfect candidate for red dot sight use.
A Crimson Trace CTS-1000 reflex red dot was mounted. The CTS-1000 features a 2.0 MOA dot and is installed with a quick disconnect rail mount. Independence from set eye relief requirements is one of the red dot's major advantages. This is born out when working in tight confines or finding oneself in awkward firing positions to maximize cover. Keep both eyes open, and if you see the red dot on the target, pull the trigger. The adjustable intensity of the Crimson Trace CTS-1000 red dot sight allows you to tune the reticle as needed either in low light or bright conditions.
The BANSHEE is more potent and offers a longer effective range than a traditional pistol, especially if trained to use it effectively and appreciate its nuances. The CMMG RipBrace enables deployment techniques that maximize the BANSHEE's potential. The multi-positional CMMG RipBrace is the current epitome of the brace concept. A favorite technique is floating the brace on the cheek, not shouldered, providing three points of contact for more stability and thus accuracy. This is not a newly discovered technique. There are reports of Czech Special Forces in the Cold War running their Skorpion machine pistols in a similar fashion. It was also used by early practitioners/advocates of AR pistols using only the buffer tube minus any brace. We have come a long way from this. Attentive training will pay dividends in finding what works best for individual users.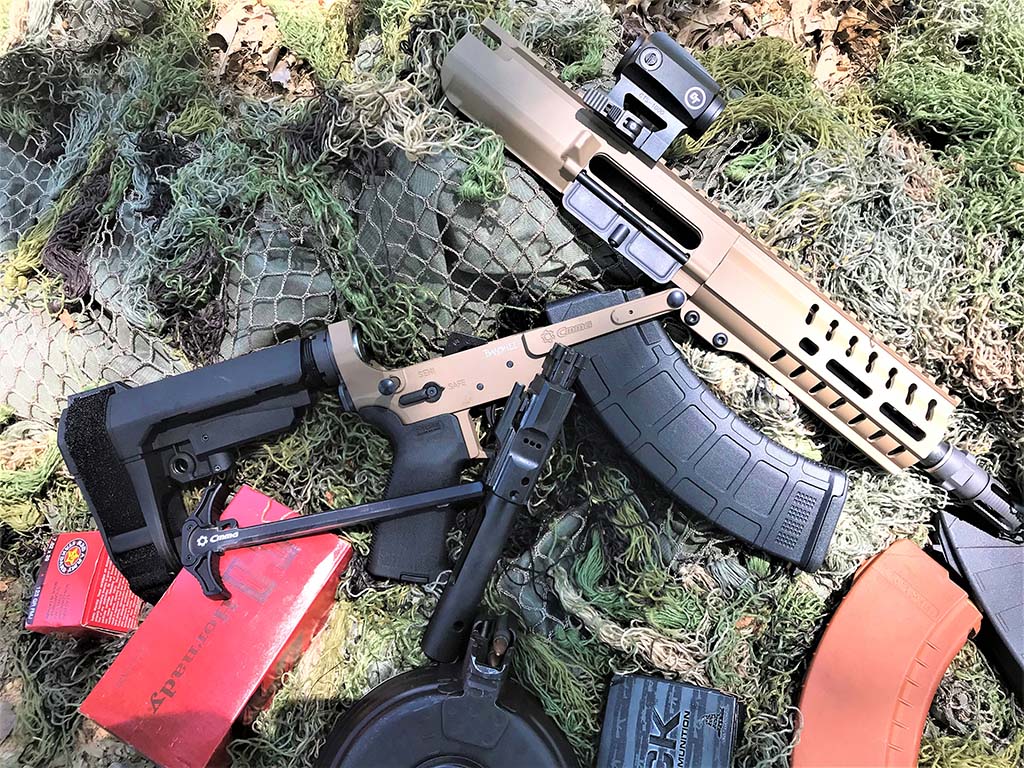 Multi-Day Testing
Multiple days of testing at the Echo Valley Training Center (EVTC) focused on working with the BANSHEE MK47 around vehicles, barricades and EVTC's Hesco Shoot House. Targets ranged from point blank out to a couple hundred yards. Over 700 rounds of ammunition were digested without issue with only a modicum of weapon maintenance performed via a healthy dose of lubricant at the start of testing. Multiple 7.62x39mm loads were tested with the CMMG BANSHEE MK47 from Hornady®, Wolf® and Century Arm's Red Army® Standard ammunition. A major focus with the direct impingement BANSHEE MK47 was monitoring reliability after hundreds of rounds fired, including magazine dumps and a high volume of fire-breaking contact scenarios. These types of drills quickly generate high heat and carbon grime in the receiver and bolt group along with inducing carbon from the gas system. No issues were encountered in terms of reliability. Overall accuracy and shootability were pleasant surprises. Magazine changes, shooting from the non-dominant shoulder and unconventional positions around barricades assisted in producing a full evaluation. Strings of fire ranged from 15 to 80 rounds with target distances measured in feet out to 200 hundred yards. While the 7.62x39mm is not considered a heavy recoiling round by any stretch, the BANSHEE's recoil was manageable even when firing multiple rounds in quick secession. The 6-pound MK47 balanced well with kudos given to the CMMG's forend setup keeping the weight centered.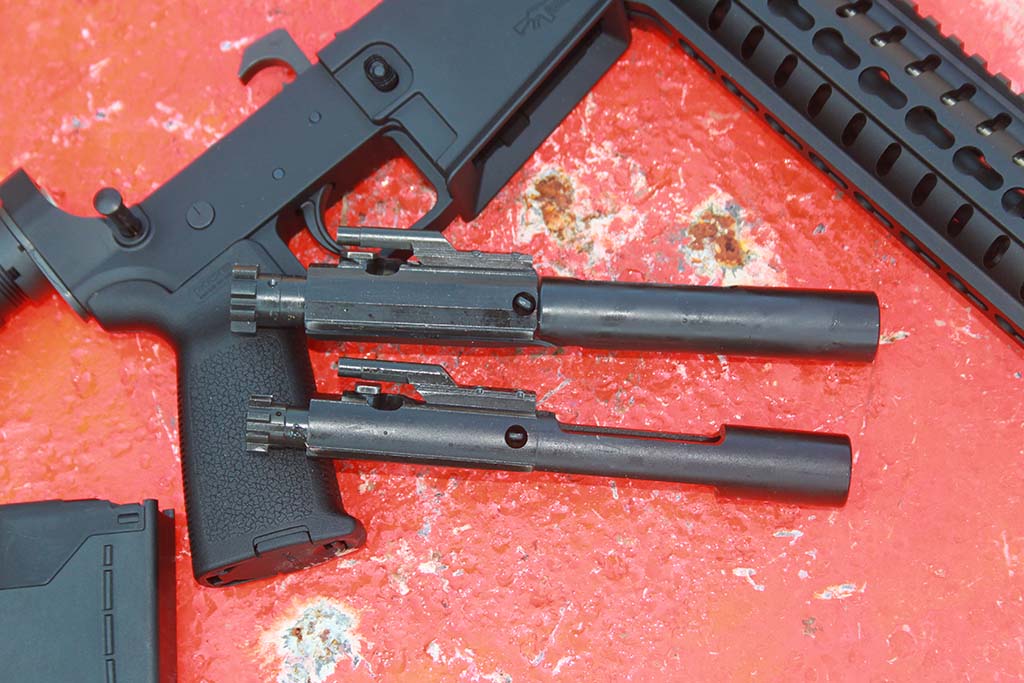 Magazine change drills turned out to be a combination of AK and AR methods in terms of manipulation. This was due to the need of rocking the AK magazines into place and working the charging handle in the absence of a last round, hold open feature. The technique was not particularly hard to master but different from what dyed-in-the-wool AR or AK operators are accustomed to. The BANSHEE MK47's magazine well is excellent in that magazines seem to glide into place without binding. It was discovered that the wider CMMG magazine release lever enabled the operator to manipulate it forward with his firing hand's index finger in lieu of thumbing it with his offhand while having to simultaneously remove an empty magazine. Overall, the author found magazine changes with the CMMG BANSHEE to be faster than other 7.62x39mm magazine-fed rifles evaluated to date; pure AK-47 derivative rifles are included in this statement.
The braced BANSHEE MK47 pistol offers the best firepower-to-size ratio of any weapon on the market. This is based on its .30-caliber power, ruggedness, reliability, accuracy and multi-mission capability. All CMMG's improvements associated with the BANSHEE are not merely "smoke and mirrors," but rather a concerted effort to improve upon performance and accuracy. A weapon like the CMMG BANSHEE has advantages in terms of handling, ease of concealability and increased portability that are hard to resist when compared to a standard length rifle. The inherent familiarity most have with the AR platform validates CMMG's decision to continue to enhance it through caliber expansion in the BANSHEE offerings.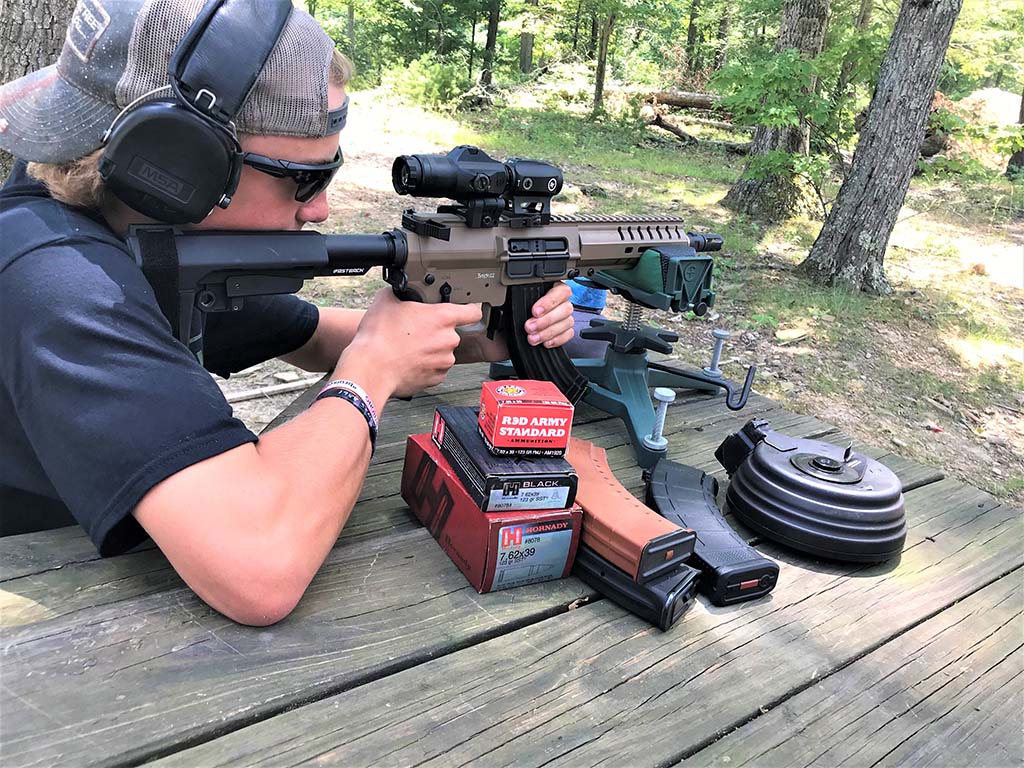 FOR MORE INFORMATION
cmmginc.com
Crimson Trace
crimsontrace.com
Echo Valley Training Center
echovalleytraining.com
Hornady
hornady.com
This article first appeared in Small Arms Review V25N1 (January 2021)