STREAMLIGHT
PROTAC 90X USB
Streamlight Inc. introduced the ProTac 90X USB, a multi-fuel, right-angle light that offers up to 1,000 lumens and features a 90º head for multiple lighting needs. The latest addition to the ProTac series of tactical lights is a complete, rechargeable system that includes a Streamlight SL-B26 protected Li-Ion USB rechargeable battery pack with an integrated micro-USB port and a charging cord. This multi-fuel capability enables users to charge the light on the go or insert cell batteries when a charging source is unavailable. The ProTac 90X can be used either as a handheld light or attached to MOLLE, belts, harnesses and other gear for hands-free use.
KOPFJÄGER
Reaper Grip Lower Assembly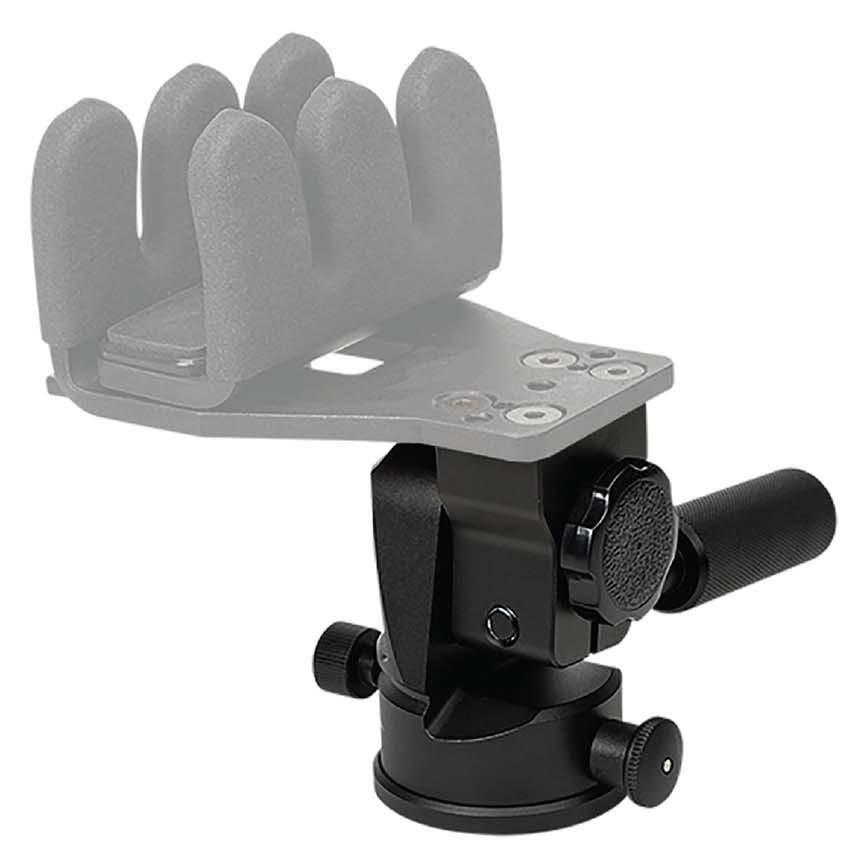 Kopfjäger announces its Lower Assembly for its Reaper Grip is now available for individual purchases. The Reaper Grip Lower Assembly (KJ86007) completes the full Reaper Grip setup for those who already have a Direct Mount Reaper Grip for ballhead tripods or those wanting to swap between the Reaper Grip and Reaper Rail. The Lower Assembly of the Reaper Grip provides an extremely sturdy base perfect for long-range precision shooting, LEO and military operations, hunting and zeroing firearm optics and accessories. In addition, a full Reaper Grip setup can be utilized by youth and disabled shooters/hunters and individuals who have a hard time supporting the full weight of a rifle by themselves. The Lower Assembly is made from rugged aluminum and is designed to endure harsh environments with ease and keep you on target. The system allows for smooth 360° panning and a tilt range of 109°, 21° up and 87° down. The Assembly mounts via a 3/8-inch 16 threaded hole and includes a camera thread adapter.
PROOF RESEARCH
Conviction Ti Long-Range Precision Tactical Rifle

PROOF Research announced the newest addition to its precision, long-range rifles with the Conviction Ti. PROOF Research combined a lightweight, titanium receiver with its match-grade, carbon-fiber barrel and laid carbon-fiber stock. With a starting weight of just 6 pounds, 6 ounces, the Conviction Ti is backed by PROOF Research's SUB ½ MOA guarantee. The ergonomic design features an adjustable cheekpiece, a near-vertical grip, low-profile flush cups, integral rail and a wider forearm to accommodate an EFR mount. Also, the Conviction Ti is available with a right- or left-handed titanium action, a TriggerTech trigger and a Pachmayr® recoil pad.
S&M AMMUNITION / SHELL SHOCK TECHNOLOGIES
9mm 115-Grain FMJ with NAS3 Casings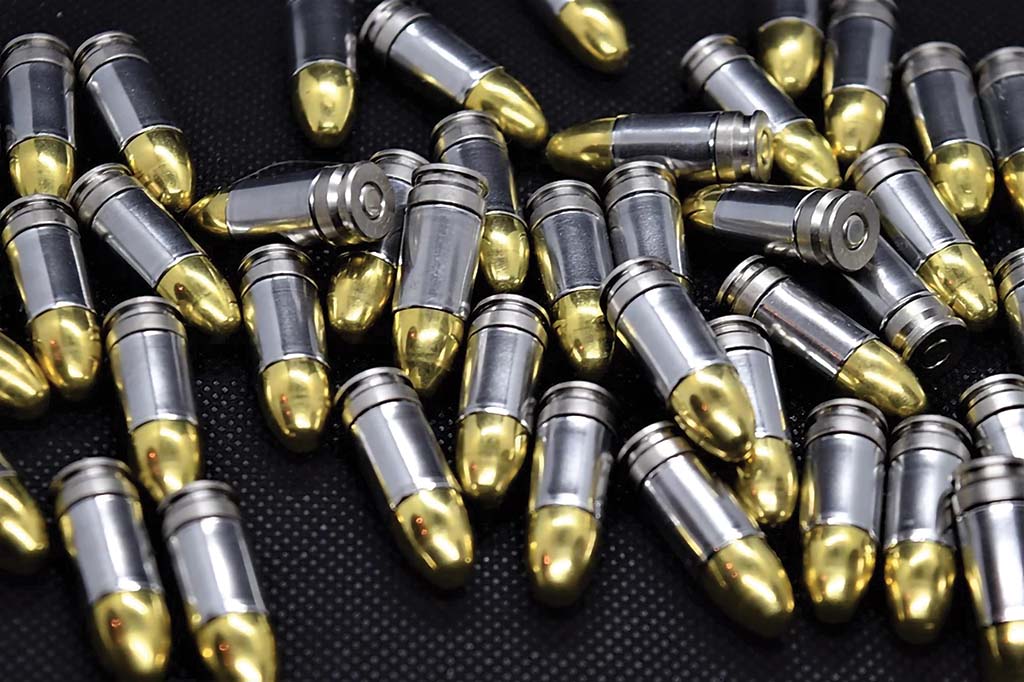 Shell Shock Technologies, LLC, announced that S&M Ammunition has introduced its 9mm 115-grain FMJ round featuring Shell Shock Technologies' NAS3 casings. The 9mm FMJ (not plated) S&M Ammunition total cartridge weighs 115 grains and is available in a box of 50 rounds. NAS3 9mm cases are 50% lighter than brass cases, offer greater lubricity and will not abrade, clog, foul, wear-out or damage breach and ejector mechanisms. NAS3 cases will not split, chip, crack or grow (stretch) and are fully reloadable (using S3 Reload dies) and can be reloaded many more times than brass cases. The head can be colored for branding purposes and easy load identification.
smammunition.com / shellshocktech.com
PULSAR
Thermion XG50 Thermal Riflescope

Pulsar's Thermion XG50 3-24×42 thermal riflescope boasts a BAE 640×480 microbolometer strength and 12-micron pixel detail to detect heat signatures up to 2,400 yards. As the first-ever riflescope to combine a BAE sensor, onboard recording, automatic and manual calibration options, multiple color palettes and manual focus, the Thermion XG50 is worth a look.
PRIMARY ARMS OPTICS
SLx GEN III Prism Scopes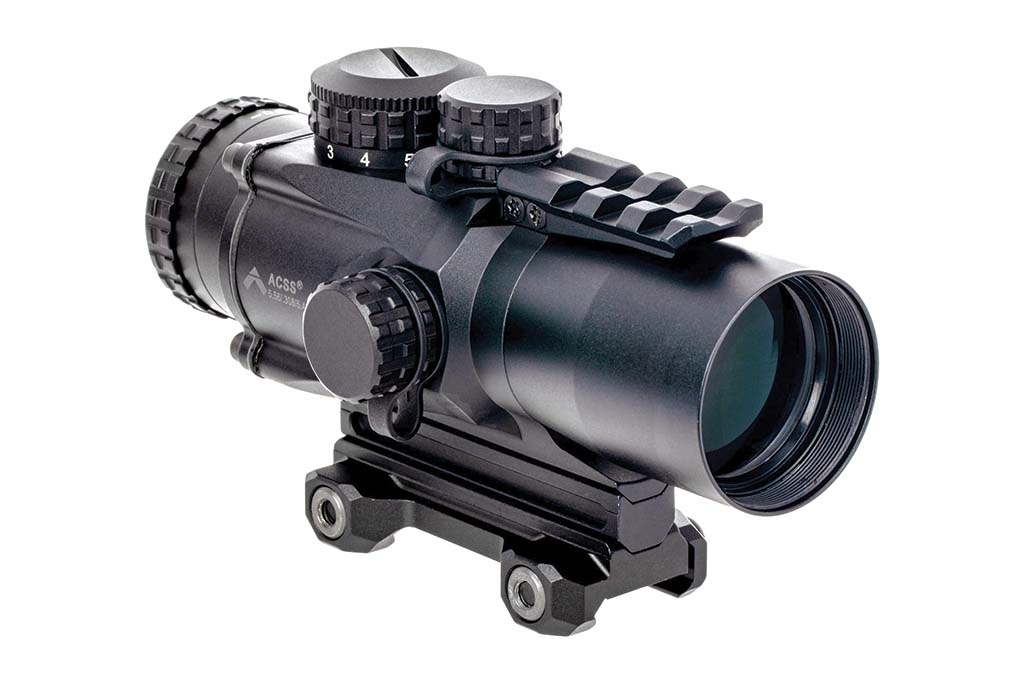 Primary Arms Optics is now shipping the latest generation of their renowned SLx Prism scopes. The SLx Gen III 3x and 5x Prisms host a number of significant upgrades over the previous generation. These upgrades include an all-new factory mount design and a number of ACSS® reticle updates. The SLx 3x32mm Gen III Prism scope is a general-purpose, mid-range prism optic and is suitable for most budgets. With a forgiving eyebox, brightly illuminated reticle and proven durability, the third-generation update brings a fully-reengineered factory mount that greatly improves the optic's shock resistance and zero retention.
The SLx 5x36mm Gen III Prism scope is a precision-oriented, long-range prism optic that weighs less than comparable mounted LPVOs, and the integrated Picatinny rail section allows for a vertically offset red dot. In addition to the mount upgrade, the SLx Gen III 5x is also Primary Arms' first prism optic to feature the ACSS Aurora reticle, a metric-based BDC that allows for precision holds out to 800m.
PULSAR
Accolade 2 LRF XP50 Binoculars
Pulsar announced the release of its Accolade 2 LRF XP50 thermal binoculars. With an enhanced sensor of <40mK, the Accolade 2 provides perfect detail recognition in rain, fog, ice or other adverse conditions. It also has a full-color 640×480 AMOLED display for vivid, flawless imaging and power conservation. Additionally, the Accolade 2's laser range finder (LRF) detects adult-sized objects up to 1,000 yards in zero light. The Accolade 2 also features a built-in camera and video recorder, Wi-Fi connectivity, direct image streaming, picture-in-picture and 8x variable digital zoom, to keep hunters connected and informed while they ply their trade. Further, the Accolade 2 also has an IPX7 waterproof rating and rechargeable batteries for durability and convenience.
This article first appeared in Small Arms Review V25N1 (January 2021)