The semi-auto Kivaari rifle is very pleasant to shoot having less recoil than a .308 bolt action rifle with heavy loads. The rifle is shown here firing several rounds rapid fire. Note one brass in the air and another just starting to eject. While the muzzle brake kills all the flash, the rifle still produces a substantial muzzle blast. Firing in a area with dusty dried vegetation, without a sound suppressor, could give away the shooters position. (Photo by Riley Harmon)
By Chris A. Choat
For those of you that have never fired or don't know much about the .338 Lapua Magnum round let this author bring you up to speed. It was a joint venture between Finnish rifle manufacturer SAKO and the British rifle manufacturer Accuracy International along with the Finnish ammunition manufacturer Lapua. The .338 Lapua Magnum is a rimless, bottle-necked centerfire cartridge that was originally designed for the military to use in their long range sniper rifles. Snipers were wanting a cartridge that could outperform the venerable 7.62 X 51 NATO (.308) but did not have the weight and recoil of the .50 BMG round. During the Afghanistan and Iraq wars the .338 Lapua Magnum round proved to be just the ticket for those 1000 yards plus shots that needed to be taken in the desert environments. The round did this without having to have a corresponding rifle that weighed in at around the 50 pound range. The round outperformed the .308 by far and was lighter and had considerably less recoil than the .50 BMG round so more ammunition could be carried by the individual soldier. During combat it was found that the .338 Lapua round could effectively defeat military body armor at ranges out to 1000 meters with no problem. The round actually had a maximum effective range of almost 2000 yards. It also set a new "longest confirmed sniper kill in combat" shot at a range of 2707 yards (2,475 meters). The .338 Lapua Magnum round has now found a place among not only military and law enforcement snipers but also among civilian shooters whether shooting competition or hunting dangerous big game.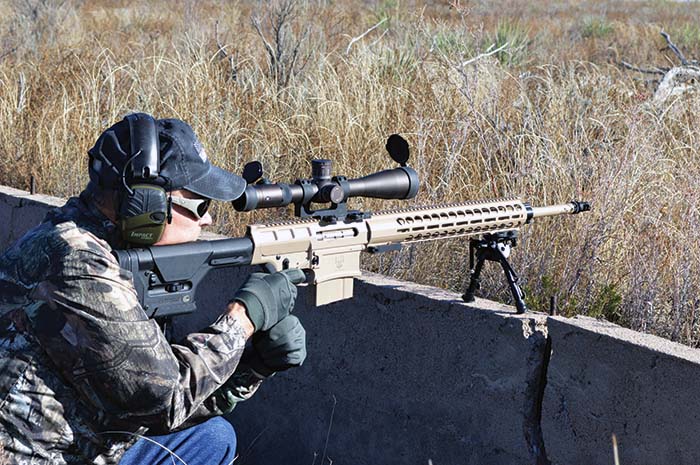 Up until just a couple of years ago the .338 Lapua was available in bolt-action firearms only. The round was never really designed to be fired in a semi-auto platform rifle. This mostly had to do with the way the ammunition was built. The .338 Lapua is a very high pressure round and not all manufacturers were consistent with their quality control. But today the ammunition available for guns chambered in this round has undergone several changes and so have the guns that shoot it. There are a score of bolt-action guns chambered in this caliber but now there is a new highly-reliable semi-auto AR-type platform rifle available for the .338 Lapua. It is called the Kivaari and is available from DRD Tactical!
The Kivaari is a semi-auto direct impingement gas operated sniper rifle that incorporates a patented quick takedown 24 inch barrel system. Using this system the large rifle can be easily taken apart and transported in either a 36 inch hard case or even a backpack. The rifles' upper and lower receivers are both machined from solid billets of aircraft grade aluminum. The rifle has a quick-detach rail forearm that features MagPul M-LOK™ accessory mounting slots. The forearm is removed by a simple cam locking lever and a captive takedown pin. Once the quick detach rail is removed, the quick takedown barrel system can also be removed with the supplied wrench. The whole process takes longer to tell about it than to do it. The rifle then separates into three assemblies; the upper and lower receivers, the barrel and the forearm. The rifle that was sent to this author for testing was shipped in a tan SKB hard case. This hard case has a foam insert with spaces custom cut for the rifle assemblies and it allows the optic to be left mounted in place on the upper receiver. The upper and lower receivers can also be left mounted together so all that is needed to be done to get the rifle into operating condition is install the barrel and forearm and put in a loaded magazine. Two custom made 10-round metal magazines are supplied with the rifle. These magazines are DRD Tactical's own proprietary magazine that are a double column, double feed magazine and can be loaded easily by hand without the need for a loading tool.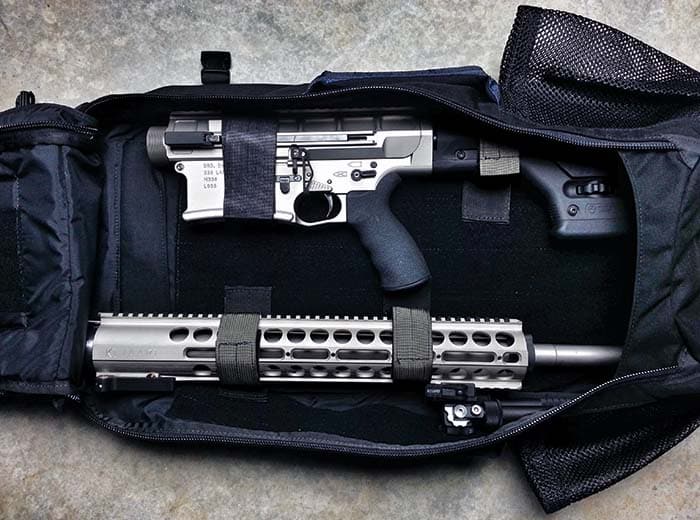 The Kivaari comes out of the case ready for any mission. The gun is no lightweight. It weighs in at a little over 13.5 pounds empty with no optic. The gun has an assembled overall length of 47 inches. The weight of the gun along with the gas system helps soak up of the recoil of the .338 Lapua Magnum cartridge. The recoil of the gun is very manageable and this author would compare it to a .308 bolt action shooting heavy bullet loads.
DRD has chosen to equip the Kivaari with one of the best stocks that can be used on a heavy sniper rifle of this type. It comes with a MagPul PRS stock with a very cushy recoil pad. This stock features an adjustable cheekpiece and has an adjustable length of pull. Both can be adjusted with the shooter's fingers alone, no extra tools are required. The rifle is also equipped with a recoil absorbing rubber Ergo Grip AR pistol grip. The grip, the recoil pad and the rifles weight make shooting the big cartridge a pleasant surprise. The test rifle was sent with the upper receiver, lower receiver, barrel, railed forearm and magazines finished in Flat Dark Earth Cerakote. This color combined with the black furniture made for a very good looking rifle. The Cerakote finish is just about bullet-proof.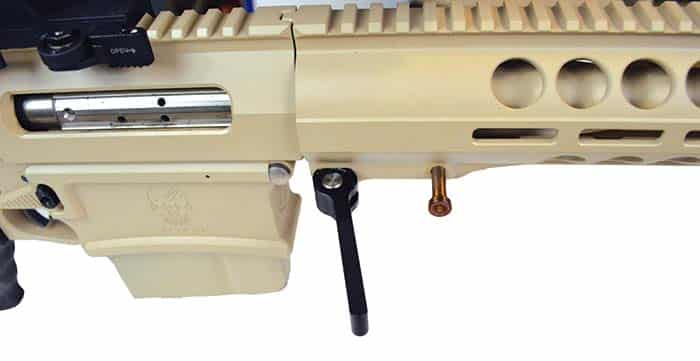 As stated before the Kivaari has a 24 inch quick-detach barrel system. The barrel uses a 20 inch rifle length gas tube that is fed from a low profile gas block. The barrel has a 1 in 10 twist and is threaded 3/4 X 24. The test rifle came with the excellent SilencerCo Specwar Trifecta Muzzle brake installed. This 3-port muzzle brake is compatible with several of SilencerCo's suppressors and offers one hand on, one hand off attachment/detachment. The 3-port design of the brake is also very effective at reducing recoil and muzzle climb. As the author did not have access to one of the SilencerCo suppressors the muzzle brake on the test rifle was changed out for one of Gemtech's new .338 3-lug OD muzzle brake for use with their new Arrow .338 suppressor. The new Arrow suppressor is a continuation of Gemtech's military-grade linage of .338 Lapua suppressors only now it's available on the commercial market. This is Gemtech's first suppressor to utilize their new 3-lug quick detach muzzle brake system which greatly increases accuracy. The new Arrow offers 32dB sound reduction in a suppressor that is only 12 inches long and weighs just 27 ounces. The new suppressor is made from titanium and 7075 aluminum and is finished with High Tem Black Cerakote. It will work on all calibers .338 and smaller and it sells for just under $1900.00.
While the Kivaari rifle looks like an AR on steroids it differs from the standard AR platform in one noted feature. It uses a left hand side-mounted charging handle that is non-reciprocating. This is a nice feature as the rifle can be charged with the off-hand without changing your cheekweld or even losing sight of your target in the scope. This combined with completely ambidextrous safety, bolt release and magazine release makes the Kivaari compatible with all shooters, right or left handed.
The Kivaari base rifle comes without optics but can be ordered with just about any scope the end user desires. The Kivaari that was received for testing was sent with the new Vortex Razor HD 5-20 X 50 riflescope. It features an extra large 35mm main tube which allows for extra windage and elevation adjustments for true extra long range shooting.. This scope is an excellent scope for the precision shooter whether used in competition or a tactical situation. It uses their mil-radian or MDAD reticle that also has 11 illumination settings. The scope is finished in a hard anodizing and comes in their new "Stealth Shadow" color that blends in with just about any other color. The scope uses ultra fine adjustable turrets and the elevation turret has their patented "Zero Stop" mechanism. This mechanism allows the shooter to go back to his zero elevation adjustment by simply turning the elevation knob clockwise until it stops. At this "stop" position the shooter knows they are back to the "zero" setting without having to even look at the turret markings. It is a first focal plane scope so the reticle maintains constant subtentions when magnifications are changed. In other words the reticle grows or shrinks depending on the magnification. During our testing this scope proved to be a perfect optic for this massive rifle. With magnification out to 20 power and a side mounted focus adjustment this scope could bring in even 1000 yards targets so that they could be seen clearly. This scope is also available with a mil-dot reticle. We mounted it with the LaRue quick mount. With the optic laser bore sighted we headed out to the range for some trigger time.
While the rifle was being tested SAR received two of Trijicon's newest optics for test and evaluation as well. These included the Trijicon Accupoint® 2.5-12 X 50 scope and one of the new Trjicon Accupower™ 4-16 X 50 scopes. The Accupoint scope was also mounted on the Kivaari rifle and used during the test. This scope features battery-free Illumination using fiber-optic technology that automatically adjusts the illumination brightness lever according to ambient light levels and the illumination level can also be "dialed" to the shooters liking with a rotary dial window on the scopes eyepiece. The scope also has a tritium phosphor lamp that illuminates the center aiming point when there is little or no light. This is truly one of the most rugged and optically clear scopes that this author has ever used. It would have been the favorite for use on this rifle if it would have had slightly higher magnification for the extreme ranges. The .338 Lapua cartridge out of the Kivaari simply would "outshoot" the scope in terms of distances that were able to be seen clearly with just a 2.5 to 12 power scope. The Accupower model that was sent will be used on another T&E article in the near future.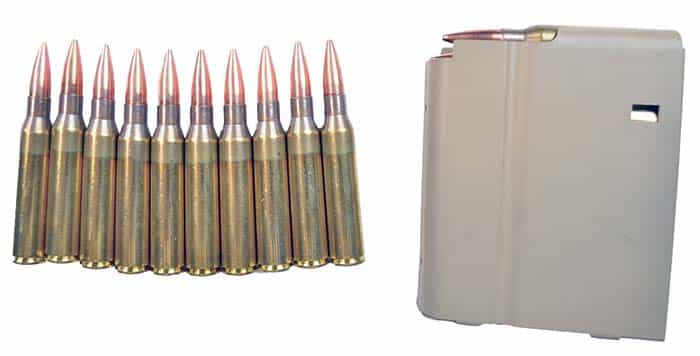 The rifle was first sighted in at 100 yards just to get it on paper. Once the rifle was zeroed we moved on to 300 and then to some steel targets 500 yards. The rifle carries a 1-MOA accuracy guarantee as long as Lapua ammunition is used. The author was provided with 100 rounds of Lapua (Nammo made for the US military) ammunition to use during the testing. The ammunition was loaded with Lapua's own 250 grain Scenar OTM (open tip match) hollow point bullet. Lapua manufactures these bullets not only for the .338 but also offers them in 5.56, 6mm and 7.62 calibers as well. They are a boat tail match bullet that are manufactured using closer weight tolerances, tighter jacket wall concentricity standards, and greater uniformity in every dimension than other bullets of their type. This bullet also holds several world records for accuracy. At 100 yards the rifle produced several 3-shot groups where all three rounds were touching. In fact this author had an entire magazine or 10 rounds group at ½ inch at 100 yards. Most groups were ½ MOA at 100 yards depending on the shooter. All of the shooting was done from the prone position as there were no stable shooting benches at the location we had to test at such long range. The testing was done with the rifle equipped with a Harris bipod up front and small sandbag at the rear.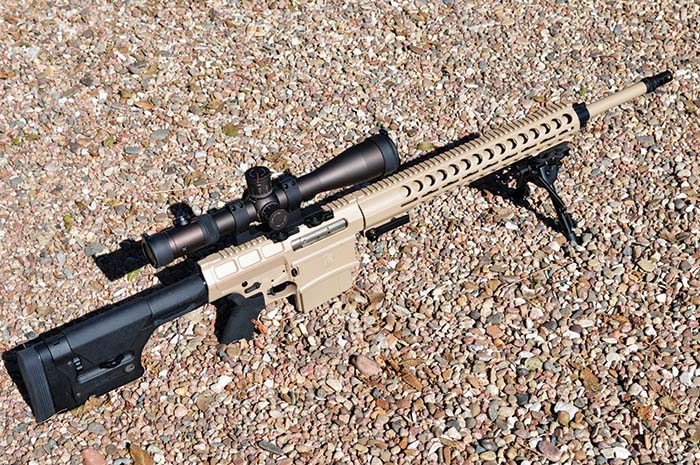 When the yardage increased naturally so did group size. With several shooters involved in the accuracy testing we had group sizes that ranged from1/2 inches at 300 yards to around 3 inches at 500 yards. We had one shooter that could consistently shoot 5 shot groups of 3 inches or less at the 500 yard mark. In the right shooter's hands this rifle is capable of phenomenal accuracy. Before we ran out of ammunition we set up an 8 inch steel plate at 1000 yards. Once we had a dope sheet made for drop out to that range almost all shooters were hitting the plate within the first 2 or 3 shots. Hitting a "bad guy" sized target at ranges of over 1000 yards proved to be routine as long as the shooter did his part. I can now see why the .338 Lapua is the round of choice for military snipers that are engaging targets at extreme ranges. The Kivaari rifle also comes equipped with the excellent Geissele trigger which this author thinks is the only way to go with long range precision rifles. The trigger pull on the test rifle broke at a very crisp and clean 3.7 pounds measured with a Lyman Digital Trigger Pull Gauge. This trigger also helped to produce the outstanding accuracy.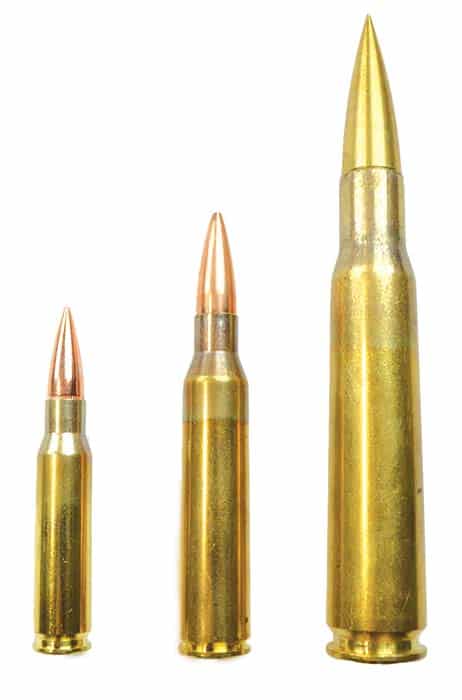 I know that there are some very accurate guns that are chambered for the .338 Lapua Magnum round. Most if not all are bolt-action guns that only can hold three or four rounds. The Kivaari has features that none of the others can match. First of all the Kivaari is a semi-auto AR style gun. This alone gives the shooter the ability to place 10 highly accurate rounds on target before a reload is needed. In a military scenario it gives the sniper the ability to engage multiple hostiles or even a convoy of vehicles and do it from great distances. Remember this is a rifle that is also able to be quickly taken down and transported in a mid-sized hard case or even a discreet backpack such as the Trekker pack from Tactical Taylor which is actually made for this rifle. During one part of our test the rifle was grouped on paper at 100 yards then taken down to its packable subassemblies. It was then reassembled and fired for group size again. There was absolutely no change in group size or point of impact. This is testament to DRD Tactical's precision machining capabilities.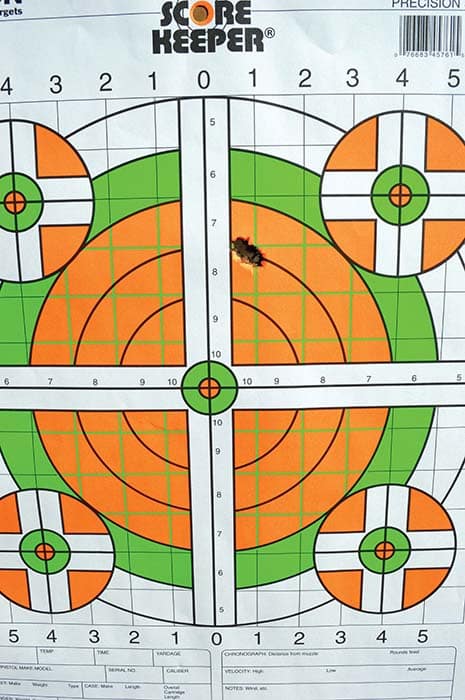 In conclusion, the Kivaari is a rifle that offers a unique blend of superb accuracy in a package that is able to be broken down and transported with a decent supply of ammunition by one person. The gun proved to be 100 percent reliable and never failed to feed, fire or eject all the Lapua ammunition that was fed into it. Empties were ejected about 5 to 6 feet straight out from the ejection port in a nice small pile. This makes the gun perfect for a military mission, a tactical law enforcement scenario or even a dangerous game safari. All it is going to take is for someone to show up with one of these rifles at a long range competition and it will quickly become the weapon of choice for these competitions.
This is the second quick take-down rifle that DRD Tactical has brought to market. Their first was the Paratus® 7.62 caliber rifle that literally can be taken down and fitted into a briefcase. They have definitely figured out how to manufacture this type of rifle. One that is not only reliable but highly accurate and it can be carried in a backpack!! The guns are not cheap but quality rarely is. The gun sells for $6900.00. But if there was ever a rifle that was worth the price the Kivaari is it.
DRD Tactical
www.drdtactical.com
Trijicon
www.trijicon.com
Vortex Optics
www.vortexoptics.com
This article first appeared in Small Arms Review V20N1 (January 2016)