By Todd Burgreen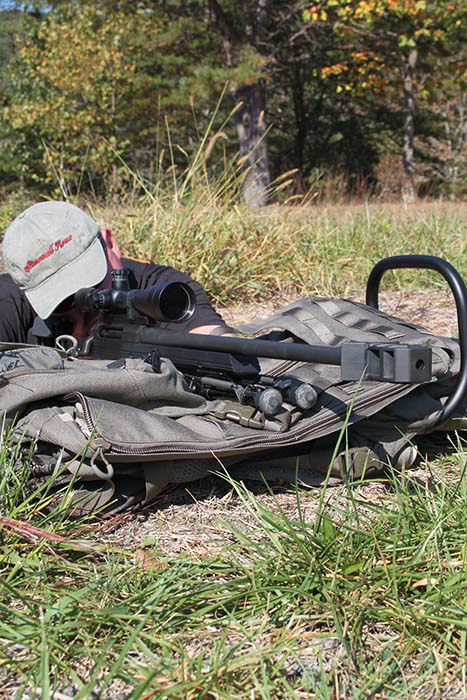 Nothing is as individualistic as choosing the pack for carrying necessary items on a mission or even a back country foray. Factors such as accessibility, adaptability, fit, weight to mobility ratio, retention, and most effective use of limited real estate found on an operators body all come into play in the decision making process. Military, law enforcement, private security contractors (PSC) and civilians each will have different stimuli dictating what carry method works better from them. The process gets even more complicated when multiple weapon platforms are in the operator's inventory. Training experience, observation, and communication with personnel from the above mentioned cross section – military, law enforcement, PSC, and civilian – indicates that Eberlestock is a good place to start looking for a pack.

Eberlestock traces its founding to 1985. At the time, Glen Eberle was working his way through college and competing in biathlons at the Olympic level. Glen Eberle was a member of the U.S. National Biathlon Team for eight years, and a member of the 1984 U.S. Olympic Team. Biathlon is a grueling sport that combines the opposing disciplines of cross country skiing and rifle marksmanship. Following the 1985 World Championships, Glen decided that it was time to make some changes to the rifle he'd been packing around. He embarked on a project to build a better gunstock. The initial idea was to simply make it stronger, but as he began studying the concept, he realized that there were opportunities for weight savings as well. Glen invented a rifle system that set the standard for modern biathlon competitions by removing four pounds from the rifle weight. Soon, Glen was making dozens of his new stocks. In homage to this start Glen named his company Eberlestock. Eberlestock soon evolved into other innovative products that set the standard in their respective fields: the Eberlestock hunting/military packs. The Eberlestock Gunslinger II (G2) pack is being reviewed herein and serves as an excellent example of Eberlestock's simple, practical ingenuity.

Glen Eberle's entry into backpacks evolved from his own passion for hunting in the rugged terrain of Idaho and surrounding states combined with his background in biathlon. Glen states, "…after an elk is down is not the time to think about heading off of the mountain in order to get a freight pack, so that you can come back up the mountain to start carrying meat. At the end of the day, you'll be glad to have saved those extra miles, especially if they're vertical ones. The desire to have my meat pack with me, combined with the experience of carrying rifles on my back in the sport of biathlon (along with my habit of tinkering) led me to start making true hunting packs for myself many years ago. At the time, there really weren't any good hunting packs available, so if you wanted to make something to get the job done, and didn't own an industrial sewing machine, you spent a little time with a Speedy Stitcher and made what you needed."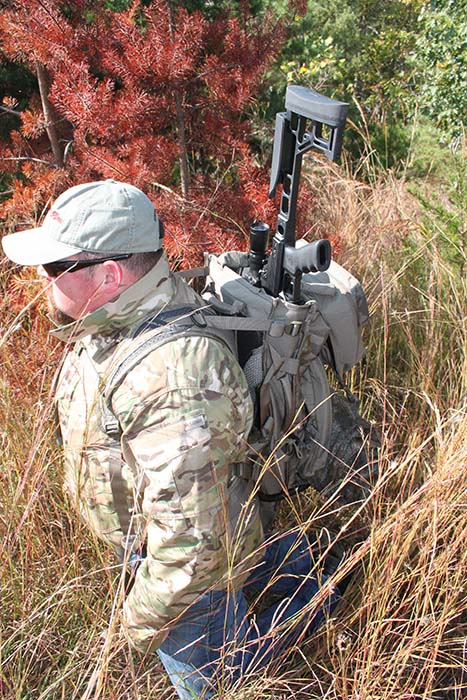 A true hunting/tactical pack is not something picked up at a national retail chain store. It needs to be quiet, tough, and versatile in terms of serving as both a pack for active hunting and when the work starts of packing out meat. Of course, it is not a large stretch of the imagination to realize that once you make a backpack that carries a rifle, then the military, law enforcement, private contractors, and security conscience civilians will take note. Eberlestock's hunting packs evolution into a tactical pack product line up sped up after the 9/11 terrorist attacks. Eberlestock gear is in service all over the world with Special Forces, regular military and police units. Eberlestock's "secret" as typified by the Gunslinger II is to design a pack so gear is easy to find as well as make it easy to attach things to the outside of it. The G2's combination of being a top loader and accessible front panel means that the main compartment is hassle free to access. There's no digging and wrestling with your pack to free an item – its quick at hand. It's a great combination. Glen learned via biathlon experience if you carry your weapon on your back, you're much more agile and effective than if it's stuck in your hands or on a shoulder sling all of the time; simply no better way to move about in an organized fashion. By having the pack carry the rifle, your hands are free for all of the things you need them for when you are traversing terrain. Furthermore, Eberlestock makes it so that you can get your weapons off the pack without having to un-strap everything that you're wearing. Most importantly the pack must be comfortable considering all the time spent with it out in the field. The Gunslinger II (G2) has all these characteristics.

The G2 is the latest evolution of the original GS05M Gunslinger pack. Glen Eberle relates conversations he had with numerous SOCOM operators who choose the G2 over all others available. It's a mid-sized pack with a full-width scabbard to better accommodate weapons with larger cross-sections or bulky optics; weapons up to 60 inches long can be accommodated. The wide scabbard also allows it to serve as an excellent laptop or military radio compartment and because it is also wide at the bottom users have the option of carrying weapons butt-down or butt-up. Eberlestock's "Control Clips" at the top of the G2's Backscabbard compartment are used to segregate the scabbard and also to securely hold a rifle. The Control Clips are also used to hold the top cover onto the scabbard locking your rifle into the pack. The G2 offers 2,700 cubic inches of space measuring 22 inches high, 10 inches wide, and 8 inches deep. The G2 can be generalized as a Three-Day pack in terms of what it can carry afield. The G2 is waterproof with the 1000d Cordura Nylon material polyurethane coated.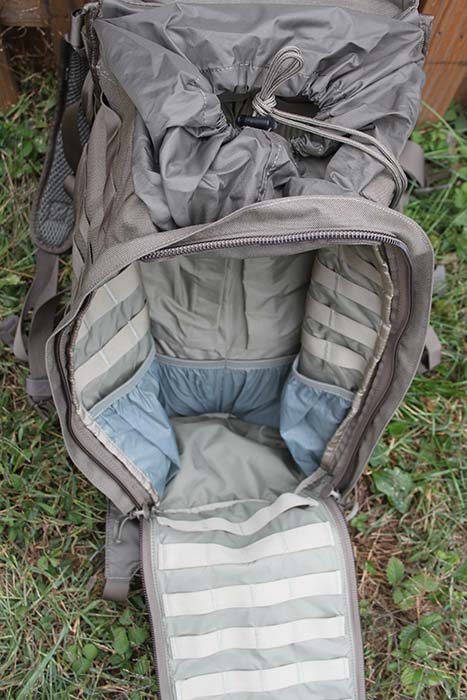 The G2 comes with the Eberlestock's Intex-II frame system. The Intex-II is another example of Eberlestock innovation; it out-performs both traditional external frames and internal frames. The G2 equipped with Intex-II frame offers the support structure of an external frame without the noise. The Intex-II frame helps to minimize weight while offering the close to the body ride and comfort of an internal frame pack. The G2 weighs just over 8 pounds. The Intex-II adds a new level of stability to the Gunslinger II making it a tough heavy load capable pack. The Intex-II frame can be removed, which effectively reverts the pack back to the traditional G2 platform. The distinguishing Eberlestock weapon scabbard of the G2 can be folded into the pack secured by a buckle if not required. This configuration is good for shorter weapons and other gear. The folded scabbard makes a great place to carry a laptop computer if rifle carry is not required for specific missions. Eberlestock has enhanced the padding configuration on the G2 to increase critical comfort points on the users back. The G2 padding and carry straps allow for maximum breathability and optimal contact point for increased comfort even when worn over armor.

The Eberlestock G2 was evaluated during multiple trips to Echo Valley Training Center (EVTC). These visits included accommodating various rifle types that were being tested as well as general scouting/patrolling on EVTC's 300+ acres. The Eberlestock G2's versatility was appreciated – especially its numerous easily accessible compartments. Many train and operate with multiple calibers either by choice or necessity. Accessing gear must remain seamless with no hitches caused due to different feel or location of pouches. The G2 is designed with this set of circumstances in mind. An obvious question is to what degree is your rifle accessible when placed in the G2's scabbard. Most military applications see a sniper or precision rifle contained within the G2 scabbard during entry into operational zone with CQB weapon carried in the hand. It is certainly not optimal if surprised and required to dig your weapon out of the scabbard during a hunting or tactical situation. The key to success is drawing the top shoulder pull-straps tight, so that the top of the pack is brought as close to your shoulders as possible. Reach back with your left hand and find the rifle and begin to withdraw it. Once the left arm is extended, reach up and grasp the gun with your right hand and continue to withdraw it. These two hand-holds usually free the gun from the scabbard, and take as little time as un-slinging a gun from your shoulder. This method was validated during "walk arounds" at EVTC.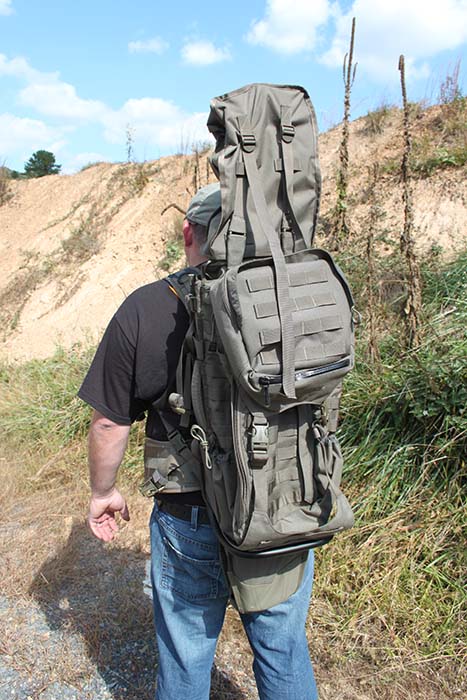 Anyone contemplating using an Eberlestock pack, or any other pack for that matter, is encouraged to visit Eberlestock's well done informative website. Much valuable knowledge is available in terms of custom fitting your pack. The Eberlestock advantage is quickly perceived in terms of adjustability and the insightful tweaks made to their designs with both vertical and horizontal adjustments possible. As discussed on Eberlestock's site and experienced during use of the G2, start by loosening the shoulder straps enough so that the pack settles right down onto the top of your hips and the bottom of the lumbar pad rests on your upper pelvis. Crank the waist belt tight. Next, adjust the shoulder straps to bring the pack snugly around your shoulders. Next buckle and adjust the chest strap for comfort, and to control the lateral placement of the shoulder straps. Slide the sternum strap vertically up or down as necessary. Finally, crank the top-pull adjustment straps snug to bring the top of the pack closer to your body. These simple measures ensure maximum user comfort and performance while afield. More extensive and detailed directions are available in video form on Eberlestock's website.

The G2 is no compromise candidate relying on its adaptability for its sole attraction; it offers a user the capability to adapt his equipment to the mission at hand without concern of losing performance. This peace of mind is invaluable for someone working in dynamic shifting environments. The Eberlestock Gunslinger II is not a "sniper" only pack. The G2 is perfect candidate for a "bug out" bag, especially considering one's weapon can also be stored in same place as pack with a magazine in place if an AR or AK. It is possible to completely cover your rifle with the Eberlestock "butt cover" to keep away elements or prying eyes. A top pocket on the G2 features a handy internal organizer, with several small pockets, pen holders and a padded pocket that effectively serves as magazine holder for AR-15 or similar style magazines. Anyone needing a flexible pack set up that does not compromise on retention, accessibility, and maximum effective use of limited space on one's person should consider the Eberlestock Gunslinger II.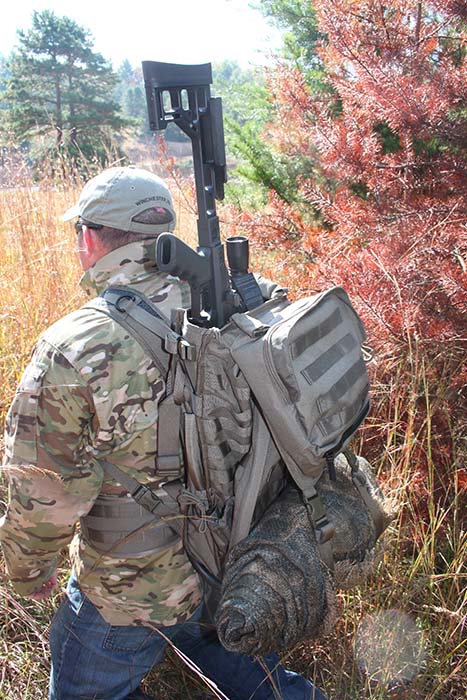 Eberlestock
PO Box 862
Boise, ID 83701
(877) 866-3047
www.eberlestock.com
This article first appeared in Small Arms Review V18N2 (April 2014)