Small Arms Review Editorial Staff
THE BETA COMPANY 
Beta C-MAG 100-Round Magazine for AR-15 
The Beta C-MAG is a revolutionary twin-drum, high-capacity magazine for AR-15 (semi-auto) and M16 (full-auto) weapons. It has a 60,000- round service life, stores indefinitely while loaded without performance loss and requires no maintenance other than cleaning and lubrication. The Beta C-MAG is manufactured in the USA to the highest international production standards and meets or exceeds all applicable U.S. and NATO MIL-SPECS. Lifetime warranty support and customer service are provided by The Beta Company. 

LWRCI
SMG UMP .45 ACP Magazines
Completely U.S.-manufactured, the LWRCI SMG UMP .45 caliber, 25- and 10-round factory magazines are constructed from a proprietary mix of the latest polymer technologies. The LWRCI SMG UMP magazines are built to be the lightest, most robust magazine possible. New design includes updated steel-reinforced feed lips for more reliable feeding and durability.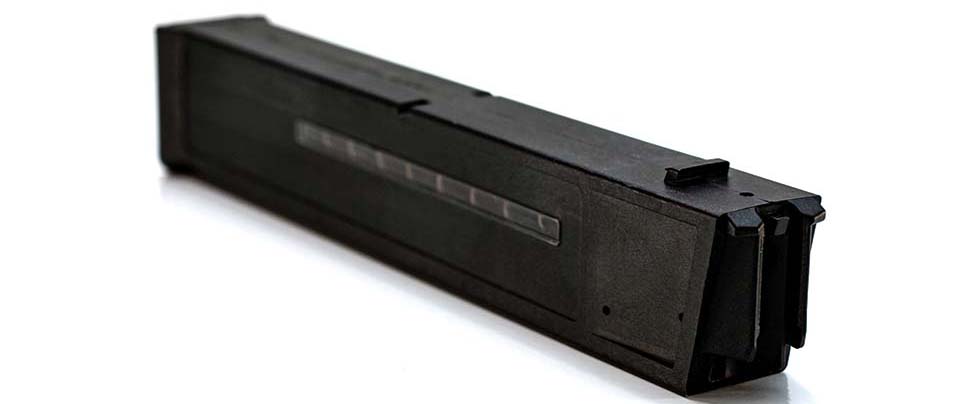 MAGPUL (DEVELOPED WITH LWRCI)
6.8 SPC II PMAG for LWRCI SIX8
The 6.8 SPC PMAG for LWRCI SIX8 platform rifles features Magpul's M3 polymer technology for enhanced strength, durability and reliability that exceed rigorous military performance specifications. The design includes aggressive, non-slip texture at the front and rear for superior grip, a paint pen dot matrix to increase durability of magazine identification and a strong, slim floorplate design that retains positive magazine handling and easy disassembly. The over-insertion stop on the spine helps ensure that the magazine will not over-insert on compatible weapons and the USGI-spec stainless steel spring for corrosion resistance and field compatibility.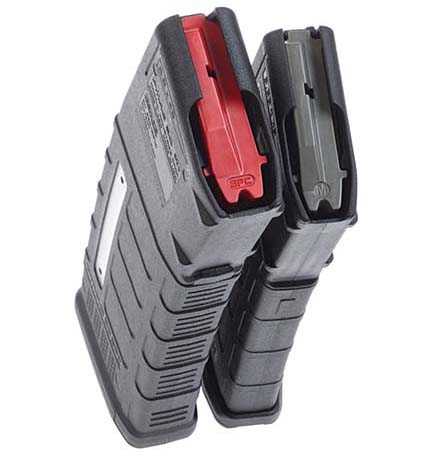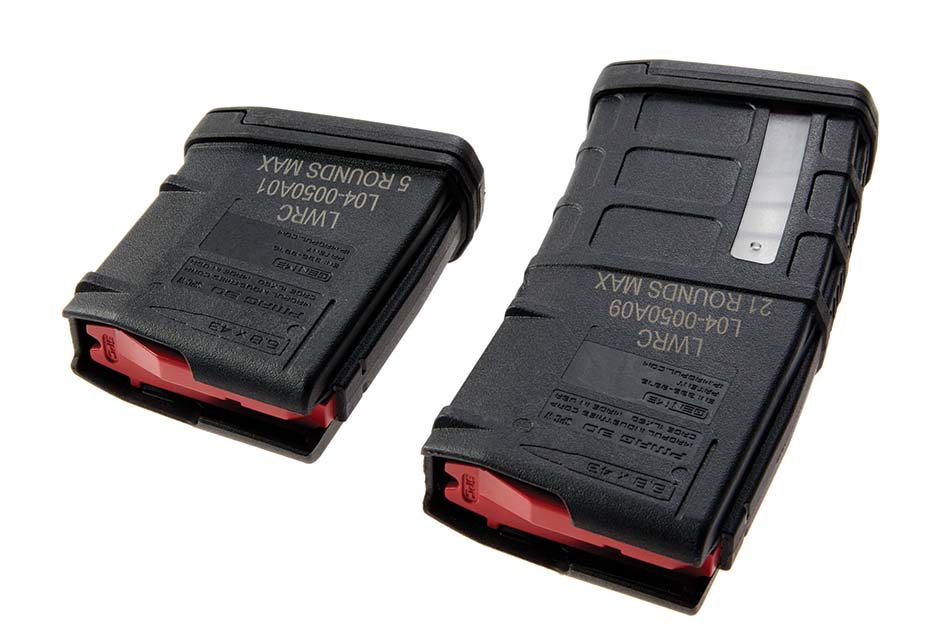 MEC-GAR
1911 10-Round 9mm Magazine
The 1911 10-Round 9mm Magazine is manufactured from heat-treated carbon steel with Mec-Gar's proprietary anti-friction coating. The floorplate slides on from the rear to prevent it from popping off when dropped on the ground in a self-defense or competition situation. The floorplate includes dimples on the bottom which can be colored-in for easy differentiation between magazines.

MEC-GAR
CZ 75B 20-Round 9mm Magazine
The CZ 75B 20-Round 9mm Magazine is manufactured from heat-treated carbon steel with Mec-Gar's proprietary anti-friction coating. The new Drop Protection System floorplate on this magazine will help reduce shock and reduce failures of magazines when they are dropped on hard surfaces such as in self-defense use or competition scenarios. The anti-friction coating allows rounds to slide easier while inside the magazine reducing malfunctions while shooting.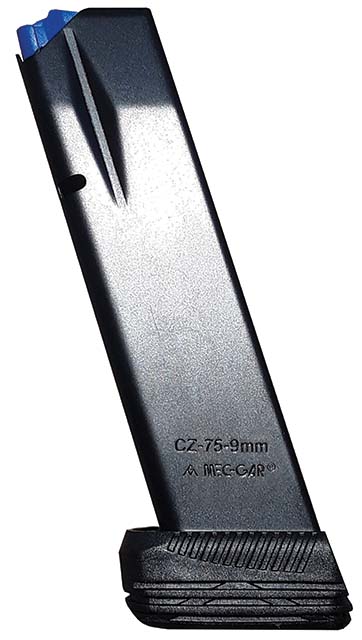 This article first appeared in Small Arms Review V24N7 (Aug/Sep 2020)