By Robert G. Segel
Austrian World War-I era cast brass letter opener. Probably a commercial "trench art" item made from discarded brass shell casings. The blade is in the form of a sword complete with fuller (a groove extending horizontally along the length of the blade) and is approximately 6 1/2 inches long. At the base of the blade "1914-15" is imprinted. The handle consists of an image of an Austrian soldier firing the Schwarzlose M07/12 water-cooled machine gun. Overall length of the letter opener is approximately 10 1/4 inches. 

Indian Army Sirmoor Rifles machine gun section other ranks die-stamped blackened cap badge. Ram's head over crossed Vickers. Four lugs to rear.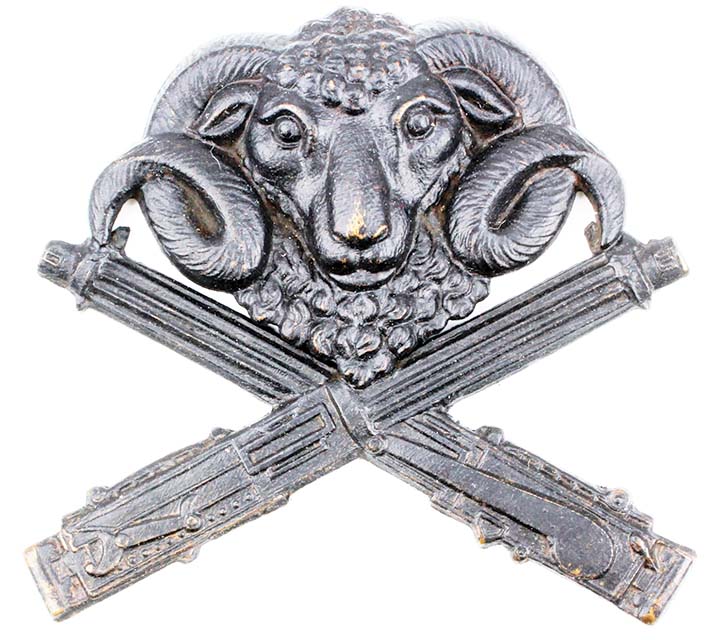 South African Military (Army) Gymnasium (All Arms School) arm flash (1950–1967). Blue enamel background with gold enamel insignia and red enamel flame. The Military Gymnasium provided arms training to the Air Force as denoted by the wings on each side. The Navy is denoted by the anchor and the Army to the center by the Vickers machine gun.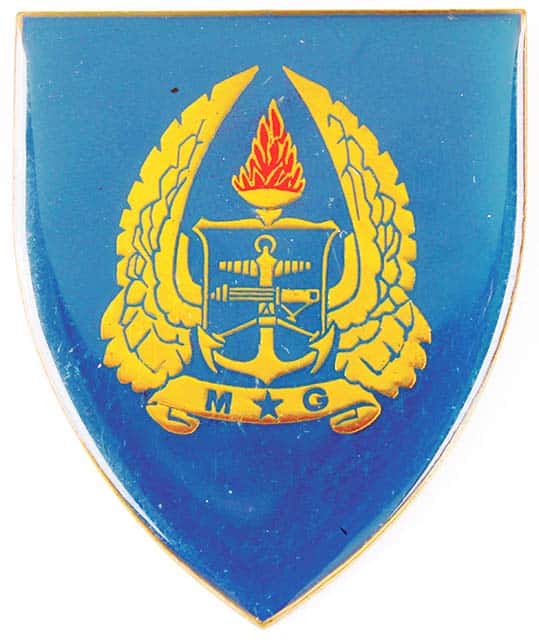 Arm patch for the 6th Russian Machine Gun unit of the Czech Legion. Green wool patch with red border with sewn on metal "6" and metal machine gun. Two inverted yellow stripes; each has a red border on them indicating a Lt. Colonel level officer. Patch is 3 1/2 inches long by 2 1/4 inches wide. Czechs captured by the Russians and who did not want to fight for the Austro-Hungarians during World War I were formed into the Czech Legion to fight Germany on the Russian side with the promise of an independent Czechoslovakia after the War. That promise was broken when the Bolsheviks won the Russian Revolution. The Czech Legion then fought against the Communists.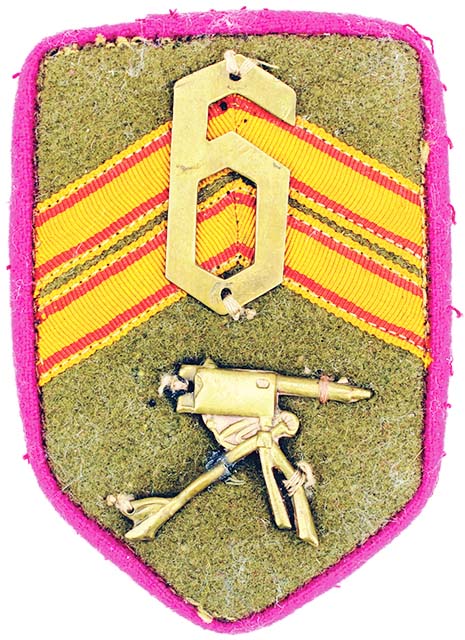 Enamel and gold cufflinks for the Machine Gun Corps Old Comrades' Association.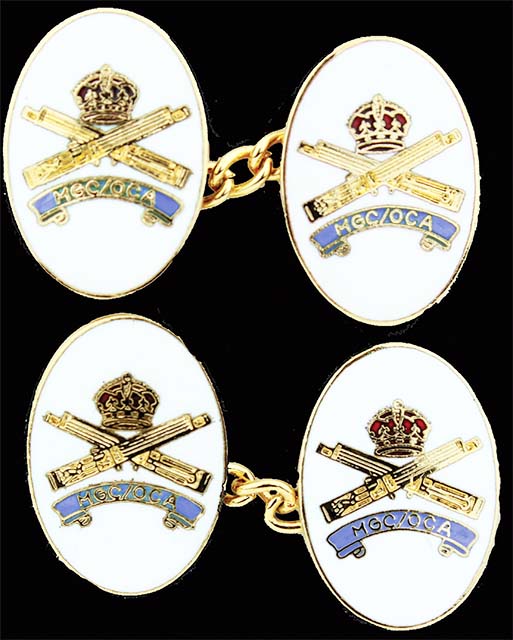 German reservist's porcelain pipe bowl named to Karl Reinhardt on the front, with high relief acorns and acorn leaves along the sides. Central front image shows three men manning a Maxim MG08 water-cooled machine gun on a sled mount with the city of Cöln (Cologne) in the background. The rear has an image of two men enjoying their beer at a table with tidings above. Below the scene denotes the Machine Gun Company, Infantry Regiment No. 65, 1912, Cöln. The top has a hinged-spiked Pickelhaube helmet covering the tobacco bowl.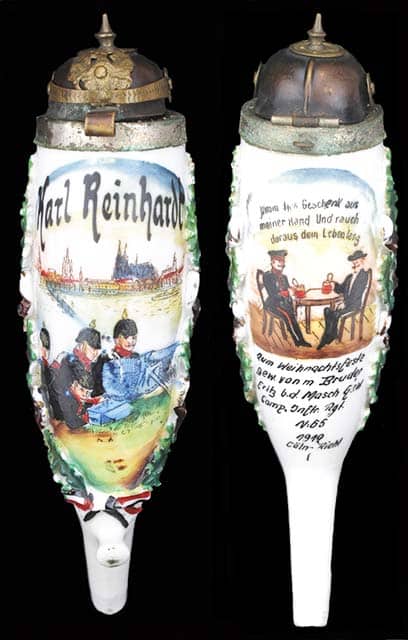 This article first appeared in Small Arms Review V24N4 (April 2020)