By Frank Iannamico
A personal defense weapon could be pepper spray, a knife, baseball bat, or any object used to protect oneself from physical harm. The term is also used to describe a specific category of firearms, the focus of this issue of the magazine.
Military and law enforcement weapons continually evolve to meet new threats and situations. During World War II, the U.S. military adopted the lightweight .30 caliber (7.62x33mm) M1 carbine as a personal weapon to replace revolvers and pistols of troops whose primary duties did not require a full-power infantry weapon like the 30-06 caliber M1 Garand. The M1 carbine was more accurate and had a longer range than a handgun. The carbine was also much easier, and took less time, to teach recruits to shoot accurately. The carbine's original role was that of a defensive weapon. Prior to the adoption of the M1 carbine, there were basically two cartridges in the U.S. and most foreign armies, the short-range pistol and submachine gun cartridge and the full-power battle rifle round. Although the U.S. M1 carbine could (arguably) be considered the first mid-range military weapon, that distinction is usually bestowed upon the German Sturmgewehr and its 7.92x33mm round.

After World War II ended, the Soviets followed the German's lead and introduced their select-fire AK-47 and its intermediate 7.62x39mm round. The United States Army resisted the mid-range concept and adopted the 7.62x51mm caliber M14 full power battle rifle, which was very close to the same length and weight as the World War II M1 Garand it replaced. Although the M14 was a select-fire weapon, most were issued with selector locks limiting its operation to semi-automatic only. During the Vietnam War the Army discovered a GI carrying a semi-auto M14 rifle with a 20-round magazine was being outgunned by the enemy when he was carrying a lightweight, select-fire AK with a 30-round magazine and a larger ammunition load.
During the Vietnam War, the U.S. military began phasing out the M14 rifle in favor of the new M16 rifle and its 5.56x45mm small caliber, high velocity cartridge. The M16 was a revolutionary design made primarily of aluminum and plastic, making it very light in weight. Its small caliber ammunition made it easy to control in full-automatic fire and allowed the infantryman to carry a larger ammunition load. However, the M16 was not fully developed when it was adopted, and it experienced a number of problems in the field. After the initial problems were solved, the M16 became a capable infantry weapon.

The XM177 Carbine
The Colt 5.56mm XM177 was an early personal weapon, developed during the war in Vietnam, it was basically an M16 rifle with a 10-inch, and later a 11.5-inch barrel, a two-position telescoping buttstock, and a muzzle moderator, which was designed to reduce muzzle flash, and it reduced (only slightly) the weapon's audible report. The XM177 evolved into the XM177E1, and eventually into the XM177E2. The short weapon was also known as the CAR-15, the Colt Commando and others including the U.S. Airforce's GAU-5/A which has been issued as a defensive weapon for aircrews. Specs (XM177E2 model) length 32.5 inches with stock extended, 29.8 inches with stock retracted, barrel length 11.5-inches, approximate weight 5.35 pounds. During Vietnam, the weapon was primarily issued to U.S. Army Special Forces, recon, and other similar units, who wanted a handier, more compact weapon than the M16.

The AKS-74U
The Soviets followed the U.S. military's lead, and during the mid-1970s adopted a small caliber, high velocity cartridge of their own, the 5.45x39mm, and the AK-74 rifle. Another early weapon, based on the AK-74 infantry rifle, that could be considered a PDW was the 5.45x39mm Soviet AKS-74U. The compact AK has an 8.1-inch barrel and an overall length of 28.7-inches with its side-folding stock extended and 19.3-inches folded. A booster is fitted to the barrel to ensure reliable cycling of the action. The weapon was primarily issued to Soviet special forces, paratroopers, and tank crewmen. In the U.S. the AKS-74U is often referred to as the "Krinkov."
The short versions of infantry rifles were not as accurate, had reduced muzzle velocity, excessive muzzle flash, and noise, compared to their full-size counterparts. Their advantage was compact size and less weight.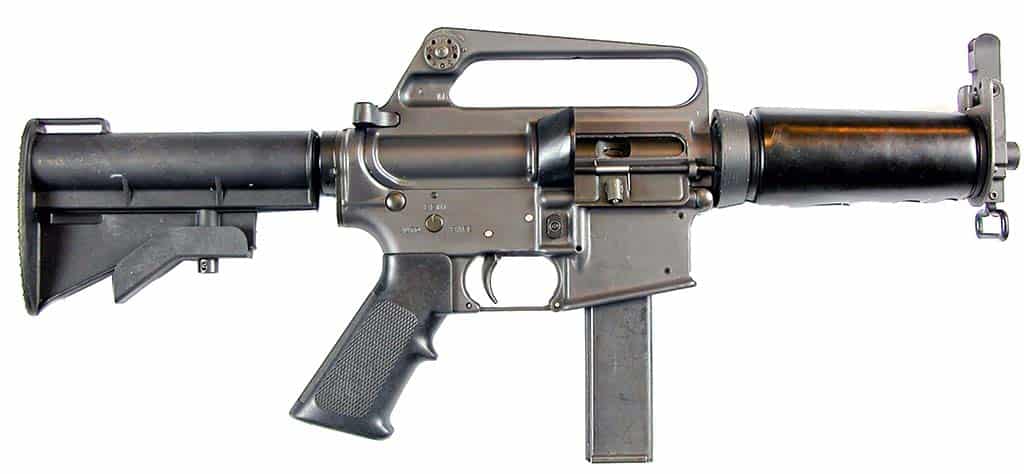 Submachine Guns
During the years following World War II, the military pistol-cartridge submachine gun and the full-power battle rifle were both rendered obsolete by the widespread adoption of the midrange assault rifle, which offered both a reasonable effective range and the controllable automatic fire of the submachine gun. One big advantage over a pistol caliber submachine gun was a more powerful cartridge. But the compact submachine gun still had a place in a law enforcement and security service role. However, as criminals and terrorists became better armed, and the proliferation of cheap, yet effective soft body armor had begun to make weapons firing pistol ammunition ineffective. A weapon the size of a submachine gun, but with a more effective cartridge was needed.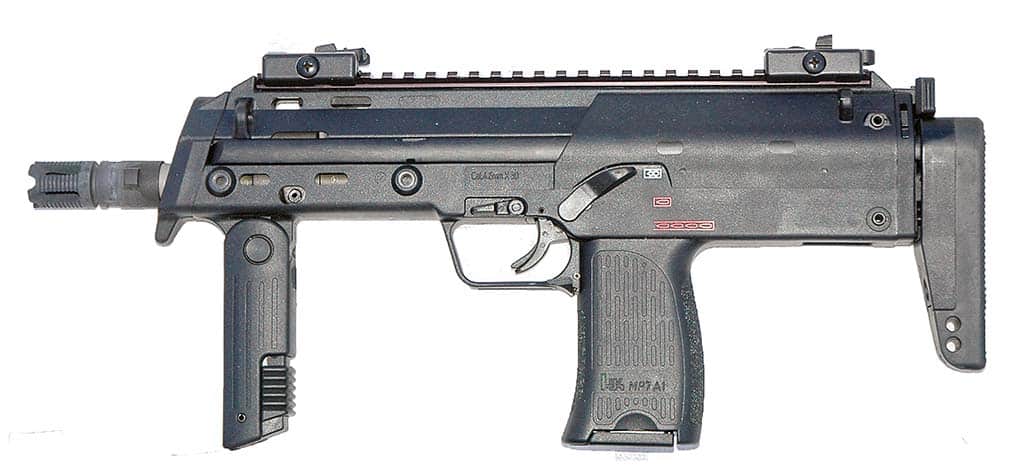 Modern PDWs
The Personal Defense Weapon (PDW) concept was created during the 1980s in response to a NATO request as a replacement for current issue 9×19mm Parabellum submachine guns, like the UZI, MP5 and the Colt 9mm M16, popular with agencies like the U.S. Secret Service and others in similar roles. A more powerful weapon was needed because of an increased activity by well-armed terrorist organizations wearing bullet resistant vests. By definition, the PDW is a compact automatic weapon that can defeat enemy body armor, can be used conveniently by non-combatant and support troops and as a close quarters battle weapon for special operations and counter-terrorist organizations.
Personal defense weapon, or PDW is a term used to cover a broad category of weapons. The PDW covers a spectrum of specialized roles where there is a clear priority in addition to effectiveness in a fight, usually concealability, portability, or both. These weapons are also specifically designed to be used in a defensive role. Responding to an attack against troops behind enemy lines, an assault against a small, low-profile security element, an attack against undercover officers, and use by officers or troops in a limited space environment.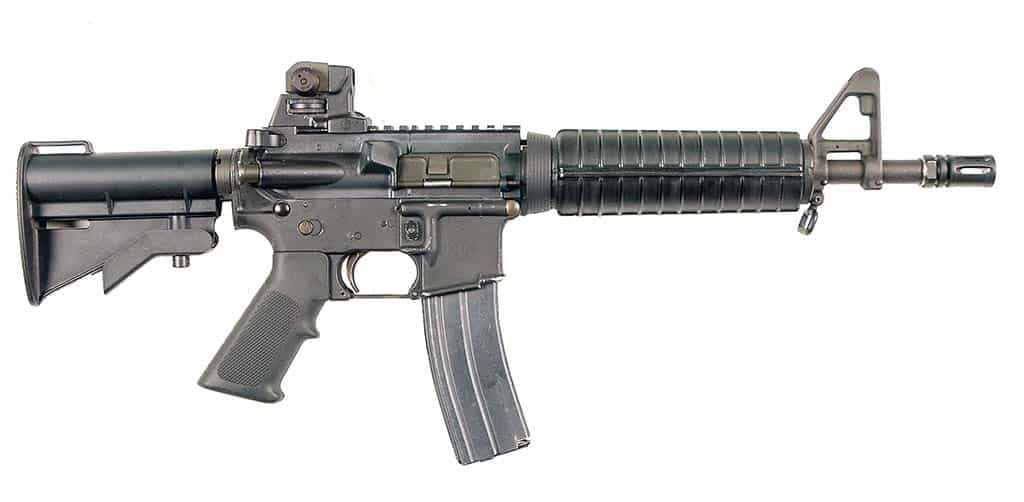 Today, the personal defense weapon, is desirable mainly because of its small size and its improved accuracy when fighting at traditional pistol engagement distances. Their small caliber, high velocity cartridges offer manageable recoil.
Some modern production and prototype PDWs use a proprietary high-velocity centerfire bottleneck cartridge which is often a scaled-down intermediate rifle cartridge. Examples include the 5.7×28mm cartridge for the FN P90 and the 4.6×30mm round for the Heckler and Koch MP7. Other, more conventional cartridges are also used in production and prototype PDWs, including the 5.56mm NATO, .300 AAC  Blackout, the 6.8mm Remington SPC, Colt's prototype 5.56×30mm MARS, and the Swedish 6.5×25mm CBJ. Large scale procurement of PDWs by the military and law enforcement has been limited. However, personal defense weapons have become very popular with civilian enthusiasts, many of the firearms look like their military and police counterparts, although most are semiautomatic-only; most are available with short barrels in a pistol configuration. Manufacturers are continually introducing new and revolutionary PDW-type firearms for civilian and law enforcement use. Some of these newer weapons include the Maxim Defense PDX, Barrett Firearms REC7 DI, Beretta USA's PMX and CMMG's Banshee 300 to name just a few. Civilian models are primarily used for recreational shooting but can also serve as a home defense weapon, if needed.
This article first appeared in Small Arms Review V23N5 (February 2022)