By Jean Huon
In 1946, an ambitious program was launched, intended to replace all the existing small arms of the French Army. A substitute for the M1 carbine, a new cartridge was developed: the 7.65mm M1948 (7.65×35), which was very similar to the 7.92mm Kurz (7.92×33).
The 7.65mm M1948 Cartridge
Experimented with since 1947, the 7.65mm cartridge was tested and compared to the .30 M1, the 7.92mm Kurz and the 7.5x54mm. Its results were better than those of the .30 and of the 7.92mm, but it was not adopted, mainly because of the growing cooperation and support of the United States which furnished military equipment to the European armies as well as to the French forces fighting in French Indochina. 
Its spitzer bullet was designed by the Ballistic Laboratory established in Satory, near Versailles. Its core was made of light alloy at the tip and of lead at the rear, with a brass or light alloy jacket. Unfortunately, just after WWII, brass was scarce and expensive, but light alloy was not a good choice because it self-ignited the cartridge in the hot barrel!
Then, cupro-nickel-plated steel jackets coming from the 7.5x54mm cartridge were used after matrix forming. The result was a 6g bullet (0.21 ounces) with a 600 m/s (2,000 feet/s) initial velocity. Later, bullets for tests were made at the Tarbes cartridge factory.
The bottleneck, rimless case was made of brass. It was designed by D.E.F.A. (Small Arms Research Service). Valence factory marks can be seen on some cases, others have no headstamp marks. The primer was of Berdan type and an American powder was used for loading.
Several factories developed experimental carbines.

CEAM Carbine
On April 20, 1945, General de Tassigny's French First Army entered in Oberndorf, 3 weeks before the end of WWII. The French military discovered the Mauser factory without any damage; its machinery was not present, but the soldiers found a large quantity of experimental small arms (some happy collectors were lucky) and enormous quantities of small arms parts ready to be assemblead. Machinery workers and their families had traveled to Tyrol by train, hoping to escape.
In August 1945, the factory was ready to work again and produced several thousands of small arms for the French Army, including:
15,000 H.S.c. .32 pistols;
1,000 W.T.P. II .25 pistols;
38,000 P38 pistols;
2,500 P08 pistols;
60,000 K98k rifles;
10,000 .22 LR Mauser .45 carbines, later made in France as MAS 45;
300 MG 151 cannons; and
41 flammenwerfers.
These were mainly used in French Indochina, but the Soviets protested against this use of the factory in June 1946. The Mauser factory was closed and destroyed between July and December 1948. But before its destruction, 6,142 weapons were sent to France, in various arsenals, and several tons of gun parts.

Many drawings and technical documents were also transferred in France, as well as some engineers who were "invited" to work in the French gun factories, but the German engineers claimed to be too distant from their families in Germany. They were then regrouped in Mulhouse (South Alsace) in a former shell factory: FOHMAR converted in a stamping center. The society became CEAM (Centre d'Etudes et d'Armement de Mulhouse), a research center.
These Germans had a particular worker status: They lived with their families in Switzerland, very close to Mulhouse, but their passports were confiscated.
The CEAM developed many prototypes and designs, such as:
stamping operation for MAT 49 SMG;
semi-automatic carbines;
light assault rifles (called machine carbines);
assault rifles;
7.5mm and 7.62mm machine guns;
.50 machine gun;
20mm and 30mm aircraft cannons
ammunition, links and tripods; and
stamped frame for the MAS 36.
The CEAM became AME (Mulhouse Small Arms Factory) in 1952 and closed in 1967. AME is not to be confused with Saint-Louis Research Laboratory, also established in Alsace at 30km (20 miles) from Mulhouse. In 1959, it became a joint French/German venture for defense, and it is still open.
In 1948, the CEAM developed a semi-automatic carbine derived from a German prototype realized by Mauser in 1945. It was a simplified G43, firing a 7.92×57 cartridge with a bolt locked by lateral rolls. The CEAM 1948 Carbine is a light gun with a single part stock and short forearm. A short handguard covers the barrel. Its tubular frame is made of stamped metal, and its actuating lever is on the right.
The gun works with a delayed opening bolt, locked by lateral rollers like CETME and G3 rifles. It fires the .30 M1 cartridge, and its curved magazine is the same one as the M1 U.S. carbine. It has no safety device. The sights are two apertures in a folding "L" rear sight and a front sight with ears, adjustable in elevation. For disassembly, a push button at the rear locks/unlocks the frame assembly. A variation had an actuating lever on the left and a tangent rear sight.
CEAM 48 Features
CALIBRE: 7.62mm (.30in)
AMMUNITION: .30 M1
LENGTH: 0.892m (35.12in)
BARREL LENGTH : 0.397m (15.43in)
WEIGHT: 2,930kg (6.46lb)
CAPACITY: 15 Rounds
MAC Carbines
MAC 48
Like other factories, the Manufacture d' Armes de Chatellerault (MAC) developed a carbine firing the 7.65mm M1948 cartridge, but before completion, the choice was made to make the .30 M1 cartridge.
MAC 49
This short carbine has a stock with a pistol grip and short forearm. A short handguard covers the barrel and is fixed by a cap. Its frame is made of sheet metal; the ejection port is on the right. It works with a delayed opening bolt, with an inertia lever like the AA-52 LMG. Firing is obtained after a linear hammer course. The carbine has a safety. The rear sight has two apertures, and its front sight is protected by ears. Feeding is performed from a vertical box magazine.
The MAC carbine was tested by the Army Technical Section (STAT or Section Technique de l'Armée) from December 18, 1950. The MAC's short length, accuracy and easy handling were much appreciated, but reliability was poor, with five parts broken after 2,500 rounds. Disassembly was more difficult than the MAS carbine tested at the same period.
MAC 49 Features
CALIBRE: 7.62mm (.30in)
AMMUNITION: .30 M1
LENGTH: 0.895m (35.23in)
BARREL LENGTH: 0.400m (15.75in)
WEIGHT: 2,405kg (5.30lb)
CAPACITY: 15 rounds
MAS Carbines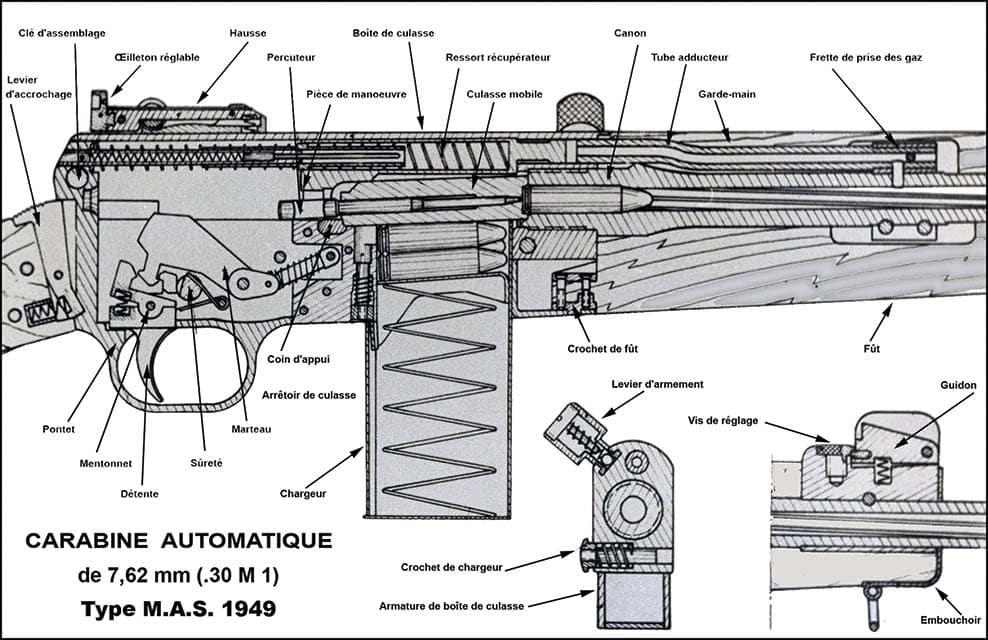 MAS 49
Like other arsenals, the Saint-Etienne small arms factory designed several semi-automatic carbines (designated at this date automatic carbine). Most of them were derived from the 7.5mm MAS 49 semi-auto rifle but were simplified. The stock and forearm are two parts; the barrel is covered by a long handguard with swivel band and forward band. The barrel is 7.62mm (0.30 inches) with four grooves to the right—one spin/twist in 508mm (20 inches).
The frame has an ejection port on the right and a cocking handle on the left; it can be retained in the front position by a ball stop and is associated with a slide cover. The trigger guard and mechanism are mounted in front of the stock. The bolt carrier and the bolt are actuated by the gas coming from a tube without a piston.
The MAS 49's stock, forearm and handguard are made of wood, and the frame is made of machined steel with a sheet metal cover. The sights are a tangent rear sight scaled to 600m (650 yards) adjustable for windage and a front sight protected by ears, adjustable in elevation.
The carbine uses a vertical 15-round magazine, which cannot be used on a U.S. M1 carbine.
Several variations of the MAS 49 carbine exist, such as:
a standard model with a grenade launching device for the M1948 anti-personnel rifle grenade; and
a carbine with a folding stock similar to the model used on the MAS 36 CR 39 rifle.
Both were also developed for the 7.65×33 M1948 cartridge.
From September 11, 1950, S.T.A. tests and experimentations of both .30 prototype carbines were made and were to be compared with the MAC 49 and the U.S. M1. These tests included:
general organization and characteristics;
ballistics;
working in normal conditions;
working in adverse conditions (mud, sand, snow); and
reliability of the mechanism and barrel.
Due to damages during the tests, all the models were rejected: MAS prototypes after normal conditions of shooting as well as after adverse condition tests for the MAC carbine.
Comments for the MAS models were: Easy to handle and to use, accurate; but working safety (3.5% incidents) and reliability too poor.
In the final report, S.T.A. wrote that no model can be accepted, but perhaps after some improvements, they could be better than U.S. M1 carbine.
MAS 49 Features
AMMUNITION: .30 M1
LENGTH: 0.895m (35.23in)
BARREL LENGTH: 0.400m (15.74in)
WEIGHT: 2,430kg (5.07lb)
CAPACITY: 15 rounds
MAS 51
The MAS 51 is an evolution of the former model MAS 49, with a rigid wooden stock and a 22mm grenade launcher. The automatic MAS 50 and the MAS 51 carbines were developed with the same action.

MAS 51 Features
AMMUNITION: .30 M1
LENGTH: 0.920m (36.22in)
BARREL LENGTH: 0.450m (17.71in)
WEIGHT: 2,880kg (6.40lb)
CAPACITY: 15 rounds
Other Models
Another MAS prototype was seen, but despite our research, no document was found about it. Its presentation was very crude, and it seemed to be a model design rather than a prototype.

The stock and short forearm are two parts. It fires the 7.65mm M1948 cartridge and works with a gas action and a piston. The frame is made of machined steel and receives a tilting bolt similar to the model used on the MAS 44. The cocking lever is on the right.
The rear sight is an ascending aperture adjustable from 100m to 600m with a rotating button. The magazine is retained by a right external button similar to those of the MAS 49. Disassembly is possible after removing a transversal axis at the rear of the frame.

MAS Carbine Features
AMMUNITION: 7.65×35
LENGTH: 0.869m (34.21in)
BARREL LENGTH: 0.400m (15.74in)
WEIGHT: 3kg (6.61lb)
CAPACITY: 15 rounds
MAT Carbine

MAT 50
The MAT 50 works on gas action. Its organization is very simple, but ingenious. The stock has a pistol grip, and its forearm is like a tube; both are made of wood. The frame is made of sheet metal, with an ejection port on the right and a gas cylinder in front. Its bolt has an oscillating locking lever and a cocking lever on both sides. After the last round, a bolt stop retains the bolt in rear position.
The tangent rear sight has an aperture; the front sight has a tunnel mounted of a forward band. Feeding is from a vertical box magazine.
During the same year, MAT developed a machine carbine, very close to the semi-automatic carbine with similar parts.
MAT 50 Features
AMMUNITION: .30 M1
LENGTH: 0.910m (35.82in)
BARREL LENGTH: 0.450m (18.30in)
WEIGHT: 2,850kg (6.28lb)
CAPACITY: 15 rounds
This article first appeared in Small Arms Review V24N7 (Aug/Sep 2020)