By Todd Burgreen –
Striker-fired, polymer-framed handguns have evolved into the benchmark for personal defense, law enforcement, and military handguns. These handguns are generally ultra-reliable, accurate, tough, and simple to operate. While examples of striker-fired handguns predate 1982, this date is critical. Though this is an article on the Faxon Firearms FX19 Hellfire, there can be little debate that current semi-automatic handguns were redefined by the 9mm Glock 17 in terms of capacity, operation, and polymer construction. Polymer-framed, striker-fired handguns are inherently lighter, thinner, and simpler due to their limited number of parts.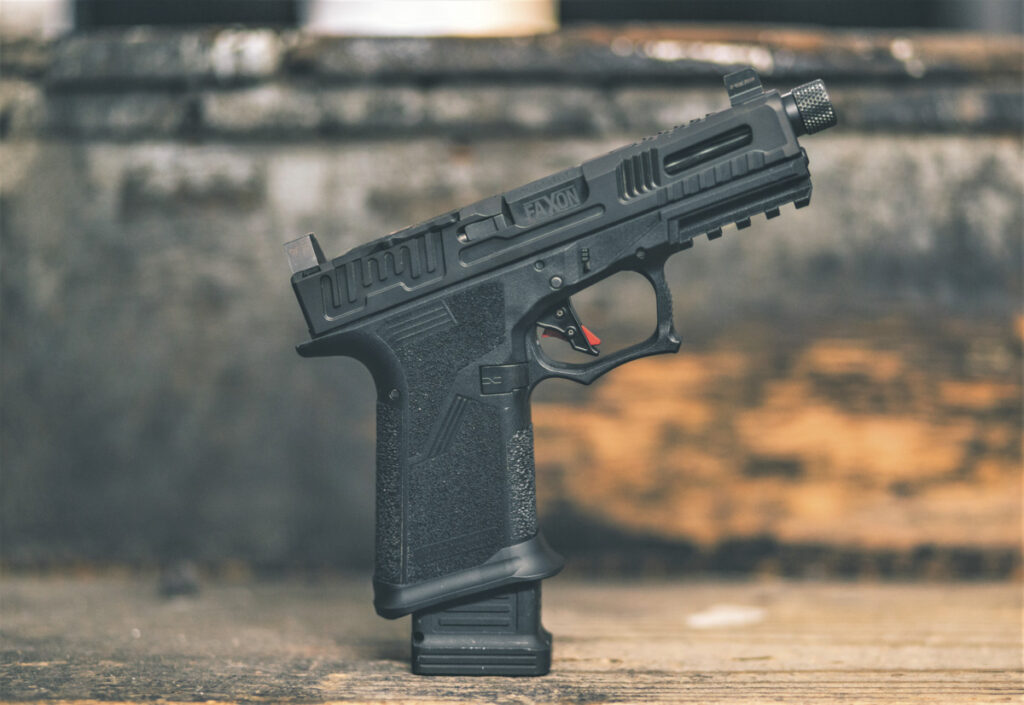 Faxon Firearms, based in Cincinnati, OH, burst on the polymer, striker-fired handgun scene in 2019. Faxon quickly gained a reputation as a solid upgrade over other polymer-framed striker-fired weapons on the market; not only the Austrian-branded offerings, but all offerings. This stems from Faxon benefitting from in-house manufacturing of frame, slides, and barrel. Faxon was already well established as provider of various aftermarket parts, as well as rifle and pistol barrels.
Not a Customized Glock
The FX19 Hellfire is created from scratch and should not be considered a customized Glock. For descriptive purposes, the Faxon FX19 Hellfire can be compared to a Glock 19 in terms of size. The FX19 is an amalgamation of insightful Faxon design decisions. It is truly more than just merely a sum of its components—albeit topnotch components. The FX19 benefits from Faxon quality control and experienced gunsmiths pulling it all together. With that said, lets lay out what the FX19 Hellfire consists of—Faxon Match Series G19 1/2×28 threaded barrel made from 416-R stainless steel, distinct Faxon slide machine from 17-4 stainless steel with enhanced serration all around, optic cut-ready for the Trijicon RMR with machined posts for extra recoil absorption, DLC (Diamond-Like Carbon) finish, Night Fision suppressor height night sights, Faxon PF940C frame with 1911-grip angle, custom polished front & rear slide rails, extended magazine release, double undercut trigger guard, Overwatch Precision trigger, and enhanced low-profile magazine well. That is an extensive list indicating what Faxon has created with the FX19 Hellfire.
Choice is what makes the free market economy so tantalizing. Sure, there are existing polymer frame striker-fired pistols on the market with large manufactures cranking out thousands at a time to more specialized boutique shops catering to a more scrutinizing customer base looking for upgraded features. Beyond that, polymer-framed handguns are similar to AR rifles in that consumers can create their own with partially finished lowers and the massive amount of aftermarket parts available. All of this leads to competition… with the consumer benefiting.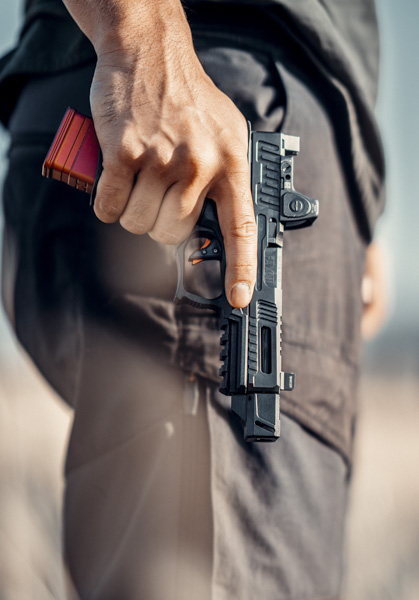 Faxon offers a blend between custom and production with the FX19 Hellfire. The Hellfire offers a myriad of custom features. This is further supported by experienced gunsmiths producing a weapon featuring a warranty­— compared to a handgun put together in your garage. The FX19 series has successfully completed a 15,000-round durability test, as outlined in US Army TOP 3-2-045, along with the NATO standard drop test.
Form Follows Function
The Faxon FX19 has significant design emphasis on ergonomics and durability. Serrations along the top of the slide help diffuse sunlight reflecting off the metal, keeping the sight picture crisp. Horizontal cuts are found at front and rear of the slide sides for increased purchase when manipulating the slide. Stippling and raised grooves adorn both the front strap and the forward face of the squared-off trigger guard. A double undercut trigger guard has material relieved where the trigger guard connects to the grip as well as a thinned-out trigger guard. This allows for your primary hand to get a higher grip on the pistol. This will make your grip more comfortable and allows the FX19 Hellfire to sit lower in your hand, limiting muzzle flip during recoil due to the low bore axis. This is supported by an extended beavertail to help prevent slide bite as well as further manage recoil, especially during rapid strings of fire. The second undercut on the guard offers a reference point for your support hand and helps you get a better grip during your draw stroke. Each pistol has an integral, railed dust cover for lights, lasers etc.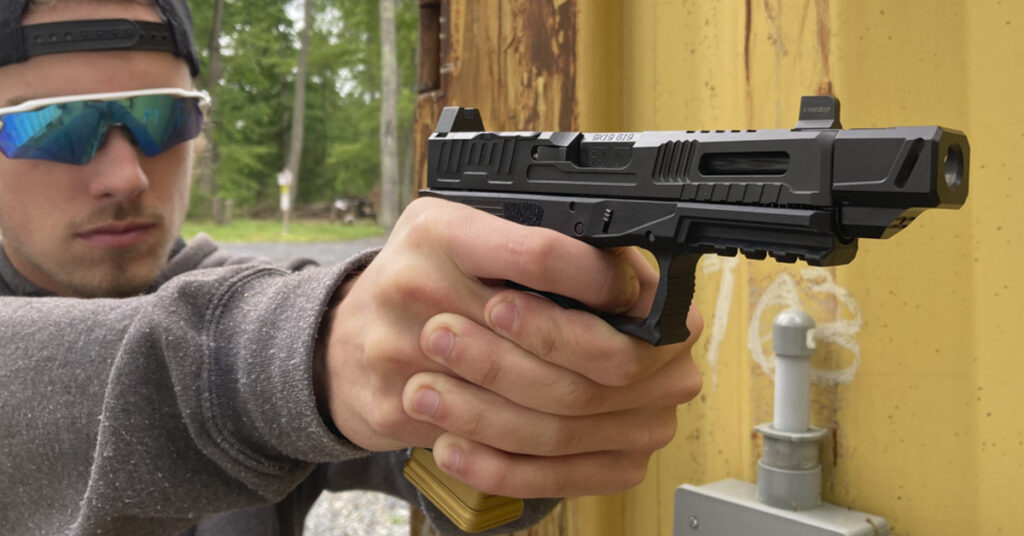 Faxon developed the FX19 Hellfire to serve as the premium version of a polymer-framed, striker-fired handgun. The user knows something is different as soon as the Hellfire's hardcase is opened. Picking up the FX19 Hellfire and manipulating it reinforces the good vibes created by its aesthetics. Unique slide serration patterns and cut outs show attention to detail with the FX19. Tolerances with the Hellfire are tighter than any production model handgun.
Trigger and Action Matters
The shorter trigger reset, and 4.25- to 4.5-pound pull of the Overwatch Precision trigger leaves no doubt that the Hellfire is not your standard-grade production handgun. The trigger shoe and trigger safety tab are machined in the USA out of 7075-T6 aluminum alloy and affixed to an NP3 plated trigger bar by a 316 stainless steel coil spring pins. The trigger shoe and safety tab are both Type III hard coat anodized to MIL-A-8625 standard. The broad, flat face of the trigger allows a uniquely self-correcting, straight rearward press. Pre-travel has been reduced by as much as 20 percent without compromising safety and resulting in a clean, crisp break, and reduced over-travel.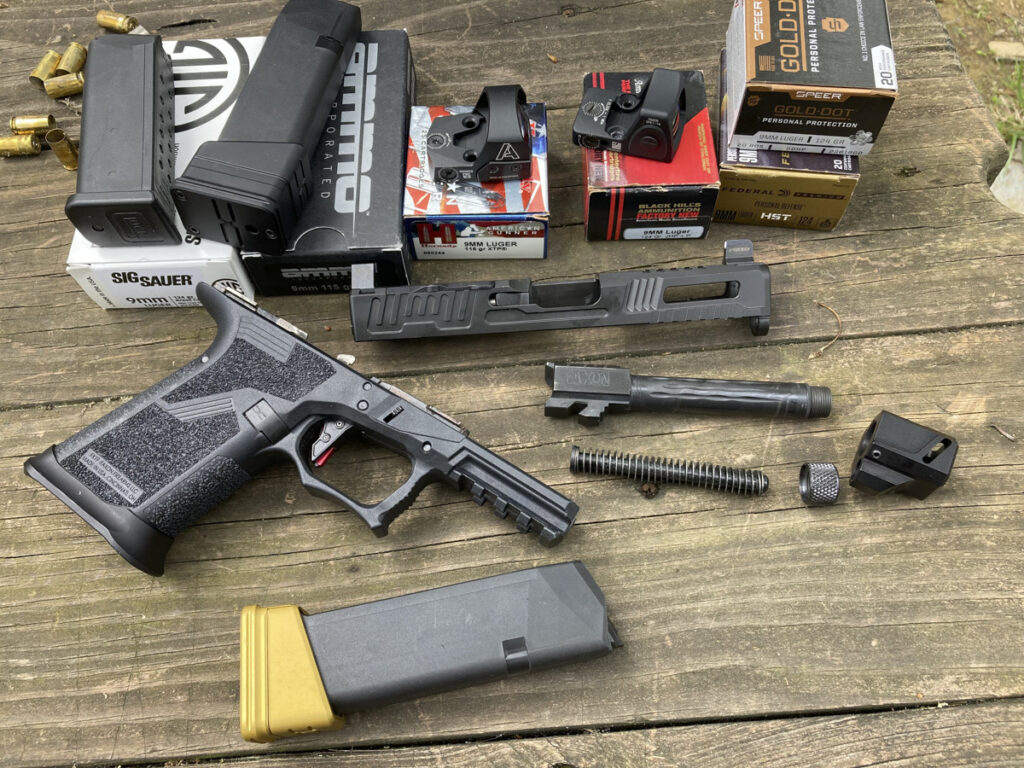 The FX19 Hellfire employs the familiar Browning locked breech, short recoil tilting barrel design operating method. The 4.5-inch threaded barrel locks up tight when in battery. As made popular on previous weapon designs, Faxon has modified Browning's design by moving the locking recesses from the barrel; instead utilizing a single locking lug milled above the barrel's chamber using the slide's large overhead ejection port as its locking recess. The front contour of the barrel lug cam slot has been cut square to direct counter-recoiling forces up and forward into the barrel itself to reduce stress on the lug.
To Comp or Not to Comp
The Faxon threaded barrel cries out for either suppressor or compensator. We went with a compensator. In fact, one from Faxon—the EXOS compensator. The EXOS is constructed from 6061 aluminum with a black anodized finish. Faxon has designed an angled front port, single chamber compensator to improve consistency while reducing muzzle climb and recoil. The angled ports allow gas to deflect upwards as opposed to only deflecting sideways, reducing up and down muzzle movement and improving reliability. Faxon created the EXOS 513 comp (other EXOS models exist for a variety of handguns) specifically to match up flush with the FX19 Hellfire slide. By not having an oversized compensator, Faxon has maintained the ability to fit typical holsters. For example, the streamlined nature of the FX19 Hellfire with EXOS compensator allows it to fit into G17 holsters that are not closed bottom as well as most G34 holsters, since its length and profile mimics the G34 in size and shape.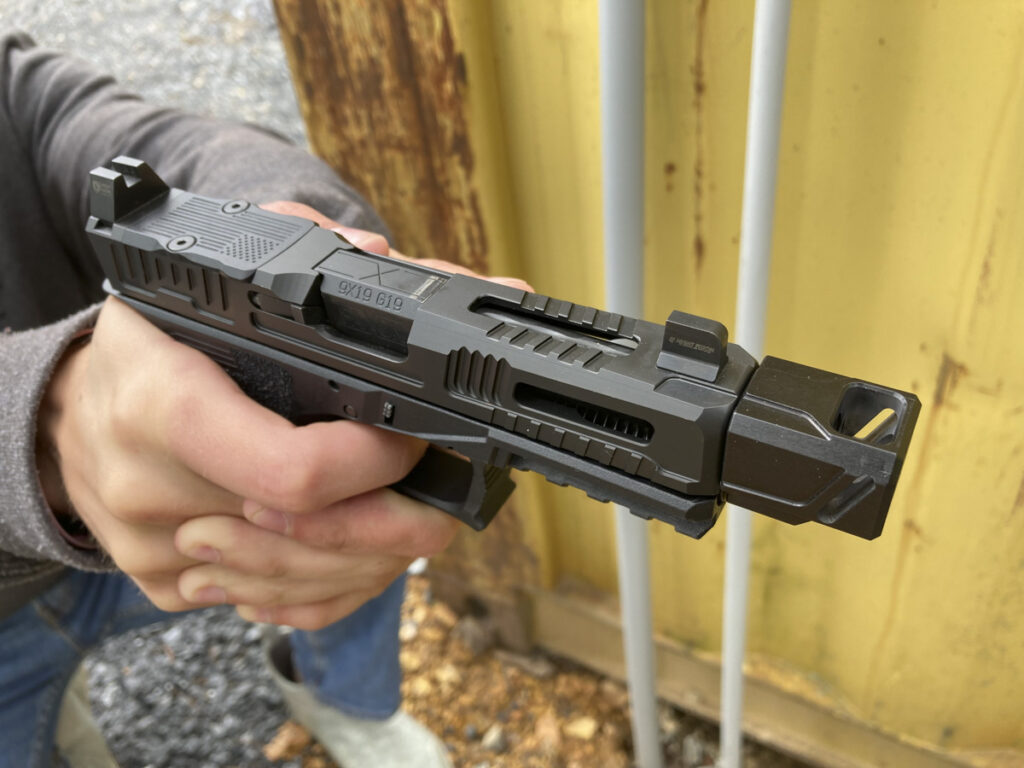 Just as with red dot sights on handguns, compensators are expanding beyond competition applications and becoming more prominent with personal defense weapons. Part of the challenge of using a handgun involves controlling muzzle flip. No one is saying a 9mm needs a brake. Do not confuse a muzzle brake with a compensator. Controlling muzzle rise is a valid goal. Muzzle flip reduces the speed with which you can accurately fire multiple rounds. The weapon must return to its sight alignment point before firing again. Most literature on compensators indicate a 30 to 40 percent reduction of muzzle flip. Testing protocols can be somewhat subjective, but you get the gist. Recoil and muzzle flip also cause the pistol to move in the hand. A well-designed compensator allows for an easier job in firing the weapon under normal conditions as well as under duress or with one hand. It's optimistic to assume you will have a perfect grip on your handgun's frame when "skinning" it from holster to begin with, especially if you're already behind the OODA loop reacting to a threat. It is sanguine to assume a two-handed grip will even be possible. Attendance in a force-on-force course is urged if doubting this.
Sight and Optics
Much of this evaluation utilized a set of Night Fision suppressor height sights. The Faxon Hellfire for this article arrived with a Trijicon RMR slide cut. Based on this, an Ameriglo Haven red dot was chosen for use. Rugged construction, including aircraft grade aluminum housing and waterproof electronics, increase reliability under the harshest use and stiffest recoil typified by the operation of a semi-automatic handgun slide. Its side loading battery is a nice touch, meaning you do not have to remove the Haven from the slide to change its CR2032 battery. This eliminates the need to sight back in after battery replacement. Smart electronics offer a 12-hour runtime followed by a 12-hour, motion-activated auto-on, provide up to two years of battery life at a mid-level brightness setting. Its large viewing window with upward curving concave housing with highlighted vertical white post on the rear of Haven sight aids in faster dot acquisition. The Haven used for this T&E featured a 3.5MOA dot. A 5MOA dot is available, as well.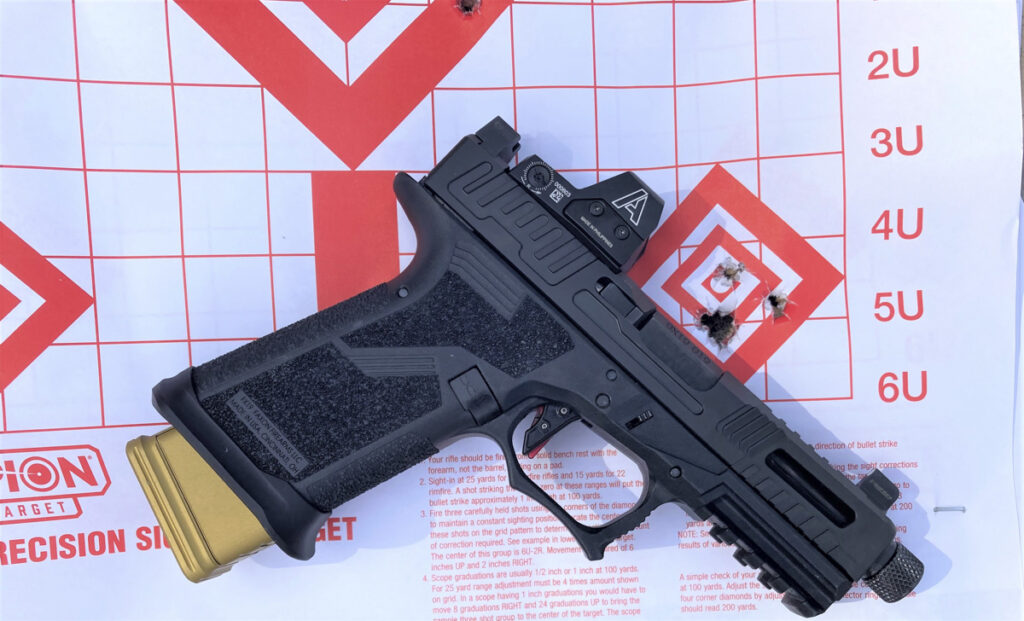 The Faxon FX19 Hellfire is ideal blend of carry ability with the Haven red dot producing capabilities that exceeds most weapons of such compact size. The EXOS compensator only adds to this. The Faxon FX19 Hellfire is a carry handgun that excels in gunfighting; not just reactive defense most associated with handguns. Users of the FX19 Hellfire fitted with Ameriglo Haven find that they no longer have to switch focus from target to sights and invariably eliminates the "front sight focus" so difficult for older shooters. They can now do as nature intends for them to, focus on the threat. Moreover, because the indexing of a red dot is far easier than three pieces of steel, they find they can take shots beyond what was considered feasible with iron sights.
On the Range
The FX19 Hellfire arrived with a G19-sized magazine featuring yet another Faxon product in the form of magazine extension. A Warne Tactical magazine extension was also used. The extended magazines increased typical 15-rd capacity to 20 and 18 rounds, respectively. The Faxon and Warne extensions interacted smoothly with the low-profile magazine well that comes on the FX19 Hellfire. Magazines were loaded with Ammo Inc. 115-grain TMC, as well as ammunition from Federal, Speer, Hornady, SIG Sauer, and Black Hills Ammunition. The FX19 Hellfire was fired one handed, including use of the non-dominant hand, to verify no sensitivity in terms of reliability with or without a compensator. The FX19 Hellfire showed it could digest anything fed to it. Premium self-defense JHP, target, and match 9mm loads including 115-, 124-, and 147-grain bullets were utilized.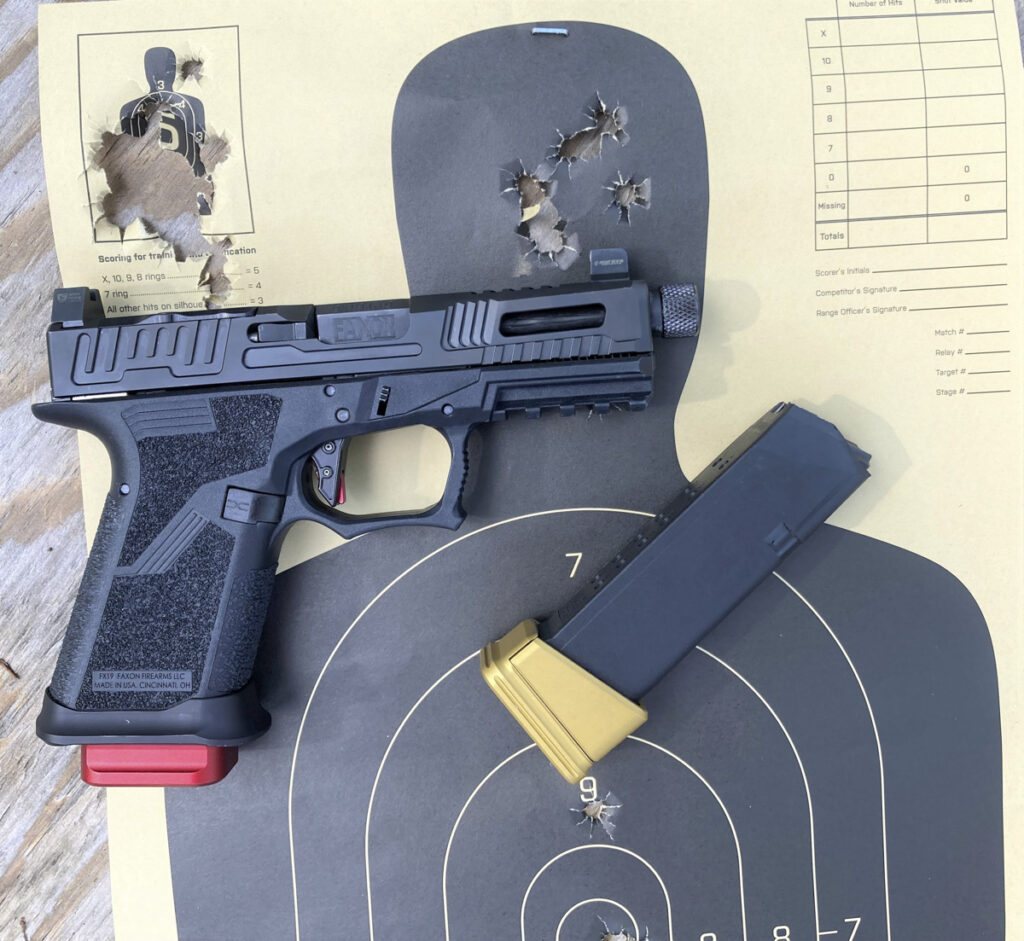 A question with the FX19 Hellfire/EXOS combo was how did the compensator effect muzzle flip. The sights, either Amerigo Haven red dot or Night Fision iron sights, stayed on target, floating briefly out of the IPSC "A" zone, but never totally off target even during multi-round drills. The FX19 Hellfire's simplicity of operation, consistent trigger pull, and compensator allowed for rapid engagement of targets. This is further accentuated with well laid out ergonomics ensuring that the hand is near optimum grip position as soon as the FX19 Hellfire clears the holster.
Conclusion
The Faxon FX19 Hellfire will be recognized as an amalgamation of positive features found on striker-fired predecessors as well as many innovative tweaks. Many may ask what the Hellfire offers to shooters compared to other polymer-framed striker-fired handguns already on the market. Red dot compatibility and compensator are certainly obviously nice touches. The FX19 Hellfire benefits from lessons learned combined with a manufacturer intimately familiar with quality weapon production and how to tastefully improve upon a platform.
Specifications
Make: Faxon Firearms
Model: FX19 Hellfire
Caliber: 9mm Luger
Magazine Capacity: OEM 15-rd G19 magazine with 5-round Faxon extension ships with weapon
Barrel Length: 4.5in
Overall Length: 7.85in
Height: 5.25in
Width: 1.25in
Weight Empty: 24.5oz
MSRP: $1189
URL: faxonfirearms.com