By Dan Shea
We keep our monuments, our graveyards, our collections of war trophies, in memory of those who went before. It is those who toiled and sacrificed and perhaps died in so doing, that we reflect about when we gaze on these relics. We remember the struggles that brought us our Freedom. Many small communities around the United States have a single monument, or almost forgotten grave markers, and once or twice a year local citizens appear and mow lawns, weed flowers, and generally spruce things up so that generations to come can be educated, and perhaps become intrigued by the stories of those sacrifices.

Similarly, a number of concerned people have banded together, and bonded with the Curatorial group at the U.S. Ordnance Museum in Aberdeen, Maryland. SAR has covered the museum and its collection in the past, but now we need to bring some things to the attention of our readers. It would appear that much of the collection is suffering horribly, despite the best efforts of a devoted staff and volunteers. Plainly put, they need some buildings. Some really, really big buildings, and they are having a fund raiser.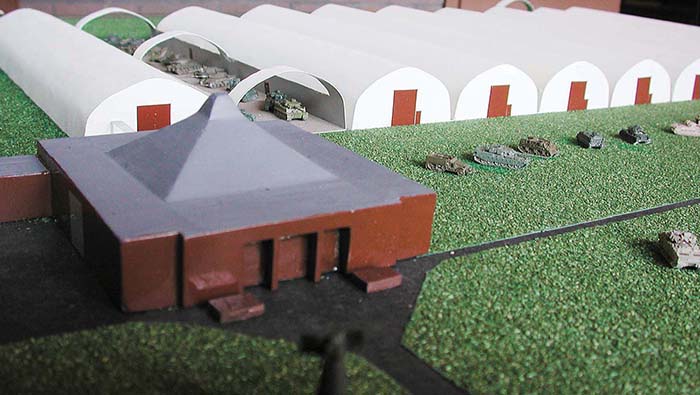 Tanks and cannons are somewhat above our normal subject matter, but the Ordnance Museum has numerous other displays and artifacts that are of great interest to the readers of SAR. Dr. William Atwater, Director/Curator of the Museum has been gracious in the past in allowing SAR to photograph the small arms artifacts that are not presently on display, and he and Roy (Ed) Heasley, Curator, as well as other Museum staff, have made arrangements for our writers and other small arms technical historians to study there.
With the wealth of small arms artifacts that are at the Museum, we have always had an interest there. It is impossible to not notice the damage that is occurring to many of the artifacts that are presently displayed outdoors. Many of the tanks and cannons on display had battle damage to begin with, but now the weather is having its way with them. There is also the danger of lead based paint from over 200 artifacts rusting away, as the residue washes off into the aquifer.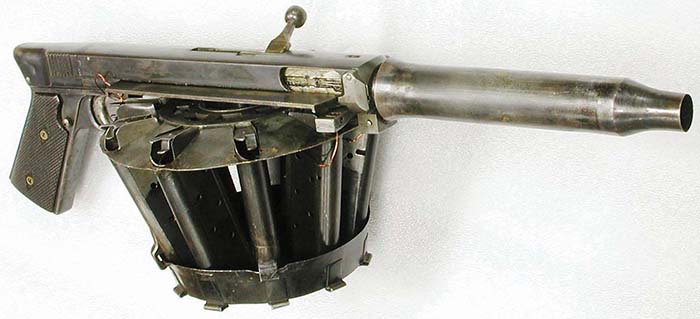 The Museum has several renovation facilities, and they do a wonderful restoration job. The state-of-the-art paint removal building that collects the hazardous materials is a sight to see, and the end results of their restoration work are being stored in various empty warehouses in the area. They are waiting for a day when they can be properly displayed. It is hoped that the current fund raising efforts will make that vision a reality in the near future.
The Ordnance Museum has worked up a plan using modern construction techniques, various work forces including the SeaBees and Engineers, and just plain artful fund raising, to build the needed facilities for about $3,000,000. We are certain that some politically savvy readers could help in finding Congressional backers, but as it stands, the Ordnance Museum Foundation is doing this on a private contribution level.
Our heritage is important. The weapons and trophies brought back from foreign wars allow the next generation, and the next, to understand what was done to secure their Freedom. The Ordnance Museum has always taken the time to get the general public in for educational purposes, and they always have time for the younger generations to come in and learn. We at SAR think it is important for those of us in the industry and military, as well as those with the general interest, to help make this information and experience become readily available. With that in mind, we are presenting a few pictures of Museum features, and how you can get involved in the process of really "Making a difference." -Dan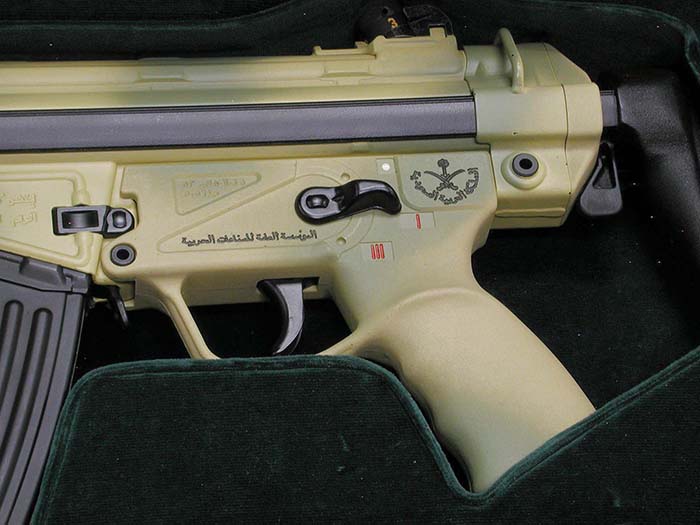 Procedures for an Aberdeen Proving Grounds Ordnance Museum visit:
Hours: Open 7 days a week from 9:00 am to 4:45 pm. Closed on National Holidays except for Armed Forces, Memorial, Independence, and Veteran's Days.
Due to heightened security, there is a new procedure for visitors without military or U.S. government ID. Obtain a Day Pass at the Maryland Blvd. Gate on Rte 715. Other gates will not issue passes.
Directions from I-95: Exit onto Rte 22 towards Aberdeen. Exit to Rte 40 W (right turn) through Aberdeen. Right on Rte 715 S. At the security gate, park in the visitor's parking area and take your driver's license (Picture ID) and car registration (or car rental papers) to the security personnel and get a Visitor's Day Pass. You will only be authorized to drive to and from the Museum, not to other areas on the proving grounds.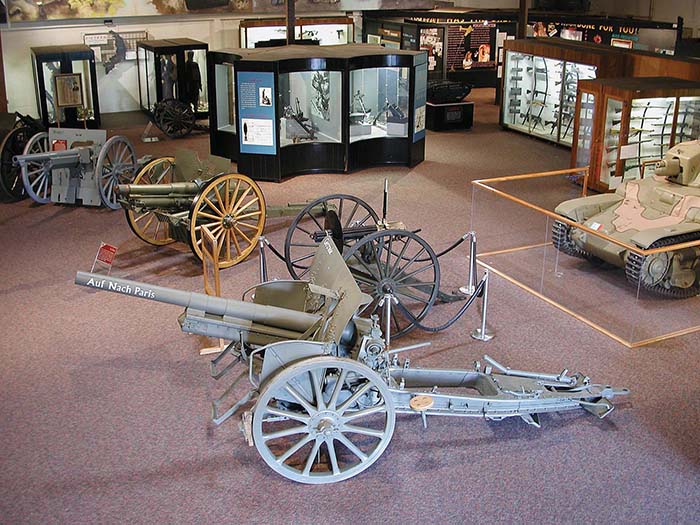 How you can help:
The Ordnance Museum Foundation is a 501(c)(3) Non-Profit Corporation registered as a Charity with the state of Maryland. A donation made to the Foundation is tax deductible within the limits of Tax Laws. The Foundation has organized a "Building Campaign" in order to raise approximately $3,000,000 that is needed to construct the ten buildings needed to house the artifacts and complete some other needed renovations to existing structures and displays.
Some examples of the range of recognition that would be given to donors:
$100-$200: Walkway Brick with your name. $500-$1000: Lifetime Member and your name on the recognition plaque at the Museum. $1,000- $10,000: Lifetime Member and recognition plaque associated with a Museum artifact. $10,000 and up: Specific galleries named after the donor (individual or corporation). $300,000: A building named after the donor.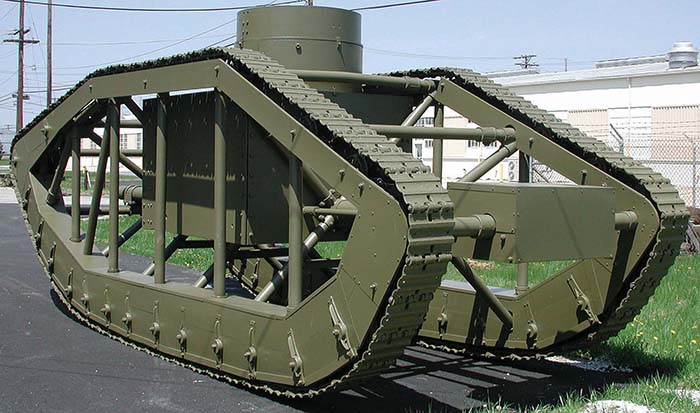 The Museum is quite flexible in developing appropriate methods of recognition within the limitations of Federal and US Army guidelines. A number of restoration projects have been funded by the families of veterans who served in a certain type of tank or vehicle, US or foreign, and they felt it was an appropriate tribute to that service to have the veteran's name on a recognition plaque.
There are also a variety of annual and lifetime memberships in the Foundation, that support the activities as well,
For more information contact:
The Ordnance Museum Foundation, Inc
PO Box 688
Aberdeen Proving Ground, MD 21005
Tel: 410-272-3622
Fax: 410-278-7473
Website: www.ordmuseum.org
Email: ordmusfound@erols.com
Rumor has it that there might be a Cholly & Marie Steen building in the offing, but this is unconfirmed at press time. Marie has lobbied hard to help this fund raising event, and most of us just figured that Cholly would be unable to resist her charms when it came to ponying up for a building at his favorite museum. -Dan
This article first appeared in Small Arms Review V7N12 (September 2004)