German "Last Ditch" VG1-5
Story & Photography by Richard Jones
In the last months of World War II, Hitler decreed that Germany would fight to the last man.  All males between the ages of 16 and 60, not already serving, were drafted into the Volksturm, or "People's Army".  To arm these soldiers, and Hitler was careful to declare them soldiers so that they would fall under the protection of the Geneva Convention, Hitler ordered a series of cheap and easily manufactured weapons be developed.  One of these weapons was the VG1-5, a semi-automatic, gas operated "assault rifle". This gun was a straight blowback design utilizing the 7.92×33 Kurz cartridge, the same as that used by the Stg 44.  It also utilized the same magazine.
The VG1-5 is pretty much a straight blow back operated rifle. There are four holes in the forward part of the barrel that vent gas into a barrel shroud to retard blow back. These four holes aren't really necessary. I decided to make mine in 9mm. An Airsoft Mp44 served as a parts donor. The airsoft gun is made of pot metal, but I was mainly interested in the magazine housing. The magazine is made of steel and appears to be a replacement mag for the MP44 rifle that has had the follower removed. I could interchange my real MP44 mag with the airsoft mag with no problem.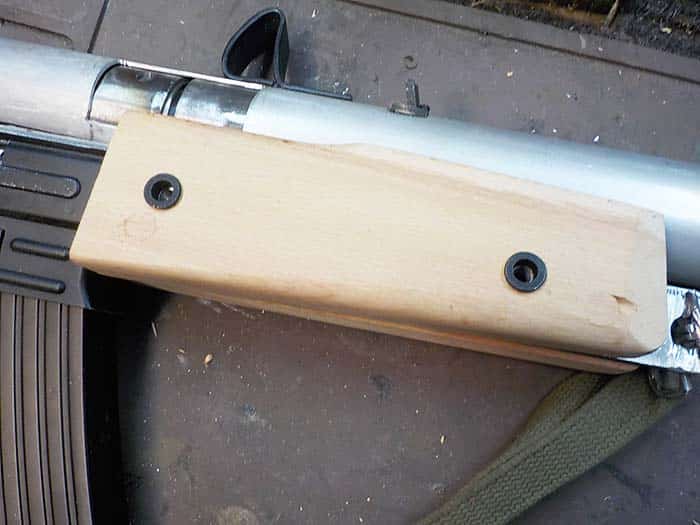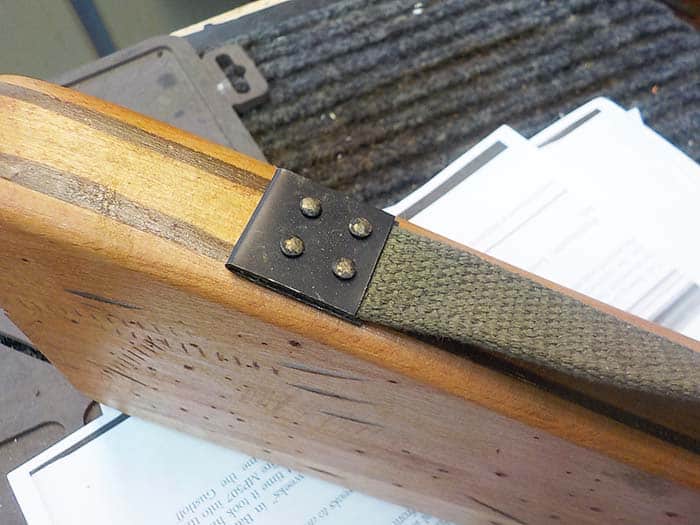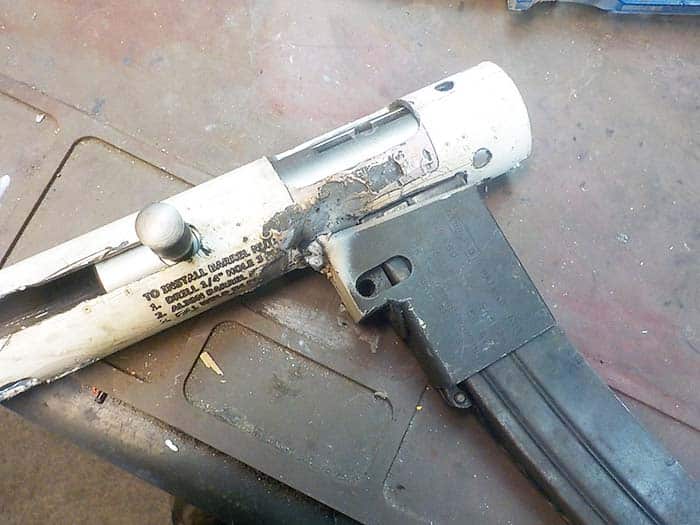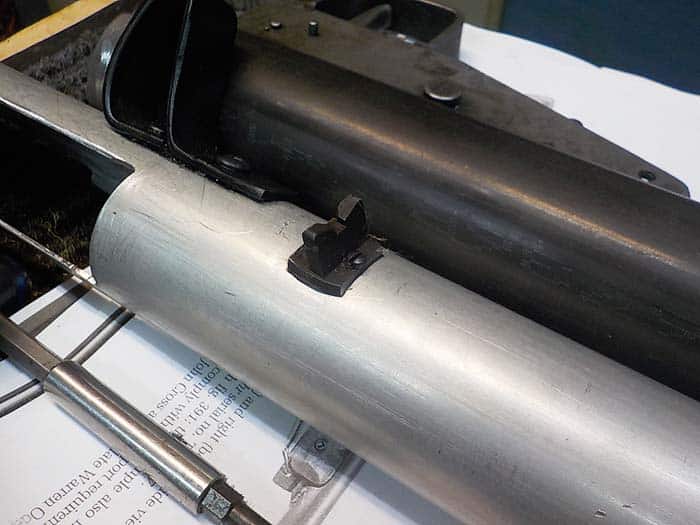 The receiver and fire control group is from a Sten MKII converted to comply with NFA rules.  The gun is semi -auto, straight blowback, striker fired from a closed bolt.  I fabricated the butt stock and fore-end from Birch blanks.
My only plans were photo's and illustrations from books. The original gun had a barrel shroud that served as a gas chamber and charging handle. Mine would only need to serve as a charging handle since it wasn't necessary to bleed off any pressure. The barrel shroud/charging handle reciprocates as it fires. The original dust cover was stamped from metal and was corrugated. I made my dust cover from a reproduction cas mask canister. The muzzle cap is from an M3 grease gun. The safety, charging handle and front sight were completely hand fabricated.
Markings for the stock and receiver were copied. The metal parts were chemically etched while the stock was stamped and pyrographed.
The shortened and re-welded Sten magazine was acra-glassed into an MP44 magazine body.
The completed gun was given a battle-worn finish in matte-black and glacier silver Cerakote. The stock was was given some battle scars and finished with boiled linseed oil. The original guns used gas can canister straps for slings so I fashioned one of those and attached it as the originals were done. A test fire showed good function and a fair level of accuracy at 100yds…around 5moa. I decided to mount a period correct Meopta ZF-4 scope to make shooting a little more fun. I had to make a custom off-set mount.
A video of the gun firing is available here. https://youtu.be/zZSKtvGFL28
Tinkering with a Thompson
Story & Photography by Richard Scheidel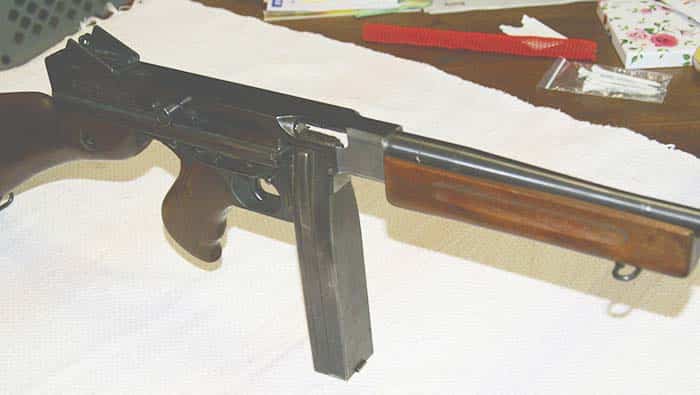 This tale started with my subscription to Machine Gun News way back in the day, circa May, 1990. I read every issue of MGN cover to cover every article was fascinating to this young life-long shooter. I read it all, The Forms by Dan Shea, Strictly Stens and Focus On by Carl Silver, and of course…Raffica.
Years would go by before I got my West Hurley M1-A1, courtesy of a fellow gun club member in Connecticut who got nervous with Connecticut's various then new weapons restrictions and bans. Seeing as I had recently moved out of state, he asked if anyone would be interested in purchasing his Thompson. I only asked him what he had to get for it and he wanted everything he had into it…accessories, etc. I told him I'd see if I can find someone and on the way home called my wife to tell her we were buying a Thompson.
SO… now out come the old issues (in perfect condition, thank you) of MGN and there it was…Tinkering with Thompsons. Supposedly, the old girl had some issues. Long story short, the gun was up and operating just fine. However… there were some cool articles in those pages of Klodzinski's ramblings.
Jim Klodzinski had some radical ideas and of course, being a noob in the Title II world, I was fascinated by everything. One of his better ideas was his "Quick Change Barrel" system. That caught my eye. I followed the recipe…not to the letter. He wanted a hand tightened screw and I preferred an Allen wrench screw. He also filed a flat in the Thompson barrel; I ran a flat-faced mill down the hole to mark the barrel and with the barrel removed just enlarged it a bit. Now the setscrew sat down in the barrel a bit. Mission accomplished!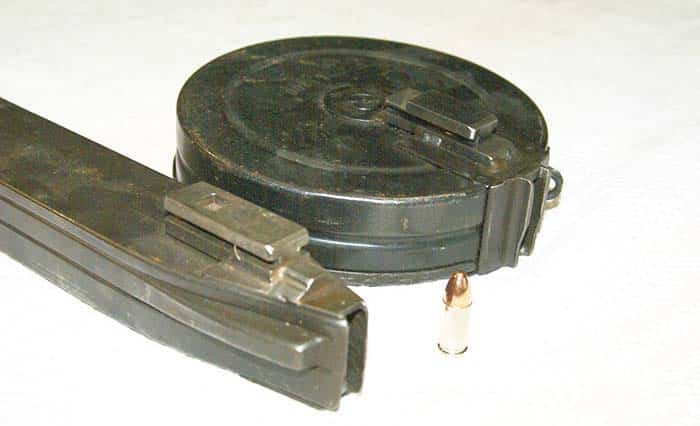 Then the Internet happened. Now known simply as the Machingunboards.com, it was then the source of Thompson info. One individual changed the caliber of his gun to 9mm. Hmmm. Everything was there… what he used, what magazine, and all the necessary modifications. But to me the gun was missing certain panache. It didn't look like a Thompson anymore. It was different, the barrel profile just looked wrong. But I can fix that. I found 9mm barrel blanks on the West Coast. Lathe took care of the rest with a new chamber reamer to boot. The bolt needed to be modified. I had a broken faced 45 M1-A1 bolt in the drawer and welded it up, brought it into spec on the lathe and now sporting a 9mm chamber face. The extractor groove on the bolt nose had to be lowered as well. Some adapters were machined and welded on a Suomi 50 round magazine as well as a Suomi 70 round drum. The ejector needed to be welded up a bit longer and reshaped. No adjusting needed…it was ALIVE! It made its debute at the Marietta, Ohio shoot that fall. Now it looked like a Thompson…except for the magazines.
Then Shotgun News started running ads for boatloads of 7.62×25 ammo, cheap. Hey, why not? I started looking for 308 caliber donor barrels and accidently banged my shin on a stack of Browning 1919A-4 barrels. Hmm. After finding one with SOME rifling still left, it was back to the lathe. This time, even the barrel fins were reproduced. A 7.62×25 chamber reamer was bought and not wasted…I made three MP-5 barrels out of some more Browning barrels. Bonus! The 9mm bolt was perfect for the 7.62×25 round. I only had one 7.62×25 magazine in my possession, a PPSh drum. The adapter went on, but the drum had to be thinned a bit, it was too fat to fit the mag well. Worse, I missed the 7.62×25 sales glut and only found one box (50 rounds…who buys ammo per box anymore?) and I found that one box at Cabala's in East Hartford CT.
So I go to my old gun club and a fellow hoser sees the Thompson with a PPSh drum hooked up and says, "What the heck you doing now? (You know who you are…) Does it work?" I honestly replied, I didn't know if it would. I put it on semi and banged one off. Then a couple more. Meh, switched to rock & roll and let it rip. Yeah, emptied the drum and the gun hardly moved. He grinned, shook his head and went back to his shooting.
Then PK at Diamond K advertised a .40 caliber barrel for sale. A quick phone call and it was mine. This caliber change still needs a bit of magazine work. I occasionally get a Brass Rainbow out of the top of the magazine if it gets jostled a bit. Embarrassing, yes. Four empty cases followed by twenty-six intact rounds flying out of the ejection port. Needs some mag tweaking. Thinking about rechambering it to 400 Corbon. That'll take care of the magazine issue, not to mention the sloppy bolt face.
Now I have to mention Merle Bitikoffer here. He has done a simply marvelous job of making an absolutely functional .22LR conversion that doesn't run at 1,000 rpm or better. His Thompson Conversion kit runs at a real enjoyable 550-600 rpm and actually lets you enjoy shooting 22s in a machine gun. Now I've got 22 conversions for my Macs, some HK's, even my 1919A4. But only Mel's kit runs at a nice sedate rate of fire. I added a half dozen 30 round Black Dog Machine magazines and yeah, one 50 round Black Dog drum. That went to the Eden shoot as well as The Bum's Rush at Knob Creek. The magazines were loaded with nothing but Piney Mountain 22LR red and green tracers, the $50 suppressor was greased up with pine scented Bore Butter, acting as an ablative and unleashed on the world. Can you say… Christmas? Yeah, man. Red and green tracers alternating with the pine scented Bore Butter wafting in the air.
All in all, the modifications were fun. The gun raises some eyebrows in the Thompson circles, but I have to throw in the disclaimer that whoever sold the Thompson originally modified it for a drum. Now a West Hurley isn't exactly known as any kind of collectible, but seeing that somebody actually cut the receiver to accept a drum eliminated my concerns of destroying a "pristine" Thompson M1-A1. I'm certainly not selling it while I'm alive, so why not have fun with it?
Email Your Vote Now!
Vote for your favorite FrankenGun by emailing your choice to editorial@smallarmsreview.com no later than Monday, November 1, 2021. The winner will be announced in the January 2022 Small Arms Review issue, Vol. 26, No. 1.
This article first appeared in Small Arms Review V25N9 (November 2021)