24 September 2012, Fort Bragg, North Carolina. During the 2012 Annual Special Agent Training exercise, law enforcement personnel react to gunfire and escort a VIP during a scenario at Gryphon Group's Combat Training Center. Delays and restrictions on certain civilian police and contract security entities in acquiring military-grade M4 series carbines for special tactical missions drove development of the Joint Project Rifle series at Freedom Forge Armory. Credit: US Army Photo by Sgt. 1st Class Carlos J. Lazo
By Robert Bruce
(Editor's note: There are a lot of start-ups making rifles, and quite a few of them are led by veterans of the recent Afghan and Iraq wars. We don't have the space to cover every product, but we chose the Joint Rifle Project because it was a real requirement from a real end user, and a veteran owned company took a chance on building their concept and are beyond prototype and are marketing the end result now. We hope you enjoy this glimpse into the changes in the abilities in the firearms community today- Dan)
"The original customer was local law enforcement, looking for an M4 type carbine for tactical and high risk work. But standard military and commercial versions just didn't fit their application, would have required extensive modification and were nearly impossible to get at the time in the post-Newtown industry meltdown." Brandon Pritchard, owner of Freedom Forge Armory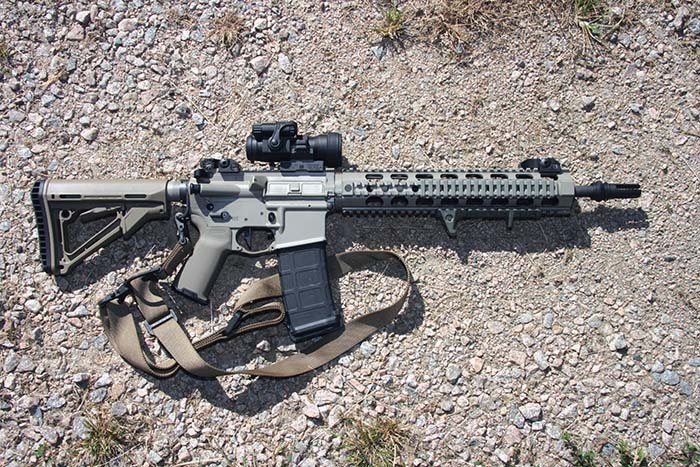 Also known as Sergeant Pritchard in his career as a full time administrator with an aviation battalion of the Virginia Army National Guard, he has double duties as a UH-72 Lakota helo crew chief. He carried an issue M4 Carbine in a decidedly hazardous tour of duty deployment to Iraq crewing a UH-60 Black Hawk, noting firsthand the weapon's strengths and weaknesses.
A skilled gunsmith and competitive shooter, Pritchard was approached in 2013 by a respected LE entity (anonymity required by contract) with an interesting request.
"They wanted a version of a well-recognized manufacturer's special purpose rifle, modified with ambidextrous controls, different barrel lengths for specialized tasks, quick-disconnect suppressor attachment, and nickel boron bolt and carrier," Pritchard told SAR.
"I suggested that — instead of waiting months for the basic SPR and then having me modify it — I could build rifles to their specs, right out of the box."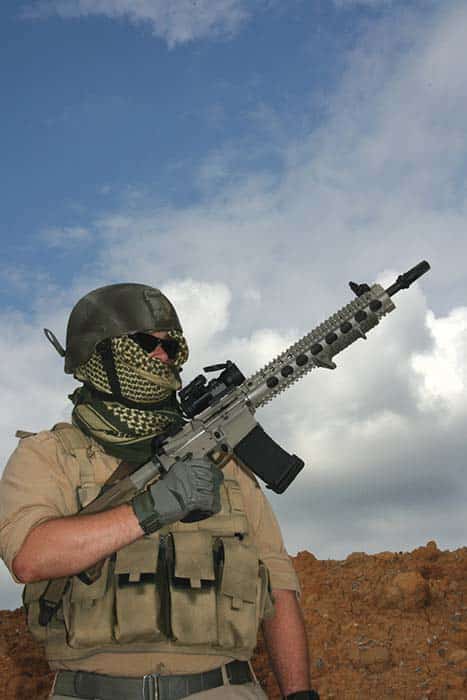 Armed with the customer's specifications and following in-depth conversations on how the various versions including Designated Marksman Rifle and compact Carbine would be employed, Pritchard set to work designing, building and testing.
"The AR15 is the 'Mister Potato Head' of the firearms world," he is not alone in noting. "You can change it any way you want it. Kits with the proper tools to change everything from barrels to buttstocks are affordable, and aftermarket parts of all kinds are plentiful."
The process moved forward through several design changes and the third version – the E1 Carbine seen in this feature – was the one that was accepted.
The practical adaptability of Pritchard's improvements on the AR's basic mechanism to Freedom Forge's efficient versions from long to short gave rise to what has become known as the Joint Rifle Project.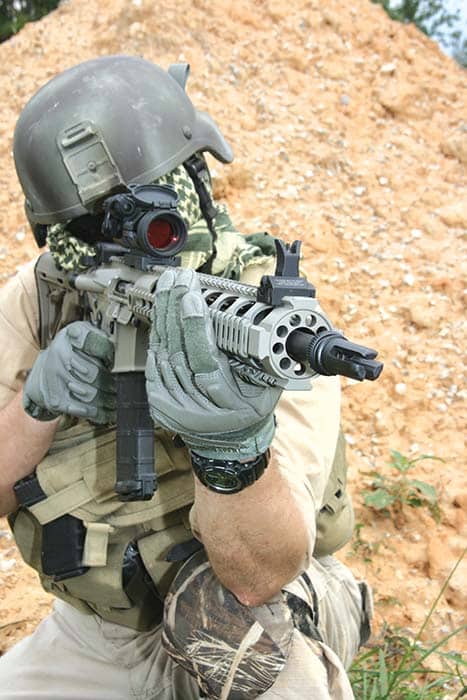 Anatomy of the Joint Rifle AR-15 E1
We visited Freedom Forge in rural Quinton, Virginia, amicably and efficiently sharing a colorful old west themed storefront with Sodan Armament. Together, their customers enjoy one-stop shopping for new and used firearms including Class 3 weaponry, ammunition, accessories, militaria, and full service gunsmithing.
As Pritchard field stripped one of the original E1 SBRs we recorded his observations on its inner secrets, presented here in necessarily
abbreviated form:
This early prototype uses a Spike's Tactical lower receiver. The lowers on the production model are made by Aero Precision with Freedom Forge Armory markings.
Inside the JR is very different from inside the standard semi auto AR15 or even M16. We use a Geissele SDE Enhanced Trigger group for crisp and consistent touchoff. In this version it's their flat faced trigger for best semiauto performance.
The ambidextrous Battery Assist Device for locking the bolt open or letting it run forward is accessible with either hand's trigger finger without having to break your firing grip. Ambi fire selector and ambi sling attachment at the rear of the lower.
Standard carbine spring and buffer. If the customer wants to run the gun suppressed I recommend upgrading those components to a heavy buffer and spring combo along with a gas buster charging handle.
The upper receiver is a Cerro Forge Red X A3 AR15 or M4. It has the M4 style feed ramps for reliable feeding and function. And standard forward assist just like most any other AR15.
The bolt and carrier assembly in this E1 is from Spike's Tactical. It's nickel boron coated which is incredibly hard yet very slick so it doesn't need to be lubed or cleaned as frequently and much less temperamental to sand and dust. It's also been lightened with these machined cuts to make lockup times faster. Even in semi auto it's a pretty quick firing rifle. The later production versions don't have these cuts but they do have a Ni-Bor surface on the carrier and bolt.
The barrel is one of the best, most accurate mid length types on the market; a Spike's Tactical 14 ½ inch with a 1-in-7 inch twist for heavier bullets. They're hammer forged for Spike's by FN Manufacturing and are chrome lined and finished to M-249 specs for durability. They're MPI (magnetic particle inspected) and high pressure tested.
It's important to note that this one is not technically an SBR (Short Barrel Rifle with need for BATFE approval) because its flash hider is permanently pinned and welded, giving it the required 16 inch minimum length. While not an issue for the LE client, most civilian customers appreciate being able to avoid the government paperwork and approval time.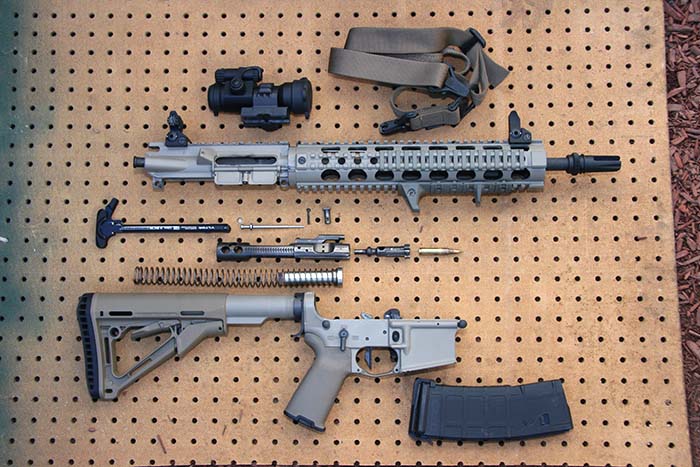 It has a hybrid contour that offers the best weight savings and accuracy. It has a mid-length gas system as opposed to carbine length, tapping the gas closer to the muzzle. This was driven by reliability and balance. Mid lengths tend to be the most reliable. Carbine length (closer to chamber) cycles strongly but very violently. In rifle lengths the gas has longer to travel so it cycles more smoothly but not quite as strong for positive function in adverse conditions. The mid-length kind of gives you the best of both worlds.
Our standard version rifles and carbines are equipped with AAC's T51 flash hider for compatibility with the AAC M4-2000 and Mini4 suppressors. They can be set up by special order for the Gemtech HALO or others.
The barrel is free-floated for accuracy so we have a Yankee Hill Machine, twelve inch, free-floated hand guard with M1913 Picatinny rails all the way up for multiple accessory mounting.
There's a big free-float barrel nut back here at the barrel junction with the receiver. It has threads on the inside that lock the barrel to the upper receiver and threads on the outside to attach the tubular steel hand guard. So the only thing touching the barrel is the barrel nut. The fore end is held in place on the barrel nut by two capture screws and a lock ring, so you have friction and tension for exceptional rigidity.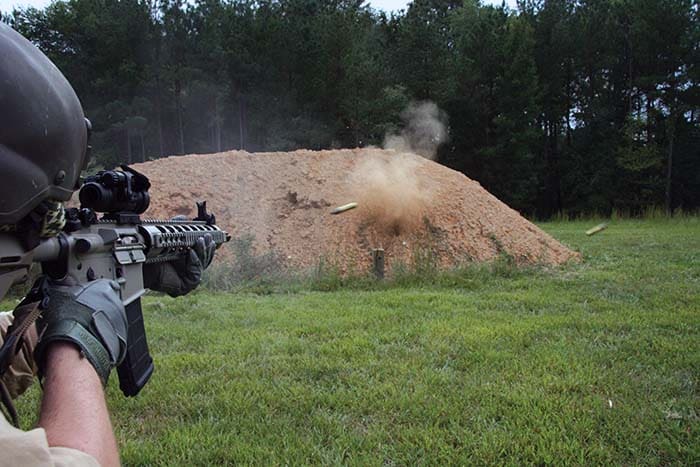 This is a lot of what allows the gun to achieve the accuracy it does, even with a shortened 14 inch barrel.
The 'perforated doughnut' at the muzzle end of hand guard is Yankee Hill Machine's 'End Cap Protector,' a request from the prototype customer to protect the gas system. It's optional on production carbines.
Our Joint Rifles have Troy Industries or Magpul back up iron sights that fold down out of the way. We can supply customers with an Aimpoint red dot, Trijicon ACOG, or EOTECH Holo sight at competitive prices.
Production versions have a black oxide finish with DuraCoat as an option. It's applied with an HPV gun to the individual parts prior to assembly of the rifle. As tough as any finish I've found.
It comes in many different colors so the rifle could be any one of, or a combination of colors, and camo patterns. The primary DuraCoat finish options will be MAGPUL Flat Dark Earth — the version you fired and photographed — OD Green, and Tactical Grey.
On the range
We spent a pleasant afternoon at a private range for a hands-on evaluation of one of Freedom Forge's original Joint Rifle AR-15 E1s.
While showing plenty of evidence of a hard life with lots of range time (both the carbine and the shooters), the test subject proved flawlessly efficient in the able hands of its proud creator and the somewhat less distinguished evaluator.
Ammo consisted of several hundred rounds of mixed type 5.56 x 45 mm, including US military 55 and 62 grain ball, with Russian steel case stuff and some soft point hunting loads tossed in for good measure. All fed and fired without fail from a selection of ordinary standard aluminum GI magazines as well as Magpul's superlative P Mags that Freedom Forge recommends.
Function firing was done from a verity of positions from prone supported to moving CQC. The first style underscoring remarkable accuracy from the crisp Geissele trigger and the free floated, hammer forged 14 inch barrel. The other end validating a ruthless tactical tool for urban SWAT operatives and high stakes security situations.
Of course it's this kind of "move close and shoot fast" scenario where this SBR takes a starring role. With a quick handling profile and excellent balance. It is uncannily right for quick reaction shooting from any stance and while on the move.
With these characteristics and a decidedly competitive price, it's a great choice for Three Gun matches, enhanced police patrol carbine, SWAT, and no-compromise home defense.
And, we're told, the latest E1s and Designated Marksman version have attracted attention for certain serious contract security duties in arenas way beyond their initial LE fielding….
Economical S1
Derived from the E1 for LE and security, Freedom Forge's Joint Rifle AR-15 S1 with Mil-Spec trigger, bolt group and furniture, delivers comparable accuracy and durability for more budget conscious shooters. Notably, its tough and accurate 16 inch hammer forged barrel and detachable A2 flash hider requires no special paperwork. List price for the basic model is $1115. Add-ons and upgrades are available for custom tailoring to client preferences.
Joint Rifle AR-15 S1
Manufacturer: Freedom Forge Armory, Quinton, VA
Caliber: 5.56mm NATO
Operation: Stoner system direct gas,
semiauto only
Barrel: Spikes Tactical 16 inch, rifling twist 1 in 7, tipped by M16A2 flash hider (QD for Gemtech HALO suppressor)
Note: Available as SBR to qualifying agencies and individuals
Future Developments
As Freedom Forge Armory enjoys steady growth in its Joint Rifle Program, Pritchard is hard at work on the design testing phase of the Joint Rifle PD5 and PD9, a short barreled version (10") of the JR in 9mm and 5.56 for use as a PDW (personal defense weapon) or security detail weapon.
Contact
Freedom Forge Armory, 3300A New Kent Highway, Quinton, Virginia 23141.
Telephone 804-869-8960
Email freedomforgearmory@comcast.net
Web www.freedomforgearmory.com
This article first appeared in Small Arms Review V20N4 (May 2016)