by Timothy Kast
When Waynesville, North Carolina native Jim Ray started Masters of Defense (MOD) Knives in 1997, Chief Jim "Patches" Watson was the first person he signed to his fledgling company. Jim Watson's credentials are impressive to be sure: SEAL Team Two "plank holder," Dick Marcinko's point man in the Mekong Delta, awarded 16 combat decorations including 4 Bronze Stars with the combat 'V' for valor, and author of Point Man and Walking Point.
The design began with a sturdy modified spear-point accompanied by an almost full-length serrated cutting edge. This provides the end-user with an aggressive surface for slicing wet rope or tangled parachute cord. MOD precision hollow grinds each knife from a cryogenically hardened 154 cm high-carbon stainless-steel alloy blank that is tempered to a 60 Rockwell hardness.
Chief Watson wanted the handle to feel like it was part of your hand. To that end MOD computer machines the handles from solid bars of T6 aircraft aluminum, and puts a milspec hard-coat black anodized finish on them, finally finished with a checkered Kraton rubber insert for increased grip and feel when wet. These knives are built on the same type of computerized machinery used to construct missile guidance systems, and then hand-fitted by master craftsmen in the final assembly. These are knives that give you the precision of a custom knife coupled with the accuracy and durability afforded by the latest in CNC technology.
I chose the Watson Trident Utility Folder because of my need for a lightweight tactical folder that would hold up for everyday carry, but be tough enough for a variety of hard usage chores throughout the week; work that constitutes just about everything from cutting cleaning patches from discarded cloth to slicing through wet rope mountaineering in the rugged terrain of Western North Carolina. Other than wiping the blade clean or putting a drop of oil on the pivot bearing, I didn't pamper the knife, but subjected it to the full range of tasks throughout the testing period. I was first concerned about the black coating the blade comes with, but my concern was unfounded as the matte black boron carbide coating held up exceptionally well with minimal care. The serrated edge gave little cause for worry after a few careful touches with a ceramic stone. The machined finger grooves on the spine of the blade provided a supplemental margin of delicate cut when used with the pressure of an index finger as your guide. This made cutting an odd size of gun cleaning patches a breeze. Much has been said about the ability of a knife to cut wet nautical line, but the truth is that soaked rope is indeed a tough cutting chore for any knife. The MOD Watson knife routinely cut all of the line that it encountered, but like any good knife required a periodic touch-up of the serrated edge with the ceramic stone. Spyderco manufactures the excellent Sharpmaker, and that has become the industry standard since its debut.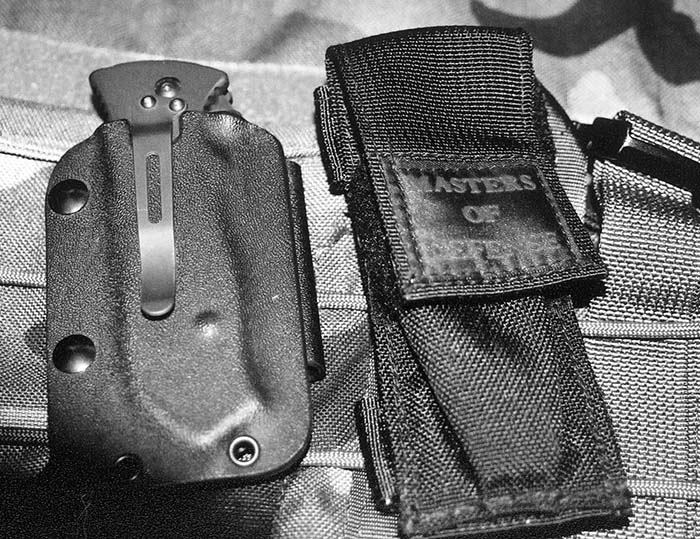 I was quite impressed by the 148 thousandths thick blade. It has a sturdiness that enables the knife to tackle jobs that oftentimes only a fixed blade knife or rescue tool could accomplish. Chief Watson told me that had been his goal all along; to give the operator the power of a fixed blade knife in a folder.
Tasked with building a campfire with wet kindling, I began cutting old kudzu vines for tinder. Because they are hanging vines, they generally have an opportunity to dry quickly after a rainstorm, so are a decent candidate for dry wood when there's nothing else around. The Watson Knife when applied on an angle and with firm pressure would slide right through the kudzu vines and so I was able to gather a fair amount of kindling for a warm fire in a fairly short amount of time.
The Watson knife can be carried in a variety of ways. My favorite is just positioned in my front Levi's pocket, but the MOD knife comes with a nylon Cordura pouch that can be worn on the belt horizontally or vertically. The flap is secured with Velcro for easy access. My old friend Frank Sigman makes a Kydex sheath for the Watson folder that is truly remarkable. Easily clipped on the belt, the knife slides in with a satisfying click that tells you that it is handily secured.
Masters of Defense produces this knife in a manual opener and an auto knife, which is restricted to military and law enforcement only. While I tested both versions, the manual opener is probably the model that would be best suited for everyday civilian carry.
Masters of Defense Knives has proved they have the mettle to survive in today's highly competitive knife market. For twelve months I've lived with this knife and done just about everything with it. I've cut parachute cord, fished with it, used it around cars, trucks and motorcycles, then taken it to the range and abused the hell out of it. In all sorts of circumstances the knife took it all in stride. Chief Watson showed me one he had even used to cut tile with!
The one thing that every end user of Chief Watson's folder had in common was that they all truly used the knife, not just stored it in their dresser drawer. The knife was designed to be carried on a daily basis. Any firearms enthusiast needing a good folder would do well to examine this fine offering from MOD.
Contact information:
Masters of Defense, LLC
256 A Industrial Park Drive
Waynesville, North Carolina 28786
Phone: (828) 452-4158
Fax: (828) 452-7327
Email: www.mastersofdefense.com
This article first appeared in Small Arms Review V7N6 (March 2004)