The Jarrett Legacy
Until I was fortunate enough to be loaned the material which forms the bulk of the preceding parts of this series, I was unaware of the actual details of Colonel Jarrett's life and eventful career, and the main reason I wanted to write about him was in order to speak of the legacy he left in those arms experts and writers who got their start by working with and for him at the Ordnance Museum at Aberdeen.
In Part I, I mentioned that when I first became interested in guns and gun lore in the 1950s, an early edition of Small Arms of the World was "just about the height of specialization in the field of arms literature." Thinking back I realize that this was not entirely true, for I vividly recall the impression made on me when I first became aware of the existence of "vertical" gun books, and marvelling that an entire book could be devoted to the history of a single firearm!
The first of this audacious new breed to come my way were The Book of the Garand by retired U.S. Army Major General Julian S. Hatcher, first published in 1948, and Fred A. Datig's original 1955 edition of The Luger Pistol.
As we have read in Part II, Hatcher, while still a colonel, had recognized the value of Jarrett's accumulated knowledge and expertise, and had specifically selected him to join the staff of the Ordnance School at Aberdeen in the summer of 1939. As we shall see below, Fred Datig was later one of Col. Jarrett's staffers at the Aberdeen Ordnance Museum.
Others in the wide Jarrett circle, including some who emerged from under his wing at the Museum, make up a veritable Who's Who of arms experts and writers who went on to produce many of the most influential arms books written in English over the last fifty years. These men, most of whom are no longer with us, are recalled in alphabetical order as follows:
Donald B. Bady
Donald Bady was the editor of the four-volume Handbook of Small Arms, prepared while working for Col. Jarrett at the D&PS, Library & Museum Division, Aberdeen Proving Ground in 1954.
While in this post he also catalogued the collection of Col. Jarrett's "Foreign Materiel Museum" – no mean feat considering the size and complexity of the collection. Harold Johnson recalls that when the Museum was closed the contents were meticulously catalogued, by Bady, Val Forgett and Charles Yust, mentioned below, and an Index of all the exhibits was prepared, and then hidden away from the eyes of those who may have been inclined to "cherry pick" the collection.
Donald Bady is the author of Colt Automatic Pistols 1896 – 1955, first published in 1956.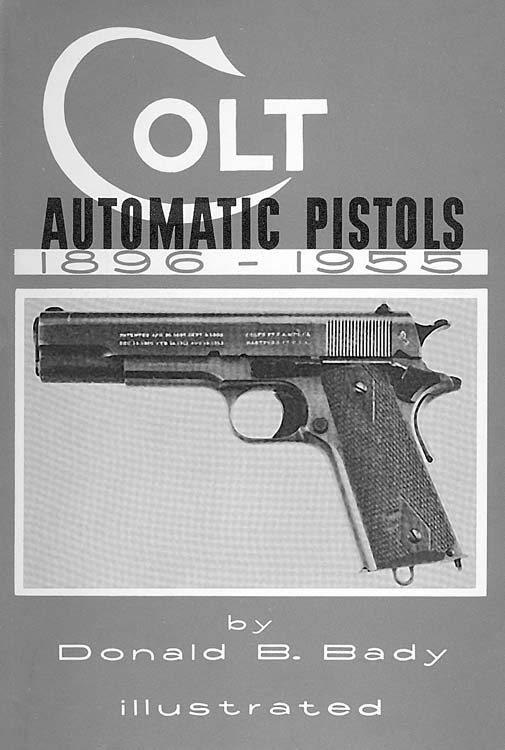 Fred A. Datig
Fred Datig is the author of The Luger Pistol, one of the very first "vertical" gun books, first published in 1955, which is still a respected reference source on these famous pistols.
An inveterate cartridge collector, Datig then wrote a series of cartridge identification books titled Cartridges for Collectors. The series began with Volume I (Centerfire), published in 1956; then Volume II (Centerfire – Rimfire – Patent Ignition), published in 1958; Volume III (Centerfire – Rimfire – Plastic), published in 1967; and Volume IV, (a supplement on Centerfire – Rimfire – Patent Ignition) published in 1983.
Later, his "magnum opus" – a grand new series of books on Russian small arms to be titled The History and Development of Imperial and Soviet Russian Military Small Arms and Ammunition, 1700 – 1986, projected to run to a total of eighteen volumes, was for various reasons cut short with the publication in 1988 of a single thin book – Volume Sixteen – titled Soviet Russian Postwar Military Pistols and Cartridges, 1945 – 1986.
While working at the Ordnance Museum, Datig was apparently the only person on Jarrett's staff to evince an interest in Russian small arms. This period is recalled by Mr. Datig in the Foreword to his Volume Sixteen on Russian small arms as follows:
…The year was 1949, early autumn; the place was Aberdeen Proving Ground, Maryland [where] Colonel George Burling Jarrett, Chief, Library and Museum Division, Development and Proof Services… had the long-established reputation of being the foremost authority on the subject [and] may be considered, without question, the founder of modern U.S. Foreign Ordnance Technical Intelligence.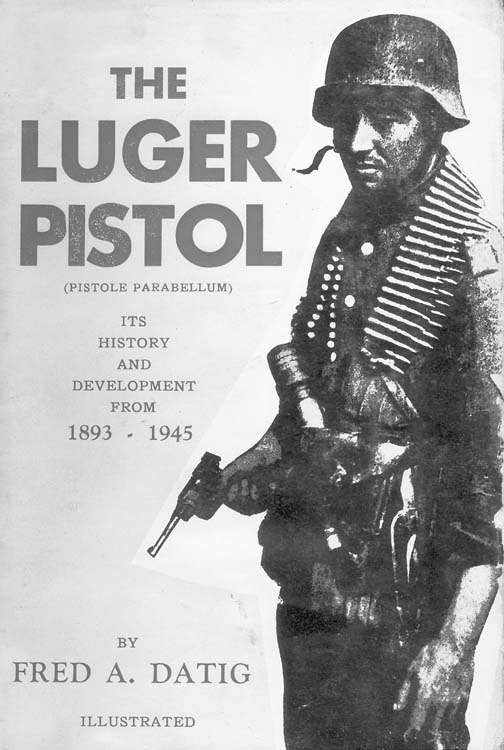 …in 1949, Aberdeen Proving Ground was undoubtedly the world's largest storage center for military ordnance, both foreign and domestic, being equipped with the multitude of small arms which had seen service in every country involved in the Second World War. The prize collection was that of German weapons, an almost complete assortment. Consequently, and due to the superb design and workmanship of this group, the majority of the Museum's staff displayed little interest in the small arms of any other nationality. But there was one exception; your chronicler! One day Colonel Jarrett approached us and asked, "Datig, don't you like German small arms?" We replied something to the effect that yes, of course we did, BUT it just so happened that we chose to take an interest in items which did not seem to appeal to the majority: Russian and Soviet firearms. Having then been asked if our interest was serious and having replied in the affirmative, Jarrett followed with a rather surprising proposal: if we promised to carry forth this study to a relative conclusion, we should pay a private visit to the Colonel's nearby estate at which time every item of Imperial and Soviet Russian origin or pertinence to be found in Jarrett's personal private files would be presented to us as a gift! While no firearms or other hardware were involved, the documentation which we received was, and in many cases still is, irreplaceable. The single and most important item, at least to us, was a German ordnance technical intelligence manual marked "Only for Service Use", which was to be the cornerstone for all our future research… it was entitled Taschenbuch Russisches Heer (Pocket Book of the Russian Army), dated January, 1942, and revealed what little the Germans knew of Soviet armaments as of that date (which was not very much)…
Robert W. Faris
Bob Faris, a dedicated and long-serving Ordnanceman, has himself been the subject of two Small Arms Review interviews (Vol. 11, No. 4, January, 2008 and Vol. 11, No. 5, February, 2008). In addition, an entire chapter on Bob, titled "Reflections of an Ordnanceman", appears in Dolf Goldsmith's Collector Grade title The Browning Machine Gun, Volume III: Supporting the Rifle Caliber Brownings (2008).
Born in 1930 and an ordnance veteran of the Korean War, Bob worked for many years as a civilian Test Director in the Development and Proof Services (D&PS) section at Aberdeen Proving Ground, testing weapons, ammunition, accessories and fire controls alongside such men as Bill Brophy and Larry Moore, who was for many years the head of the shoulder weapon section.
On his first meeting with Col. Jarrett, Bob told him that one of his most vivid memories was as a young boy of ten, when during his summer holidays in Atlantic City he discovered Jarrett's Steel Pier Museum of World War History, and spent all his allowance visiting and revisiting this awesome repository.
In his second SAR interview Bob recalls that he introduced Tom Nelson, who had then just got out of the Army, to Dick Winter of Interarms, "and later he came back down and got a job with them."
Bob also got to know Don Bady and Val Forgett, both of whom worked for Col. Jarrett at the Museum. Regarding how he began his long acquaintance with Val Forgett, Bob recalls, "… Col. Jarrett called me up one day. He said, `I got an Army G.I. over here, just new, just come in, and he's assigned to help me out. He's a real gun nut. Come on over and meet him.'"
Summing up on a serious note, Bob recalls that despite all his expertise and knowledge, Jarrett had no real authority to make decisions concerning ordnance developments, and he was called on the carpet several times with the admonition, "That's not your job!" Jarrett would respond, "Well, somebody has to do it." Nevertheless he did influence decisions, in a general way, and the Ordnance Corps was the better for it.
Valmore J. Forgett
Later the founder and president of Navy Arms Company, Inc. and Service Armament Co. of Ridgefield, N.J., Val Forgett worked with Donald Bady at the Aberdeen Ordnance Museum.
Lt. Col. William L. Howard, the compiler of the informal book titled Technological Support of the Air-Land Battle, includes a letter dated February 16, 1983 addressed to himself from Val Forgett, president of Navy Arms Company Inc., excerpted as follows:
… First of all, I was a lowly draftee at Aberdeen, attached to the 19301 special troops. This was a unit made up of draftees who had, at least, four years of college, and many of the people in our unit had their Masters' and Doctors' degrees. It's tough being a private with a Doctor's degree and having your C.O. with a tenth grade education… Another gentleman, by the name of Donald Bady, the author of Colt Automatic Pistols, and others were attached to this unit and worked with Col. Jarrett in the Museum.

… We did extensive work at the H. P. White Lab, and I spent two weeks in Washington on TDY with the FBI's Firearms Section. While working under Col. Jarrett, Don Bady and I developed a form of Dewey Decimal System for the classification of firearms, and put together a group of manuals for military attachés so they had some idea of what foreign weapons were known to us. Also, as a separate project, I did a manual on the interchangeability of foreign ammunition – i.e. Italian 7.7 ammunition would function in a .303 Bren gun. When I got out of the Army, Tom Nelson took over my position at Aberdeen…

Col. Jarrett… was not only my Commanding Officer, but a close, personal friend for many years… there are many anecdotes I can tell you about his founding of Ordnance Technical Intelligence… There is an excellent article… called "The Junkman Who Stopped Rommel" [extensively excerpted in Part II of this series].
Harold E. Johnson
Mr. Johnson is an Infantry Weapons Analyst for the U.S. Army Foreign Science and Technology Center [FSTC]. A member of the Handguns, Machine Guns, and Shoulder Weapons sections of the A.O.A.'s Small Arms & Small Arms Ammunition Division, he also is on the Firearms Advisory Panel of the Commissioner of Internal Revenue and frequently acts as a consultant to other government agencies on matters pertaining to small arms.
Hal Johnson, who had been a warrant officer and an armor expert in the Marine Corps, succeeded Joseph E. Smith as Chief of the Small Arms Division within the Ordnance Technical Intelligence Agency in 1975.
Daniel D. Musgrave
Dan Musgrave was a retired Army officer who as a young lieutenant had participated in the 1944 Normandy invasion. He also came on board at the Museum under Col. Jarrett while Tom Nelson was still working there, and the two men became fast friends.
Musgrave later worked for the Foreign Science & Technology Center (FSTC, established in 1962) with George Chinn for some time, and actually wrote much of what became Chinn's The Machine Gun.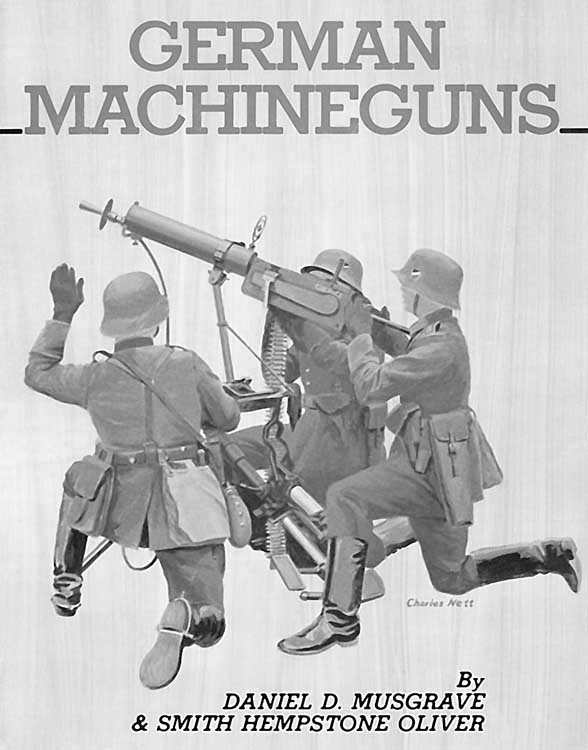 A published author in his own right, Dan Musgrave also collaborated with Tom Nelson on several highly successful book projects.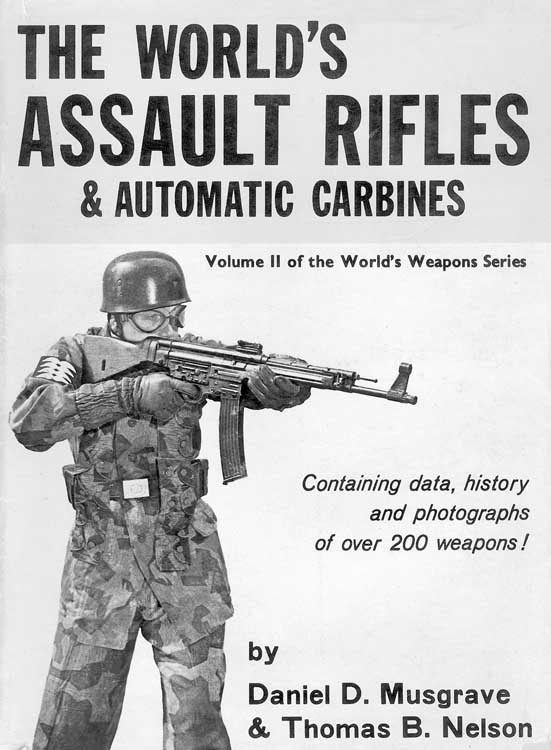 Thomas B. Nelson
Lt. Col. William L. Howard, the compiler of the informal book titled Technological Support of the Air-Land Battle, includes the following short biography of Tom Nelson:
Born in New York City and raised in Cincinnati, Ohio, Thomas B. Nelson early developed a lively and avid interest in all types of small arms, but particularly the many and varied types of automatic weapons. During his studies at the University of Miami in Oxford, Ohio, and the University of Cincinnati, he started laying the groundwork for his book. After college, Mr. Nelson made an extensive tour of Europe and Scandinavia, collecting data and information from most of the larger arms firms within these areas. Immediately upon his return to the United States, he was called to duty by the U.S. Army. After basic training, he served under Col. G. B. Jarrett in the Foreign Materiel Section of the Ordnance Museum at Aberdeen Proving Ground. At Aberdeen, too, he attended the Army Ordnance Intelligence School. He was subsequently stationed at Arlington Hall Station, in Arlington, Virginia, there to perform comprehensive work in the small arms section of the Ordnance Technical Intelligence headquarters during the remainder of his tour of duty in the service. In 1961, after military service, he entered the private sector… He continues to be an avid student of military history and ordnance hardware.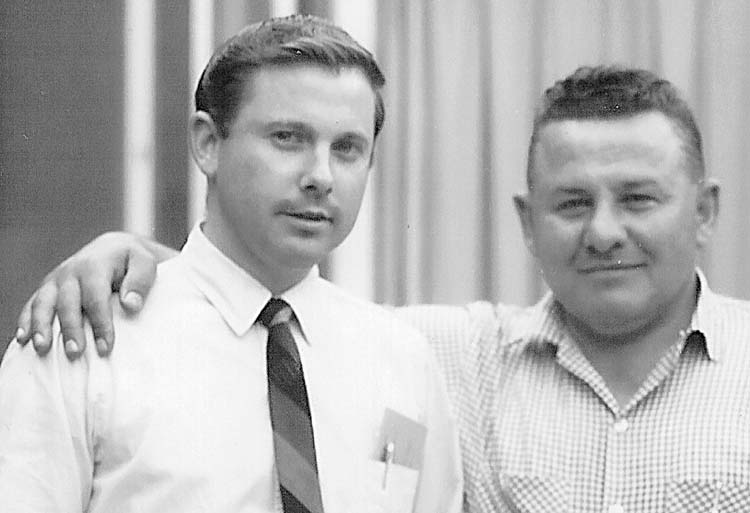 Tom Nelson Recalls His Debt to Col. Jarrett
In his own words from one of the several phone interviews I conducted with Tom Nelson, he recalled that after leaving college in 1958 he travelled all over Europe gathering material for his book, to be called Submachine Guns of the World. After this "grand tour", he enlisted in Army.
After basic training, Tom was sent to Aberdeen Proving Ground, with no apparent assignment. It was here that he met Col. Jarrett, who after closely questioning Tom on his knowledge of, and interest in, military firearms, took him on as his aide. Tom recalls that his first assignment was to clean a long row of LMGs, which were stored on the upper balcony of the Museum building.
Shortly after assuming his duties in the Museum Tom was introduced to another newcomer, Dan Musgrave, who took over the first desk in the office.
At that time the U.S. Army Ordnance Technical Intelligence School was usually reserved for officers and senior NCOs, but Tom Nelson wangled an interview and, thanks to his accumulated knowledge and expertise, he was allowed to attend the school, whence he graduated 1st in his class.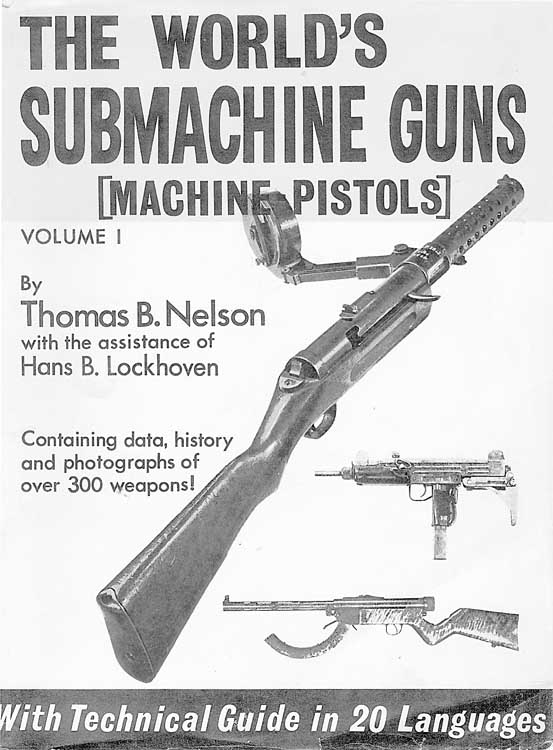 In 1959, Nelson was given a letter from Col. Jarrett as an introduction to Joseph E. Smith, the civilian Chief of the Ordnance Technical Intelligence Agency (Conventional Weapon Division), later designated the Foreign Science and Technology Center (FSTC), then headquartered at Arlington Hall Station in Arlington, Virginia. On the strength of Col. Jarrett's glowing letter of recommendation, Tom was taken on and served as Joe Smith's aide from 1959 to the end of 1960, during which time he helped write the revised edition of Smith's Small Arms of the World.
From December, 1960 to April, 1970, Tom traveled all over the world working for Sam Cummings, president of Interarmco. Still later he founded several companies of his own, including Ironside International Publishers Inc.
Tom recalls that in 1976, while he was in Tokyo, word came that Joe Smith had died at the young age of 54, and was succeeded by Hal Johnston as Chief of the Ordnance Technical Intelligence Agency. The remembrance he wrote for Joe Smith appears below.
As for his debt to Col. Jarrett, Tom sums up that today he has no idea what direction his life would have taken without Jarrett's influence and example. His time at the Aberdeen Museum as Jarrett's protegé, and the letter Jarrett wrote that introduced him to Joe Smith and the world of Ordnance Technical Intelligence, changed his life.
Col. Jarrett Praises The World's Submachine Guns, Volume I
The book that put Tom Nelson on the map, The World's Submachine Guns, was published in 1963. It featured a Foreword written in typically authoritative style by Tom's old mentor, retired Ordnance Col. G. B. Jarrett, Director of the Ordnance Museum at Aberdeen Proving Ground, which is excerpted as follows:
This book deals with a weapon whose entire history goes back less than half a century, for the submachine gun was born in the trench warfare of World War I… This study gathers together, for the first time, pertinent data and illustrations of all significant submachine guns manufactured to date. In addition to serving as an excellent reference for the collector and a guide for the designer, it provides an invaluable information source for law-enforcement and intelligence personnel…

The author is highly qualified in his field, and his treatment of the subject is noteworthy for its clarity and comprehensive coverage. He shows a rare insight into the need or reason why any piece was developed and is especially knowledgeable as to what extent a piece may or may not be a worthwhile weapon from the user's standpoint…
Ludwig Olson
A concise biography of Ludwig "Lud" Olson, taken from the back of the dust jacket of the third edition of Mr. Olson's classic book Mauser Bolt Rifles, first published in 1976, reads as follows: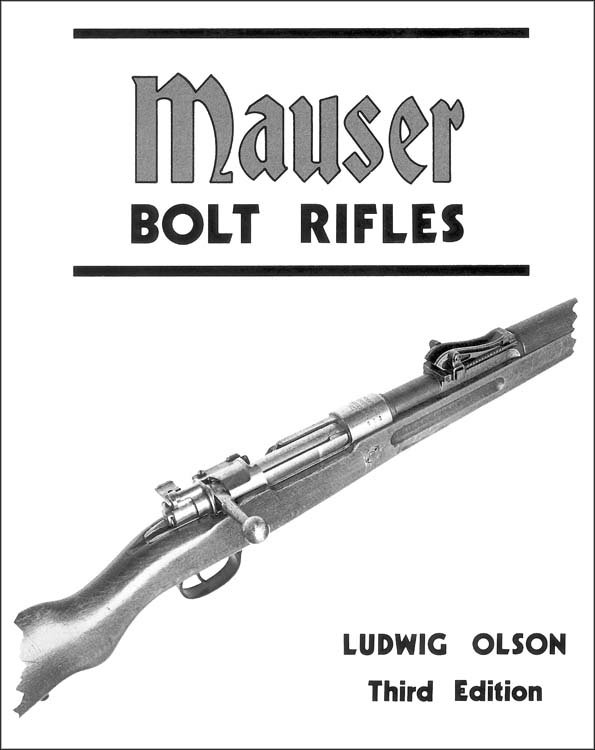 Ludwig Olson is presently serving as the Technical Editor of The American Rifleman, and is without question the most eminently qualified man living to undertake, and so magnificently accomplish, the task of writing Mauser Bolt Rifles… Joining the U.S. Army in 1935, Olson served with the Coast Artillery Anti-Aircraft. as an armorer in Ordnance, at the Ballistic Research Laboratory at Aberdeen Proving Ground, in charge of the Foreign Document Section at the Development & Proof Services… with the Ordnance Foreign Materiel Museum, as an instructor on Ordnance Technical Intelligence, on the staff of the Armored School at Fort Knox, as one of the writers of the book Rifles used by The Ordnance School at Aberdeen Proving Ground and at other widely varied ordnance and related assignments in Europe and the Far East. Upon retirement in 1956 after a 20-year career with the Regular Army, Lud joined the Technical Staff of The American Rifleman where his concise and authoritative articles on a wide range of firearms subjects… have earned him a worldwide following…
Philip B. Sharpe
Phil Sharpe was a well-known arms expert and writer with long experience with both military and commercial small arms. He was the author of the classic book The Rifle in America as well as numerous articles and opinions which appeared in many journals and periodicals during the years between the wars.
During WWII Sharpe worked for U.S. Ordnance Technical Intelligence, where under Col. Jarrett he collaborated on the writing of Technical Intelligence Bulletins.
Joseph E. Smith
Joe Smith was the civilian Chief of the Ordnance Technical Intelligence Agency, Conventional Weapons Division, originally located at Aberdeen Proving Ground, then moved to Arlington Hall Station in Arlington, VA, where Tom Nelson recalls joining the Agency, and finally to a new headquarters in Charlottesville, VA.
Tom Nelson wrote a lengthy appreciation and obituary for Joe Smith after his untimely death in 1976 at the age of only 54, which was included in Lt. Col. Howard's informal book Technological Support of the Air-Land Battle. This is excerpted as follows:
Rage Killed Joe!

Fortunate, indeed, is the man who is able to pursue his hobby through his vocation and his interests through his career. Such a man was Joseph E. Smith, my friend and mentor of 20 years, who in March, 1976, regrettably died of heart failure at the age of 54.

Joe Smith was internationally known and respected by ordnance buffs and experts as the revisor and later co-author of Small Arms of the World, that technical classic considered by many to be the "Bible" in its field…

Always an avid student of history, he eventually concentrated on his particular specialty, conventional ordnance. He became an international authority on the subject, and at the time of his death was Chief of the Weapons Systems Division (Conventional Weapons Section) of the Foreign Science and Technology Center (FSTC…

After distinguished service in the Army during World War II, he finished his education, graduating from Syracuse University, and in 1952 was employed by the U.S. Army Ordnance Technical Intelligence Agency (later, in the 1960s, designated FSTC). During the succeeding years his obvious expertise and dedication propelled him upward in his career. These same two qualities were the reasons for his frustration and, indirectly, his death…

In the U.S. bureaucracy it appears that no one is in charge. In fact, so many are in charge that it is difficult to get anything accomplished. The plethora of development groups is caused by our ever-expanding bureaucracy. An example is the Army Materiel Development and Readiness Command, DARCOM – (formerly the Army Materiel Command), and Training and Doctrine Command (TRADOC), both of which operate with no consistent voice and the end result is that development programs are widely fragmented, and in some cases hemmorrhage from within, to such a degree that no meaningful projects are finalized. Since these groups have no single authority, development is unnecessarily delayed, duplication of effort is omni-present, and R&D is frequently pushed forward in isolation from the ultimate user – the man in the field…
W. H. B. Smith
As I mentioned right off the bat in Part I of this series, the most famous gun book of all, for me at least, is Small Arms of the World, originally written by W. H. B. Smith. This classic remained in print for decades in numerous editions, with the writing and editing duties passing on first to a collaboration between W. H. B. Smith and Joseph E. Smith, who were not related; and then to Joe Smith alone and then to my own personal mentor, Edward C. Ezell.
W.H.B. Smith's precursor to Small Arms of the World, titled Basic Manual of Military Small Arms, first appeared in 1943. The Foreword to the First Edition, heavily stressing the value of Ordnance Intelligence to America's fighting men in time of war, was written by Col. Jarrett. It is excerpted as follows:
This book is a military classic. It is of real value to every man who uses military arms.

The coverage of the basic United States weapons will help any service man achieve a quick and comprehensive understanding of his weapons. The sections on foreign arms will also help to develop a "weapons sense" in the reader; prepare him to grasp opportunities on the field of battle; and serve to increase his confidence in the superlative arms with which he is equipped.

…The photographs were specifically prepared from the actual weapons themselves to teach step-by-step all the essentials. The original working drawings are simple and clear…

There are no military secrets in this book: everything in it is known to our enemies, who have captured and are using specimens of all our arms. But there is a tremendous wealth of valuable military information in it for every American who cares to arm himself with a knowledge of a subject on which our national security rests, and on which it will rest for a long time after the present war ends.

The author is perhaps the one person in the United States with the necessary combined knowledge of firearms, writing and editing to bring this remarkable book into being…

G. B. Jarrett
Lt. Col. O. D., Army of U.S.
Chief, Foreign Materiel Section
Aberdeen Proving Ground.
An obituary for W.H.B. Smith, a famous yet reclusive man, which appears without attribution in Col. Howard's book, is excerpted as follows:
Walter Harold Bingham-Black Smith died on 5 April, 1959… [He] gave us some pioneering gun books. He started many of us on a quest for more knowledge about firearms. But he remained a private person in the process. Perhaps in a publicity-seeking age when many authors want media exposure to enhance the sale of their books, Smith was a unique individual. He let his books sell themselves. Considering the popularity of his writings, his policy appears to have been a wise one…
Charles E. Yust, Jr.
Charlie Yust, a dedicated arms enthusiast and an advanced cartridge collector, worked for some time with H. P. White and Burton Munhall on the staff of the famous H.P. White Ordnance Co. He later purchased H. P. White's cartridge collection.
During WWII he joined the Army, and because of his expertise he was transferred to the Museum at Aberdeen Proving Ground, where his duties included sectioning cartridges, etc. His first tour ended in the 1950s.
He returned to the Aberdeen Museum around 1967, and worked for Col. Jarrett and his successor, Karl Kempf, until his retirement in the 1980s.
While he was the editor of the Gun & Cartridge Record, Yust wrote a fine tribute to Col. Jarrett which appeared in the "Who's Who" column in the July, 1958 issue of that magazine:
When a man, for one reason or another, chooses a field of interest to follow, and as time eventually proves, has devoted the greater part of his life… to this interest, he must be very sincere and devoted to it. As the years go by he may develop a severe honesty in the way he conducts his efforts and in expressing his views on this subject.

In the field of research associated with historical matters, this quality is of inestimable value, as well as one of great rareness. Anyone possessing such a quality certainly is entitled to any and all recognition and honors which may be extended. This is as it should be, but unfortunately, [the bestowal of such recognition and honor] does not always come to pass…
Finale: George Burling Jarrett, 1901 – 1974
An unattributed thumbnail sketch in LTC Howard's book of the massive railroad gun the Germans called Leopold and the Americans dubbed "Anzio Annie" is excerpted as follows:
The Leopold Railway Cannon

It is hard to imagine that the Germans could conceal a weapon capable of firing a 550-pound shell. The German Leopold Gun was the largest weapon which lobbed shells at American troops at "Anzio Beach." An aura of mystery surrounded the employment of the gun. To the bewilderment of Allied officials who knew the approximate location of Leopold, the gun could not be silenced. Repeated bomber and naval attacks failed.

It wasn't until the Allies broke out of the "Anzio Beachhead" and sent the Germans scurrying that the secret was revealed. The Leopold, supported by 24 railcar wheels, was mounted on railroad tracks which led in and out of mountain tunnels. When not firing, the gun was rolled back into the tunnels out of sight of Allied reconnaissance. Because bombs had destroyed Italian rail systems, the Germans were forced to leave the Leopold and its twin gun "Robert" behind. Although both guns had been extensively damaged, Allied forces were able to salvage the Leopold and after reconstruction of the railway, moved the gun to Naples for shipment to the United States

"Anzio Annie" as the gun was known to the Allied troops at Anzio, is the only German railroad gun known to have survived WWII.

LTC Howard comments on this, as follows: Once again, our failure to have an adequate intelligence service and the lack of Technical Intelligence effort would result in Technological Surprise and the loss of life at Anzio Beach until the Secret of the Railway Gun was revealed. The design of this German gun influenced the design of the [U.S. 280mm] Atomic Cannon, [a long range gun capable of firing both conventional and atomic munitions, introduced in the Army inventory in the early 1950s].

(About the Author: R. Blake Stevens is the founder and president of Collector Grade Publications, Inc., which he established in 1979. To date the firm has produced 50 "vertical" titles on important modern small arms, of which 38 currently remain in print.)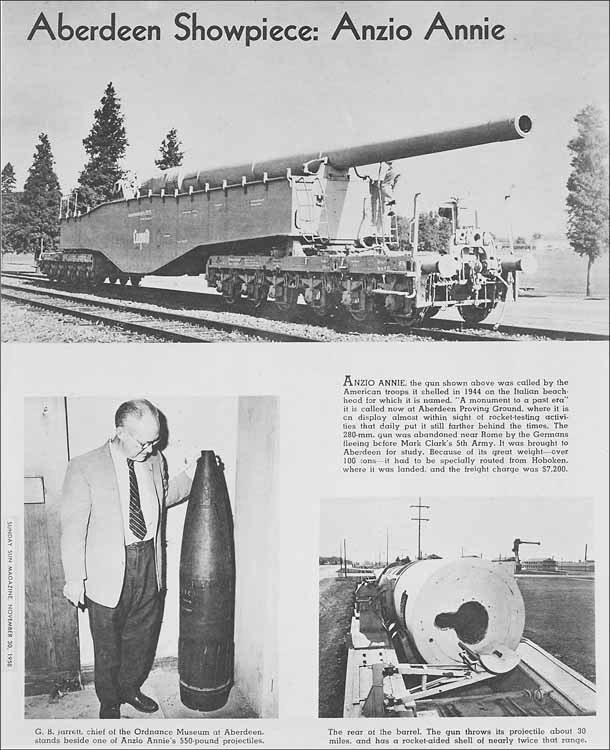 (Acknowledgements: The author acknowledges with gratitude the kind assistance of the following, who have provided the information and documentation from which the foregoing articles have been extrapolated: James Alley, Jr., Ph.D., Elliot Deutsch, Chairman, Aberdeen Military Museum Foundation, Inc., Robert W. (Bob) Faris, Harold Johnson, Thomas B. Nelson, President, Ironside International Publishers Inc., Dan Shea and Cholly Steen, President, SARCO Inc.)
This article first appeared in Small Arms Review V15N4 (January 2012)