Story & Photography by Will Dabbs, M.D.
Just what exactly separates mankind from the apes? Geneticists tell us there isn't much more than a couple percentage points' difference in DNA between your typical human politician and a chimpanzee. Admittedly, that's perhaps not the best example of the human archetype. However, aside from a relative dearth of body hair and an insensate attachment to vacuous daytime television, Homo sapiens' primary functional difference from our simian brethren is our remarkable proclivity for contriving tools.
Before we have to field reams of irate missives from angry monkey apologists, I acknowledge that apes can and do indeed use tools. However, there is a broad gulf between running a stick into an anthill to fetch insects for one's dinner and designing the latest iPhone. This deep into the Information Age, mankind's capacity to engineer contraptions with which he might manipulate his environment truly defies categorization. Additionally, it strikes me that "angry monkey apologists" would be a great name for either an intramural football team or a rock band.

Gerber Cred
Amidst a limitless sea of cool, man-portable hardware, Gerber's lineup reigns supreme for its functionality, portability and field-proven ruggedness. Back when I was an Army Aviator, a Gerber Multi-Plier was my constant companion. The pliers deployed with a flick of the wrist in the manner of a Fallschirmjäger gravity knife.
That marvelous thing and I travelled the world together, removing inspection covers on Army helicopters, building survival shelters, cleaning underneath my fingernails, squeezing things and reverently opening care packages from home. Alas, as near as I might ascertain, I snagged my beloved Multi-Plier on some brush and unwittingly donated that magnificent tool to the vast Alaskan wilderness someplace. That extraordinary Multi-Plier will forever occupy a warm spot in my heart. May it rest in peace.

No kidding, the totality of cool Gerber tools is legitimately overwhelming. Amongst sundry knives, scissors, skinners, wrenches, files, pliers, tomahawks, glass breakers and seatbelt cutters, the Short Stack is optimized to support Gene Stoner's classic black rifle. Offering phenomenal capabilities in a package small enough to hide inside a Magpul MOE or MIAD pistol grip, the Short Stack will help keep your favorite modern sporting rifle shooting straight and running reliably without a significant weight or space penalty. You can tuck a snippet of cleaning rag into the grip with the tool to keep it from rattling. The number of features the good folks at the Gerber skunk works crammed into this thing is frankly surreal (gerbergear.com).
Multifunction Madness
The Short Stack AR tool comes with a comic-book-style instruction sheet that demonstrates all its sundry features. As a card-carrying American male, it pains me to admit this, but you might want to take a glance at the instructions before you just dive in. I wasn't smart enough to figure out how to open the thing up unassisted, and I have a degree in Mechanical Engineering. (EDITOR'S NOTE: All male readers need to commend Dr. Dabbs on his public candor in admitting the masculine shortcoming of not reading directions. He should have started with "Hi, I'm Will, and … I'm a guy …" and Will, we do have female readers, so you've kind of let that cat out of the bag now.)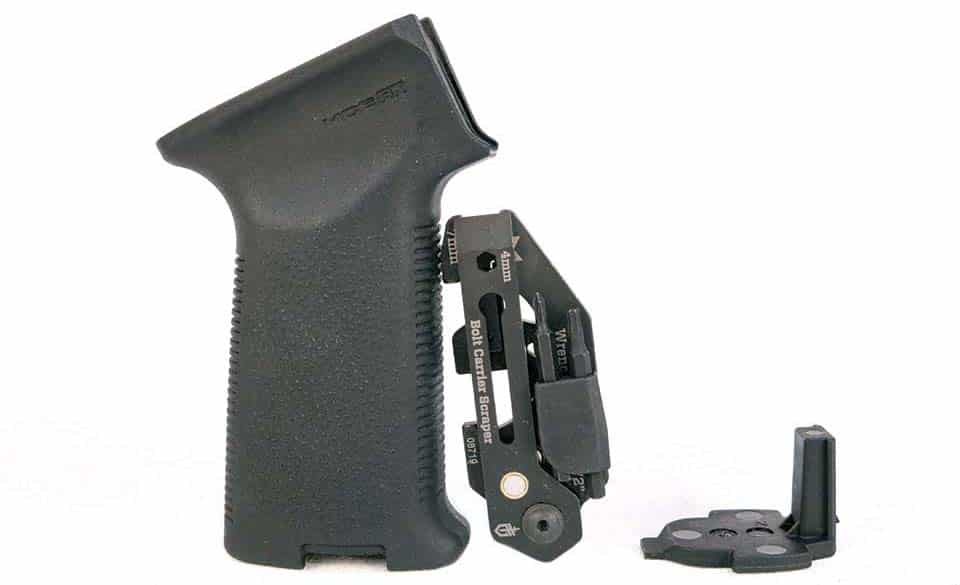 Once you get the technique down there is literally nothing to it, however. The three major components are cut from blackened 410 stainless steel and held in place with those preternaturally strong rare earth magnets. A little rubber doodad holds a pair of tool bits. The whole shebang just drips with pure, unfiltered awesome.
In addition to the expected Gerber level of quality throughout, the Short Stack has the function of each aspect of the tool helpfully printed on the outside. Some of these features you will use more than others, but it is just super cool to have such versatility in such a compact portable package. The Gerber Short Stack is proudly made in the USA and is supported by a superb limited lifetime warranty.

Mechanical Details
The Short Stack is purpose-designed to support the AR-15 family of weapons. Some of its features might obliquely translate to your AK or GLOCK, but it is Gene Stoner's Space Age wonder that most benefits from the device. From the size of the wrenches to the peculiar mechanical esoterica, the Short Stack makes maintaining your black rifle easier, cleaner, faster and safer.
There is a handy front sight adjustment tool. Back in my day, we had to undertake this chore with the point of a bullet. Considering we didn't typically have scads of live rounds just sitting around in a training environment this made front sight adjustments a chore of the highest order. With the Short Stack just push down and twist to zero your front sight for elevation.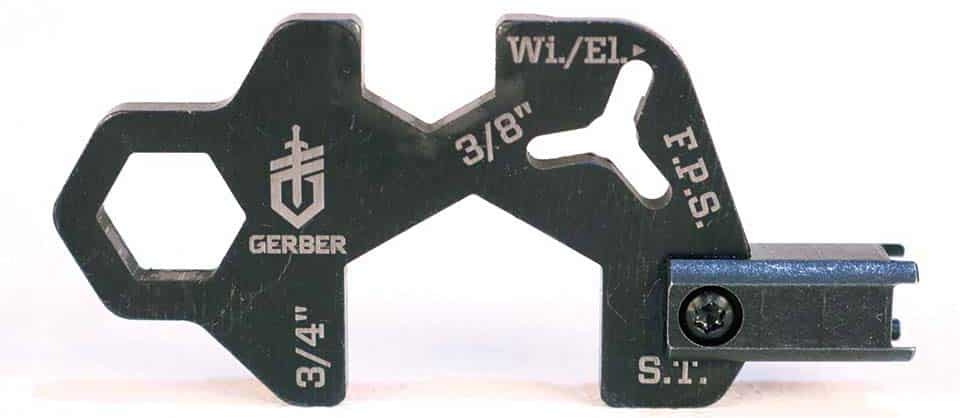 The direct gas impingement system of the AR-15 is a mature, reliable and accurate mechanism. However, it is also undeniably filthy. Run a couple hundred rounds through your home defense AR, and its entrails start to look like the bottom of your barbecue grill. The Short Stack includes purpose-designed tools to help you efficiently de-gunk your black gun.
A firing pin cleaning tool is designed such that you can run the firing pin into a three-lobed slot and use it to help access those hard-to-reach places where carbon fouling tends to hide. The bolt carrier scraper fits perfectly down the front of the bolt carrier and helps you remove carbon buildup deep in its recesses. A sharp-edged scraper helps you get rid of that pesky stuff that clings so tenaciously to the tail of the bolt itself as well.

There is a slot that will accept a cleaning cable pull-through so you can keep your bore squeaky clean. One threaded component of the rig will accept a standard GI chamber or bore brush and provide the leverage you need to do some proper scrubbing. The rare earth magnets that hold everything together do double duty as a small parts holder. I look back without fondness to the several times I have been in the midst of some mechanical travail with some deadlined weapon and mislaid that one tiny little widget I needed to get it back up and running. These magnetized bits help keep little pins and springs from wandering.
Down here in the Deep South, it can be considered child abuse if you let your high school graduate leave the house for college without having built at least one AR rifle together. The Short Stack includes a buffer tube lock nut wrench that lets you snug the castle nut down or slip it off without lugging an institutional toolbox to the range. There is also a ¾-inch wrench designed to help manipulate standard black rifle flash suppressors. Hook two of the three components together to enhance leverage and subsequent mechanical advantage for those particularly beefy tasks.

I have seen some factory flash suppressors that took a heavy automotive wrench and an ample breaker bar to get loose. The Short Stack likely won't help you much there. However, sound suppressors are expensive, and that onerous $200 transfer tax is hardly front pocket change. It therefore behooves us to use one can across as many platforms as possible. With the Short Stack, removing flash suppressors to thread on a can may be undertaken comfortably at the bench.
A 7mm wrench stabilizes the nut on a standard M-LOK fastener. An interchangeable driver accepts the hex bit needed to manage the other end of the M-LOK bolt. With the Short Stack tucked into your Magpul pistol grip, you can swap out forearm accessories on the go.


There is a 4mm wrench as well as a small Phillips screwdriver included among the interchangeable bits; ½-inch and 3/8-inch wrenches round out the mechanical ensemble. Other unlisted applications are limited solely by your imagination.
Practicalities
Back when I wore the uniform, we spent untold hours scrubbing away at our old M16A1 rifles until they met the armorer's exacting standards of cleanliness. That sadist wasn't satisfied until we had those weapons cleaner than when they first left the factory. Even back then we improvised tools to help us with this onerous chore.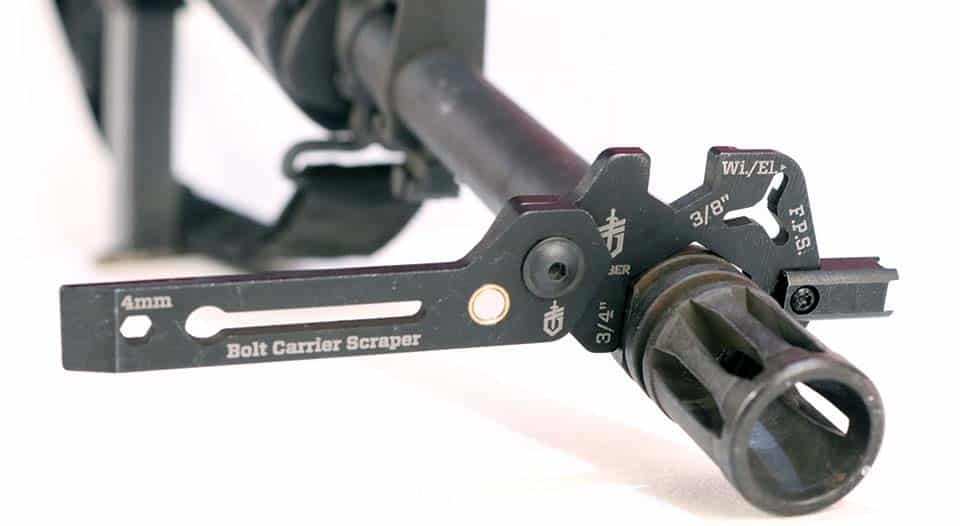 Somebody would typically bring a can or two of brake cleaner until one young stud got squirted in the eye with it and had to go to the hospital. We could manage automatic grenade launchers and multimillion dollar helicopters, but we apparently lacked the dexterity and maturity to wield a spray can. The guy's eye was red and angry for a while, but it turned out fine.
My favorite tool back in the day was improvised out of a piece of coat hanger wire. I banged the end into a little steel fan and gave the wire a jaunty bend to craft a monkey-made version of what Gerber did so much better. My homebuilt scraper helped dig carbon out of the nose of the bolt carrier but still missed quite a bit. By contrast, the Gerber Short Stack is perfectly dimensioned for this purpose.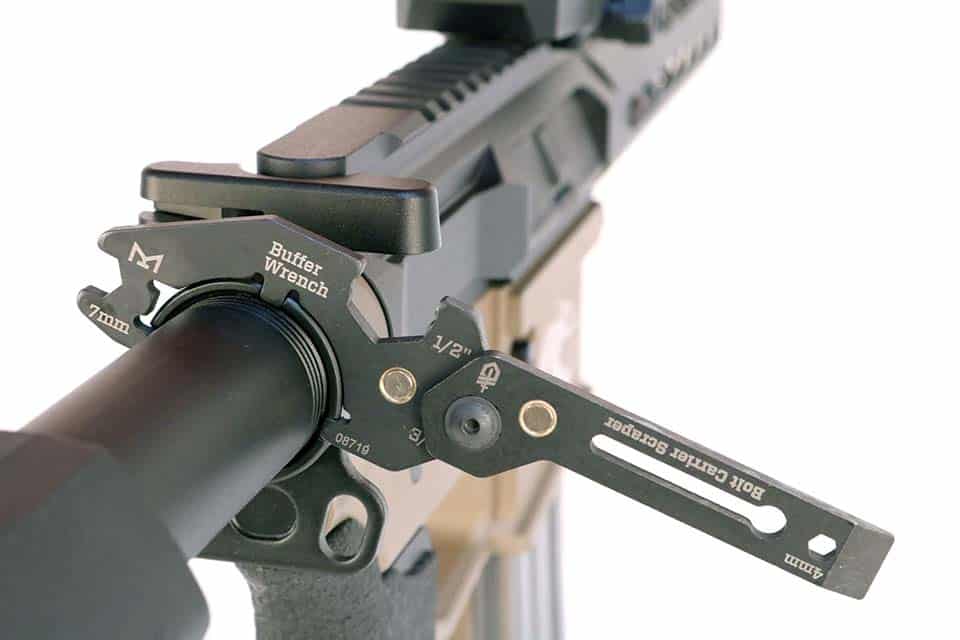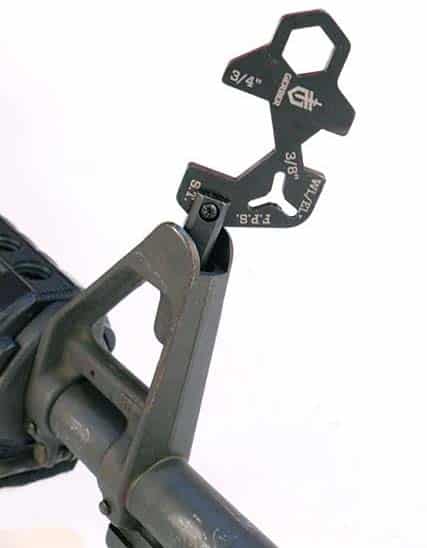 Practical Tactical
These days I don't have some perennially agitated arms room custodian running white cloth through the entrails of my weapons to ensure that they are flawlessly maintained. As a result, many of the guns in my collection that don't sit next to the door for the inevitable day the zombies come are not kept as tidy as perhaps should be the case. To put the Short Stack through a proper test I picked something truly gross and nasty, stripped it down to pins and springs and proceeded to channel my inner Basic trainee.
Suffice to say I would love to have had one of these little jewels back in the day. The Short Stack helps get into those hard-to reach places where the First Sergeant always knew to look for that last scrap of carbon that would sentence you to another hour of scrubbing through your already fairly clean weapon. While cleaning weapons is still messy, tedious, and gross, the Short Stack does indeed make it markedly less thus.
Ruminations
Operate within the limitations of the device. The Short Stack is not the optimal tool to try to torque off that flash suppressor that someone at the SIG SAUER factory installed with a hydraulic press. However, once the muzzle device is ever so slightly dislodged, the Short Stack will keep things plenty tight for any imaginable tactical scenario.
The beauty of Gerber's multifunction tools is that they let you do more with less. The sheer volume of full-sized conventional tools that would be required to do what this tiny little device can manage would be adequate to fill a proper tacklebox. By dropping the Short Stack into your pocket, tactical vest or pistol grip, however, you can do most of the stuff you need to do to keep your service rifle running smoothly and well without adding undue strain to that grueling 15-mile ruck march. If your day job does not involve humping the Hindu Kush, the Short Stack minimizes mechanical frustrations during a pleasant Saturday afternoon at the range.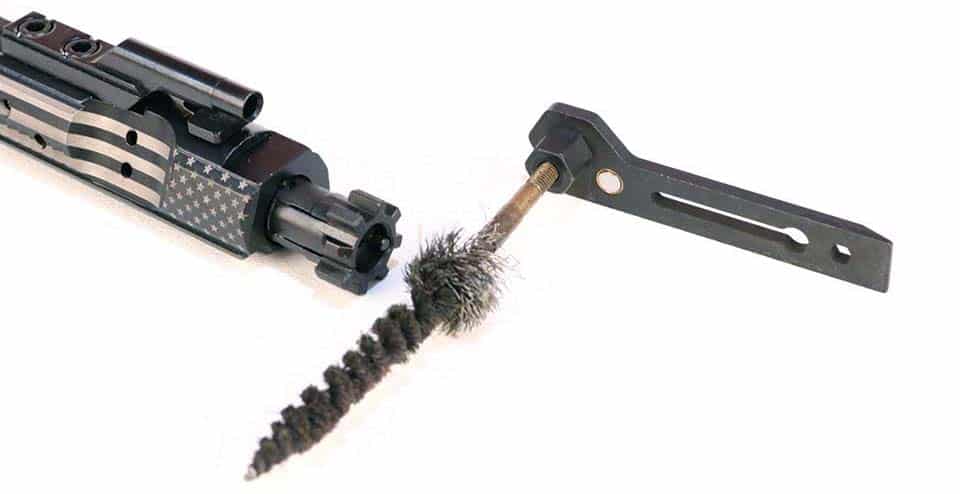 Rugged, inspired and brilliantly executed, the Gerber Short Stack is the Swiss Army Knife of gun maintenance tools. Small enough to tuck into some of the most unremarkable places yet sufficiently capable to warrant inclusion in the most discriminating loadout or range bag, the Short Stack is a lot of tool for the money. It also keeps us reliably ahead of the monkeys.
This article first appeared in Small Arms Review V24N6 (June/July 2020)