By Robert G. Segel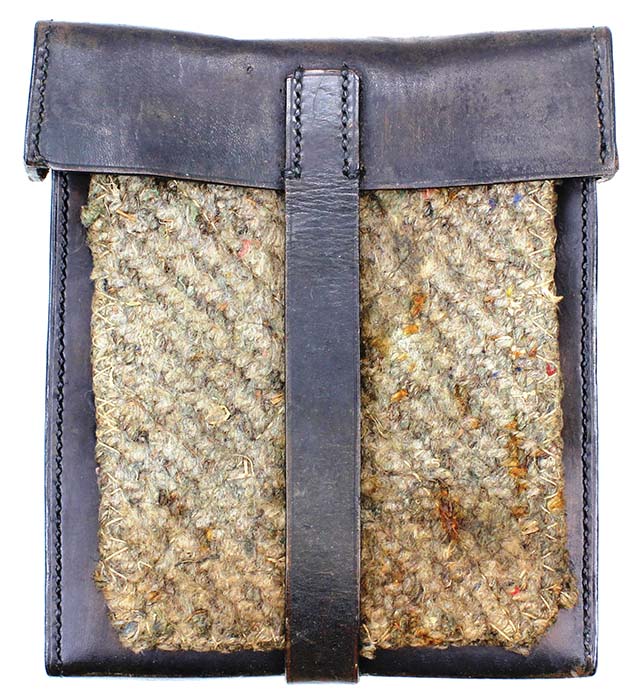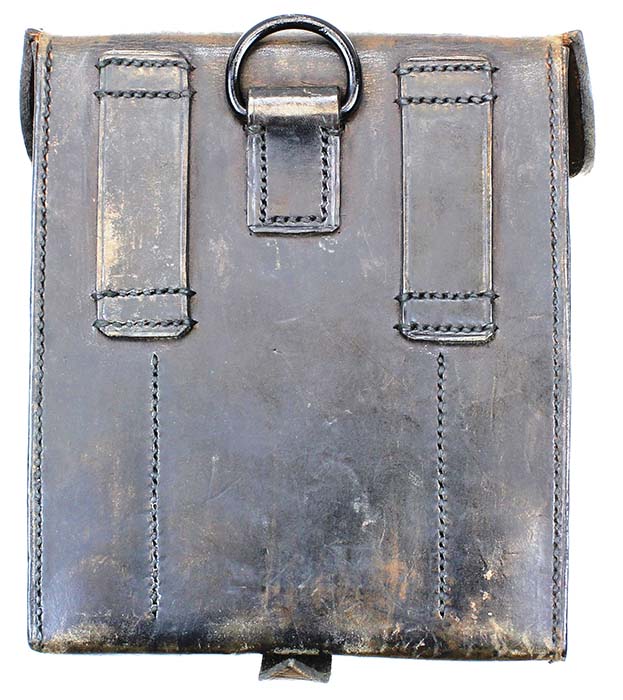 The gunner's kit for the MG 34 was originally designed for the MG 13 but since many of the tools were also usable on the MG 34 the kit was easily adapted for use for the MG 34.
There were five variations of the gunner's kit through 1944, all top opening. The first early type, originally for the MG 13 and then for the MG 34, was an all leather box with a leather shoulder strap. This then changed to an all leather box but with belt loops on the rear instead of the shoulder strap (as shown here). As the war wore on leather was a commodity needed elsewhere for the war effort and later versions were made with substitute leather (ersatz-leder), which was a pressed paper material with a water-resistant leather-like finish.
The kit was simple with just a few components. Carried on the outside of the box and secured with the leather closure strap was the hot barrel pad (handschützer) made of asbestos and heavy duty wool. One side had a cloth strap to be slipped over the hand to help hold it in place when using it to change a hot barrel. All the other components were carried inside the box. On the inside there was a metal partition affixed at the back of the box that held the double-ended MG 13 wrench and inside the front of the box was affixed a metal partition for the anti-aircraft sight. The bolt rested vertically on the left supported by a leather pad that helped protect the bolt face. The oil can sat in the middle and the other components were carried vertically on the right side of the box.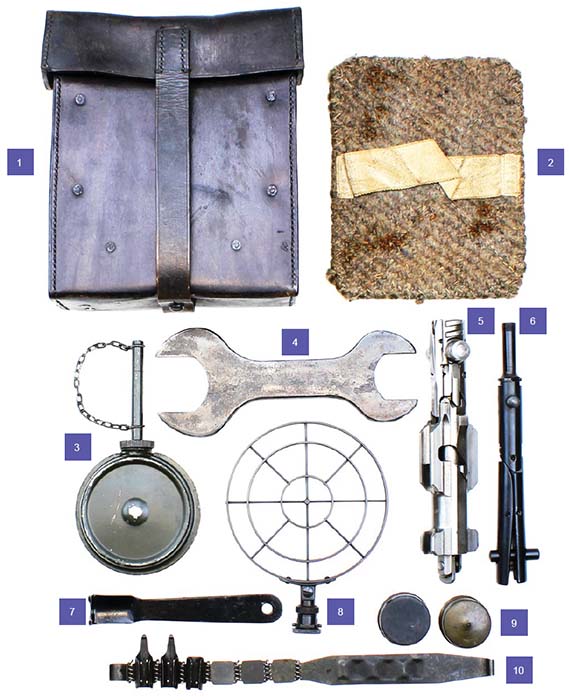 Contents of the MG 34 gunner's kit:
1) Leather box with single closure strap secured by a lone brass stud on the bottom (Werkzeugtasche).
2) Hot barrel pad (Handschützer).
3) Oil can (Ölkanne).
4) MG 13 wrench, double ended usable on the MG 34 (Schlüssel).
5) Spare bolt assembly complete (Schloss).
6) Broken shell extractor (Gerät zum Entfern von
Hülsenreissern u Hülsenklemmern).
7) Combined screwdriver and stuck case/cartridge
remover (Winkelschraubenzieher).
8) Anti-aircraft sight (MG Kreiskorn).
9) Two flexible muzzle covers (Mündungskappe).
10) Belt starter tab complete (Einführstück) used to
assist in barrel removal.
This article first appeared in Small Arms Review V20N6 (July 2016)