Story & Photography by Todd Burgreen
GLOCK has reacted to two powerful market forces with one of its latest offerings—the GLOCK 44 chambered in .22LR. As we all know, handguns have spiked in sales of late making acquiring one both difficult to achieve and hard on the wallet. Along these same lines, ammunition costs have also escalated dramatically with the same effect on users' wallets and on supply. Many are searching for ways to maintain or increase proficiency without having to spend disproportionate amounts of their individual budgets on centerfire ammunition. The advantage of having an "understudy" chambered in .22LR similar in ergonomics and controls to its full-powered sibling is well recognized.
The idea of shooting a .22LR out of a handgun resembling your carry weapon is not a new concept. For a GLOCK, this concept has been problematic to achieve. Multiple models by manufacturers other than GLOCK have been introduced trying to imitate the GLOCK platform. Most have missed the mark in terms of either not being striker-fired, not close to the manipulation techniques of the GLOCK and so on. After its typical studious approach, GLOCK decided to step into the void with its own .22LR to solve the dilemma with the GLOCK 44 (G44) .22LR.
After erupting on the scene in the early 1980s with the GLOCK 17 (G17), GLOCK pistols quickly evolved into the benchmark for personal defense, law enforcement and military handguns. GLOCK handguns are ultra-reliable, accurate, tough and simple to operate; all at a competitive market price. A review of the personal defense handgun market makes it clear that GLOCK is the design standard that the others are still chasing in many ways. Many detractors would have you believe that GLOCK has grown complacent by not introducing any new designs that depart significantly from the template laid by the G17's arrival in 1982. In fact, GLOCK handguns are into their Fifth Generation of refinement.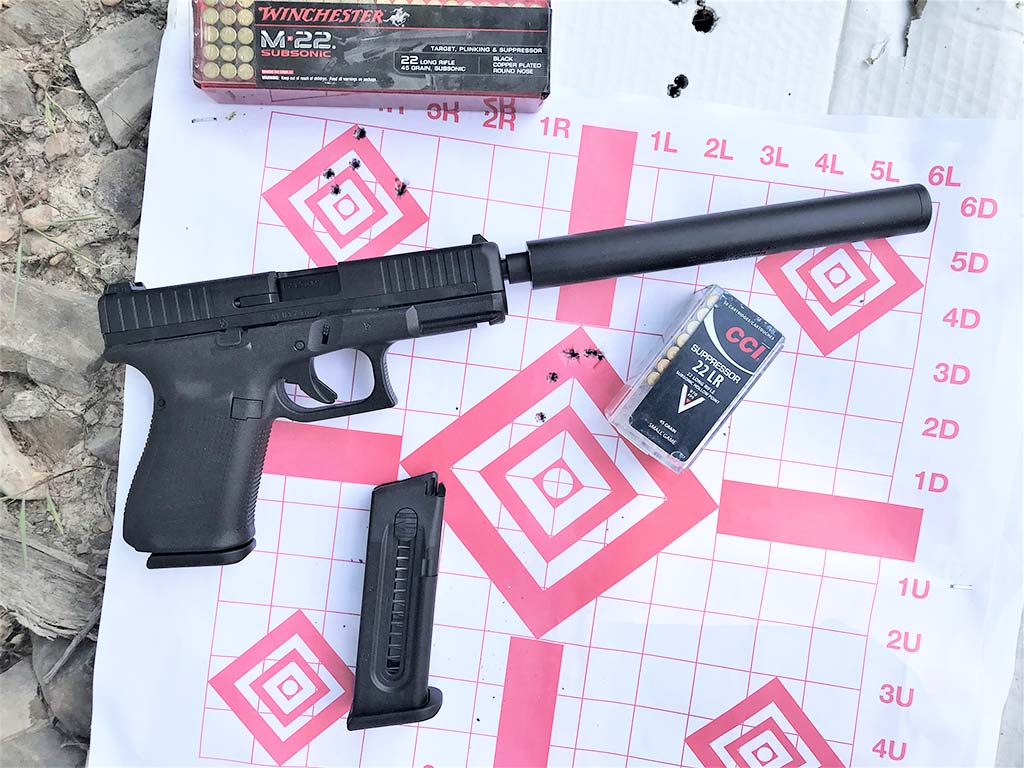 It is best to think of the GLOCK lineup of handguns as a "system" stretching from the mini G26, to the G40 MOS, through the Slimline G43X™ and G48™ and now to the G44. Every GLOCK shares a lineage back to the first GLOCK—the G17. The GLOCK "secret" to success is minimal operating controls, relentless reliability and to paraphrase a famous political advertisement, "It is the trigger stupid." While the grip size may change between specific models, the position of the slide and magazine releases will instantly be familiar. A better illustration of the GLOCK system would be the similar trigger pull and weight found on all of its weapons—including the new G44. Simplicity should not be confused for a lack of refinement. GLOCK's solid performance has become entrenched as the standard.
Developing Skill
GLOCK is a top seller in the U.S. market. It only makes market sense to introduce a .22LR chambered GLOCK. The extra time spent with an understudy weapon such as the GLOCK 44 serves to quicken one's learning curve in terms of weapon manipulation and skill. A conversation with one of my area's top trainers, David Altenburg of Defender Tactical, whose schedule has exploded of late with gun owners requesting training, indicates that his G44 purchase was one of the best things he has done in terms of teaching aids. Proper sight alignment and trigger control are easy to self-diagnose with the G44 .22LR. Inexperienced shooters can afford to practice much longer with the G44 and have the endurance to do so without having to deal with recoil and muzzle blast. The G44 has the added benefit of training shooters of all skill levels in the manipulation techniques of a GLOCK.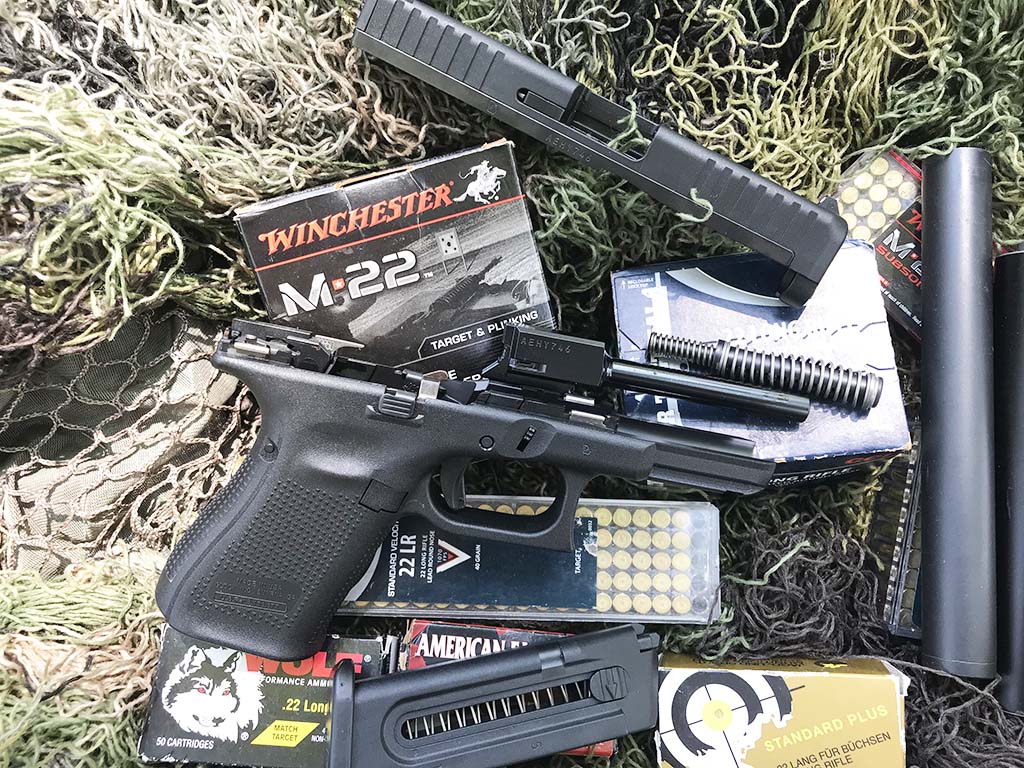 The G44's development took over 3 years due to GLOCK parameters of being striker-fired and the necessity to mimic other GLOCK designs even though they're blowback. The G44 uses a hybrid polymer/steel slide to accommodate the blowblack semiautomatic function. While the G44 clones the G19 in size, the G44 can utilize most holsters intended for the G19, the G44 is 10 ounces lighter. Most of the weight loss is due to the hybrid/steel slide. All steel would have been too heavy for the .22LR to drive rearward upon ignition. GLOCK did not want to use all aluminum (as some .22LRs are) in order to maintain the durability that steel offers, especially with the interaction points between slide and embedded steel inserts. Thus, GLOCK installed a steel sub-structure low in the G44's polymer slide to connect with the frame's steel inserts.
GLOCK aspired to recreate the feel of a standard GLOCK handgun with its G44. Many may choose not to utilize the G44 as an understudy but rather as a stand-alone .22LR in its own right. GLOCK's attention to detail extends to the G44's magazine design. The two 10-round magazines shipped with the G44 are of similar dimensions to standard, double-stack GLOCK magazines. This further duplicates the similarity of handling and the manual of arms between the G44 .22LR and centerfire variants. Most .22LR pistols feature slimmer magazines versus their normal centerfire counterparts. The same web gear and magazine pouches utilized for G17/19 magazines will work with the G44 magazine. All of these features assist in duplicating the feel and manipulation of centerfire, big brother GLOCKs.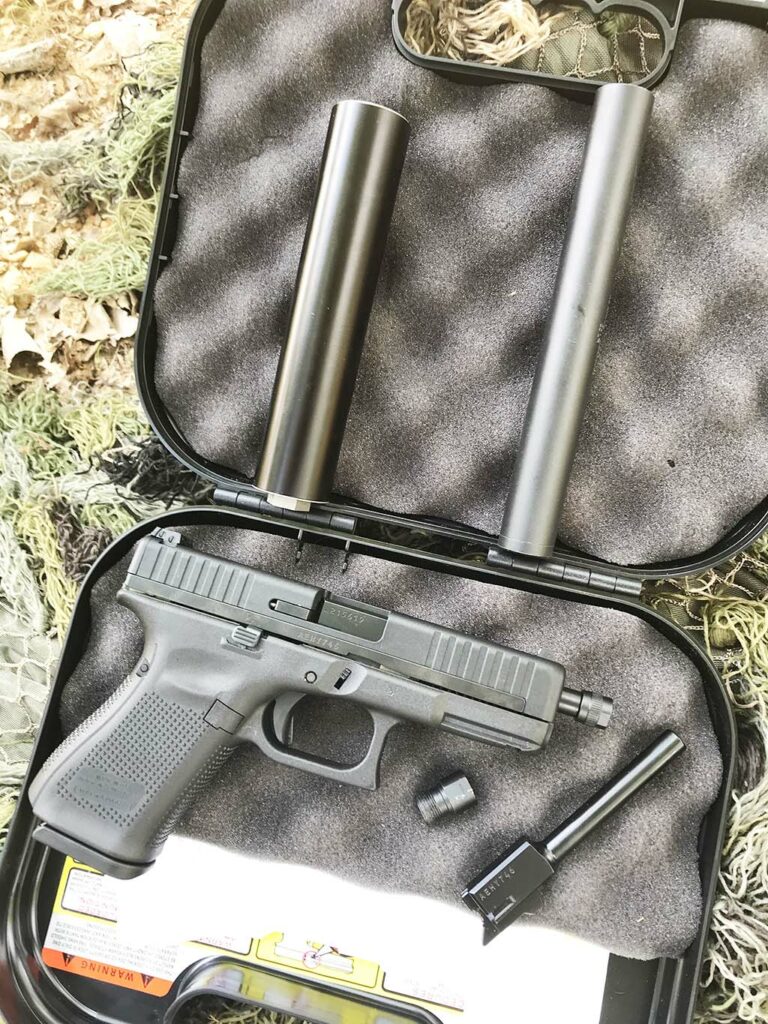 How Does It Shoot?
The ballistics of the .22LR allows for effective target engagement typically associated with handguns. The author's range T&E consisted of normal firing from the bench for an accuracy assessment of CCI® target standard-velocity 40-grain Segmented HP and 45-grain Subsonic; Federal American Eagle® 40-grain; Wolf 40-grain; Winchester M-22® Subsonic® 45-grain and Super Suppressed™ 45-grain; and SK Standard Plus. Groups at 25 yards were in the 1.25-inch range. After the G44's accuracy benchmark was established, courses of fire were set up similarly to those used for centerfire training involving multiple targets and firing positions. Echo Valley Training Center (EVTC) proved ideal for a T&E with various ranges equipped with range vehicles, shoot houses, etc. The G44 performed well; though it took some time getting used to the lack of muzzle blast while moving through the courses of fire—a pleasant problem to deal with. There were no excuses to miss targets; if you are missing targets, it is time to slow down and re-evaluate. Here, the advantage of being able to fire hundreds, even thousands, of .22LR rounds for significantly less than the cheapest centerfire surplus ammunition became evident.
From the first time the GLOCK 44 was handled, it was noted that the shooter experienced the same feel as if using a centerfire GLOCK 19. An ambidextrous slide stop, reversible magazine catch and four interchangeable backstraps allow end users to set up according to their preferences. Two 10-round magazines come standard. Trigger upgrades and sights for a Gen5 G19 are compatible with the G44. The takedown is done the same way. The G44 arrives with an adjustable rear sight. Take care when installing new sights if you do switch them out. The G44 polymer slide is more sensitive to damage when drifting in your metal G19 sights. How did GLOCK pull all this off? This is possible because the G44 is a true GLOCK; not a name license deal with another manufacturer. The G44 is made in the U.S. at GLOCK's Smyrna, Georgia headquarters.
GLOCK has introduced an aftermarket threaded barrel kit for use in the G44—it would have been nice to have had it included as a standard item. However, consider yourself lucky that the threaded barrel was offered nearly simultaneously with the G44's release. The barrel is an M9x.75 threaded with a .500-28 adapter, and thread protector is included. It's only a matter of time before red-dot compatible G44 slides will be appearing.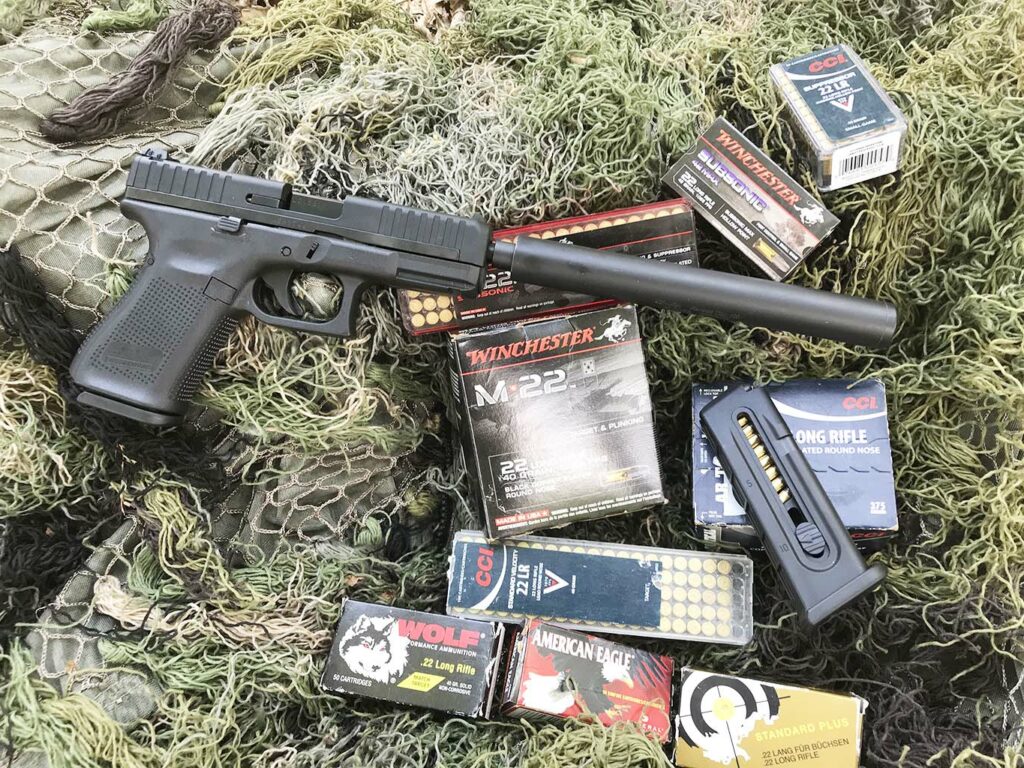 Using Suppressors
SIG SAUER SRD22 and CZ Rimfire silencers were quickly added as companions to any of the author's range visits with the G44. Each suppressor features an aluminum outer tube with stainless steel baffles. The SRD22 measures 6.2 inches long, 1.25 inches in diameter and weighs 7.7 ounces. The CZ Rimfire is one of the lightest and slimmest on the market, weighing 2.5 ounces and measuring .866 inches in diameter and 6.9 inches long. Both the SIG SAUER and CZ list sound signature reduction down to 117 decibels (dB). For reference sake, the actions of many semiautomatic .22 caliber weapons produce 125 to 130 decibels when simply cycling out and into battery. An unsuppressed .22LR produces approximately 142 decibels when fired. Unsuppressed centerfire rifles and handguns produce approximately 165 decibels. The SRD22 comes with both a ½"x28tpi and M9x.75 adaptors to facilitate mounting to typical U.S. and European thread patterns found on .22LR weapons. The CZ Rimfire is ready to direct thread via 1/2×28.
The SRD22 and CZ Rimfire suppressors are easily disassembled for cleaning. This is especially important with a .22LR suppressor versus other calibers due to the heavy use of lead in .22LR ammunition. The minimal width of the SRD22 and CZ Rimfire allows for the standard sights of the G44 .22LR pistols to be used without issue. Larger suppressors often necessitate the adding of taller, suppressor-specific sights on a handgun; this negates some of the "understudy" application and can impact use of certain holsters.
While certainly usable with rifles, the SIG SAUER SRD22 and CZ Rimfire suppressors are ideal for use with handguns. This rests with the minimal barrel length associated with handguns helping to maximize what .22LR ammunition can be used while maintaining subsonic velocities. For subsonic velocities, 1,050 feet per second and under is a good rule of thumb. The difference in noise produced from firing supersonic ammunition, which generates a distinct "crack" due to exceeding the sound barrier versus subsonic through a suppressor is striking. Experimentation with different loads is encouraged and can yield surprising results. CCI Suppressor 45-grain and Subsonic 40-grain .22LR loads were tested along with 40-grain CCI Standard and AR Tactical .22LR and Winchester M-22 40-grain. Often Match or Standard velocity .22LR ammunition proves subsonic when fired from a pistol-length barrel compared to when fired from a 16-inch rifle barrel.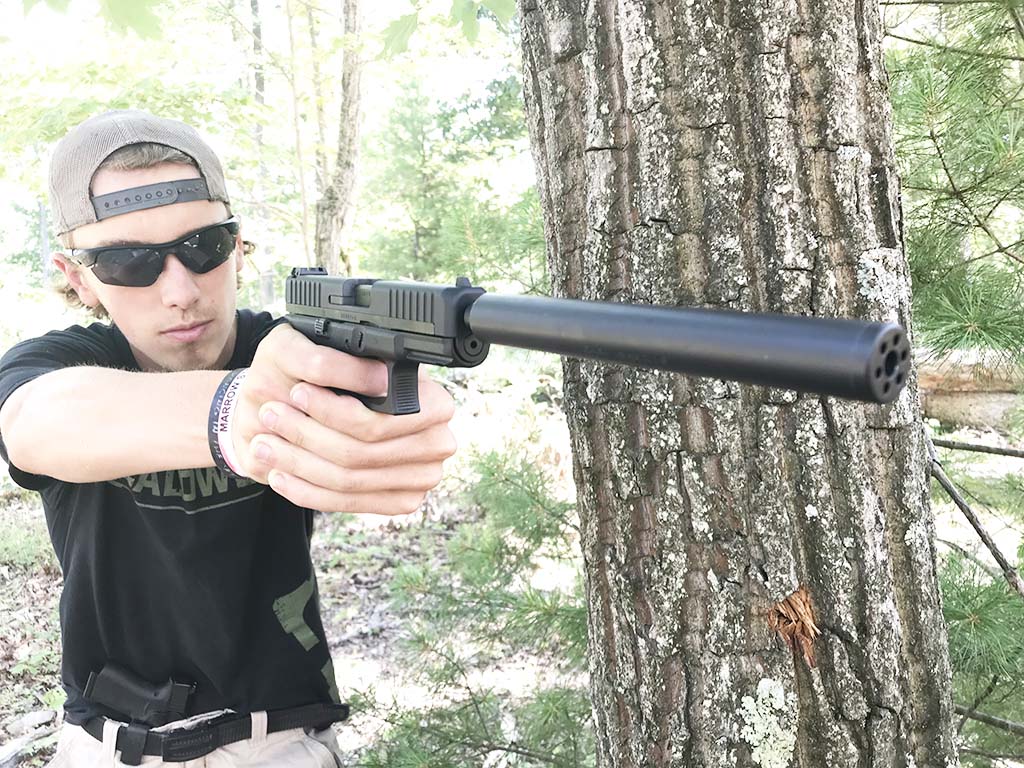 Cast a Wide Ammo Net
Another reason for casting a wide net is to determine what subsonic loads still function reliably with the blowback operating method typical of rimfire weapons such as the G44. Many semiautomatic rimfire handguns arrive with manufacturers' literature advising use of high-velocity ammunition for reliable functioning. Generally speaking, the installation of a suppressor on a blowback rimfire handgun will aid in more reliable functioning, even with lower powered subsonic ammunition. This is due to increased backpressure generated by the suppressor. The evaluation of different ammunition is important to conduct with and without a suppressor mounted. The G44 handled all the ammunition listed without issue; no matter if suppressed or not.
A Good Addition
The GLOCK 44 .22LR can fall in line with the traditional .22LR role of introducing new shooters to the sport. Trigger control and steady hold can be perfected with minimal recoil and blast associated with a .22LR. Proper sight alignment and trigger control are easy to self-diagnose with the .22LR. The G44 has the added benefit of training shooters of all skill levels in manipulation techniques of the ubiquitous GLOCK. Along these same lines, experienced shooters will also gain from training with the G44 .22LR without having to deal with blast and recoil of a centerfire handgun. The low cost of shooting .22LR ammo is attractive but not at the expense of shooting an unfamiliar rifle with awkward controls and an uncertain reliability compounded by a lack of range-time training that is applicable to your primary weapon. From the first use of the G44, it was noted that the shooter had the same feel as if he were shooting a GLOCK 19. Whether it is for low-cost realistic training, a departure from the associated muzzle blast of a centerfire chambering, or to help a youngster learn to handle a GLOCK handgun without the recoil and intimidation of the muzzle blast, the GLOCK centerfire will make a nice addition to any firearms collection.
FOR MORE INFORMATION
This article first appeared in Small Arms Review V25N3 (March 2021)