By Kyle Shea
Alex Murphy was a good cop trying to bring peace to the rough streets of future Detroit while taking care of his wife and son. One day, he and his partner Anne Lewis pursued a violent gang to their hideout. The gang splits them up and violently kills Murphy. Murphy's body is claimed by a major corporation, and his remains are used to create a new cyborg named RoboCop. At first, Murphy has no memory of what happened to him, but over time, he slowly remembers who he is.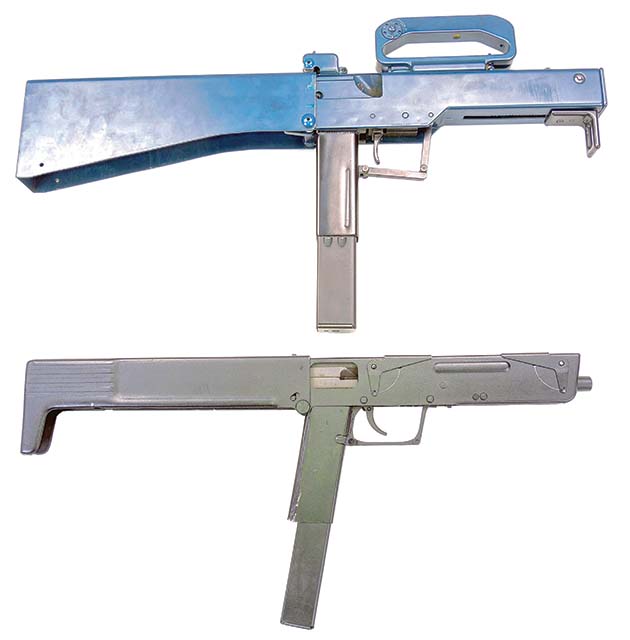 "RoboCop" came out in 1987 and was a modest hit. The movie starred Peter Weller as RoboCop, Nancy Allen as Officer Anne Lewis, Ronny Cox as corrupt businessman Dick Jones and Kurtwood Smith as gang leader Clarence Boddicker, the man responsible for Murphy's death. RoboCop became an icon of the late '80s, with comic books, video games and television shows, both animated and live-action.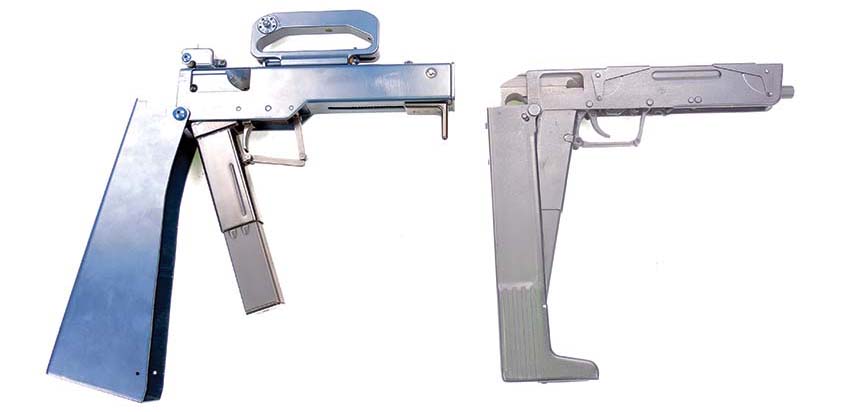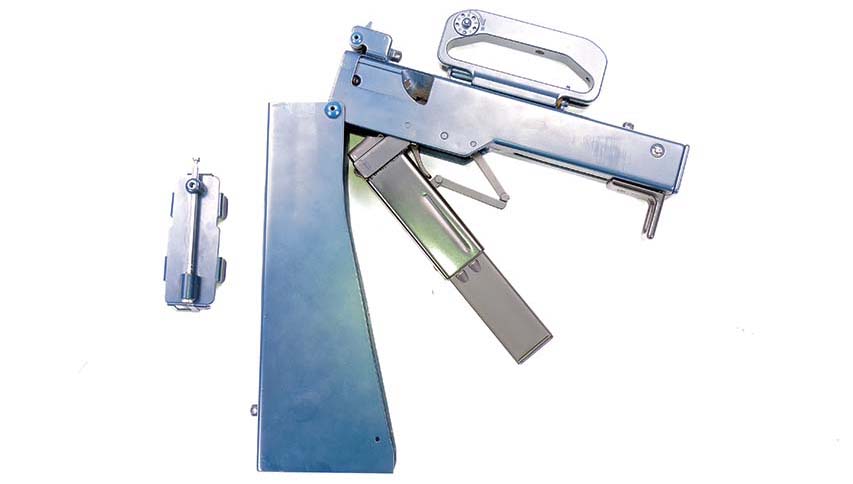 In 1990, a sequel came out. "RoboCop 2" shows Murphy battling an evil drug lord named Cain. One of Cain's underlings is a young boy named Hob, who uses a DEB-M21 submachine gun disguised as a radio when fighting the police. The first scene he uses it in is when he tries to kill Officer Anne Lewis. In the second scene, he uses it to battle a police raid, where he escapes and somehow takes control of Cain's drug empire.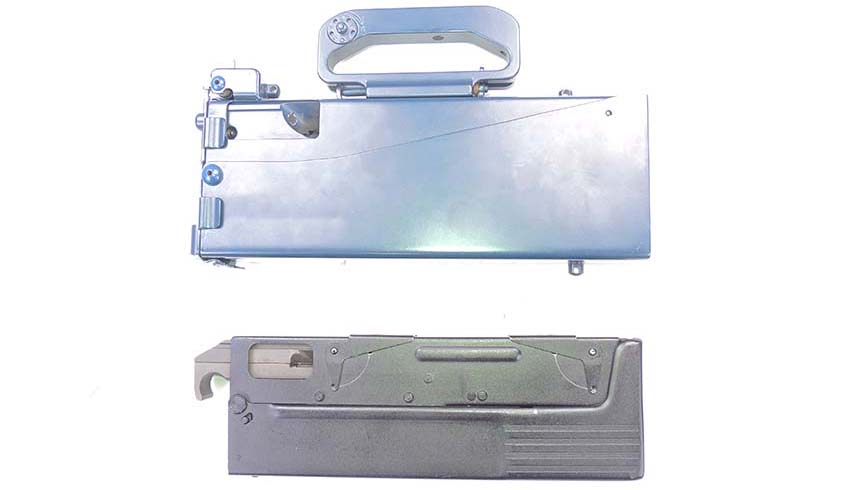 The DEB-M21, also known as the UC-9, looks nothing like a gun when it is folded up. The carrying handle holds the front and rear sights, with the inside painted yellow to look more like a radio. A removable fake antenna is placed on the dust cover on one end of the gun. To open the gun, just remove the fake antenna, grab the bottom and top at the other end and pull apart. Put the magazine into place, pull the cocking handle back, and you are ready to go. To fold back, just press the switch above where the fake antenna was and fold it back. The magazine should move when pressured by the buttstock.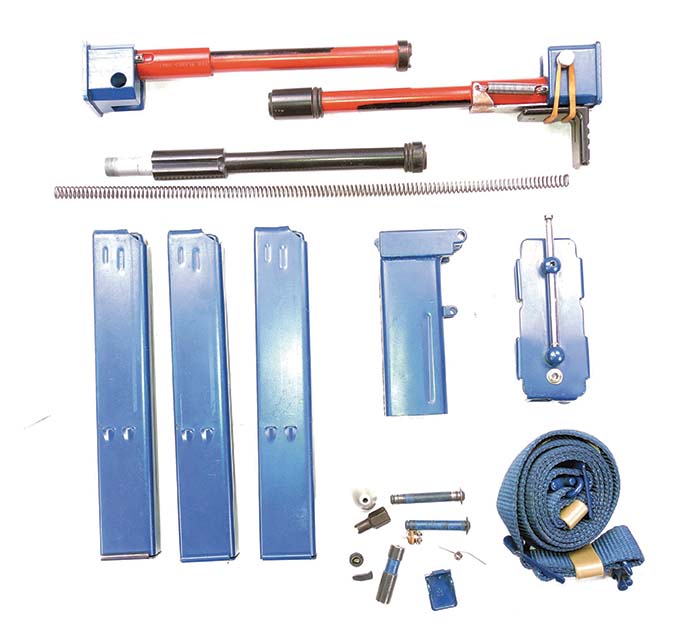 The gun shoots 9x19mm from a 32-round, Uzi-type magazine. The DEB-M21 weighs 7.2 pounds with an empty magazine. It is readily storable in most places. With the fake antenna, the folded gun is about a foot long. It is less than 2 inches in width and 6.6 inches tall. When unfolded, the gun is over 20 inches long. The creator of the gun was Utah Conner, who sadly passed away a few years ago. A limited number of the gun was produced by David E. Boatman, hence the name of the gun, DEB-M21.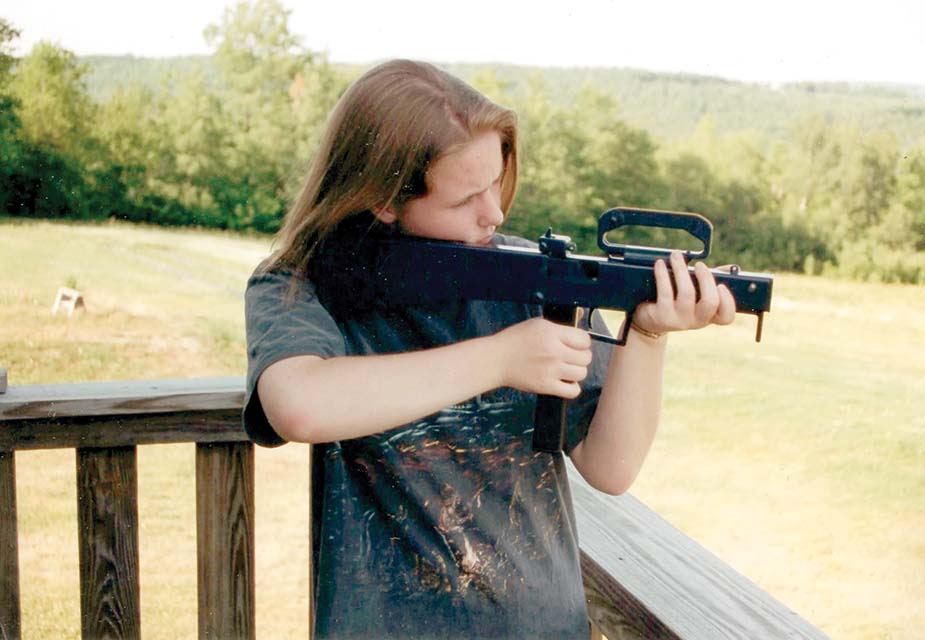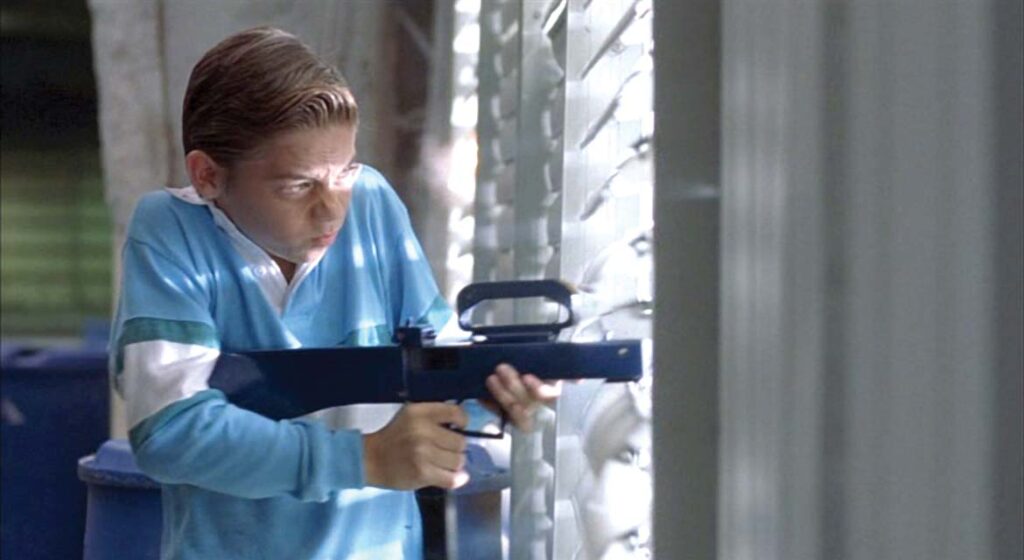 "RoboCop 2" is not as good as the first movie. Hob's story alone is hard to buy—a 12-year-old boy taking control of a drug empire filled with more dangerous men around him. The film also feels less subtle, and the main villain is forgettable until he is put into a battle suit. The idea of an evil RoboCop built like a machine does sound like good idea, but it just doesn't work that well here. The comedy is bland, and the story's anti-corporation message falls flat when you actually stop and think about it. It is better than "RoboCop 3," which is one of the worst movies I have ever seen.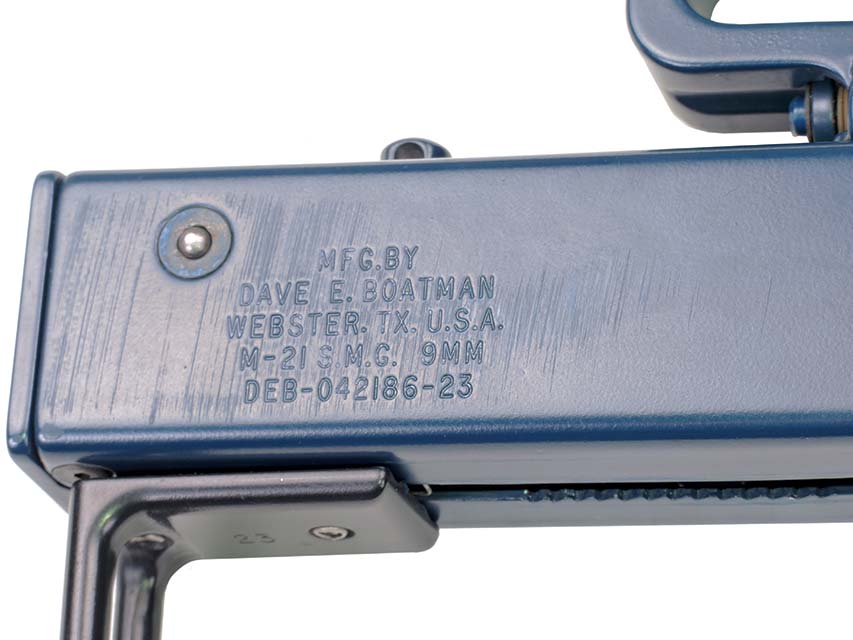 The first movie is much better. While the violence is a bit intense at times, it is not as bad as many films that come out today. The villains are much more relatable, the humorous scenes were actually funny, and the action scenes are pretty good. Peter Weller does a good job playing RoboCop, and you really feel for him on his journey to find out who he is. Many of the other characters are well acted, and some of the effects are still good in retrospect. There are some effects, like with the ED-209, which have not aged well. That aside, "RoboCop" is a good movie to enjoy. 
This article first appeared in Small Arms Review V24N8 (Oct 2020)