By Robert Bruce
(Editor's Note: SAR recently sent Contributing Editor Robert Bruce to Fort Bragg, North Carolina, to do an in-depth report on the training of Army Special Forces Weapons Sergeants. (Vol. 9, No. 9, June 2006) While there, we also assigned Robert to do a feature on the JFK Special Forces Museum to detail some of the exotic and historic weaponry in its collection. With the full support and energetic assistance of Director/Curator Roxanne Merritt and her small but dedicated staff, SAR was allowed not only the opportunity to get in after hours to light and photograph some of the current exhibits, but also to go behind the scenes into the museum's high security arms vault. This special access has paid off handsomely in the accompanying photos and SAR sends a big THANKS for all the extra work. – Robert G. Segel)

"The mission of the John F. Kennedy Special Warfare Center and School Museum is to collect, preserve, exhibit, and interpret significant historical property related to the history of special operations in the U. S. Army including the Special Forces and Civil Affairs branches, the Ranger Regiment, the functional areas of Psychological Operations and Aviation, and its predecessor organizations from the American colonial period to the present. As an educational institution, the museum will support training and education for military and civilian personnel."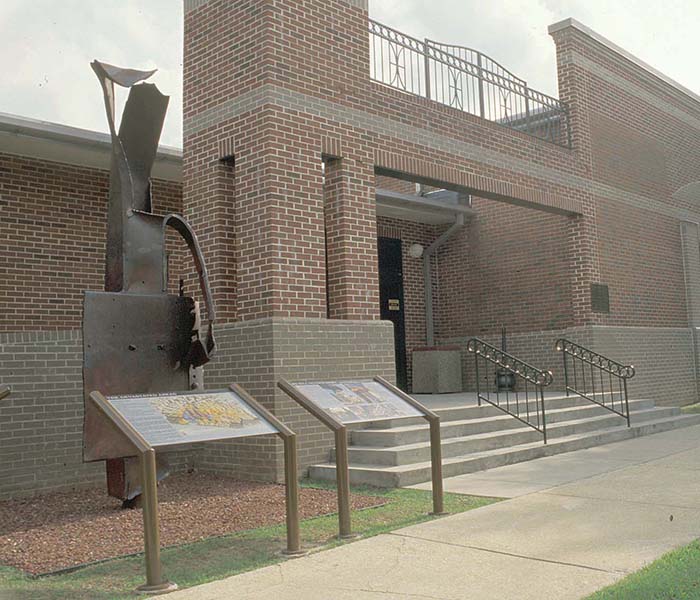 The JFK Special Warfare Museum may be relatively modest in size but it is undeniably mighty in the quality of its collection. It is, of course, the official repository for actual items used on missions by U.S. Army Special Forces "Green Berets," Rangers and other members of the Army Special Operations Forces family. It also preserves the history of a long list of elite Army units that came before such as the legendary Office of Strategic Services (OSS) and the First Special Service Force "Black Devils" from WWII.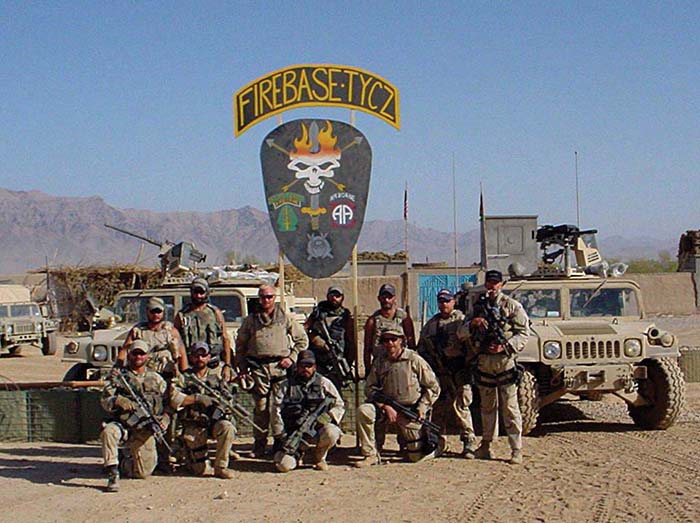 The impetus for the museum came from the vision of Major General William P. Yarborough in 1961, who was, at the time, the commanding general of the US Army Special Warfare Center. The connection with President John F. Kennedy honors his energetic support for Army "Green Berets" and their unconventional warfare capabilities.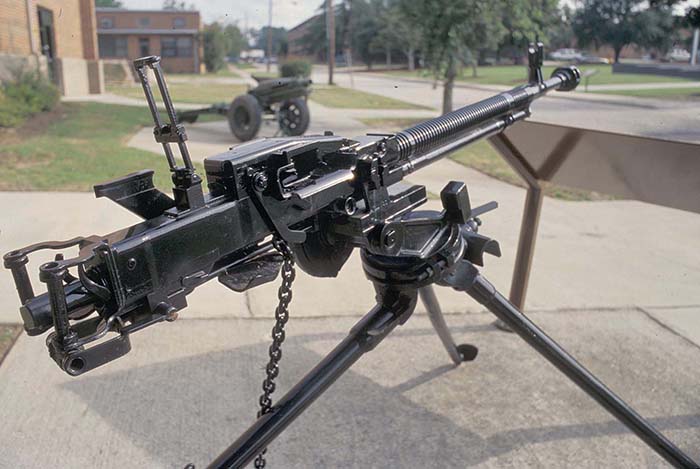 OSS Weapons Exhibit
It is the OSS connection that first caught this correspondent's eye a couple of years back while doing research for a report on the opening of the International Spy Museum (SAR Vol. 6, No. 4, January 2003). An internet search turned up a procurement notice on a government purchasing website indicating intent to acquire the Brunner OSS Collection.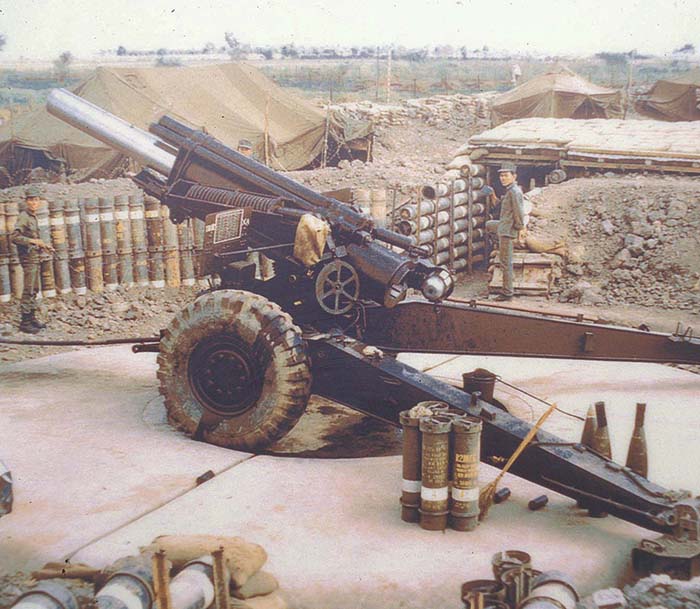 Subsequent phone calls resulted in confirmation that this effort was successful and the priceless artifacts have found a permanent home with the JFK Special Warfare Museum at Fort Bragg, North Carolina. SAR is pleased to report that this remarkable OSS collection is now front and center in a permanent exhibit at the museum.
Dr. John W. Brunner, a retired college professor, served with distinction in the OSS during WWII. His meticulously researched book OSS Weapons is considered by experts to be the best of its kind. Unfortunately now out of print, copies routinely bringing upwards of $200 on the used book market, testifying to their value among scholars and serious collectors.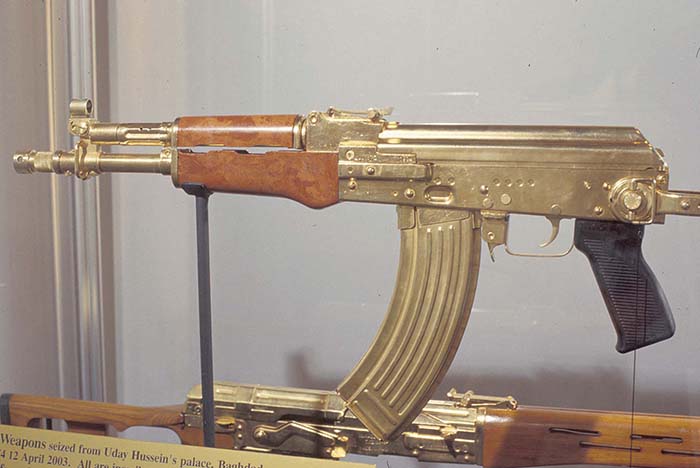 Many of the items pictured and described in Brunner's book were from his own collection. Notable among them are close quarter combat firearms from .22 to .45 caliber, some famous edged weapons, and a fascinating selection of spy tradecraft gadgets. As luck would have it, all of these had been temporarily relocated to the vault while the exhibit was being refurbished, and so were readily accessible for the photos accompanying this feature.
The .45 ACP single-shot Liberator pistol is perhaps best known of the WW2 OSS firearms, with over a million produced and intended for airdrop to resistance fighters. Brunner not only had a particularly fine example of this cheap and simple smoothbore weapon, he was careful to also preserve one of the waxed cardboard boxes they were originally packed in.
The Vietnam-era Deer Gun is the CIA's (Central Intelligence Agency) upgraded version of the Liberator, chambered in 9mm Parabellum. As far fewer of these single shot handguns were made, the one in the JFK SW museum is particularly noteworthy.
While the uninformed may scoff at the effectiveness of weapons firing .22 caliber rimfire ammo, these small cartridges offer several advantages in the arena of clandestine combat. Principal among these are modest recoil, noise and flash, making them particularly adaptable to innovative concepts in weaponry for concealment and killing at close range. The Stinger is one of these, a single-shot device resembling an ordinary pocket-clip pen.
Brunner saved an original box containing ten of the first model Stinger devices and another with the improved Type 2 Stinger. He also made sure that an excellent example was preserved of the .22 cal. High-Standard semi-automatic pistol with a sound suppressor barrel, spare screen and a round of the original T-42 jacketed long rifle ammo.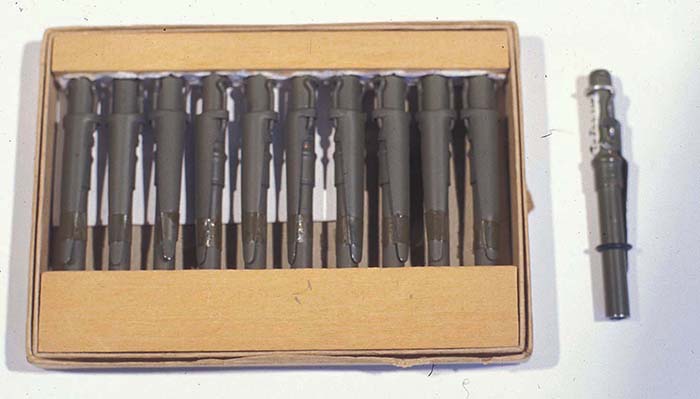 Although not from the Brunner collection, another firearm that was likely to have been used by the OSS caught our eye in the museum's arms vault. The British SOE (Special Operations Executive), a partner to the OSS in Europe, fielded a particularly effective single shot handgun usually identified as the Welrod. This sound suppressed 9mm Parabellum pistol features an integral barrel and may be quickly reloaded from a six-round spring loaded magazine in the pistol grip.

Crossbows and Carbon Dioxide
When circumstances call for stealthy dispatch of enemy personnel, the ideal tool is not necessarily a silenced firearm. Consider the medieval crossbow, some types capable of almost noiselessly propelling an armor-piercing shaft with astonishing range and accuracy. This concept made a lot of sense to the British SOE and their cohorts in the American OSS.
Brunner's crossbow collection included several fascinating examples of modern adaptations of the ancient arrow shooter. While the most commonly used was the pistol-like Little Joe, the rarest is the "Little Joe Pedal" model, firing a particularly impressive ten inch long aluminum bolt at 170 feet per second. Only one example is known to have survived and is now safely housed in the museum's collection.
Anyone who has had fun with quiet and powerful pump air rifles or CO2 pistols should appreciate the applicability of this sort of propulsion to spy type weaponry. Brunner's efforts have ensured the survival and display of the only surviving example of the Gun, Dart, Carbon Dioxide Propelled. The OSS gave it the evocative code name "Flying Dragon" and fifteen were available by July 1945. Comparison testing with crossbows and conventional suppressed firearms showed little reason to field it and the Flying Dragon was grounded.
The Cutting Edge
The modern combat value of knives and other edged weapons may be somewhat less easy to demonstrate and document but apparently sufficient for the OSS to field a number of interesting stabbers, stickers, slicers and slashers. Notable among those in Brunner's holdings are an OSS Stiletto, complete with "pancake flapper" sheath, and a Type 2 Smatchet bolo knife, complete with its original cardboard packing box and the correct plywood-lined sheath.
These join several other interesting edged weapons that were acquired from various sources. We examined a tiny thumb knife, a sleeve or wrist dagger and the wonderfully versatile lock-picking knife. This last is a seemingly ordinary pocket knife that also boasts a set of fold-out picks to facilitate surreptitious entry into locked areas.
Baseball Blaster
Were it not for the device's destructive intent and unfortunate history, the Beano grenade might qualify as the most amusing of OSS artifacts in the JFK SW Museum. Formally designated as Grenade, Hand, Fragmentation, T13, With Fuze Grenade, Impact, T5, OSS personnel soon nicknamed it the "Beano." The Beano was developed from a suggestion by Col. Carl Eifler who believed that the standard grenade was ungainly to throw. He asked the R&D branch of OSS to make a grenade the size, shape and weight of a standard baseball. It is speculated that the nickname might have come from the dishonorable practice of some baseball pitchers back then, and even now, to intentionally throw "beanballs," to hit the batter.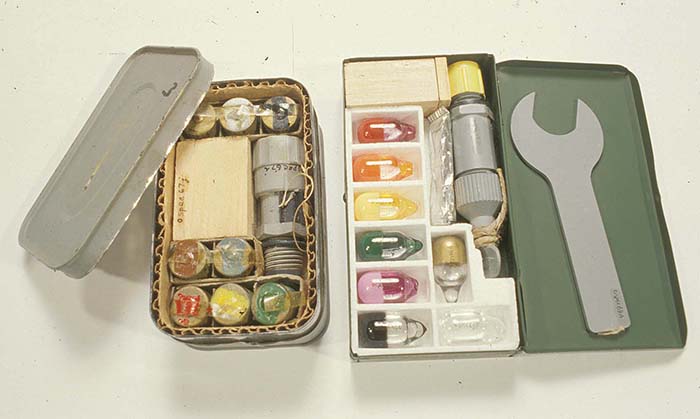 This unusual ball grenade was designed to explode on impact with the target, rather than after the usual three to five second delay. Presumably, this would make it more useful for attacking moving targets and those who might be tempted to pick up the hand bomb and throw it back.
Interestingly, camera and film company Eastman Kodak got the contract to design and manufacture these novelties which soon proved to be unreliable in performance and particularly dangerous to the thrower. According to Brunner's research, the Beano can be credited with nearly fifty casualties, but none of these were on the enemy side. The project was terminated at the end of the war.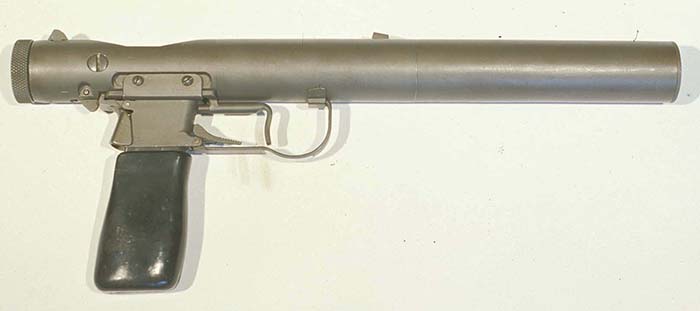 Handmade Firearms
The other end of the weapons spectrum is well represented in some of the museum's other displays showing guns made in primitive workshops by native populations. These include examples of pistols, shotguns and rifles cobbled together by Philippine resistance fighters, Viet Cong guerrillas and others, determined to do the best they could with materials at hand. It is astonishing what can be done with scraps of tin, bits of wood and hacksawed plumbing pipe. The handmade flintlocks of the Hmong of Laos were family heirlooms, passed down from generation to generation as is evidenced by silver bands on the barrel, indicating how long it had been in the family.
Vietnam War
U.S. Army Special Forces "Green Berets" and other Army Special Operations Forces were heavily committed in the Republic of Vietnam beginning around 1961 during the so-called "advisor period" and extending to the fall of Saigon in 1975. So it follows that a large number of the artifacts on display are from this conflict.
The first thing most visitors see when approaching the museum is a full size re-creation of a firebase mortar pit complete with sandbags, log reinforcements and an actual 81mm M29 mortar. Large graphics display boards ring the pit, providing photographs, diagrams and information on how typical firebases were built and defended, often against overwhelming enemy forces.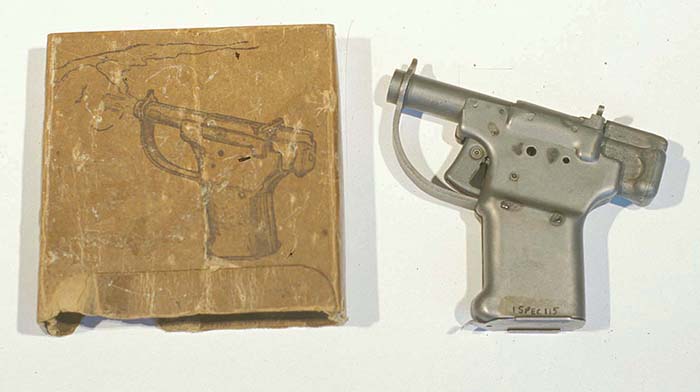 Following the sidewalk to the main entrance leads past an imposing Soviet 12.7mm DShK-38/46 Heavy Machine Gun, fielded by the Red Army in WW2 then supplied to enemy forces and used against the US from the Korean War to Vietnam and right up to the present day.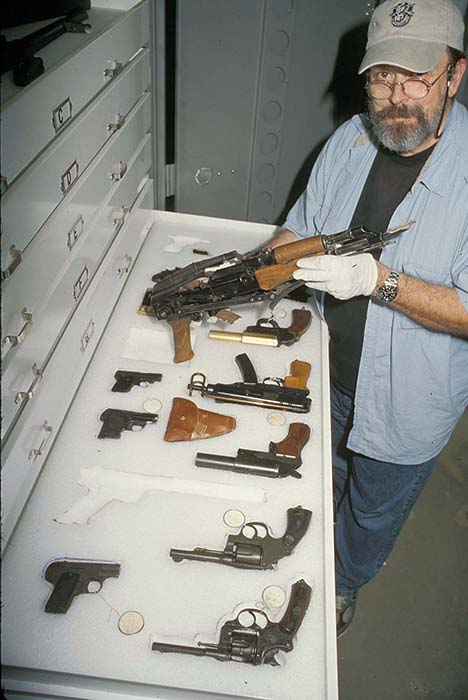 Inside the main gallery of the museum are exhibits showing typical weapons, uniforms and equipment used by "A Teams" in Vietnam as well as those of communications, surveillance and Civil Affairs personnel.
Look for the very early AimPoint red dot sight used by MSG (later CSM) Joseph Lupyak, part of "Red Wine" element of the Son Tay Raid in 1970. It was purchased for $59.99 from Sears as the Army didn't have anything like it in the inventory. The Son Tay Raid also offered such innovations, now considered commonplace, as the use of bullhorns and acetylene torches.
Artifacts From Recent History
For some of us with more than a few gray hairs it is sobering to consider that many of today's twenty-somethings were still soiling their diapers when Army Rangers and other Special Operations Forces liberated Grenada in 1983. And others weren't even teenagers when the invading Iraqis were kicked out of Kuwait in 1991 during Operation Desert Storm. Thus, "history" is relative and each generation has significant milestones that are meaningful to them.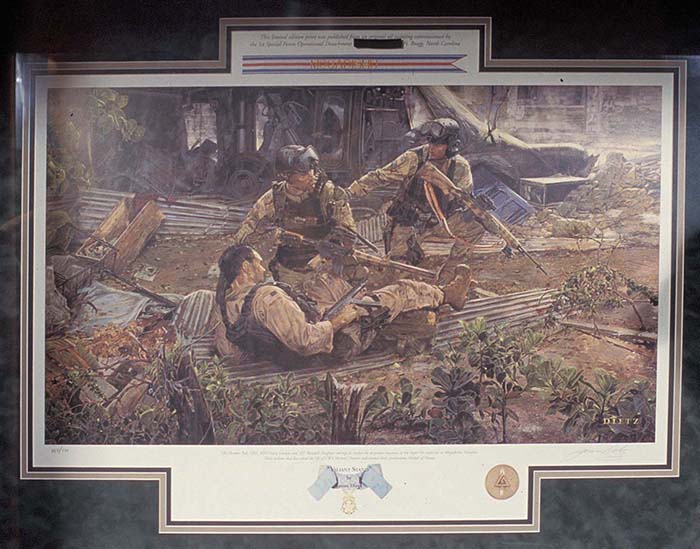 While it is to be expected that many of the museum's exhibits highlight activities of Army SOF's in the Vietnam War, more recent conflicts take front and center in the museum's many displays.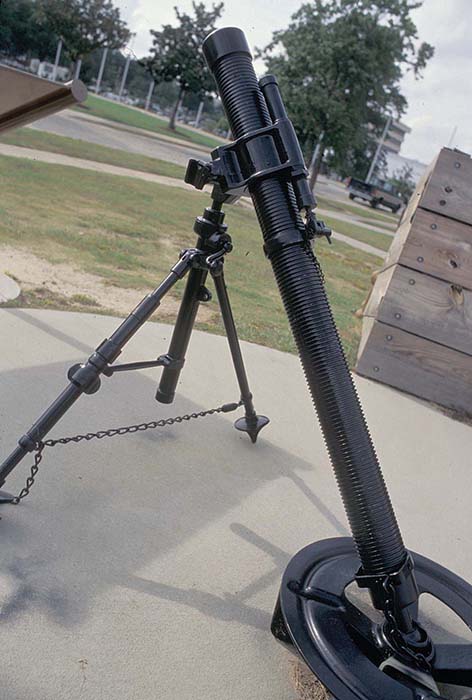 SAR found it particularly interesting to see the gear worn by Special Operations soldiers during the 1993 shootout in Somalia, often called the Battle of Mogadishu and best known by many from the book and movie "Blackhawk Down."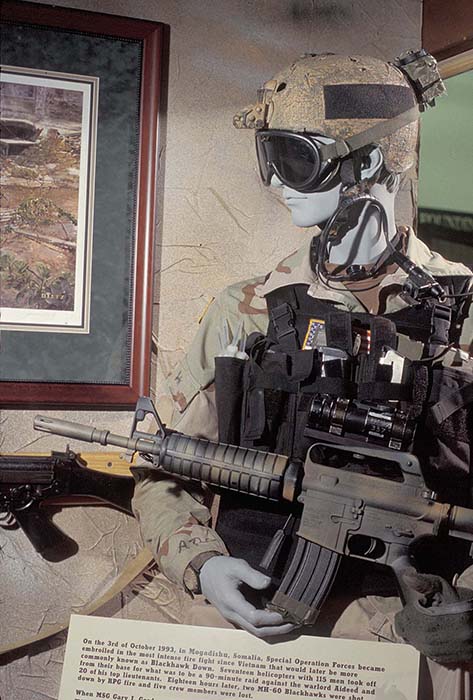 The expected and the unusual may be found in any of the displays but a case in point presents weapons brought back by SOF's from Desert Storm. There are fascinating stories behind most every artifact but what the hell is a Greener Mark 2 Harpoon Gun doing in Iraq?
Global War on Terrorism
The museum's preservation and exhibition mission comes fully up to date with displays showing Operation Enduring Freedom, launched principally in Afghanistan in the aftermath of the horrific terrorist attacks of September 11, 2001, and Operation Iraqi Freedom, the liberation of Iraq which began for US and allied special operations forces well before the official announcement on 20 March 2003.
The museum has items that come from the 9/11 terrorist attack on the World Trade Center including a large twisted steel beam that is right next to the entrance. Also on display is the uniform of Ron Bucca, a former member of the 11th SFG (A) and the only Fire Marshall to have perished in the attack. This is an ongoing process as America's GWOT continues and artifacts are sent back by participants. Get a close look at gaudy gold plated weapons from Uday Hussein's Baghdad palace and the imposing gateway sign from Fire Base Tycz in Afghanistan.
The Mitch Lane memorial exhibit is a noteworthy example of most every aspect of the museum's broad mission statement. Sergeant First Class Mitchell Arthur Lane, an Engineer Sergeant with Company C, 2nd Battalion, 3rd Special Forces Group, died on August 29, 2003, during a combat air assault on an enemy cave complex in Afghanistan.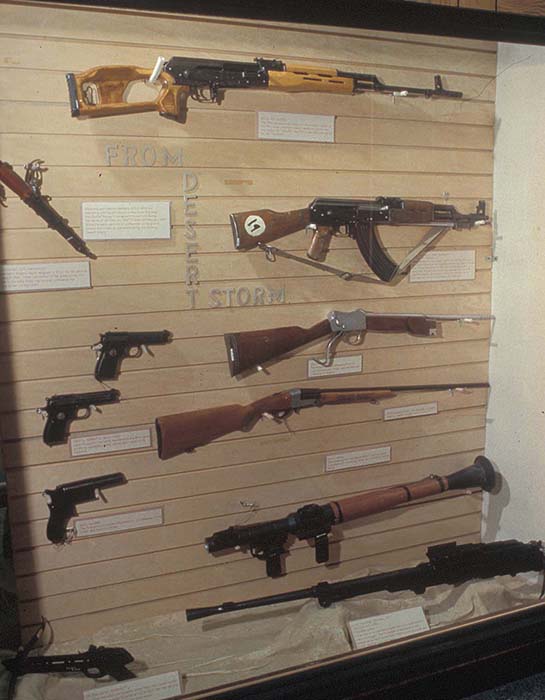 According to those who knew him, Lane was extraordinary in every way and will be long remembered for the particularly effective door breaching device he became a master of. The explosive water charge is widely used throughout US SOFs and those of many allied nations. Lane was constantly modifying the charge to fit the situation and made a point of writing clever messages on its support board.
The "Mitch Lane Special" features a spiral of detonating cord, a pair of medical salt water bags, 100 MPH tape, and a wooden board, "about half the height of the door you are going to blow down." Its dramatic effectiveness comes not only in the ability to instantly vaporize heavy doors but also to allow the assaulting force to remain remarkably close to the blast without injury.
Wish List
While there are currently more than 6,000 artifacts in the museum's collection, some gaps exist that need to be filled. Highlights from a long list posted at www.soc.mil/swcs/museum/wishlist.shtml include items from Mosby's Rangers (American Civil War), Alamo Scouts, Merrill's Marauders and First Special Service Force (WW2), a Stoner assault rifle or machine gun (Vietnam), as well as Propaganda and Psychological Operations materials from all periods. Individuals and organizations wishing to offer appropriate artifacts are encouraged to contact Director/Curator Roxanne Merritt.
Gift Shop
Proceeds from Gift Shop sales go to support museum operations. Available items include a fascinating selection of Special Operations books, souvenirs and apparel. Mail order sales are handled through the website at www.jfkgiftshop.org or by phone at (910) 436-2366.
No-Sweat Visitor Passes
These are tough times for the many museums located on military bases. Attendance is way down due to the strict security measures in response to increased threats from terrorist organizations. Clearance for entering the bases is an unfamiliar task for most civilians who can't be blamed for being reluctant to undergo the scrutiny necessary to get a visitor pass.
But those with determination and a few simple preparations will find the entry process for Fort Bragg and most other bases rather quick and painless and the payoff will be more than worthwhile:
Call or visit the museum's website in advance for directions and hours of operation
Make sure there are no weapons or ammo in your vehicle
Have current drivers license, vehicle registration and insurance card
Watch for signs that direct you to a lane for "vehicles without decals"
Find Out More
JFK Special Warfare Museum is located in the main post area of Fort Bragg, North Carolina (near Fayetteville) at Bldg. D-2502 at Ardennes and Marion Streets. Telephone (910) 432-4272 or (910) 432-1533. Their website is www.soc.mil/swcs/museum.shtml. It is open from 10 a.m. to 4 p.m. Tuesday through Sunday (closed Mondays except certain holidays). There is no admission charge but donations are greatly appreciated.
Special Forces Association www.sfahq.org
Ranger Association
www.ranger.org
OSS Society
http://osssociety.org
Central Intelligence Agency www.cia.gov
US Army Special
Operations Command
www.soc.mil
This article first appeared in Small Arms Review V9N10 (July 2006)