The High Standard AKMS is a basic pattern underfolder.
By David Lake
High Standard Firearms is back in a very good way. For too long the brand has been associated with the rimfire target pistol. The brand has, and still represents, top shelf quality. Hi Standard .22 pistols were successfully employed in the resistance against the malevolent despots in 20th century Europe and earned well deserved recognition as accurate target and sporting pistols. And though, still in production, the Hi Standard .22 pistol has spawned numerous clubs and collector societies who celebrate the old Hi Standard pistol.
Some years back, Interarms was rolled into the High Standard family. Interarms has commanded a worldwide market share of international commercial arms trade for the past 60 years. They've been the source for countless waves of surplus and foreign commercial small arms hitting our shores. Even with increased restriction on arms importation, they're still hard at it. And the 922(r) compliance clause is no obstacle, as all of High Standard's imported rifles come fitted with the required U.S. made componentry. Anyone who has ever built an AK type rifle from a de-milled kit and receiver flat, then tracked down and paid for the U.S. compliant parts, and ultimately assembled the rifle, would do well to consider looking at the lineup of High Standard/Interarms imports before your next home build project. The guns from High Standard are excellent; and easy to get into for under a thousand dollars.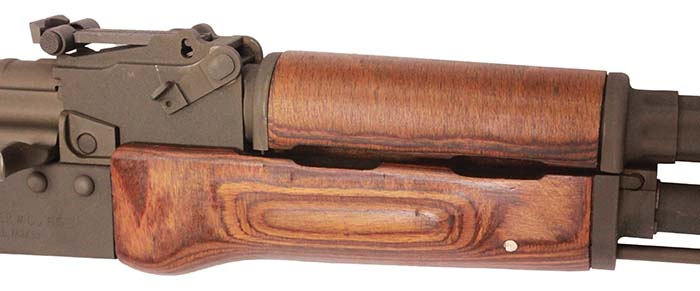 The AK variant represented here carries the model designation, "AKMS." The rifle is presented very true-to-form with its eastern-European heritage and is patterned after the Polish underfolder. It's an immensely common rifle on the world stage. Not exotic, it's more a "bread and butter" AK with a folding stock for easy transport and storage. The High Standard AKMS is built using a U.S. made barrel and receiver. The trigger, hammer and disconnector are also U.S. made parts – and they are good parts at that. They're properly hardened and ground and finished. The trigger pull on this rifle is as smooth as an AK trigger can be… and that's saying a lot considering how bad the AK trigger can be. Pull weight averages 6 pounds. The barrel features a chrome lined bore and chamber for prolonged life. The bolt and carrier group are smooth and well made with no rough edges or tool marks. The bolt slides smoothly and quietly when operated back and forth. All the other bits on the gun are foreign-manufacture parts that have been selected for proper condition and function. The AKMS is made of selected quality parts, with the requisite attention to detail in its finish and assembly. It's just a good quality basic pattern underfolding AK rifle.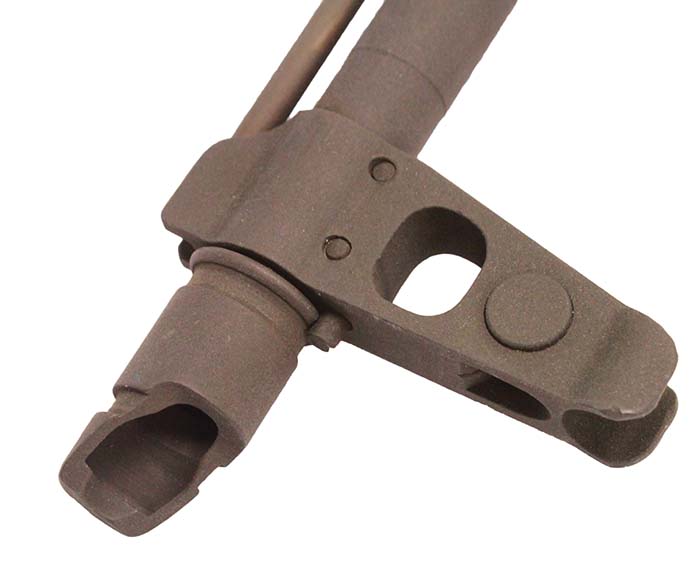 In operation, the gun performed admirably. Its reliability and function were largely dependent on the ammunition fed into it. When we loaded lacquered cased ammo, we did experience some frequent feeding issues. The bolt would just fail to completely close at battery. This would result in a "click" rather than a bang when the trigger was pulled, as the hammer impact would finish closing the bolt, leaving insufficient energy remaining to impact the firing pin to full effect. This recurring malfunction was absolutely not the fault of the rifle. With the Teflon coated steel cased surplus ammo, and all commercial brass ammunition, the AKMS performed the way we expected it would. If an AK is not reliable, it's nothing. Perfect reliability is the hallmark of the AK and it variants. Accuracy from the AKMS was also on par with any other AK rifle. At 25 yards off-hand, this gun would print an easy 2-inch group. At 100 yards, 10-inch groups were possible with some effort. The basic AK sight picture has never been much to speak of. The round front post catches glare and the rear blade and notch are difficult to use with any great proficiency. This AKMS, like any AK variant, can be counted on to hit practical sized targets, at close to moderate distances. Premium ammunition and the incorporation of optics can be counted on to greatly improve the AK's inherent accuracy potential.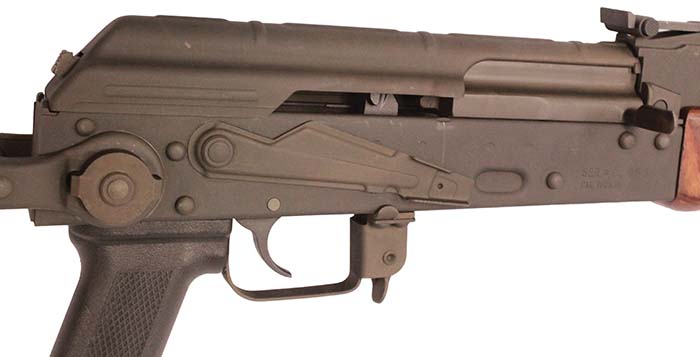 No frills, no hype, no nonsense. This rifle's only claim to fame is that it is a true AK. With that, it can claim heritage to 66 years of sustained success, and can count itself among the other 80 million or so (to be fair) that have been crafted and then used in some capacity in almost every country on the planet, to be modest.
This article first appeared in Small Arms Review V19N5 (June 2015)