Japanese Type 99 leather spare parts and tool wallet with all pieces in place.
By Robert G. Segel
Carried by Japanese machine gunners for basic field maintenance, the Type 99 light machine gun (1939) kit consists of a brown cowhide leather wallet with compartments to hold tools and spare parts. The wallet is constructed of two pieces stitched together and folds in on itself and is secured and held closed by a steel buckle that a three-hole strap affixes. Roughly 8 inches long and 3 inches wide, when all tools and parts are in place, the wallet is roughly 2.5 inches thick.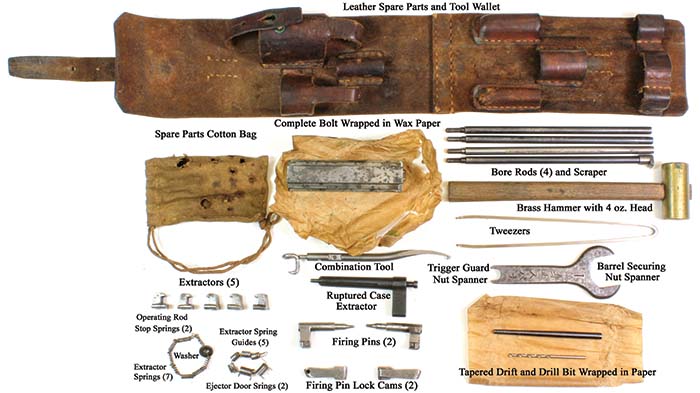 The leather maintenance kit is carried in a heavy tan canvass pouch that is worn on a belt. The rear has a brown cowhide leather rear panel and belt carry loop. The wallet is secured inside the wallet with a brown leather single hole strap and a galvanized steel buckle.
When opened, the kit on the right side top holder and loop contains four bore rods; one with a scraper end. Only one of the rods will accept a jag or brush. The center double loop holds a brass hammer with a 4-ounce head and a small wrench inscribed on one side "barrel securing nut spanner" in Japanese with an arrow pointing to the larger size wrench and "trigger guard nut spanner" in Japanese with an arrow pointing to the smaller wrench on the reverse side. The right lower holder and loop holds a tweezers and a paper wrapped tapered drift rod and a 2.2mm drill bit.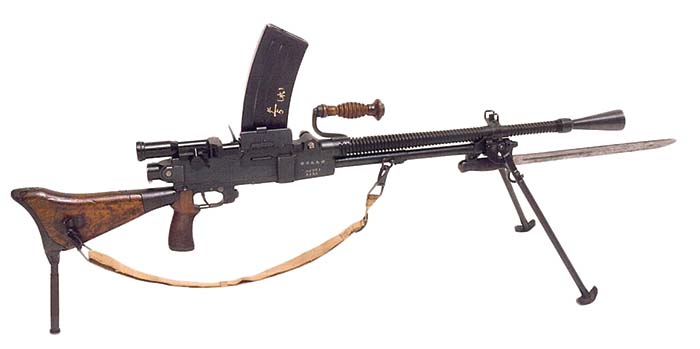 On the left side of the wallet on top is the holder with strap and brass stud that hold a spare bolt (with extractor, extractor spring and firing pin lock cam installed) wrapped in wax paper and the combination tool. The combination tool has a hook on one end to remove an un-ejected cartridge with the cartridge case base intact or missing and is also a hot gas valve wrench. The other end has a twisted wire extractor removal/install tool. The center loop holds the ruptured case removal tool. The bottom holder contains a tight weave cloth parts bag, roughly 2.25 inches by 3.5 inches with a pull string top closure. Contained in the bag are 5 extractors, 2 firing pins, two firing pin lock cams, a wire holder containing 4 extractor spring guides, and 2 ejector door springs and another wire holder containing 7 extractor springs and 2 operating rod stop springs.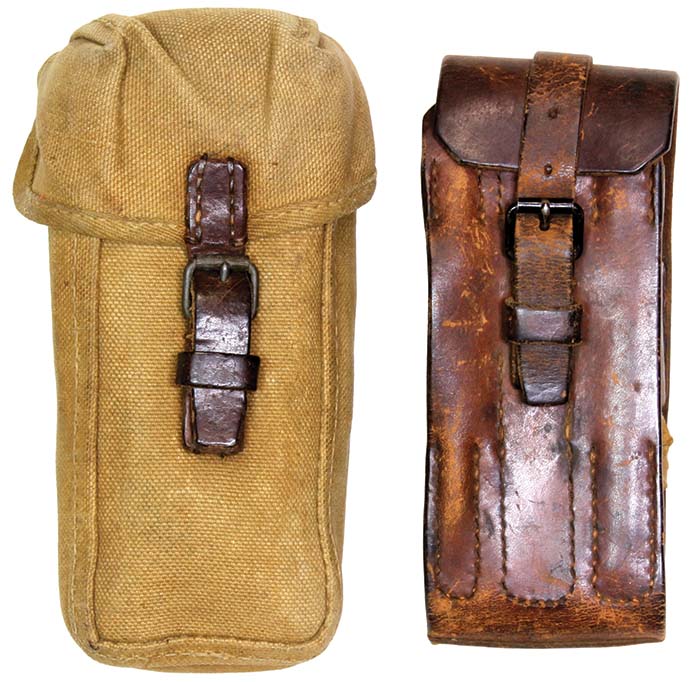 This article first appeared in Small Arms Review V19N3 (April 2015)