By Chris A. Choat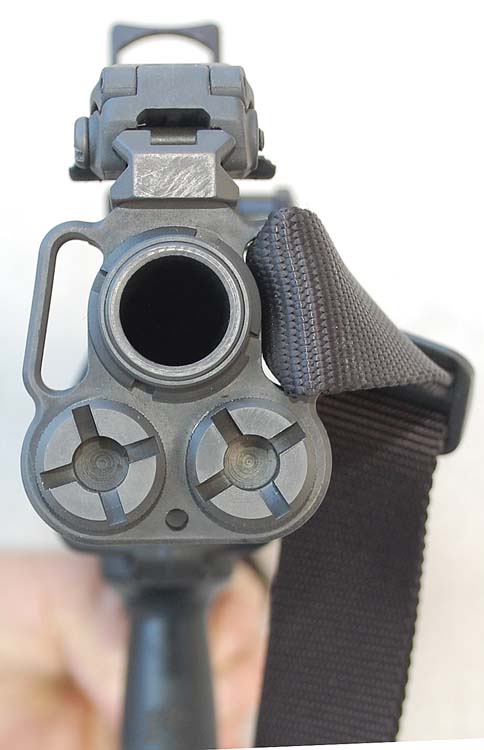 Since about the mid-1990s the name Kel-Tec has been associated with unique pocket pistols that incorporate the use of polymer frames and CNC manufactured slides. These handguns have proved to be reliable, rugged and an extremely good value. Kel-Tec came out with a couple of folding .223 rifle designs that were very innovative but didn't seem to catch on as much as this author thought they should. The guns made extensive use of polymers and folded to a very compact size which made them easy to stow. Then a couple of years ago they introduced their first .308 rifle. This rifle dubbed the RFB (Rifle, Forward-ejecting, Bullpup) was displayed at the SHOT Show and drew very large crowds. The rifle caught the public's eye as no other before it. It seems like to this day they are scarce as demand far exceeds production. Then at the 2011 SHOT Show in Las Vegas, Kel-Tec introduced their first foray into the shotgun market. The new gun was called the KSG and it was literally the talk of the show.
The KSG is a bullpup 12 gauge pump shotgun that incorporates twin, side by side, feed tubes giving the user 14 +1 rounds of 2 3/4 inch 12 gauge ammo in a very compact package. Like other Kel-Tec firearms before it, it also makes use of a glass reinforced nylon frame with steel inserts where needed. The rest of the gun is naturally made from steel with a matte black parkerized finish. The overall length of the gun is just 26.1 inches but as it is a bullpup design it still incorporates an 18.5 inch cylinder bore barrel. The barrel is threaded but more on that later. At first look you would think that the gun is a short barreled shotgun but with the bullpup design there is no need for a special tax stamp as both overall length and barrel length are strictly legal for anyone to purchase.
The gun comes with no sights but has a 12 inch length of Picatinny rail located along the top of the barrel. There is also a rail molded into the bottom of the forearm which is also made from polymer. The rails provide space for optics, back-up iron sights, lights, lasers and a vertical foregrip. The gun uses twin action bars that make for a very solid feel as well as positive chambering and ejection. On the subject of ejection, the KSG ejects its empty 12 gauge hulls straight out the bottom via its loading/ejection port. Being designed this way allows the gun to be totally ambidextrous without having to switch or substitute parts. It also has an ambidextrous safety, slide release and loading switch lever. Sling mounting points are also located on both sides of the gun.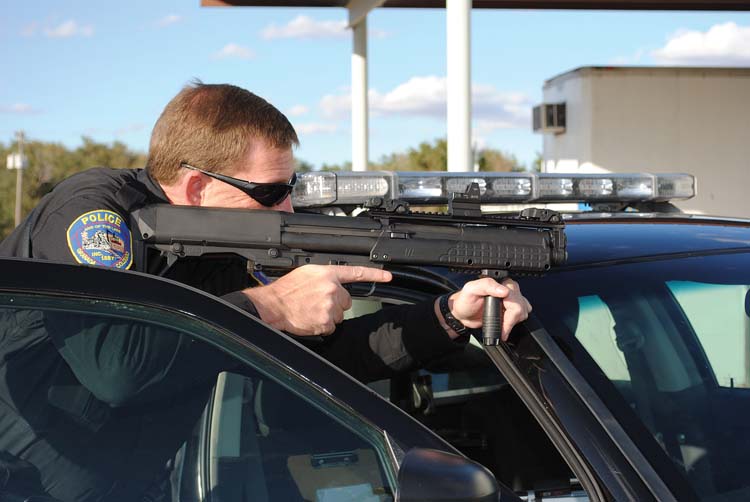 The loading switch lever allows the shooter to pick which feed tube is loaded first as well as which is fired from first. This three-position lever blocks either feed tube or when put in the center position blocks both. With both feed tubes blocked the user can eject a chambered round to change to a different type of ammunition without the gun feeding another round from the tubes. This is extremely useful if you want to change from buckshot to a slug or a less lethal round or vice versa. This switch is located right behind the shotgun's pistol grip where it can be manipulated from either side with the shooter's support hand. The switch must be manually moved from one position to the other.
The twin feed tubes are located below and to either side of the barrel at the 4 and 8 o'clock position. The tubes feature elongated inspection slots to allow the shooter to see how many rounds are remaining. Each tube holds 7 rounds.
Small Arms Review recently received one of the new KSG shotguns for test and evaluation. The gun is shipped with a basic sling and a very detailed and well written operator's manual.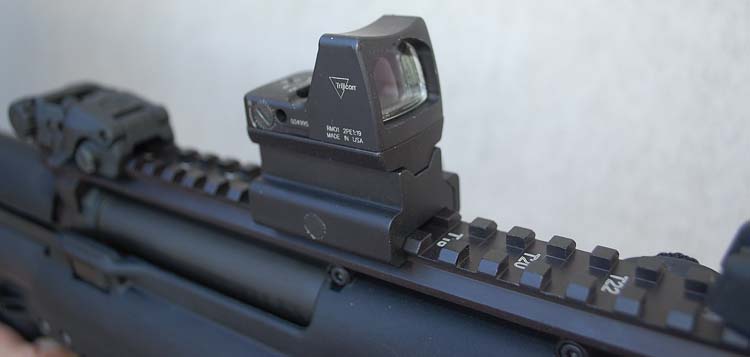 As stated before, the KSG comes with no sights so initially this author mounted a set of MagPul MBUS (MagPul Back-Up Sights) to the gun's top rail. These rugged sights will fit any Picatinny style rail, fold flat and pop into the upright position in an instant by pushing side mounted levers. It was found that during testing both front and rear sights could be used for more precise aiming when firing slugs or just the front sight when firing buckshot. A Trijicon RMR (Ruggedized Miniature Reflex) sight was also used in the testing and proved to be exactly what everyone who fired the gun liked the best. This tiny sight is a 1X red dot style sight and is designed to be as durable as the company's legendary ACOG sight used by almost all of our Armed Forces. It weighs just 1.2 ounces including the battery. The RMR can be had in three models with several different reticles available. The author chose the RM01, which is an LED sight powered by a standard CR2032 battery. The sight has a 3.25 MOA red dot and easy to use adjusters with audible clicks that allow for quick windage and elevation adjustments. The sight was shipped with an RM34 Picatinny rail mount that co-witnessed perfectly with the MagPul sights. Another interesting feature of the model used in this test is that the red dot brightness intensity is adjusted automatically according to the ambient light. The shooter never has to adjust anything once the sight is zeroed. With a battery life of 17,000 hours the sight stays on all the time. In fact, there is no on/off switch. The Trijicon RMR can be used on any weapon platform, of any caliber, whether it be shotgun, pistol, rifle or whatever.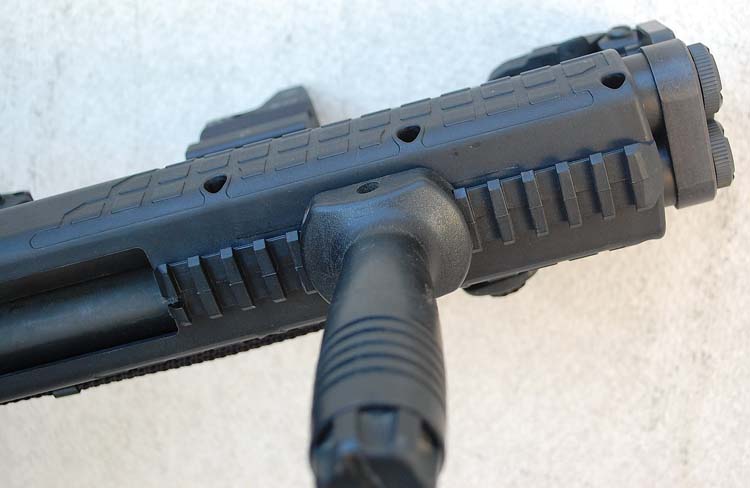 The KSG has a 2 3/4 inch chamber instead of a 3 inch but this is not a limiting feature as the types, styles and power of today's 2 3/4 inch shells are limitless. Ammunition used during the test included everything from No. 8 shot target loads to defensive loads which included 00 Buck, slugs and the excellent Winchester PDX 1 shell which fires three 00 plated buckshot and a 1 ounce rifled slug out of the same shell. This tight patterning shell is perfect for both long and short range while compensating for any aiming error. As the KSG is a pump gun it feeds, fires and ejects any style of shell that you can stuff into it as long as the shooter does his part. I say this as there seems to be a tendency for shooters to "short stroke" the gun the first time they use it. I think this has to do with being able to fire 15 rounds out of the gun without reloading. Shooters get in a hurry thinking about firing that many rounds and forget to rack the gun with authority.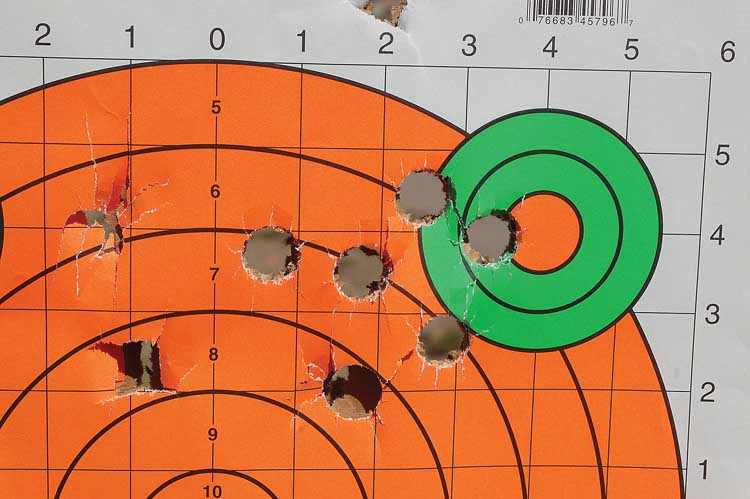 The gun was fired at various yardage from 10 to 50 yards. Patterns were what you would expect from an 18.5 inch improved cylinder shotgun. Remington 9 pellet 00 Buckshot averaged 7 out of 9 pellets going into the 8 inch "kill" zone of a human type target with the other 2 pellets still hitting the target. Firing 1 ounce slug loads, most of the shooters that tried the gun could put 5 rounds into 3 inches from the 25 yard line offhand. The gun features a very effective recoil pad that soaks up the recoil of heavy loads. The pad is very "sticky" and stays mounted to the shoulder regardless of type of clothing. The addition of the Trijicon RMR made hits with slugs almost boring even out to 100 yards on an 8 inch metal gong target. The little sight made hitting aerial targets with birdshot extremely easy also. As long as the target was inside the sights forged aluminum enclosed lens it was a sure hit.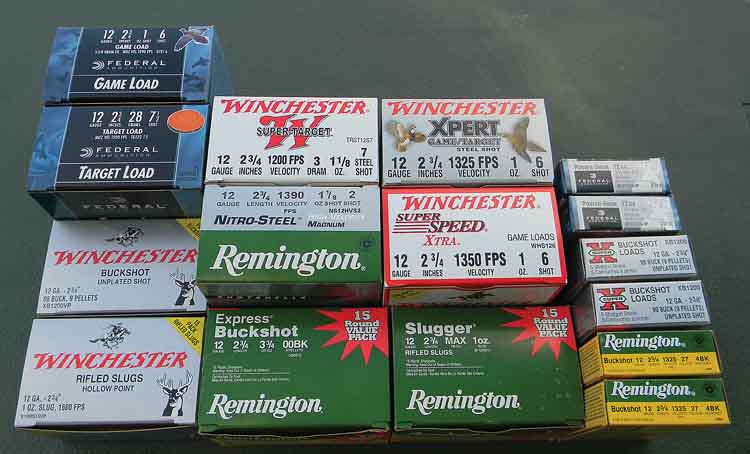 Kel-Tec says that several accessories are in the works for the KSG. These will include choke tubes (remember the barrel's muzzle is threaded), a cheek pad, side saddles for holding additional shells and a take pin that also has a single point sling attachment. The gun is initially available in black but will also later be available in Mil-Spec olive drab as well as coyote tan.
Overall the Kel-Tec KSG is innovative without being frivolous. It is a truly a rugged, well made combat shotgun that will find fans in military and law enforcement circles as well as being a very useful tool for home defense. The gun is the perfect size for stowing in a cruiser's trunk, under a bed or in the closet of a motor home. Kel-Tec definitely has a winner with this gun.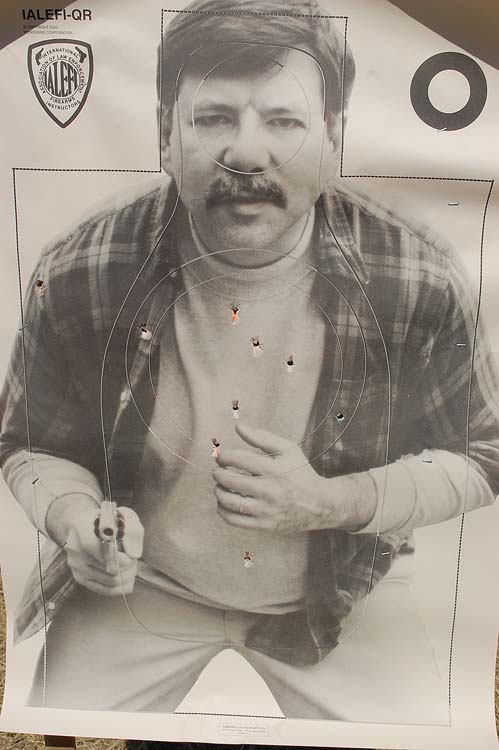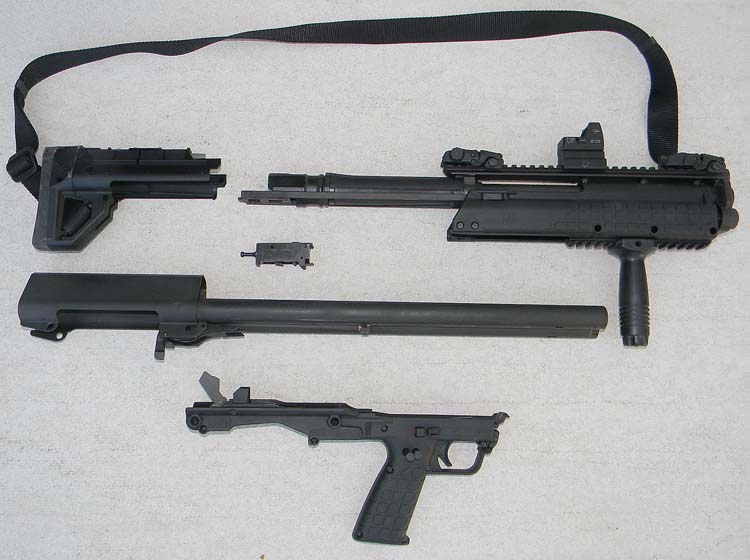 This article first appeared in Small Arms Review V16N1 (March 2012)