By Todd Burgreen

The rising tide of AK popularity in the U.S. is hard to refute and not going to be stemmed any time soon. Factors such as effective cartridges available in bulk combined with utterly reliable rifles reasonably priced with sturdy economical high capacity magazines are hard to argue with. The increasing amount of performance enhancing accessories coming available only heightens AK popularity. This re-appraisal of the AK platform is leading to interesting developments leaving the once accepted AK credo of being a basic weapon worthy only of open sights in the dust. Custom AK gunsmith Krebs Custom is leading the way in pushing AK capability boundaries.

Krebs Custom pioneered work on the Izhmash Saiga rifles and shotguns; now due to import availability Krebs Custom has turned its attention to the Saiga's Russian cousin the MOLOT VEPR in the form of the KV 13 5.45×39 reviewed herein. While the Saiga AK from Izhmash is the more widely known imported Russian AK import, the VEPR has its own impressive heritage and distinguishing characteristics. The VEPR built at the MOLOT factory is a direct descendant of the RPK light machine gun. This is reflected in its hammer forged barrel, which is chrome lined, and thicker steel receiver and trunnions due to the abuse typical of working as a light machine gun. The transition into the civilian market came about due to the collapse of the Soviet Union and end of the Cold War limiting production needs. The years of political reconstruction changed much at the MOLOT factory. In 1994, MOLOT designers introduced a VEPR sporting hunting rifle first chambered for the 7.62×39 cartridge. It was not long, 1995 in fact, until a VEPR .308Win was introduced in an effort to boost foreign sales and interest. Other calibers such as .223Rem, 5.45×39, and 7.62x54R were added as well. MOLOT has been building to Soviet/Russian military specification for over 50 years with this experience reflected in the VEPR series. For example, the cold hammer forged barrel is rated for over 50,000 rounds. Each barrel is heat treated for eight hours then is annealed and chromed under vacuum to produce the highest quality chrome lined barrel possible.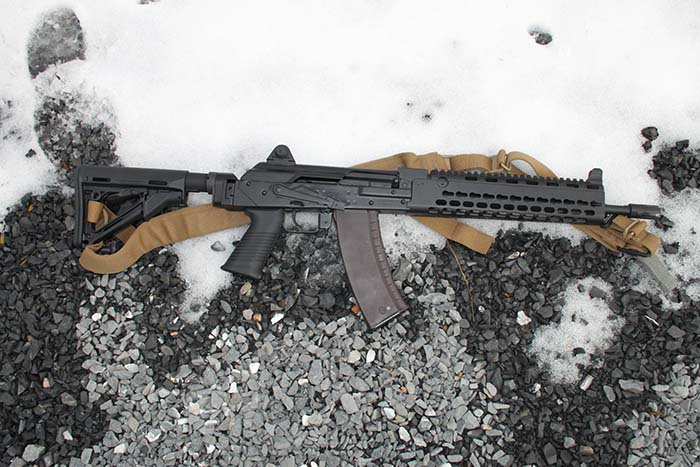 Though modified to meet import requirements via sporter stock with no pistol grip, at the heart of the Russian VEPR rifle is an AK operating system. The process to modify the VEPR back into the more familiar AK profile is relatively well known and straight forward process involving moving trigger guard forward to make room for pistol grip, replacing fire control group, and installing AK stock of choice. Krebs Custom takes this a step further – a much larger step. There is a tremendous amount of fitting that goes into the all Krebs Custom AKs. All receive an internal reliability check with a light honing of the bolt/carrier group and guide rails. Krebs Custom has lent its expertise to the KV 13 VEPR rifle in an effort to increase its performance levels. One obvious Krebs' tweak is the extended length open sight configuration. Krebs Custom provides an integral M16A2 aperture rear sight mounted on the rear of the dust cover with both battle sight and long range apertures that is windage adjustable. The Krebs' AR-type open sights provides 60% greater sight radius than a standard AK. The AR style sights combined with increased sight radius offered by mounting rear turret on dust cover is far superior to standard AK sights.

Krebs Custom continued with upgrading the KV 13 VEPR by installing a customized KeyMod interface railed forend. The KeyMod rail was designed by VLTOR and now open sourced to the industry. An important KeyMod benefit is it keeps the overall rifle package lighter and more compact. The Krebs Custom Key Mod rail is perfect for adding any suitable optic due to its rock steady nature allowing for no shifting zero once a scope is sighted in. The ability to use forward mounted optics shows the flexibility offered by the Krebs Custom KV 13 modifications.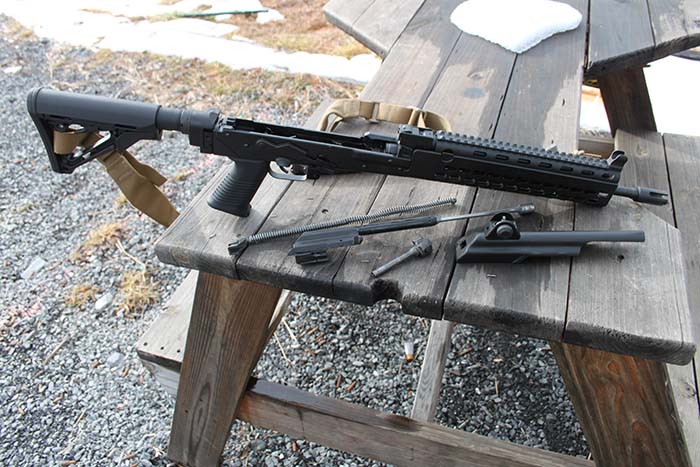 The Krebs VEPR AK 5.45×39 measures 38 inches long with stock extended and 34 inches when fully collapsed from rear buttstock to the tip of the permanently attached Krebs Custom four prong flash hider affixed to the chrome lined 14 inch barrel. An ACE hinge connects the Magpul CTR to the rear trunnion and offers a user the option of folding it for compact transport. The KV 13 measures 26 inches with stock folded. Weight of the Krebs Custom KV 13 is slightly over 8 pounds.

Tapco SAW style pistol grip and Krebs Custom Mk IV safety lever round out the Krebs' KV 13. The Krebs Mk IV safety lever allows for the safety selector to be manipulated by the trigger finger without changing the firing grip on the weapon. This nuance has an immediate real world improvement on handling the VEPR. The ability to keep your hand in a firing position while working the safety allows for faster first shot reaction times. The SAW style grip better aligns the shooter's hand and fingers when making a precise shot. All of these modifications are not merely "smoke and mirrors," but rather concerted effort to improve upon VEPR performance and accuracy; while maintaining AK qualities of ultra reliability, ruggedness, and simplicity. Marc Krebs is an ideal candidate to lend his experience to improving the VEPR AK without altering it beyond what is feasible or practical.

In combination with the Krebs KV 13, one concept that has piqued interest is setting up Kalashnikov AK with extended eye relief magnified optic mounted on a railed forend; for lack of a better term a "scout scope" configuration. Credit must be given that this configuration was initially noticed at various sources including Tactical Response and Suarez International. The AK with forward mounted scope is simple and builds on previous ideas advocated with other firearm types such as bolt-action and lever-action rifles. With the ever increasing popularity of AK rail systems, red dot optics are becoming the norm. AK shooters have discovered the advantages offered via red dots in terms of accuracy and speed when engaging targets; why not take this a step further and use a scout scope with minimal magnification and a cross hair that does not rely on batteries?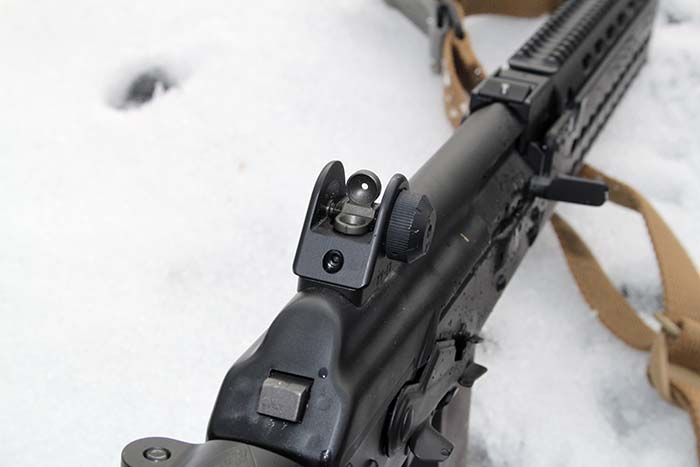 A Leupold FX II 2.5x28mm IER scope was mounted on the Krebs KV 13. The Leupold optic added only a little over 8.5 ounces to the total rifle package. The Leupold 2.5x IER scope offers the capability to engage multiple targets in rapid sequence more accurately compared to open sights and at greater distances. As many "maturing" shooters can attest to the single focus plane with the reticle is easier to shoot accurately than coordinating front and rear sights. Shooters familiar to red dots will be pleasantly surprised by the utility of the Leupold 2.5x Scout scope. The Leupold scope gathers light in dim light, the crosshair is hard to beat for aiming point, and the magnification aids in accuracy and finding lanes of fire when firing in dense crowded areas. The Leupold is far superior to any open sight and allows for reliable target recognition in low light compared to open or red dot sights. The Leupold 2.5x Scout Scope was mounted via Weaver See-thru rings.

The Bindon Concept of keeping both eyes open and having a reticle appear to float in front of the rifle works with the forward mounted scout scope. By keeping both eyes open the Leupold reticle was quick to locate at ranges out to 100 yards and closing one eye provided fine tuning at distance. An illuminated center dot reticle would have been even better for CQB distances. A back-up to using the scope at close range was still sought. Range time indicated that steel man poppers were reliably hit when taking advantage of the "see-thru" rings and indexing off of the KV 13's rifle's front sight post – sort of a "caveman EOTech" concept. The goal was not to inhibit the ability to engage extreme CQB targets if the need arose.

Multiple 5.45×39 loads were tested with the Krebs Custom KV 13 such as Wolf, Tula, Silver Bear in 60 grain and 70 grain varieties. A new addition to the 5.45×39 ammunition realm was also accessed – Century International Arms' Red Arms Standard brand. Red Army Standard 5.45×39 69 grain ammunition is offered in handy Range Packs (180 rounds) as well as 30-round boxes. Red Army Standard is manufactured by the same factories that produced billions of rounds of ammunition for the Soviet Red Army and Warsaw Pact nations. The Range Pack boxes indicated Ukrainian manufacturing. (Century International Arms Red Army Standard will be available in other popular Warsaw Pact rifle calibers such as 7.62x39mm (123 grain FMJ) and 7.62x54R (148 grain FMJ). Of special note with the 5.45×39 is the still available surplus 53 grain 5.45×39 ammunition. This is loaded with the 7N6 "poison pill" bullet that first gained notoriety in the Soviet-Afghan War. A unique design feature of the 5.45×39 cartridge is an air space inside the jacket at the bullet's tip. The air space serves to shift the bullet's centre of mass toward the rear, possibly contributing to its very early yaw when impacting a soft target. In addition, on bullet impact with tissue, the lead core just behind the air space shifts forward into this space. This is particularly devastating when striking soft tissue. This shift of lead occurs asymmetrically and may be one reason for the peculiar curvature of the bullet's path in the last half of its travel through tissue. One downside typical to most surplus ammunition is that it utilizes corrosive primers.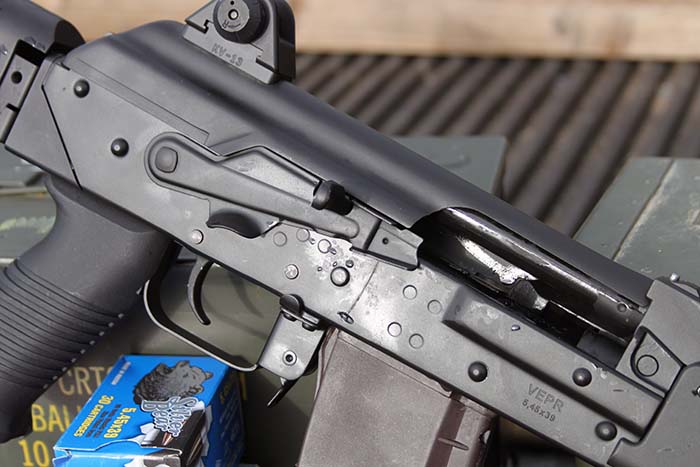 Two 5.45 ammunition loadings were of interest when combined with the magnified forward optic; Hornady 60 grain VMax and Dynamit Nobel 59 grain HP loading. The Hornady 5.45×39 load is a godsend for AK owners looking for a quality U.S. made ammunition choice for their rifles. By good fortune the Dynamit Nobel 59 grain 5.45×39 was discovered at Century International for sale several years ago with a couple cases acquired. The Hornady 60 grain VMax bullet mated to steel cases is starting to arrive on dealers' shelves in quantity. The Hornady VMax loads delivered accuracy in the 1.5 inch range at 100 yards with the Dynamit Nobel producing similar results. The other ammunition brands produced 2-3 inch groups at 100 yards. The Leupold FX II 2.5x28mm IER scope proved advantageous in ascertaining KV 13 accuracy compared to open sights or red dot. The 70 grain 5.45×39 loads produced 2,770 fps and the 60 grain nudged high 2,800 fps when fired thru the Krebs KV 13 5.45 with the 53gr surplus ammunition clocking in at 2,950 fps.

The Krebs KV 13 5.45mm combined with magnified optics mated to quality ammunition in the form of the Hornady VMax is what many AK connoisseurs have been waiting on. There are many pages written in magazines and on various internet forums about what it would take to turn the AK into more of a general purpose rifle. The hold-up to more effective use of the AK at ranges past 200 yards usually revolves around solid scope mounting and ammunition of greater quality than what is offered in the surplus realm. The Krebs KV 13 solves this conundrum.

Team Tactic drills are a favorite method to evaluate a fighting rifle. One gets a good sense of the way a weapon handles along with reliability due to the sum of ammunition expended in short time frames characteristic of these Team Tactic drills. The full gamut of rifle manipulation is encompassed in Team Tactics training evolutions – handling around cover while engaging designated targets, accuracy to effectively strike at both distance and CQB ranges, magazine changes, and reliability once a weapon gets heated up. During the evaluation over 500 rounds were fired with no issue. Anecdotally, the recoil impulse with the Krebs Custom KV 13 seemed smoother than other AKs tested to date. While the 5.45×39 is not considered a heavy recoiling round by any stretch, the KV 13's recoil and muzzle rise was negligible even when firing multiple rounds in quick secession. The 8 pound KV 13 balanced well with kudos given to the Krebs' KeyMod set up keeping weight centered or even slightly rearward of action versus front heavy as most quad rail forends are.

Is the Krebs KV 13 5.45×39 AK with forward mounted scope the answer for everyone or going to displace red dot optics in the tactical realm? No, but it is a valid concept that should not be scoffed at by individuals until fully assessed for what it offers and brings to the table in terms of capabilities offered. The AK with forward mounted scope probably has more appeal to the civilian having to satisfy multi-purpose roles based on budgets or what can be realistically supported logistically. A civilian does not have the luxury of checking out mission specific firearms based on mission brief. The Krebs KV 13 is a definite improvement over the standard AK platform. However, individual preferences dictate comfort level when contemplating choosing a non-typical profile rifle such as the KV 13 with some appreciating and other discounting what it offers.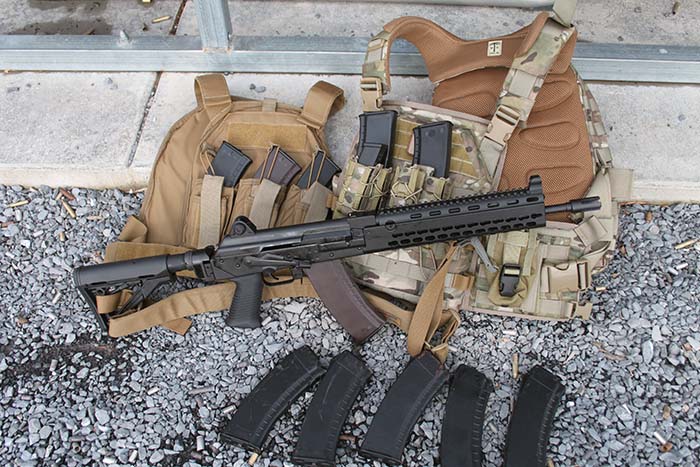 Sites of Interest
Krebs Custom, Inc.
1000 Rand Road
Wauconda, IL 60084
Ph: (847) 487-7776
www.krebscustom.com

Leupold & Stevens, Inc.
14400 NW Greenbrier Pkwy
Beaverton, OR 97006
Ph: (800) LEUPOLD
www.leupold.com

Hornady Mfg., Inc.
3625 Old Potash Hwy
Grand Island, NE 68802
Ph: (800) 338-3220
www.hornady.com

Wolf Ammunition
PO Box 757
Placentia, CA 92871
Ph: (888) 757-9653
www.wolfammo.com

Century International Arms
430 South Congress Ave. Suite 1
Delray Beach, FL 33445
Ph: (800) 527-1252
www.centuryarms.com
This article first appeared in Small Arms Review V18N4 (August 2014)