By Mark Genovese

I'm sure all of you guys out there are saying to yourself, what the hell is a Kulspruta and why is it in a non free zone state like Hawaii??? The Tung Kulspruta or heavy machine gun, until very recently was the Swedish front line water cooled, in caliber 8×63 Swedish, the so-called Bofors round which has recently begun to appear in this country as a specimen cartridge for collectors.

Although the inside dimensions of the receiver and the gun's crudely cast brass trunion are very similar to the Browning 1917 water-cooled, there are many other differences. The gun uses a spring-loaded non-reciprocating type cocking handle and an incredibly complex, overly engineered recoil-buffered gun attached cradle. The spade grips are not part of the gun itself, but are mounted to the rear of the cradle with what appears to be an articulated linkage, which will trip the sear, so during firing the gun moves back and forth within its cradle while the gunner's hands are stable. With its tripod at 55 pounds, the whole affair weighs in at a whooping 113 pounds without water or ammunition. Unlike the Browning, the Model 36's steam will exit the gun via the bottom of the brass trunion and it has only one filling port, with no provision under the water jacket to completely empty any remaining water after firing.

The Swedes have taken a simple and reliable Browning idea, over complicated everything they can get their hands on and then forgot the drain plug? To make matters worse, the fill port tube is recessed within the water jacket. This means that even if you were to hold the gun upside down to drain the remaining water, there will always be some left, unless you siphon it with a small rubber hose. This may not sound like a big deal, but it evidently was back then.

Just before I took my long awaited beautiful remanufactured Kulspruta out to test fire at the Ukumehame firing range, it was laying in its gun case on the floor and my eye caught an almost microscopic 8" long set of red lines on the bottom of the water jacket, up front right where the drain plug should go. I got out my trusty magnifying glass, only to realize these odd red lines were cracks right through the water jacket.

Needless to say, my heart sank. At first I thought the gun's jacket was made of cast iron and perhaps had been violently thrown to the ground. For some reason the cracks' strange pattern looked vaguely familiar. The best thing for me to do was call my good friend Stan "The Man" Andrewski of Webster, New Hampshire. He is arguably the best Class 2 manufacturer and gunsmith on the planet.

Just home from the April 2000 Knob Creek shoot and very road weary (plus a sight more broke), it took ol' Stan all of about two seconds to diagnose the Kulspruta. "The gun is from Sweden, right? They left water in it and it froze." No wonder the crack looked familiar, as a plumber on the mainland many years ago ninety percent of my winter work was fixing frozen pipes. Stan said the faster you get it here the faster it will get done. With that statement I immediately sent out a Hawaiian care package, two pounds of fresh Kona coffee beans, one extra large local style tee shirt and the gun of course.

Other differences from the Browning would be that the water jacket is slightly shorter in length due to the trunion and its wide tapered brass extension collar, which enhances the aesthetic value of the gun. Also the water jacket has a magnificently engraved royal crest. With a large Schwarzlose type cone flash hider and deep blue finish, this piece is a real looker and rare indeed. I have yet to find even one word about it in print in all my literature. A good friend came to the rescue with a copy of a Kulspruta manual, mostly in Swedish and for the air-cooled model, but a Godsend nonetheless.

This project started at Knob Creek in April 1998, talking with machine gun Dave of Sarco Inc., Sterling, New Jersey. He casually mentioned he had several of these oddball Swedish water-cooled kits he thought were very similar to the 1917 Browning design. Later that month, I talked with my very favorite lady friend and talented inventor/ gunsmith, Valerie Johnson of Valkyrie Arms, Ltd., Olympia, Washington about doing the work. Apparently she also thought it was a good idea and bought every kit Dave had. There would be serious custom fitting in some areas before this project was over.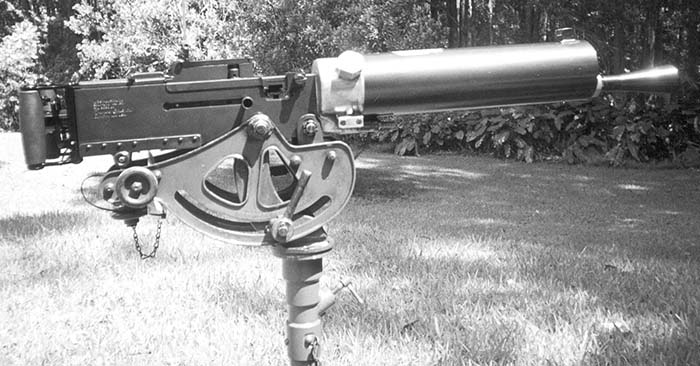 For starters, the 8×63 Swedish barrel is a larger diameter than the .30-06 1917 Browning barrel we would have to use, requiring a new design for the front water-packing gland. This was beautifully executed by machining an oversized brass doughnut, the male end threaded to the gun, the smaller female end threaded for a normal 1917 packing gland nut. The kit would also need a 1917 type top cover and ladder sight, very rare and hard to find. Thanks to our friend Mr. Bob Landies of Ohio Ordnance Works, Inc., Chardon, Ohio, who came through with flying colors and believe it or not, it was brand new in the box. Although the brass trunion would accept stock right and left Browning side plates, the original Kulspruta had no pintle bolthole. As noted above, it utilized a buffered cradle. The bottom of the trunion protruded into the area of the new pintle bolt requiring Valerie to drill through what she thought was a solid brass trunion. It turned out to be a hollow interior. To keep water from leaking through these holes, a tube was fitted and welded on both side plates. The complete front sight and the brass threaded filling port plug were missing as well and required manufacturing from scratch.

Since a 1919 left side plate was used, welding and dressing of the three original sight bracket holes would be mandatory. The remainder of the conversion was achieved with Valerie's stock semi 1919 parts she's so well known for. Her right side plate is thicker than a full-auto, requiring the bolt, barrel extension and lock frame to be extensively machined to fit the tighter tolerances. The real heart of her semi conversion is the trigger lock group – this is poetry in motion, pure and simple. Starting with a solid block of 4140, a new trigger lock is fashioned to accept a modified AR15 hammer, an unmodified AR15 disconnector and AR15 trigger. A new pivoting sear trip is also used. What you end up with is the exact trigger pull as your tried and true, run forever old friend the AR15.

This will be my third Valkyrie Arms gun. My 1919A6 in .308 has over 20,000 rounds through it. Twice, using a Pact timer, I fired in excess of 650 rounds per minute in semi auto, and never ever had a problem, period. It's the same with my 1917A1 water-cooled – about 10,000 rounds without a glitch. Although Dave from Sarco Inc. has an original complete Kulspruta tripod and cradle, it is of no use to me, because with Browning side plates and pintle it no longer functions within the cradle. To get over this hurdle, I purchased one of the Stembridge 1917 tripods from the good folks at Long Mountain Outfitter, Harmony, Maine and a D37915 elevator for anti-aircraft use from Hayes Otoupalik in Missoula, Montana. The cherry on top would have to be the spade grip assembly from Ohio Ordnance Works, Inc.

The deep perfect engraving KULSPRUTA MODEL 36 on the upper rear of the right side plate, in my opinion is a work of art Aloha nui loa from upcountry Maui.
This article first appeared in Small Arms Review V4N6 (March 2001)