By Frank Iannamico
A Brief History of Ingram and MAC
Gordon Bailey Ingram was born in Los Angeles, California on 30 December 1924. Ingram conceived a series of submachine guns that eventually led to his Model 10.
Ingram's first .45 caliber submachine gun was made in 1946 and was designated the Lightening Model 5. Since there already were M1, M2 and M3 U.S. submachine guns, Ingram started with the designation M5, skipping M4 in case the Ordnance Department was planning to introduce another weapon.
During 1949, the somewhat successful Ingram Model 6 was introduced. Ingram also designed submachine guns, Models 7, 8, and 9, of which few were built. They were all similar in design to his Model 6.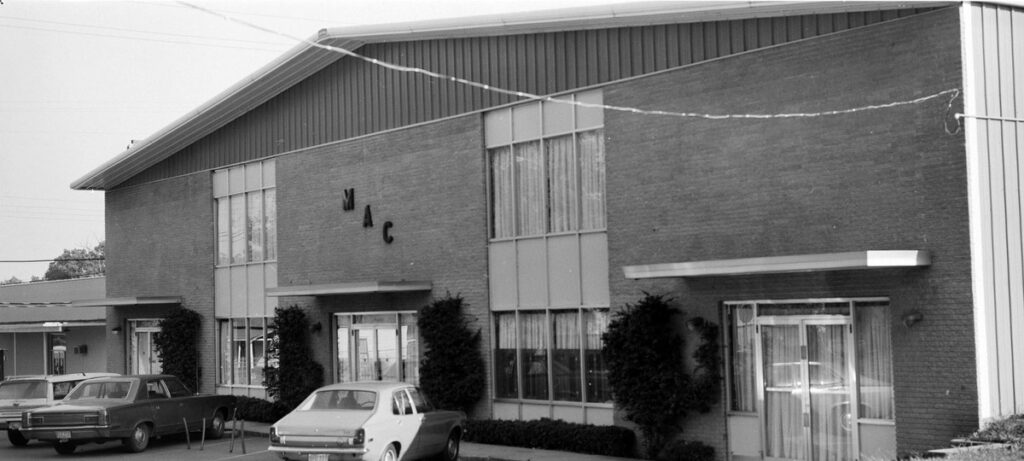 In 1964, Gordon Ingram began to concentrate on a basic inexpensive weapon aimed primarily at the third-world market. While working at the Erquiaga Arms Company in California, Ingram made the first prototype of his Model 10 submachine gun. The M10 was radically different from any of Ingram's previous designs. The Model 10 was designed to produce a high volume of fire at close range, and does so quite reliably.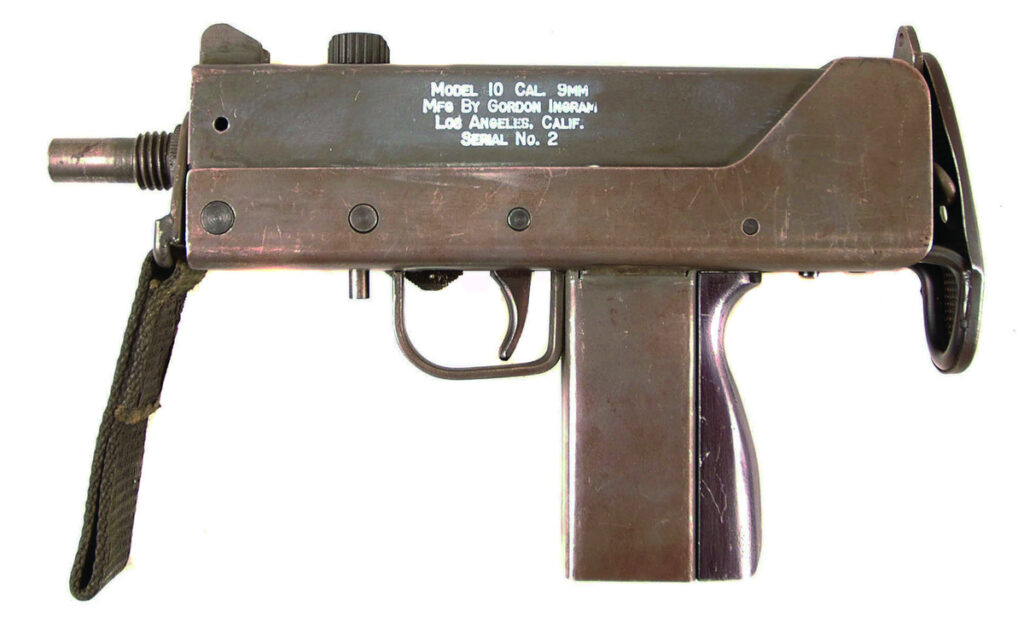 After leaving the Erquiaga Arms Company, Gordon Ingram attempted to find a major arms company to manufacture and market his Model 10 submachine gun. Ingram contacted over twenty domestic and foreign arms companies; all declined his offer.
Mitchell L. WerBell III's primary business was designing and manufacturing sound suppressors. When WerBell learned of Ingram's Model 10 submachine gun, he realized the compact weapon, fitted with one of his SIONICS suppressors, would be perfect as a concealable weapon with plenty of firepower.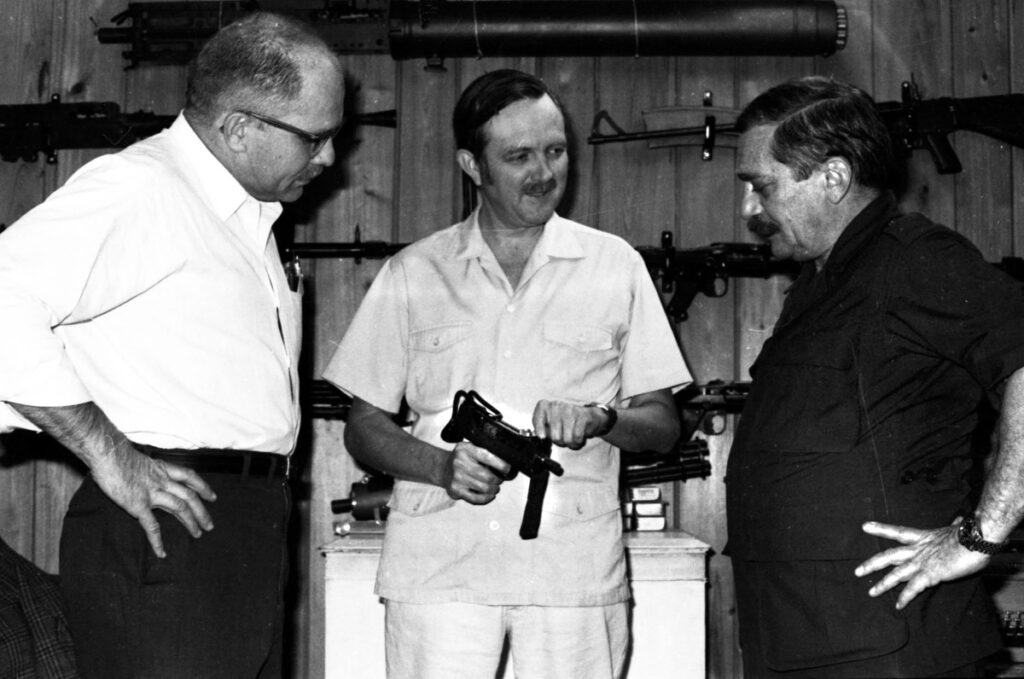 After a deal was struck between WerBell and Ingram, the name of the company was changed from SIONICS to the Military Armament Corporation. In order to expand business operations further, the under-financed MAC organization was taken over by Quantum Ordnance Bankers Inc. Quantum was a group of investors that pumped millions of dollars into the company.
Shortly after the Quantum takeover of MAC, a bitter struggle broke out over policies, procedures, and operations. WerBell and Ingram were both forced out of the company. Quantum management then permanently changed the name of the Ingram submachine gun, to which they held all rights, to the MAC submachine gun (Military Armament Corporation). The Model 10 and Model 11 (renamed as "M10" and "M11") receivers with Ingram's name on them were pulled from the production line and placed in storage. Receiver production continued without the Ingram name, which was replaced by the name "MAC" on all M10 and M11 submachine guns. All weapon manuals, literature and advertising had the Ingram name replaced with MAC.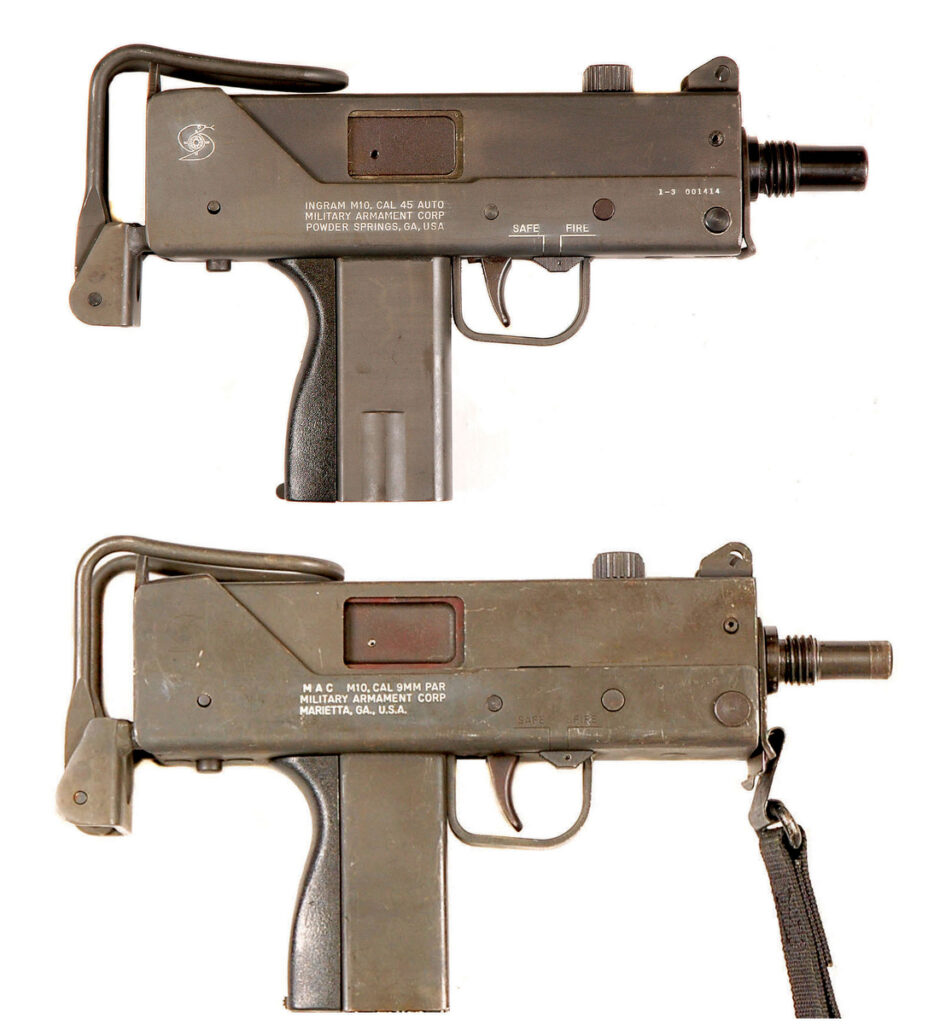 Company mismanagement and proposed government contracts that never materialized eventually forced the Military Armament Corporation into bankruptcy during 1975. The assets of MAC were auctioned off in June of 1976. Gordon Ingram passed away on November 4, 2004, with little personal or financial success from his submachine gun efforts.
The MAC Lives On…
Today, the Ingram Model 10, or MAC-10 as it's more popularly called, is a very well-known submachine gun. The Model 10 and its variants have been produced under a number of names including the original Military Armament Corporation (Georgia), RPB Industries, Inc. SWD Incorporated, Military Armament Corporation (Texas), Jersey Arms Works and by Section Five LTD of Great Britain.
The MAC Models 10 and 11, and SWD's M11/Nine, had always been at the lower end of the popularity scale with NFA enthusiasts. Their fast cyclic rate, while exhilarating, resulted in poor accuracy and tedious magazine loading. Over the years there have been several attempts by companies and individuals to tame the MAC's cyclic rate and make them more ergonomic.

The Inspiration
Organized submachine gun competitions, originated around the 1970s. Early contests were largely dominated by those wielding Thompsons, which soon gave way when HK 94 to MP5 submachine gun conversions became available. The MP5 soon became the submachine gun of choice for serious competitors. One disadvantage to the MP5 was their high price.

As in many endeavors, those with the best (read 'expensive') equipment usually prevail. However, Americans love an underdog, which what the MAC-type series of guns would certainly qualify as when attempting to compete with MP5 submachine guns in a contest environment. This is probably the mindset that began the evolution of MAC-type guns to be competitive. The first known transformation into a competition weapon was of an SWD M11/Nine, and was by individuals from the Triad Action Shooter's Klub or TASK. Their earliest modifications included a wooden buttstock, a muzzle brake, and a red-dot sight.
The original TASK M11/Nine design continued to evolve becoming more ergonomic and reducing the cyclic rate to approximately 500-550 rounds per minute. In capable hands, with these modifications, the underdog M11/Nine was able to record times that could compete with, and often beat, the MP5, M16/9mm and UZIs in the Modern and Open division events. The (relatively) inexpensive MAC-type submachine guns modified for competition opened up participation in the matches for those who could not afford an expensive weapon to be competitive.

Enter Lage Manufacturing LLC
Richard Lage bought his first machine gun, a SWD M11/Nine in 2000. After shooting it for less than a year, the novelty wore off and he wanted to find a way to slow it down. It wasn't long until Mr. Lage decided to convert his M11/Nine to the very popular TASK Slow Fire configuration, he made some improvements and created the Lage MAX-11/9 for the TASK conversion. There were only 22 of the MAX-11/9 upper receivers produced.
Mr. Lage's efforts continued, resulting in a very successful line of upper receivers and accessories under the Lage Manufacturing brand, all designed to reduce the M10, M11 and SWD's M11/Nine submachine gun's cyclic rate and improve their ergonomics, some models were configured to use the 71-round Suomi drum magazines.
The Latest and Greatest
After the success of his line of upper receivers, Richard Lage had a number of requests for a rifle caliber upper receiver for the MACs. Retaining the recoil of the .223/5.56 round in a short MAC receiver was a challenge. Such a conversion had been attempted before by Alliance Armament with their 556 S.A.B.R.E. The unit was heavy, bulky and it did not sell very well. Before long the S.A.B.R.E. upper was dropped from production.

Lage was hesitant to embark on such a project, believing that after a labor-intensive development process there was a possibility that the BATF would not approve it. In addition, Richard was basically a subgun guy and wasn't excited about a rifle caliber MAC. A customer and MAC enthusiast by the name of Mike Burrows had designed a .223 upper receiver for the M11/Nine. He offered it to Lage to develop and put in production, in exchange for four production upper receivers. With the initial groundwork done by Mr. Burrows, Richard submitted the prototype to BATF for approval, if approved, he could start refining the upper for production. BATF approved the upper receiver for the M11/Nine in 90 days. However, the MAX-11A1/15 and MAX-10/15 was submitted in July of 2019 and wasn't approved until December 2021!

Initially, an AR spring and buffer in the buttstock of the conversion was used to handle the recoil of the 5.56mm cartridge. This was called the external AR Recoil Mechanism (ARRM). This required drilling a hole in the back of the receiver to allow a rod from the bolt carrier to push on the buffer and spring assembly in the stock. Many potential customers were reluctant to modify an expensive registered receiver, thus the concept was not well received and dropped from production. Lage also developed an upper with a completely self-contained recoil mechanism inside of the receiver. This Internal Recoil Mechanism (IRM) did not require any alterations to the receiver. Both have features that are covered in U.S. Patent 10,794,647 B2.

The Lage .223/5.56 conversions are designated as; the MAX-11/15 for the M11/Nine, MAX-M11A1/15 for the M11/.380, and the MAX-10/15 for the 9mm and .45 Model 10. The handguard of the upper receiver conversion is made of 7075 black anodized aluminum 20-inches in length, with a Picatinny rail on top for mounting optics, and M-LOK mounting points on the sides. The system uses standard AR magazines. The barrel is 10.5-inches in length, chambered for 5.56 x 45mm/.223 ammunition. Rifling twist is 1:7, muzzle threads are 1/2-28 with a M16A1 style flash suppressor. An Odin Works adjustable gas block is installed on the barrel to allow the gas system to be tuned for specific ammunition. A non-reciprocating charging handle is located on the left side. A shell deflector is provided for left-handed shooters. At the rear of the upper is a rubber gas seal to keep blowback gas away from the operator's face when firing with a sound suppressor. The Lage system fires from an open-bolt and allows both full-auto and semi-auto operation. The cyclic rate is approximately 790-950 RPM. Weight of a MAX-10/15 mounted on a MAC 10 receiver with buttstock and loaded 30-round magazine is 9 pounds, 7 ounces.
The upper is not considered a firearm, so no license is required to purchase one. They are for submachine guns only and will not convert a semi-auto MAC to full-auto.
What would Gordon Ingram think of Lage's conversions? I think he would be impressed.
Resources
Special thanks to Richard Lage for his contributions to this article.