Story & Photography by Alton P. Chiu
Most prepared citizens carry a handheld flashlight in addition to their firearm. This piece examines some of the current high-output (around 1,000 lumens) tactical lights while focusing on beam patterns, switch ergonomics and carry comfort. The tactical lights examined are: Streamlight ProTac HL-X, SureFire Tactician, SureFire Defender Tactical (E2DLU-T) and the SureFire EDCL2-T.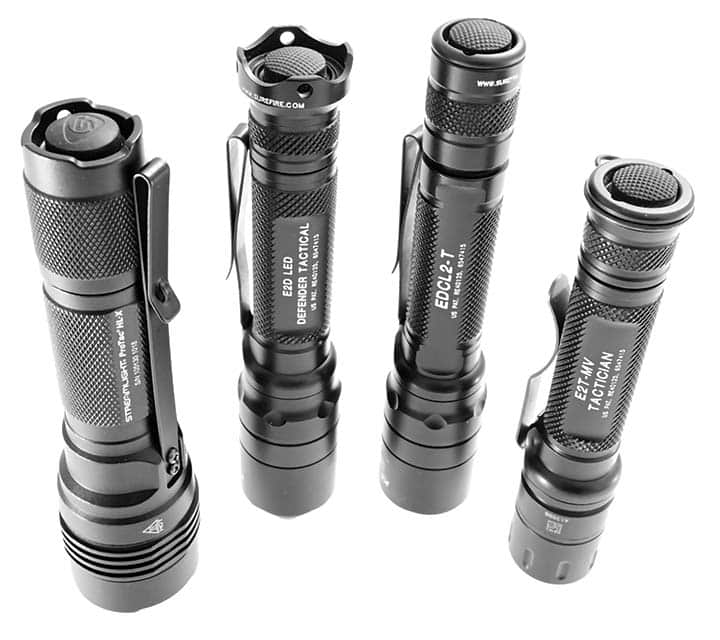 Beam Pattern and Vision
To draw an analogy between flashlights and cars, lumen is like crank horsepower whereas vision downrange is like wheel horsepower; the former is a figure on paper while the latter has practical impact. Crank to wheel horsepower is influenced by driveline loss, while lumen to downrange vision is influenced by beam pattern.
Flood beam light trades throw distance for a wider field-of-view up close; Spot beam light allows one to see a small patch very far. The lights discussed in this article rank from flood beams to spot beams in this order: SureFire Tactician, SureFire EDCL2-T/Defender Tactical and Streamlight ProTac HL-X. 
The author compiled the following table from his own measurements 6m from a blank wall. Note that hot-spot measurement for the SureFire Tactician is approximate at best, since it has a very gradual falloff. In addition, patterns from the EDCL2-T and Defender are indistinguishable.
To put those numbers into practical terms, one must consider self-defense use cases. One may walk under street lights (e.g., downtown after dinner), observe suspicious behaviour and employ light to identify if there are no opportunities to avoid the behaviour. Ambient light forms the "noise floor" from which the target "signal" must be raised, so that the signal-to-noise ratio is sufficient for proper identification. Given similar lumens, spot pattern focuses more light on a target (higher candela) to help "punch through" ambient light. This increased identification range better maintains separation from the threat.
Conversely, citizens may face multiple attackers as criminals hunt in packs. At 10m, SureFire Tactician's flood pattern allows positive identification of another attacker 5m laterally from the main threat. Role-playing the off-axis threat in that scenario, the author found his vision severely impaired by the Tactician's flood pattern such that the citizen's silhouette is hidden. With SureFire Defender's spot pattern, the threat could still engage a citizen's silhouette.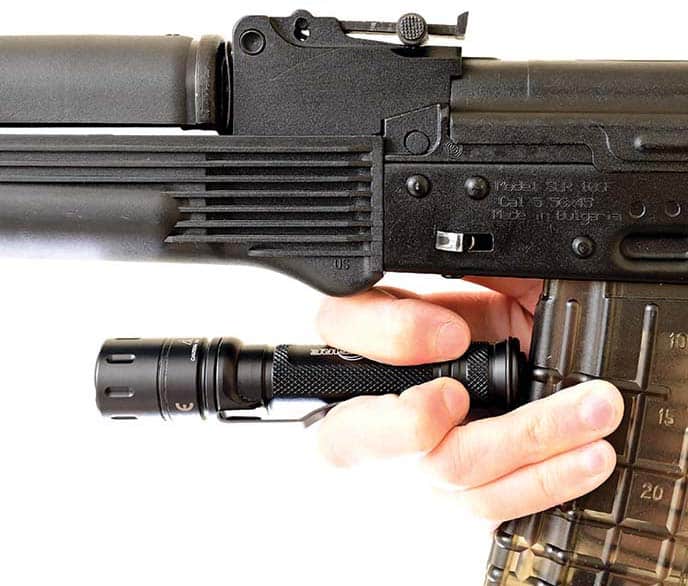 Indoors, the spot pattern allows one to more comfortably clear deep corners and long corridors while the flood pattern feels less claustrophobic. In rooms with white walls or mirrors, both patterns must be bounced off a ceiling or floor to avoid blinding oneself.
A strong spill can simplify shooting with handheld lights. Employing the FBI technique with spot patterns, the author instinctively steered the hot-spot onto the target while drawing and aiming; although another tester did not experience this. A flood pattern light allowed the author to solely focus on marksmanship. With the SureFire technique, the author found he must angle the light low to avoid dragging his trigger finger against the support hand; alternate placements drastically compromised support. Strong spill from a flood pattern sufficiently illuminated the target even with such a pointing error. 
All the lights except the Defender Tactical (E2DLU-T) have low output modes as task lights. The Defender Ultra (E2DLU-A), identical to the Tactical in other aspects, offers a low mode when the tail switch is clicked twice in rapid succession. The Streamlight ProTac HL-X's 65 lumens prove great for walking around but are too bright for administrative tasks at close distance. The converse is true for the 5 lumens of SureFire's.
Switch Ergonomics
The Streamlight ProTac HL-X features a click-type tail switch where light pressure provides momentary-only light, and press-until-click provides constant-on light. Placing one's thumb across the switch with a low edge of crenellation against the distal and proximal phalange joint reliably activates momentary-only light without the possibility of constant-on for the straight-thumbed author, even with an uncomfortable amount of force. A curved thumb tester could activate constant-on light despite crenellation (see accompanying pictures for thumb shape differences).
There are three TEN-TAP modes: high/strobe/low, high-only and low/medium/high. Rapid momentary activation (taps) switches between submodes (e.g., cycle from high to strobe), while 10 such taps with the last one being a constant-on activation cycle between modes ("Streamlight TEN-TAP Programming," YouTube, uploaded by Streamlight, Mar. 5 2019, youtube.com/watch?v=0czy-S10ca8).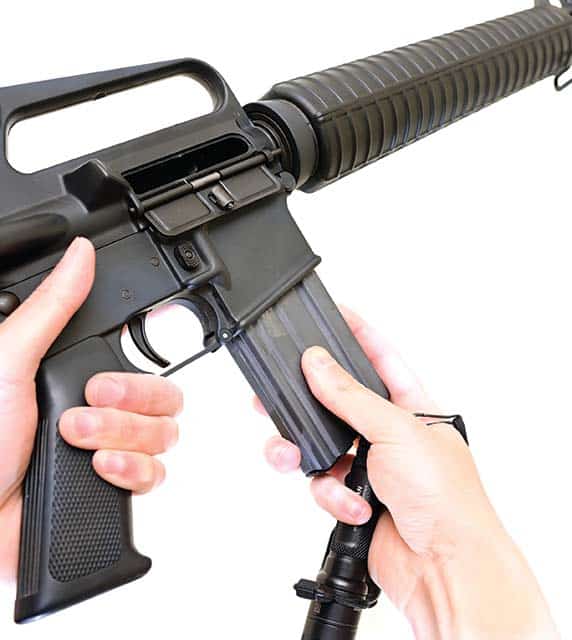 SureFire Defender features heavy crenellation, and the same aforementioned technique applies to activating momentary-only light. Like the ProTac HL-X, switch rubber is slightly tacky even with damp hands while the switch itself provides good audio and tactile feedback when it is in constant-on mode. While doing night shoot exercises, the author did not accidentally activate the constant-on mode after familiarization, and there was no doubt of constant-on when he did make errors. The aforementioned concern about constant-on and a curved thumb also applies to the SureFire Defender light.
Pushing the tail switches of both the EDC2L-T and Tactician will activate momentary-only light, regardless of pressure; screwing in the cap activates constant-on light. The EDC2L-T features a "gas pedal" whereby a light push activates low output and a heavy push activates high output; minimal twisting activates low constant-on light while more twisting eventually activates high constant-on light. The Tactician switches output by screwing the head in fully for high and backed out slightly for low. Both lights exhibited a quirk where, if the tail switch was backed off constant-on less than 1/8 of a turn, one could press the tail cap (not switch) to activate the light. The author surmises this to be an unavoidable side effect of manufacturing tolerance. Both lights have exposed tail switches which facilitates employing the SureFire technique with rifles and pistols. The author's bony hands preclude the SureFire pistol technique with the heavily crenellated Defender and make it difficult on the lightly crenellated Streamlight ProTac HL-X.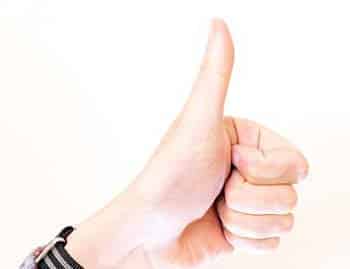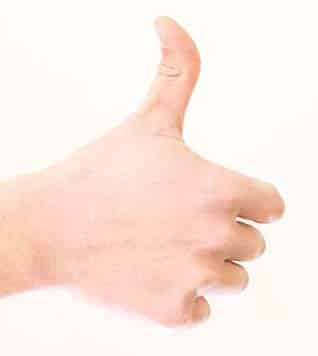 Carry Comfort
All of these lights can be carried bezel-up or -down except the Tactician. Instead, it trades bezel-up-only for a stouter clip. The author found both bezel-up or -down to deploy easily. For bezel-up, he points his thumb along the light, grasps the body with other fingers, withdraws and rotates to face bezel downrange; this became second nature with some practice.
Carrying in cargo pockets can be comfortable even with larger diameter or longer lights although drawing requires one to slightly stoop. This method also swings slightly when walking which reduces consistency when drawing.
The author prefers carrying in the lower corner of his slash pocket, as it provides an easy index for locating the light. In this position, larger diameter or aggressively crenellated bezels have dug into his thigh when sitting and the light was carried bezel-down. He has carried all four lights bezel-up, with no accidental activation or lens damage. Comfort is a very personal quality, and these tactical lights provide options to fit various body shapes and dress styles. 
| | Streamlight ProTac HL-X  | SureFire Defender Tactical  | SureFire EDCL2-T | SureFire Tactician |
| --- | --- | --- | --- | --- |
| High Output (lumen) | 1,000 | 1,000 | 1,200 | 800 |
| Low Output (lumen) | 65 | N/A | 5 | 5 |
| Hot-Spot Diameter (deg) | 8 | 14 | | 20 |
| Spill Diameter (deg) | 64 | 82 | | 70 |
| | Streamlight ProTac HL-X | SureFire Defender Tactical | SureFire EDCL2-T | SureFire Tactician |
| --- | --- | --- | --- | --- |
| Momentary-On | Light push | Light push | Push | Push |
| Constant-On | Click | Click | Twist | Twist |
| High / Low Switching | Tap | N/A | Push pressure | Twist head |
| Shrouded Tail Switch | Light crenellation | Aggressive crenellation | N/A | N/A |
Conclusion 
All the examined tactical lights here are high-output, easy-to-use and reliable. Someone frequenting urban centers might prefer a spot pattern light (e.g., Streamlight's ProTac HL-X) to better "punch through" artificial lighting, while another area with little light pollution might benefit from a flood pattern light (e.g., SureFire's Tactician) for wider vision. Even with 1,000 lumens, these lights still cannot comfortably address adverse lighting scenarios such as a loiterer shadowed by a tree and overhead parking lot lights. These tools are no replacement for good situational awareness.
Daily attire should also be considered; smaller lights better fit an office worker's slacks, while larger ones can comfortably fit a tradesman's belt. Given the plethora of options, the reader is sure to find a tactical light that fits his use case.
Let there be light! 
This article first appeared in Small Arms Review V24N6 (June/July 2020)