Left side of the LMT/ALS 40mm launcher, sporting an adjustable front grip and a 14-inch barrel.
The 40mm grenade launcher is a specialized firearm. It's typically not the first firearm grabbed for an afternoon of fun, isn't always economical to shoot, and isn't conducive to typical "plinking." Nevertheless, there's something about a grenade launcher that draws smiles from the shooter and the surrounding crowd that inevitably forms when firing one on the range. Lewis Machine and Tool (LMT), long known for their high quality firearms and parts teamed up with ALS Technologies, long known for their extensive catalog of 37mm and 40mm caliber ammunition, to build a single shot 40mm grenade launcher.
Designed by ALS to be an affordable 40mm launcher, the unit was intended to overcome three major shortcomings of the current 40mm systems on the market: ease of use, cost, and weight. Dave Dubay of ALS explained: "We eliminated features that we deemed unnecessary from the launcher. Other than a sight, there aren't too many accessories that will make sense on a 40mm launcher. As a result, we eliminated quad rails on the unit, for a significant weight reduction."
Weighing in at about 4 pounds, the 40LMTS features an expandable stock and adjustable front vertical grip. A Picatinny rail mounting is provided to allow the user to mount an optic; bead sights are provided as standard equipment on the launcher for use with close range, less lethal munitions. The Picatinny top rail will accept nearly any enhanced optics/sighting systems, including the current Meprolight unit that incorporates a laser range finder and adjustable sight picture. Other units, like the side mounting L3 EOTech GL sight may prove more difficult, but not impossible to mount to the weapon.
The 40LMTS will fire standard 40mm Less Lethal ammunition, up to 4.8 inches in cartridge length (standard length for parachute flares and similar type signal rounds) as well as most medium velocity H.E. 40mm ammunition. This weapon (like all other shoulder fired 40mm systems) is NOT designed to fire 40mm high velocity ammunition. High velocity 40mm ammunition features a cartridge case that measures 53mm in length, and will not chamber within a 40x46mm low velocity 40mm system.
Three major features set the 40LMTS system apart from other 40mm systems currently in the market – the use of a true M4 collapsible butt stock, simplicity and ease of trigger mechanism, and the incorporation of an external hammer. "From an ease of use standpoint, incorporating an M4 collapsible butt stock was a no-brainer," said Dave Dubay. "Everyone knows how to use an M4 butt stock, while also allowing the multiple length of pull to accommodate smaller shooters or law enforcement users wearing thick ballistic vests." While the 40mm LV round does not produce significant recoil, shooters will want to have the firearm braced firmly when firing. Being able to adjust the length of pull on the system allows for more comfortable shooting, and greater accuracy – an important end result when using high explosive or less lethal rounds.
Internally, the system utilizes standard Smith and Wesson model 686 revolver parts. When examining 40mm systems overseas, parts availability is a major issue. Being able to use standard Smith and Wesson parts allows foreign end users to repair the launcher by potentially cannibalizing more common Smith and Wesson revolvers, rather than try to source hard to find parts made solely for the launcher. From a quality standpoint, use of Smith and Wesson parts likely means that failure of the trigger mechanism is very remote.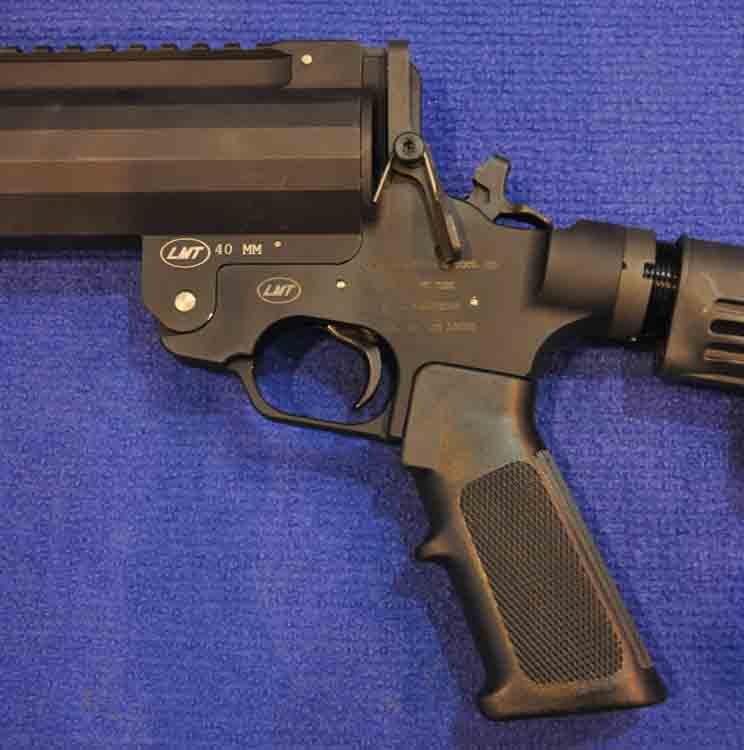 In the event that there is a misfire or the round does not initiate after the hammer drops, the external hammer allows the user to re-cock the weapon and fire it again. This feature has not been seen in a commercially viable 40mm system since the Heckler and Koch Model 69 launcher that also incorporated an external hammer. While this may seem odd, the incorporation of an external hammer creates a large advantage to the shooter in being able to fire the weapon without having to open the chamber on a live round.
Because the 40LMTS is double action, there is no external safety. The trigger pull in double action was not measured, but is significant. When firing 40mm high explosive, one wants to be positive that the trigger is being engaged via deliberate action. In single action, the trigger pull was crisp and manageable. The barrel release mechanism is ambidextrous, and allows easy one-handed opening with or without gloves.
Although a unit was not made available for test firing, the 14-inch barrel is predicted to provide sufficient accuracy and velocity. In a 40mm system, the shorter barrels (like the HK M320, 9-inch barrel) pose accuracy issues due to lack of barrel length to produce sufficient velocity. Future testing will measure projectile velocity from the 14-inch barrel, as well as test for accuracy. Fit and finish of the sampled weapon was impressive, as would be expected of an LMT product.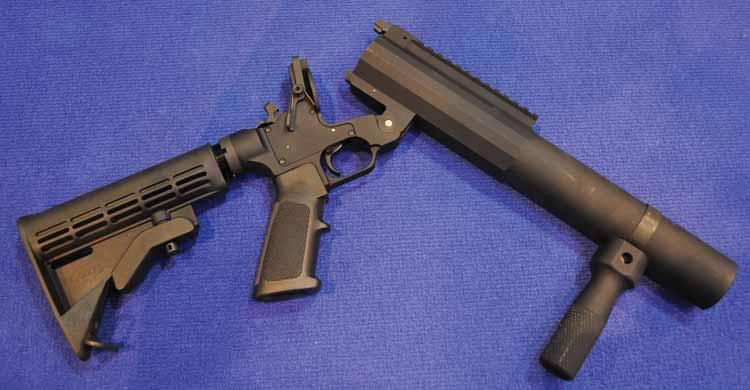 Suggested retail price for the 40mm unit is $699, and is available exclusively through ALS Technologies. A non-NFA version in 37mm is available for law enforcement agencies that do not wish to pursue NFA firearms, and for shooters that reside in non-NFA localities. Additional information may be found online at www.alstechnologies.com. Lightweight and rugged, the 40LMTS features precision machining and engineering found in every weapon system produced by LMT.
Specifications
| | |
| --- | --- |
| Caliber: | 40mm Rifled Barrel |
| Action: | Single or Double |
| Barrel Length: | 14 inches (35.6 cm) |
| Overall Length: | 27.25 inches (Extended) |
| Overall Length: | 23.75 inches (Collapsed) |
| Weigh: | 4 pounds |
| Sight: | Adjustable Bead with Picatinny Rail |
| Receiver: | 7075T6 Aluminum Alloy |
This article first appeared in Small Arms Review V15N5 (February 2012)