By Chris A. Choat
With all the advertising hype that promotes the newest, smallest and lightest compact carry pistols made there are still concealed carry users who would rather have the stopping power of the .45acp. That along with the familiarity of the 1911 style gun means a lot of shooters still prefer a Government Model style gun for personal protection.
Metro Arms Corporation (MAC) has been producing their 1911 style pistol for several years now. Metro Arms Corporation is based in the Philippines and was established by former competitive shooter Hector Rodriguez. Their pistols are well built, precisely machined and hand fitted. Their finish also appears to be second to none. They design and build classic and competition style pistols using the latest in metallurgic technologies and production equipment resulting in world-class pistols. They are imported into the US by Eagle Imports. SAR was recently sent a couple of their newest models, the MAC 1911 Bobcut, for testing and this author has found what just might be his next carry pistol.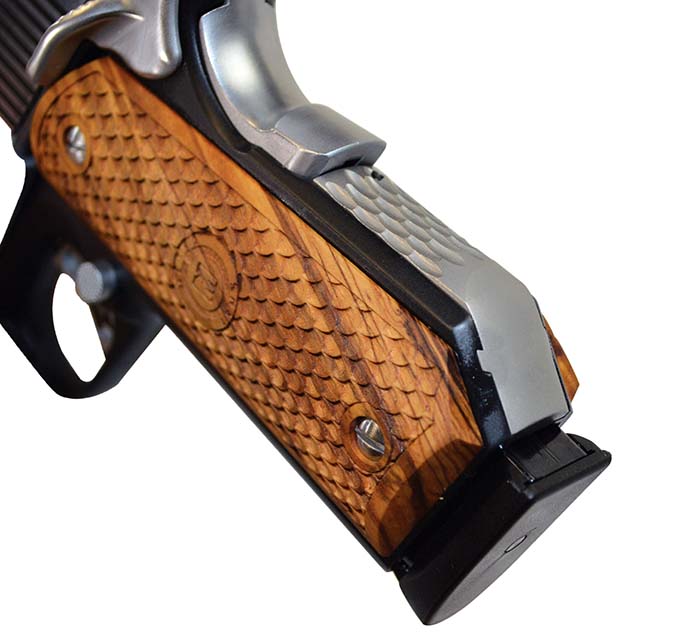 As stated, the guns sent for testing were their newest model called the Bobcut. This model was named primarily because of the bobbed grip of the pistol. The grip is cut diagonally at the bottom rear. The gun is the familiar 1911 single action but has a slightly shorter than normal 4.25 inch barrel. With the .75 inch shorter barrel and a frame that has been bobbed .25 inches it makes for a pistol that is a full 1 inch shorter than a standard 1911. The Bobcut is 6 ounces lighter that the full sized 1911. Weighing in at almost 35 ounces, the Bobcut is by no means a lightweight. With an all steel frame this gun is fairly heavy for a concealed carry gun. Still, there are a lot of shooters out there that want the heft, stopping power and reliability of the 1911 style pistol.
The Metro Arms Corporation Bobcut can be had in three different finishes. It comes in the standard blue finish as well as a hard chrome and a black chrome finish. The hard chrome and the black chrome models were the ones that this author received for testing and I have to admit that the black chrome model is the one that I would have picked if I were buying it. It is a very attractive gun with the two-tone finish.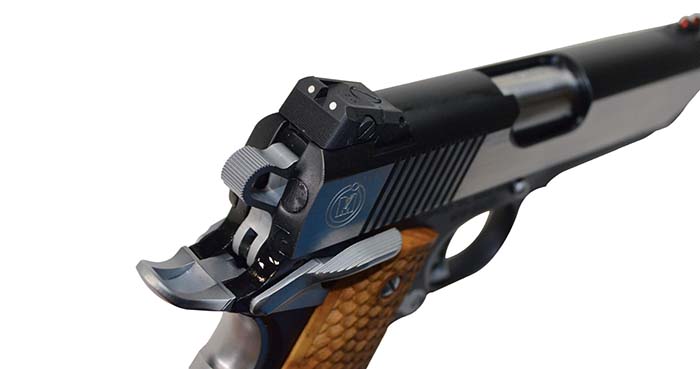 The gun is shipped with one 8-round magazine and comes in a nice fitted plastic case with a well done glossy operators manual. The Bobcut has a host of custom features that come as standard equipment. The gun has a set of nicely figured hardwood grips. They feature fish-scale carving with the Metro Arms logo as well. While the grips look great they tend to feel a little slick in the hand. This author would prefer a set of panels with a little more "bite" to them. The Bobcut's grip frame has front and rear serrations that offer positive gripping surfaces. The magazine release button is extended and serrated for easy release. The gun has an enhanced beaver-tail grip safety as well as a skeletonized Commander-style hammer and a combat trigger with a serrated face. The trigger is also adjustable for over-travel. The pistol has a standard short style slide release but has an extended, ambidextrous safety with very positive lock detents. The slide is machined from 4140 hammer forged steel and has very sharply machined rear serrations for a positive purchase while hand cycling. The sights used on the pistol are first rate with a high visibility front that has a red fiber optic rod and a Novak-style rear with twin white dots. The hard chrome model has a serrated rear minus the white dots. The rear sight is fully adjustable for both windage and elevation and is rounded and contoured with no sharp edges. Both front and rear sights are dovetailed into the slide. The pistol's ejection port has been flared and lowered. The fit of the slide to the frame is very tight with no wiggle or rattle. Picking the gun up, it feels like one solid block of steel.

We tested the guns involved using a wide variety of ammunition types. As the guns were designed for defensive use or concealed carry naturally we used several types of personal defense ammunition. No matter the type of bullet style used, both Bobcuts ran 100% reliably. Whether it was 230 grain FMJ practice ammo or 220 grain +P Hornady Flexlock Critical duty self defense ammunition both the guns swallowed it all. The largest hollow points as well as flat nosed truncated cone type bullets fed and functioned perfectly.
Accuracy from either pistol, as one would expect, was on par with any full-sized 1911 type gun. The guns both would group inside an inch at 15 yards all day long regardless of ammunition used. Some of our testing was done at longer yardage but most was confined to inside the fifteen yard line as this is where most self-defense scenarios would take place.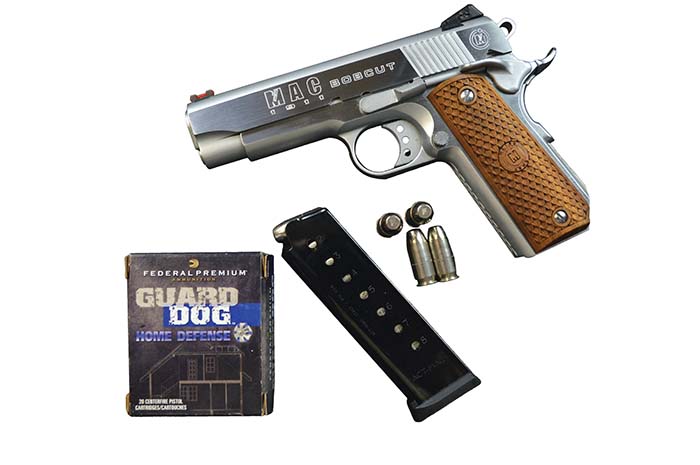 In the past this author has owned Philippine made 1911 style pistols that were lacking in both construction and reliability. That is definitely not the case with the Metro Arms Corporation guns. Our test guns ran perfectly through over 300 rounds of assorted ammunition with not one problem. The magazines supplied with the guns, made by ACT-MAG of Italy, ran without any problems and have the look and feel of a very high quality part. After all, without a quality magazine the host gun is nothing.
Would I buy a Metro Arms Bobcut? Absolutely I would! I would also depend on it as a carry gun that wouldn't let me down if and when I needed it. Check these pistols out, you'll be pleasantly surprised.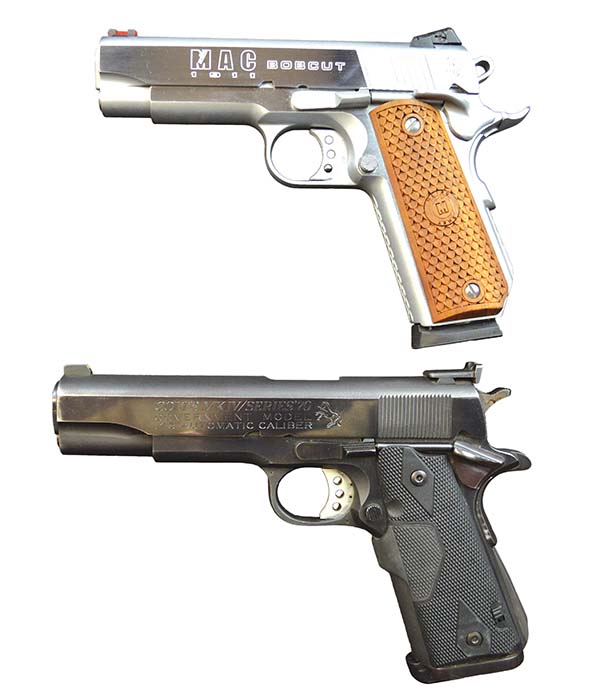 Metro Arms USA-Eagle Imports
http://www.eagleimportsin.com
https://eagleimportsinc.com/
This article first appeared in Small Arms Review V20N6 (July 2016)