By Robert G. Segel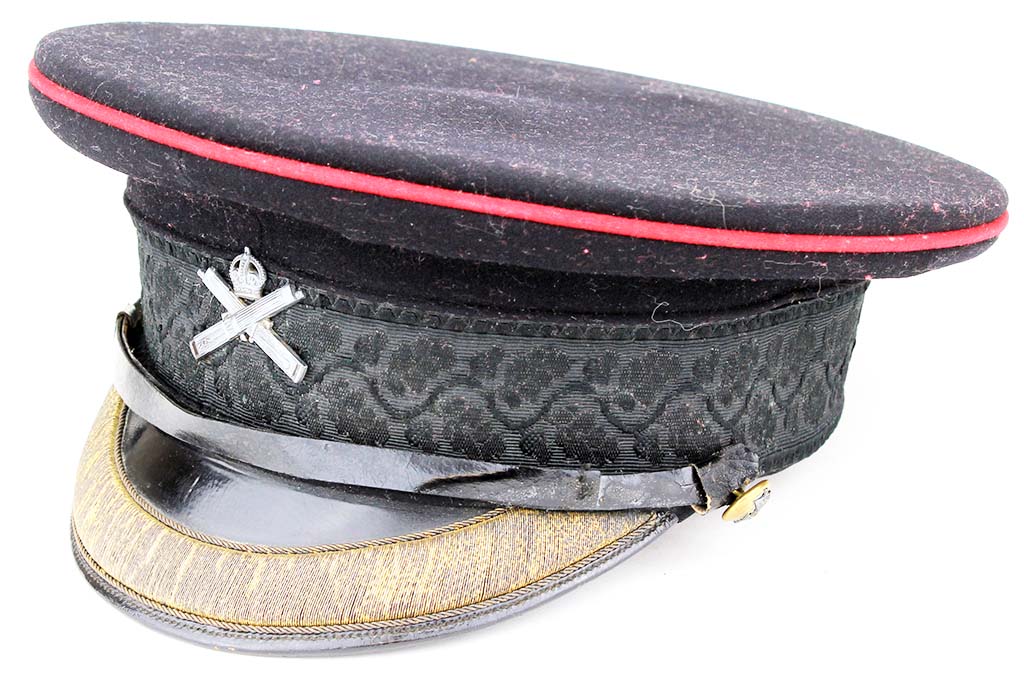 British staff officer's visor cap with red piping around brim, sterling silver Machine Gun Corps collar insignia affixed to the front. Leather brim strap with gold bullion band to visor. Maker-marked underneath "Hawkes & Co. No. 14 Piccadilly." Inked named to Major Boder.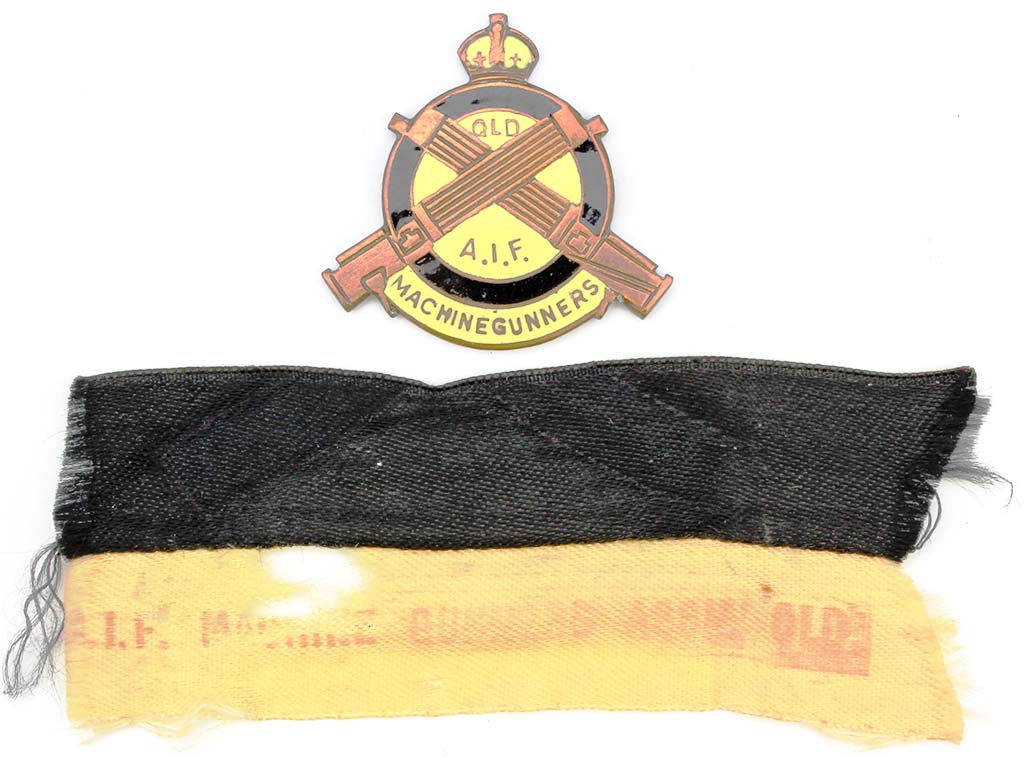 Veteran's lapel badge and ribbon for the Australian Imperial Forces (A.I.F.) Queensland Machine Gunners Association. The lapel badge is brass with yellow and black enamel (battalion colors) with king's crown over the initials "QLD" that are over crossed Vickers and "A.I.F." and the banner "Machinegunners." The rear has the mem-ber number "209" and maker's mark, "Wallace Bishop Brisbane." The yellow and black silk ribbon, also in the battalion's colors, has a faded ink stamped inscription that reads, "A.I.F. Machine Gunners Assn Qld."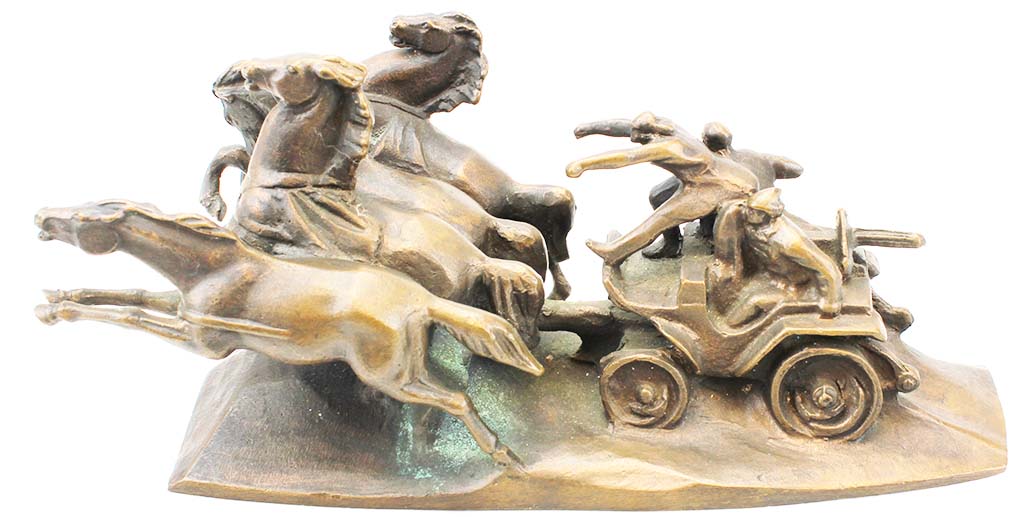 Russian cast bronze desk sculpture of Kakhovka's Tachan-ka. A Tachanka is a horse-driven cart or open wagon with a Maxim M1910 water-cooled machine gun on a Sokolov-wheeled mount affixed on the rear. The Tachanka was pulled by two to four horses and required a crew of three (driver and two machine gunners). These were used by the Red Army in the Russian Revolution
(1917–1923). This desk sculpture was made in Russia (circa 1970) and is a copy of a large public monument located near the Russian town of Kakhovka to commemorate the revolution. Approximately 9 inches long and 4 inches wide.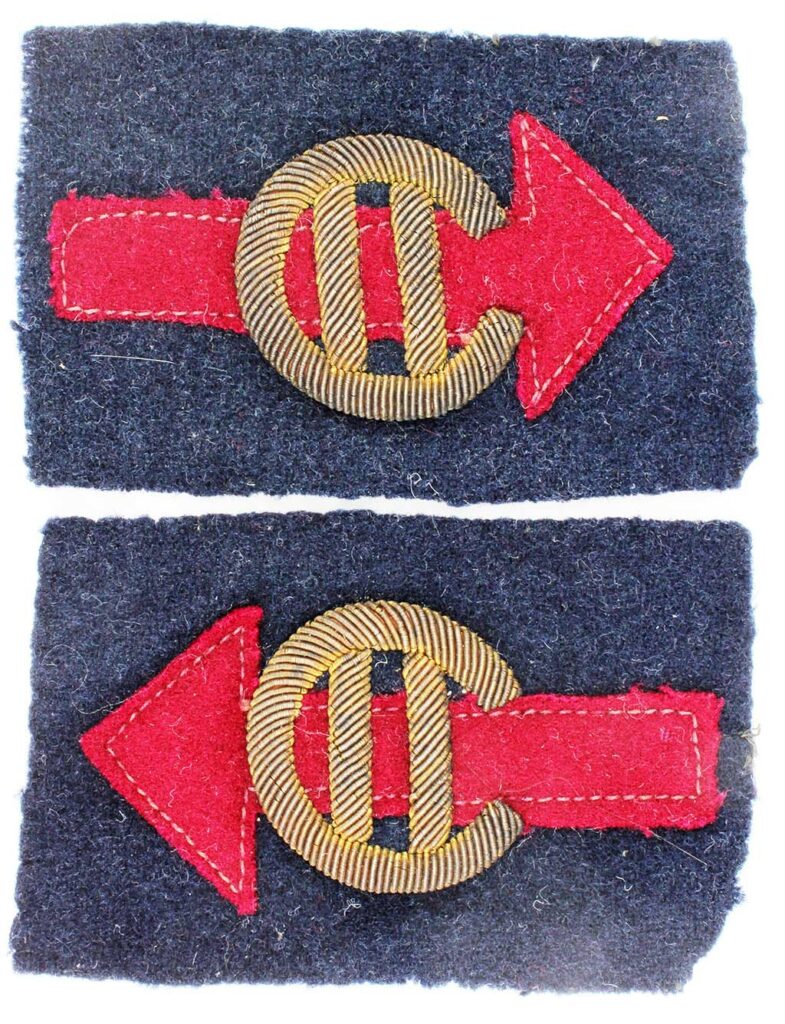 World War I Canadian 2nd Division (pair) machine gunners dark blue wool battle flashes. Flashes have applied red cranberry wool felt arrows and gilt bullion-embroidered officer's "CII" cipher for the 2nd Canadian Division. Worn on the sleeve with the arrow facing forward.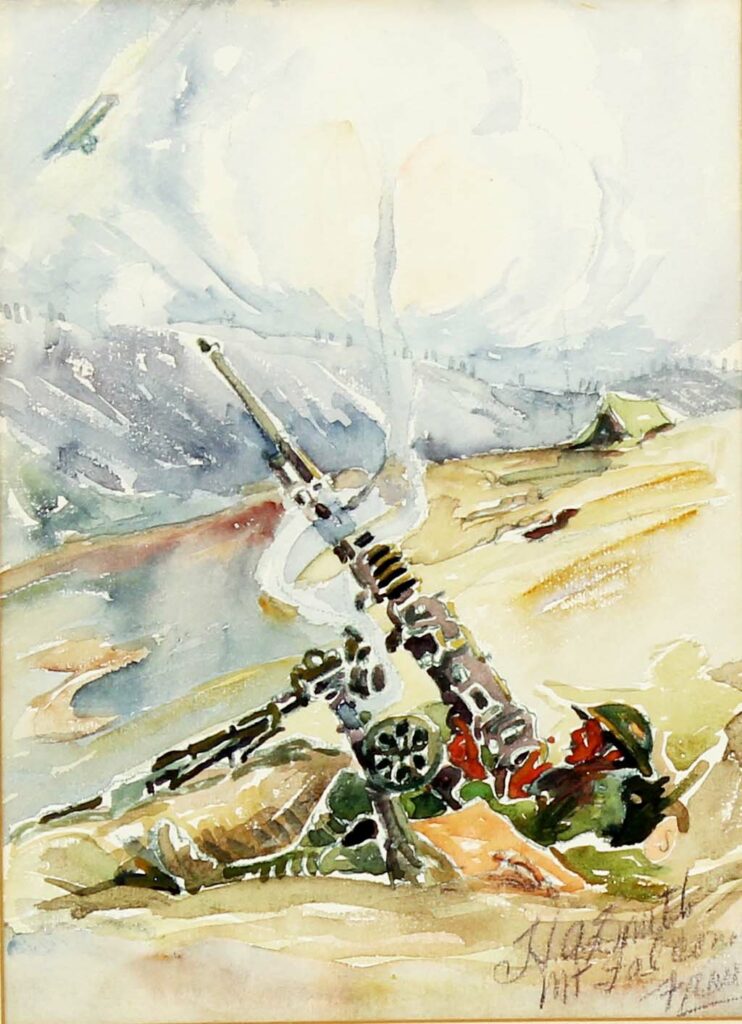 Original period watercolor painting signed in pencil by artist "H.A Smith, Mt. Falcon, France." The image focuses on a U.S. doughboy manning a French Hotchkiss M1914 machine gun with smoking barrel in a shell hole in anti-aircraft defense firing on an enemy plane. U.S. troops were issued the French Hotchkiss M1914 for use as their heavy machine gun. Image size is 8½ x 11¼ inches.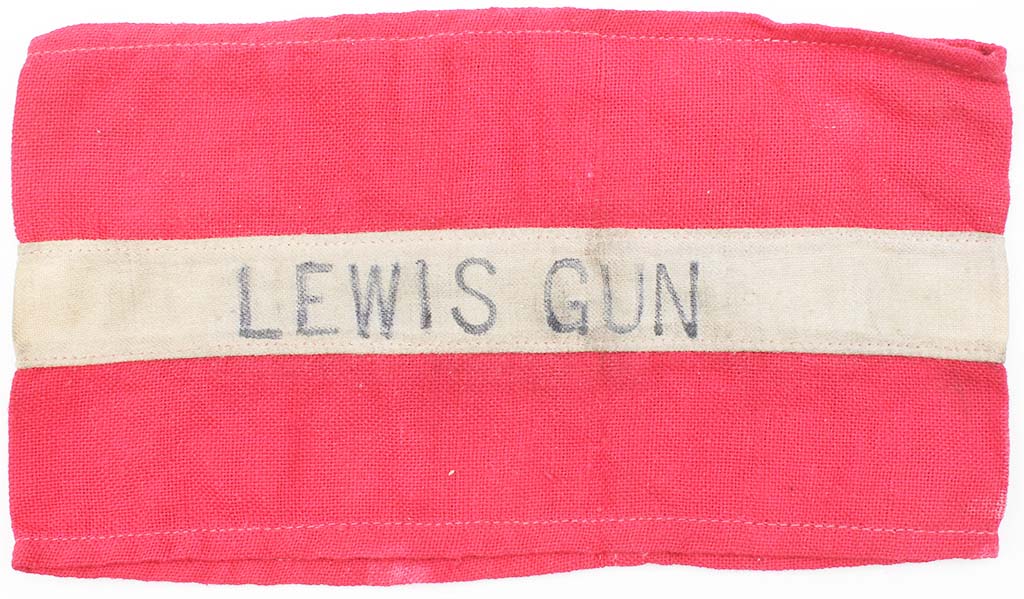 British World War I Lewis gun training officer's armband. Three-piece construction with red top and bottom with white center. "Lewis Gun" printed on center white strip.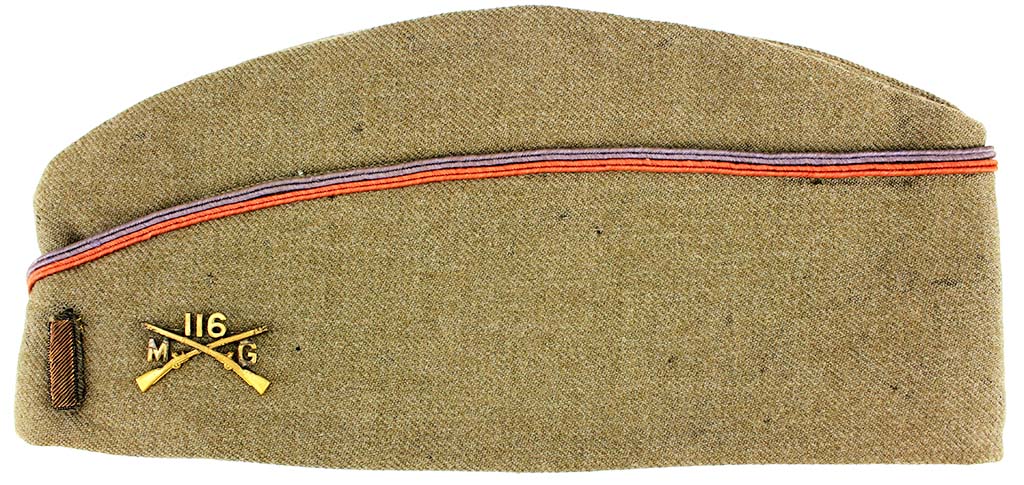 U.S. WWI machine gun company officer's overseas cap. High quality private purchase with machine gun service red and blue piping. Hat has a leather sweatband, silk lining and gold bullion 2nd Lt. bar sewn to the front. Attached is a 10-carat-gold collar insignia for the 116th Machine Gun Battalion of the 31st (Dixie) Division that served in France during the War as well as in the Ypres-Lys, Somme Defense and Defense Sector.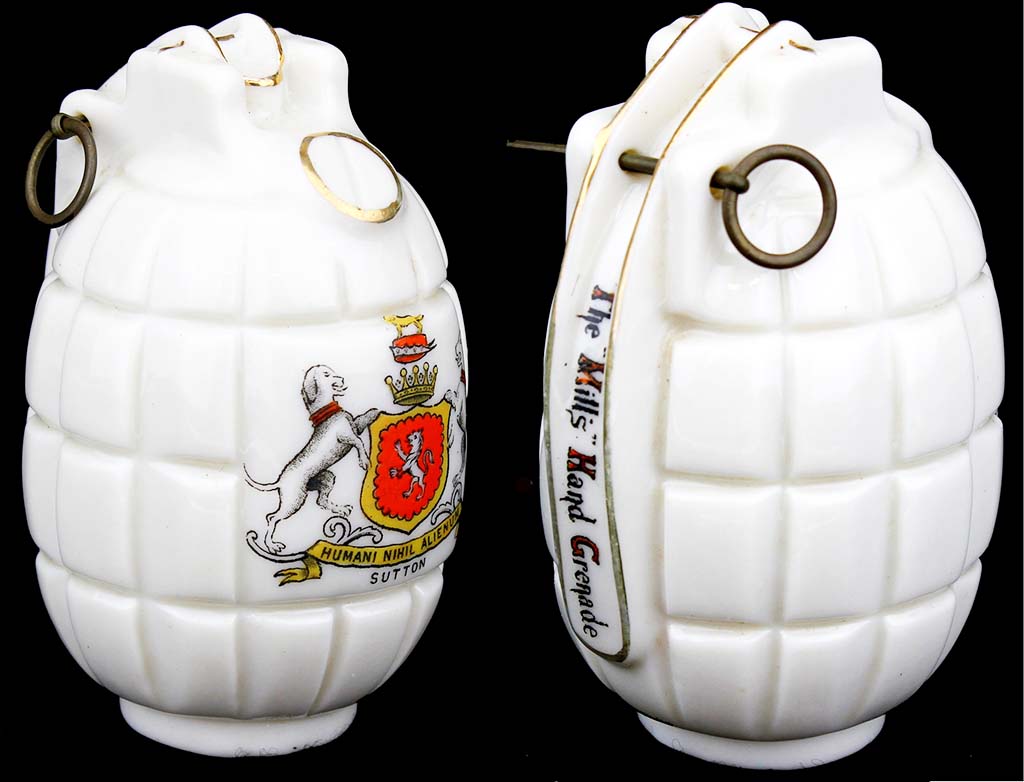 Crested Chinese white porcelain, Mills hand grenade with gold trim highlights. Complete with original metal pin. The rear of the handle is marked, "The 'Mills' Hand Grenade." Painted crested front has the coat of arms for "Sutton." The bottom is maker marked, "Crafton China, BJA & Sons England" and "Regd. No. 6572." Crested china is generally hollow, off-white china ornaments, decorated with civic arms and other crests and very popular souvenirs with many people who traveled in the years immediately before WWI, especially sea-side resorts. Crested china was typically bought on holidays or day trips to the places on the crest and carefully carried home. During the War, makers began creating designs related to wartime.
This article first appeared in Small Arms Review V25N1 (January 2021)