By Robert Bruce
One of the most comprehensive and well-researched magazine features on the WWII German Panzerfaust ("tank fist)" was written by Leszek Erenfeicht, titled, "Panzerfaust! A Fist to Knock out Tanks" in the June 2013 issue of Small Arms Review.
While a very good selection of photos accompanied his feature, we believe our readers will appreciate seeing even more of the historical images that show this remarkable weapon in combat action.
With the generous assistance of Erenfeicht himself and a deep dive into his own and other photo collections, Robert Bruce provides a remarkable selection of images that bring this almost 80-year-old tank buster to life through the mists of history.
"Men Against Tanks," a dramatized but deadly serious German wartime training film found on YouTube (search: "Männer gegen Panzer"), compelled this author's examination of the first of two extraordinary infantry anti-tank weapons used by the Third Reich.
Departing from the usual chronology, we introduce the Panzerfaust (Pzf) at the end of the War when its unique characteristics proved indispensable.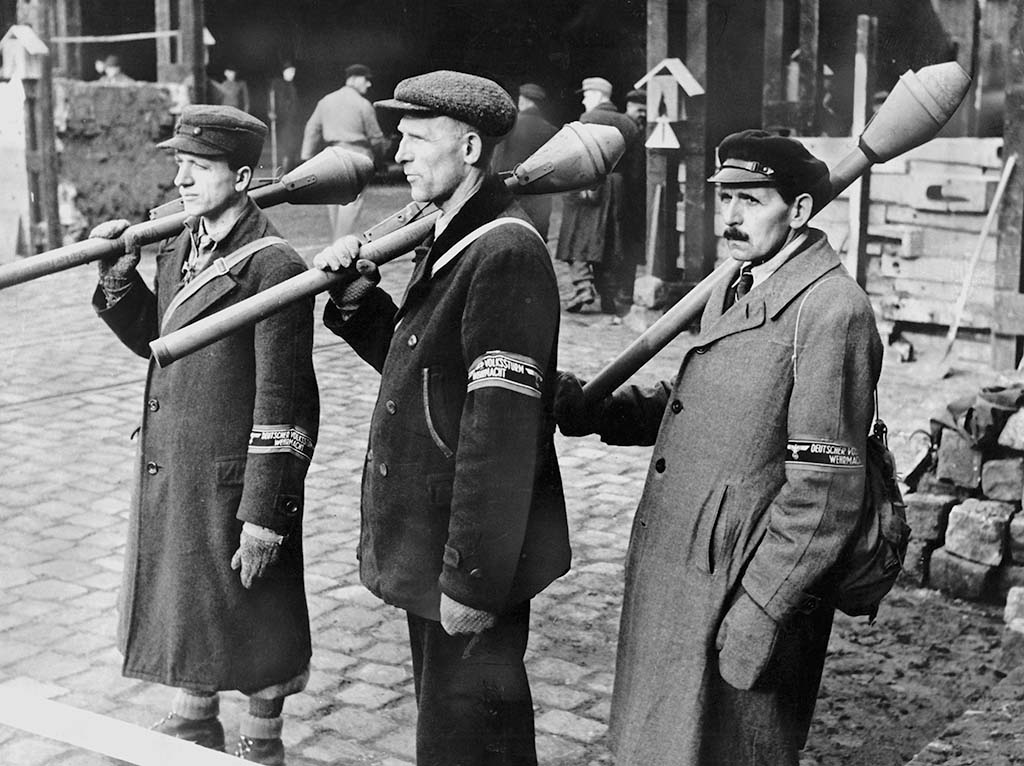 March 10, 1945, Berlin, Germany. As Hitler scraped the bottom of the manpower barrel to mount a "fight to the last ditch" defense of the Fatherland's capital city, this trio of stoic oldsters shoulder late-model Pzf 100 anti-tank weapons. In a declared "Defense Area" where barricades are erected and positions and anti-tank trenches are being dug, they are standing by during the construction of a road block at a railway underpass. Drafted into the Volkssturm (People's Storm), their civilian attire is inadequately made into some semblance of uniform by merely adding armbands reading, "DEUTSCHER VOLKSSTURM WEHRMACHT" (German People's Storm Armed Forces). After receiving no more than a crash course in operating the Pzf, they will take defensive positions awaiting almost certain death. BUNDESARCHIVE VIA WARALBUM.RU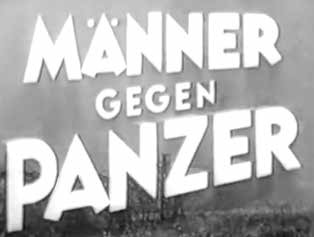 "Männer gegen Panzer" is a 1943 German film, produced by Lehrfilm, which was used as a training film by the Wehrmacht. Its purpose was to show German soldiers the different types of infantry anti-tank warfare. The film consists of three parts. The first shows a staged combined Soviet tank and infantry attack against entrenched German infantry. The attack is preceded by artillery and air strikes. The tanks, several T-34 models and a KV-1, are dealt with and destroyed by different means of improvised and dedicated anti-tank weaponry.
Right and wrong approaches to destroy a tank single-handedly are displayed. At the end of the attack, Wilhelm Niggemeyer, a holder of the Knight's Cross of the Iron Cross with Oak Leaves and four tank destruction badges, is shown in action destroying the KV-1 with a mine.
The second part of the film shows how rear-service troops must be prepared for anti-tank warfare, as they too can encounter enemy tanks. The third part pres-ents the Grosse Gewehrpanzergranate, Kampfpistole 42LP, Raketenwerfer 43 Püp-pchen, Panzerfaust and Panzerschreck, their use and their effect against tanks.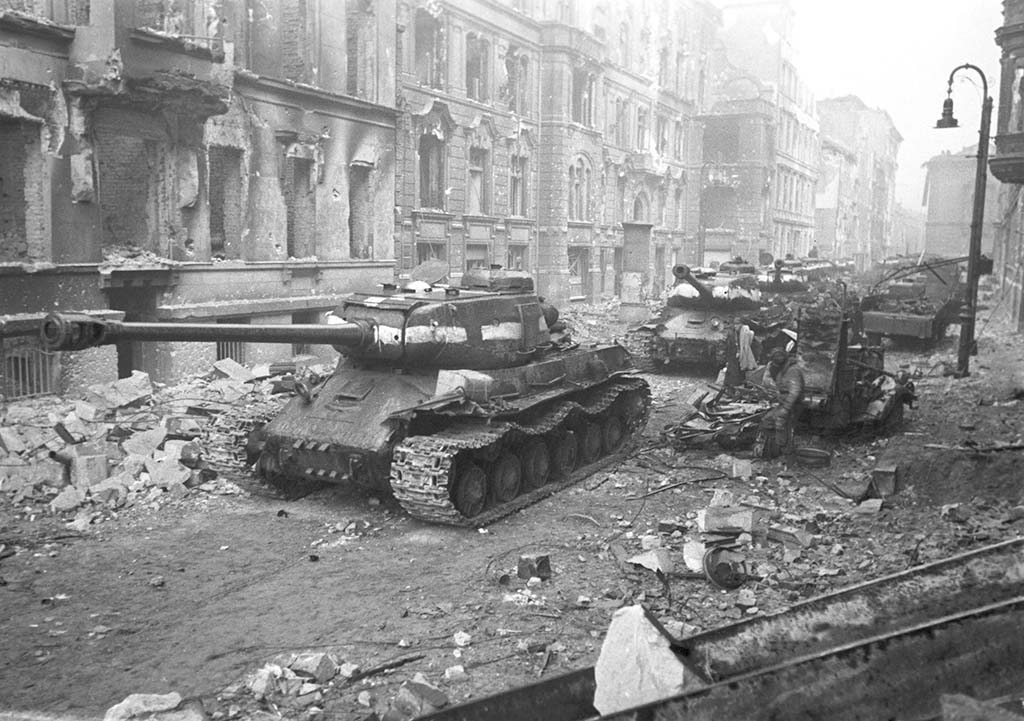 April 1945, Berlin. Having spearheaded the Soviet assault on Berlin, a long column of formidable Stalin IS-2 tanks has paused on a rubble-strewn street in the decimated capital city. Mounting a 122mm high-velocity main gun, this 46-ton monster was the most heavily armored tank in the world at the time, protected by 120mm/4.7 inches of sharply sloped frontal armor. But thinner armor on the flanks, rear and engine deck could be punched right through by a well-placed Pan-zerfaust hit. U.S. ARMY CENTER OF MILITARY HISTORY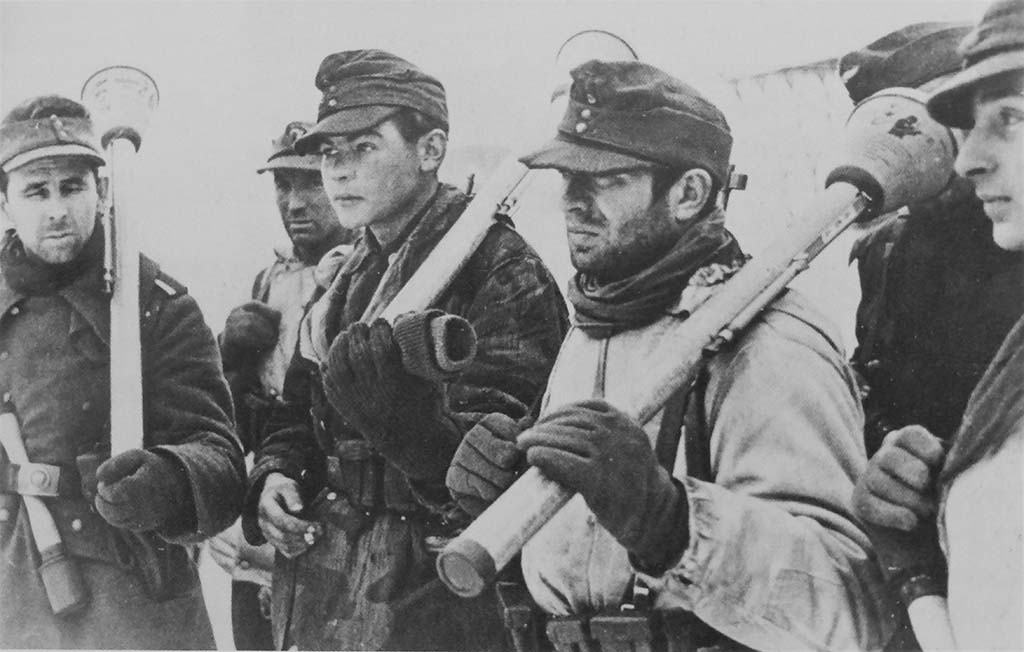 February 1945. Understandably dirty and weary soldiers of a combat group in retreat while fighting off Soviet tank and infantry formations on Germany's eastern border front. Noting the tubular firing mechanisms atop the main launch tube, they are all carrying the first-generation Pzf 30 Groß (large), still being issued at this late time of the War. Despite having shorter effective range—30m—than Pzf 60 and 100 models that followed, all of their high-explosive, shaped-charge warheads had essentially the same 200mm / 8-inch maximum armor penetration when hitting straight on. BUNDESARCHIV VIA WARALBUM.RU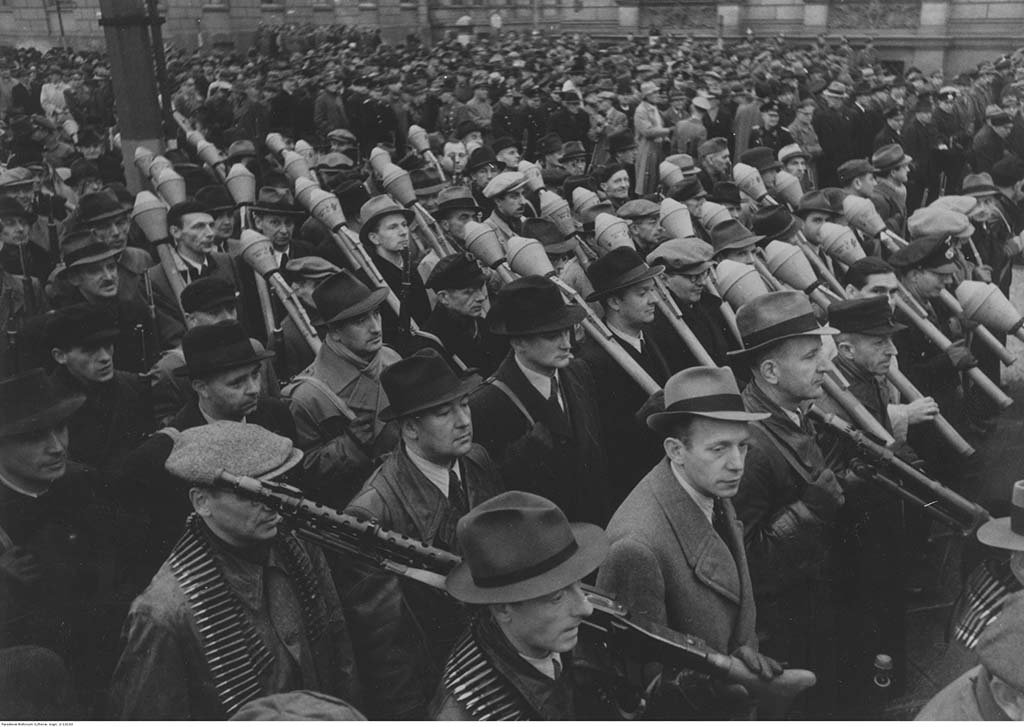 November 12, 1944, Berlin, Germany. Following the ceremonial swearing-in of volunteers of the Berliner Volkssturm, these militia troops march past Reich Minister for Public Enlightenment and Propaganda Dr. Josef Goebbels. Noting their squared-off trig-ger mechanisms, the Panzerfäuste (plural) are Pzf 60 type. That's an MG 34 machine gun in the foreground.
BUNDERSARCHIV VIA WIKIMEDIA COMMONS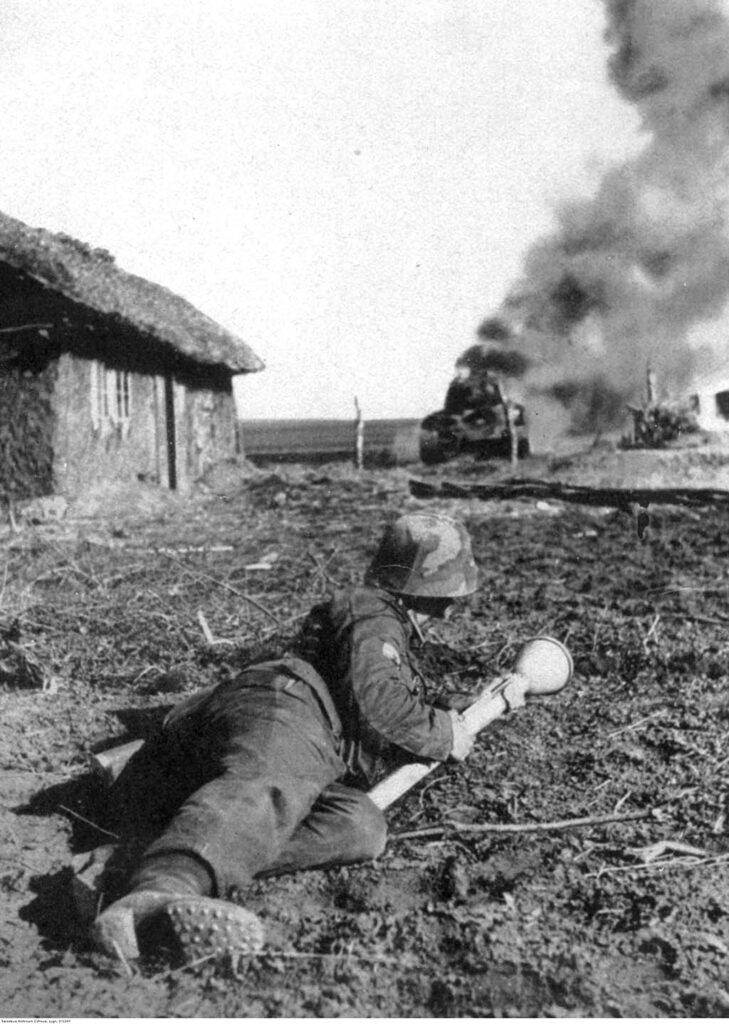 June 1944, Targu Mures, Romania. A Pan-zerknacker (tank cracker) of the Panzer-Fusilier Regiment Grossdeutchland watches with relief as a Soviet T-34 tank goes up in flames. This excellent medium tank, first encountered in 1940 and produced in astonishing numbers, forced urgent development and fielding of the Pzf. Caption information indicates there is another soldier of the two-man team in the original photo whose Pzf must have hit the tank. German soldiers fought valiantly but could not stop the Red Army's advance into the Fatherland.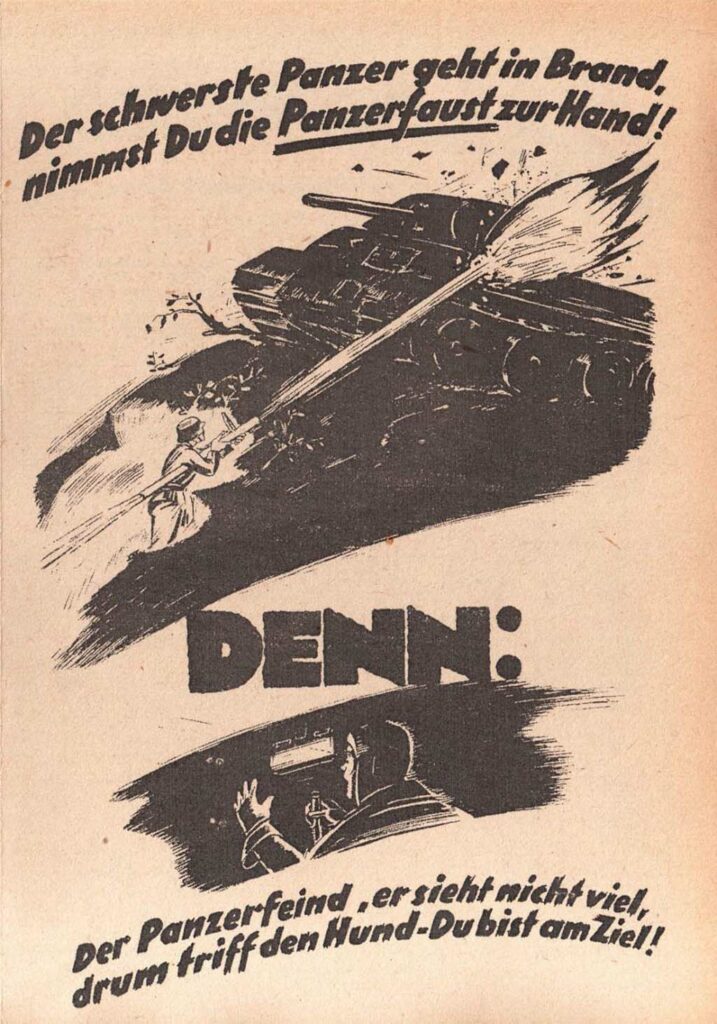 The dramatic cover illustration with rhyming text for a merkblatt (instructional leaflet) on the Pzf assure new Panzerknackers (tank crackers) that—loosely translated—"The heaviest tank goes on fire when you take the Panzerfaust (armor fist) to hand!" Because the panzerfiend (enemy tanker) can't see well through small vision slots, the knif-fliger hund (tricky dog) wins.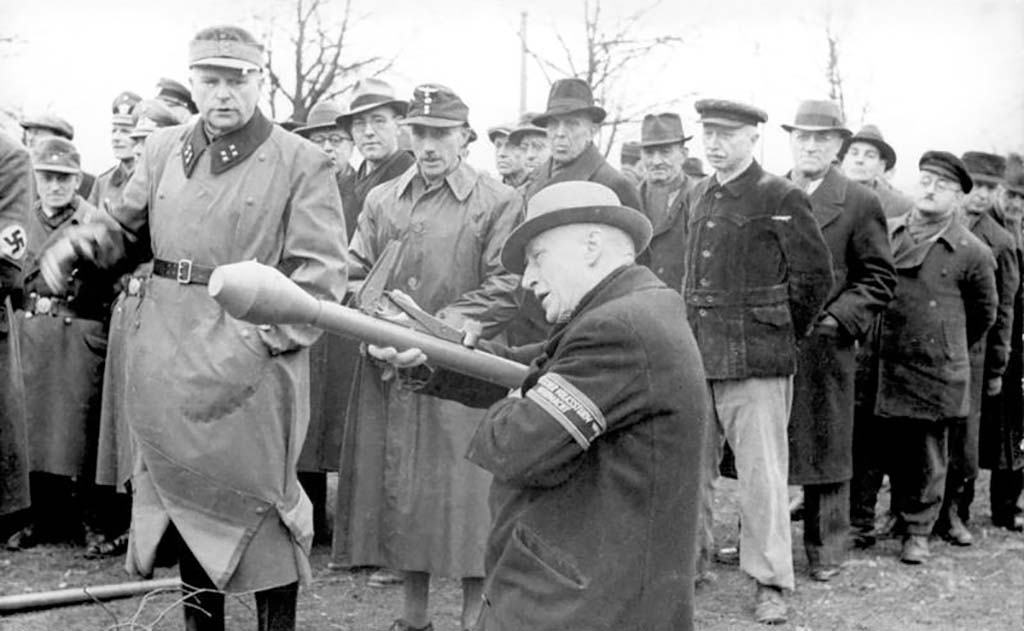 April 1945, Berlin, Germany. Following declaration of Berlin as a "defense zone," new soldiers of the Volkssturm are being taught to use the Panzerfaust. Look closely to see that the launch tube appears to be a standard Pzf 60 with its squared-off sight and firing mechanism, but the warhead is wood; a necessarily prudent measure when dealing with inexperienced recruits.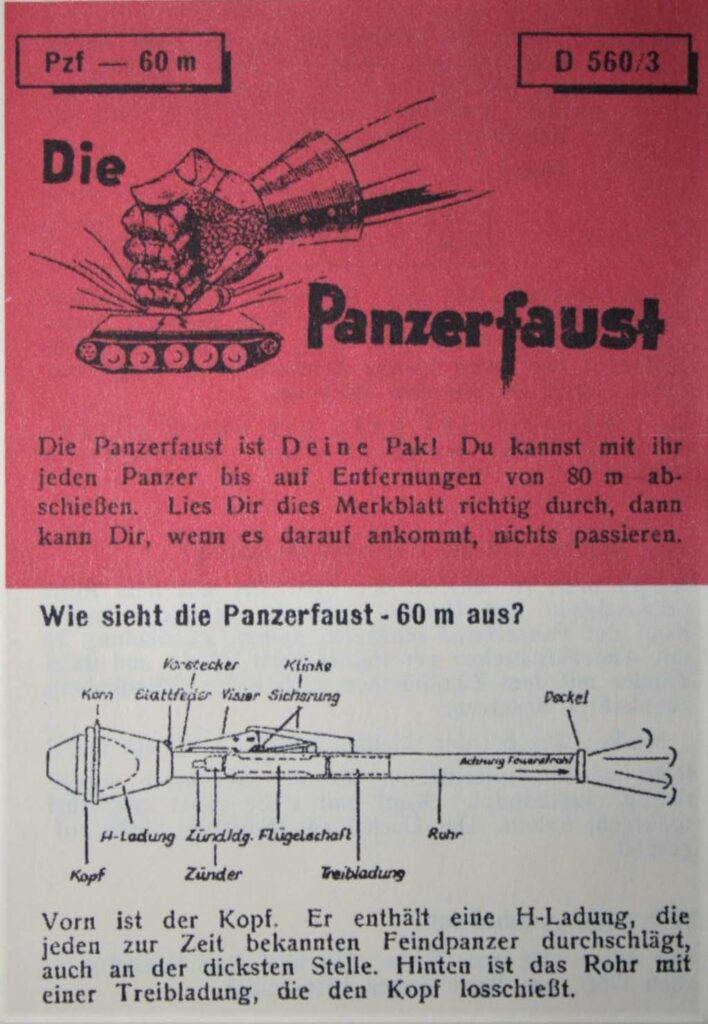 The cover of the small instructional leaflet (D 560/3) for the new Pzf 60, entering service in 1944, shows a Teutonic knight's armored fist (pan-zer-faust) smashing a Soviet T-34 tank. "The Panzerfaust is your anti-tank gun! You can use it to shoot down any tank up to 80 meters. Read this leaflet correctly then nothing can happen to you when it matters." With essentially the same warhead as the Pzf 30 Groß, it is readily identified from its predecessors by a squared-off trigger/sighting mechanism with significant improvements in safety, simplicity and reliability. A more powerful black powder propelling charge (treibladung) of 4.9 ounces doubles its effective range to 60m with 80m maximum.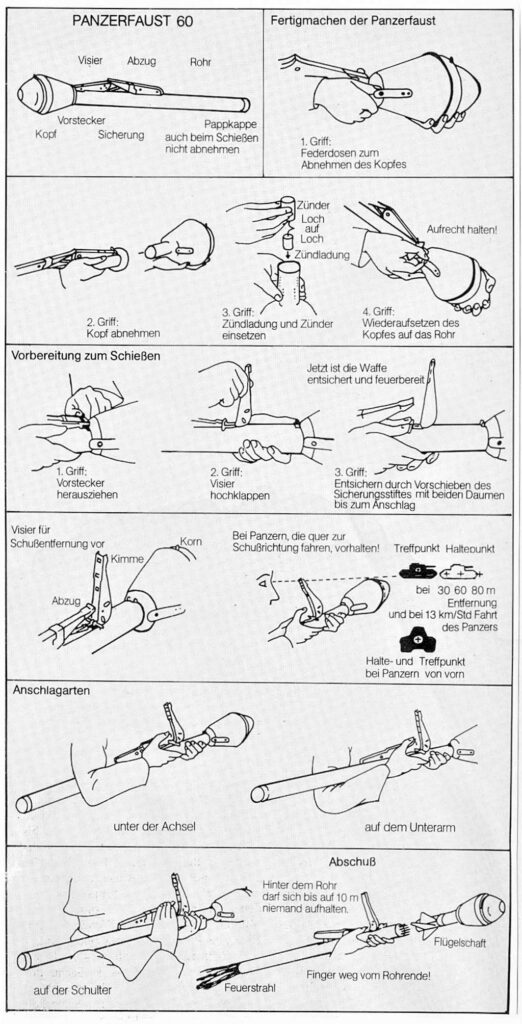 This is a late-War pictorial instruction sheet for the Pzf 60, produced in the largest numbers right up to the end of the War: Remove the warhead (kopf), insert the smaller booster charge first and then the primer, couple the warhead to the launch tube, remove the safety pin, lift up the sight (visier), push the safety's crossbolt forward, and the weapon is ready to fire. Estimating the range to your target, use the correct sighting window for a stationary target and lead for a moving target. Holding the weapon in one of these positions, press down on the trigger (abzug) to fire. Beware the fire jet (feuerstrahl)—"nobody within 10 meters behind the launcher!"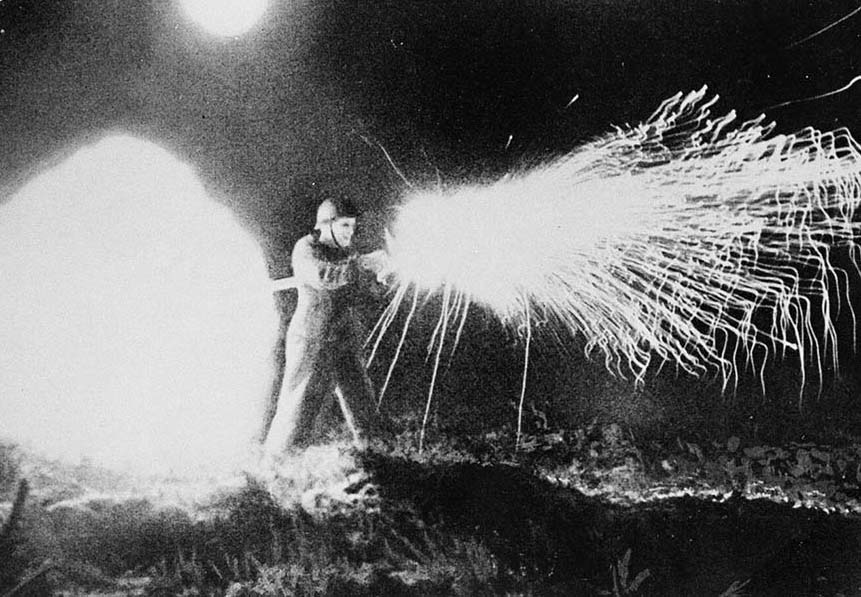 While the Panzerfaust's daytime firing signature has considerable smoke but little flash, at night it's a different story. This photo print had no information on when and where, but it's likely part of U.S. Ordnance Corps testing.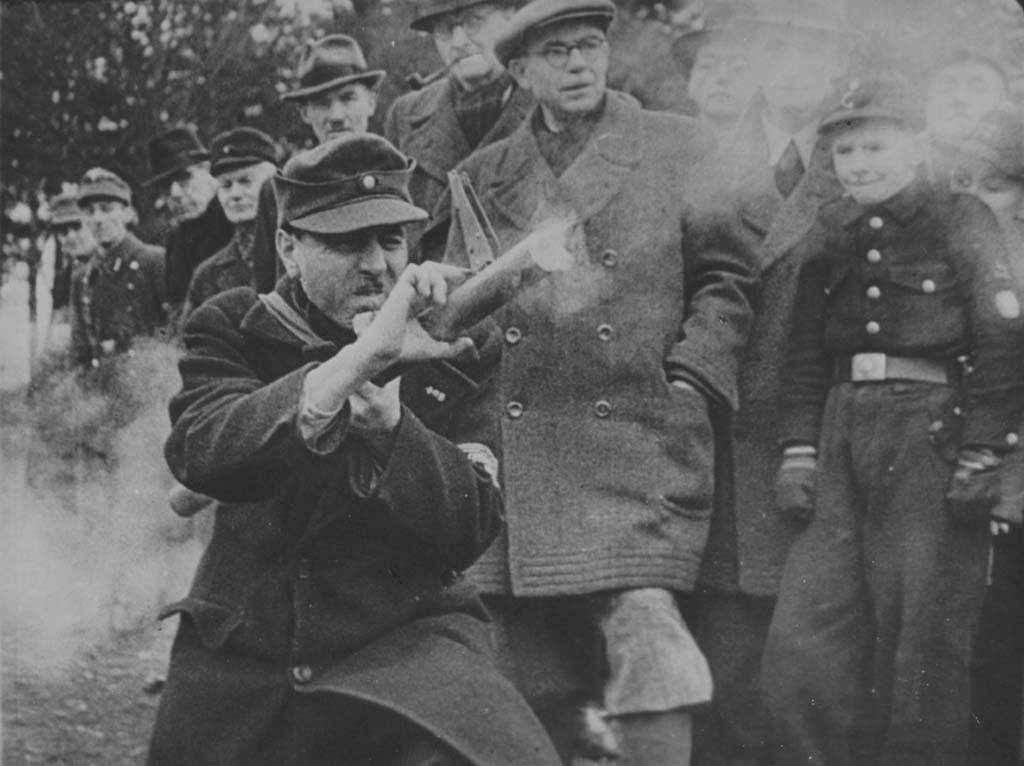 1945, Berlin, Germany. Wincing a bit from the black powder propellant blast and smoke, a Volkssturm militiaman launches a Pzf 60 warhead from the underarm position in a live-fire training demonstration. Note how the onlookers are carefully grouped to the weapon's left side to avoid the severe back blast while the brave photographer is front right. Interestingly, this still photo comes from a newsreel sequence showing the whole firing sequence. We've found no reference to how loud the firing detonation is, but the other trainees seem unbothered. That said, detonating 4.9 ounces of tightly packed propellant inside a 50mm diameter steel tube can't be inconsequential. There's no sign of any eye protection that would seem to be prudent but is apparently unnecessary.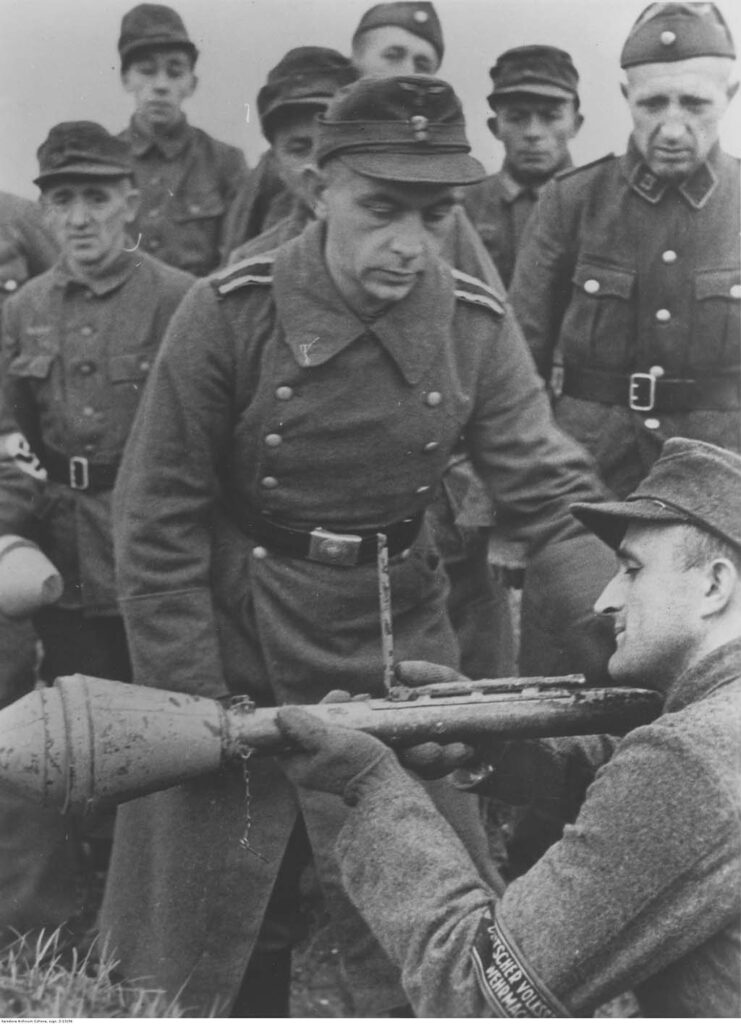 1945, Germany. All available Panzerfaust models were in use in these final days, so this aspiring Volkssturm Panzerknacker is apparently getting instruction in the finer points of the arming and aiming procedures for a rough and well-worn—almost certainly safely inert—Pzf 30 Groß ("gross" is "large" versus the diminutive "Gretchen" version). Both models are identified by
a distinctive tubular firing mechanism, spot-welded above the large main tube (rohr). The triggering mechanism inside is a bit complicated but quite cleverly contrived, described by some as akin to that of a retractable ballpoint pen. The sight latch pin dangles from its retaining chain after being pulled out, allowing the sight bar to be swing up into place for aiming, clearing a path for the striker bar inside the firing tube. That rod sticking out of the back of the firing tube is then pushed forward, compressing a spring coiled around the striker. When that's done and the red knob at top rear of the rod is rotated to the left, the red trigger button pops up (hidden under the firer's thumb), and the weapon is armed and ready. Pushing the trigger down releases the striker to fire the primer, detonating the black powder propelling charge inside the main tube.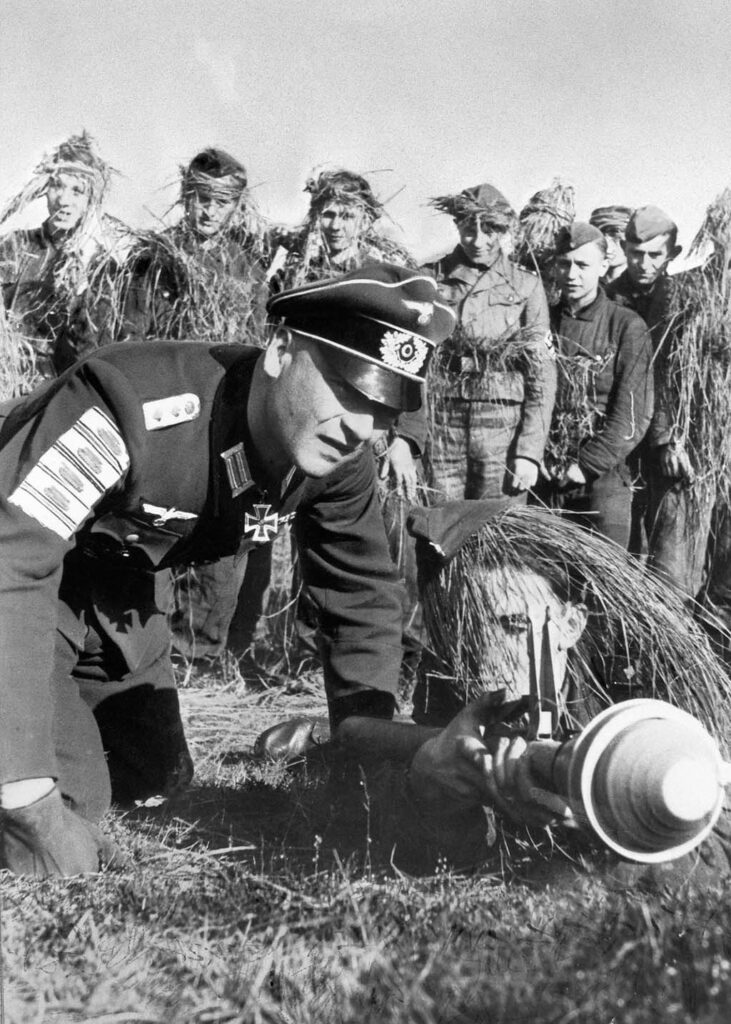 1944, Frankfurt an der Oder, Germany. Hauptmann (Captain) Peter Kiesgen instructing straw-camouflaged Hitlerjugend in proper employment of the Pzf 60. But wait, if that youngster's right leg isn't moved away from the backblast, there won't be much left of his boot and everything in it. In addition to the Iron Cross, this Panzerknacker superhero's uniform sleeve carries multiple awards of the coveted Tank Destruction badge. Bestowed to exceptionally brave soldiers using hand-held weapons at close range to destroy enemy tanks, Kiesgan is all the more exceptional for having survived even one such encounter.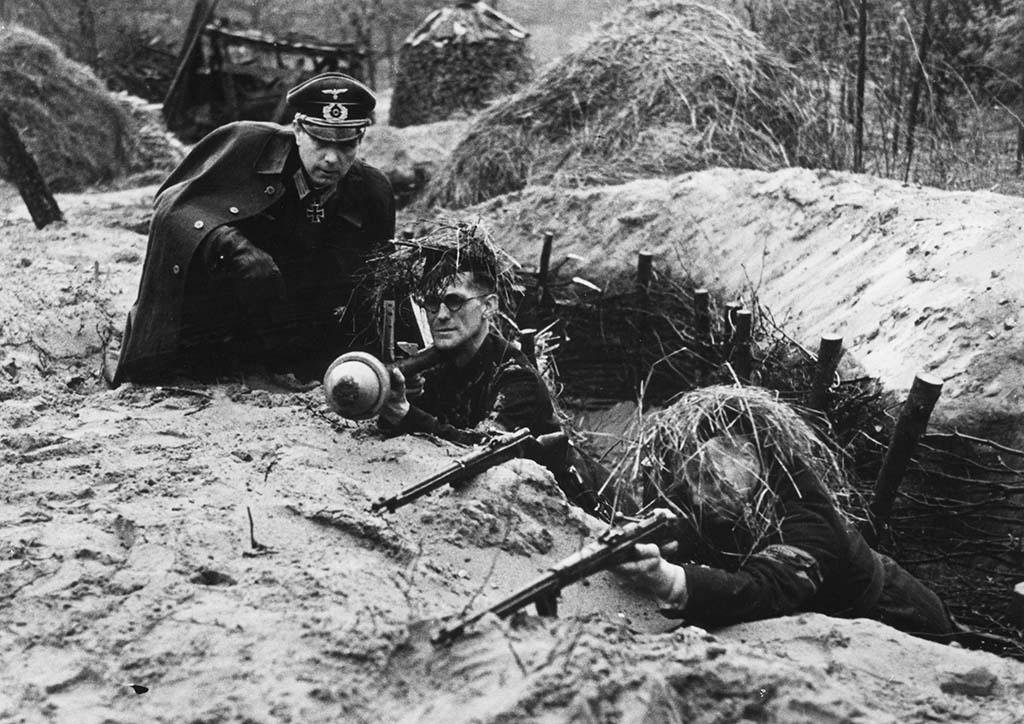 April 1945, Berlin, Germany. In more of a posed propaganda photo than practical, tactical training, this well-decorated German Army officer is said to be overseeing Volkssturm defensive positions in Berlin's Marzahn district. If the bespectacled oldster were to fire his Pzf 60 as seen, the fiery back-blast deflected from the back of the trench would be a disaster to him and his kamerad. Note the old bolt-action rifles; most anything that could shoot was pulled out of storage.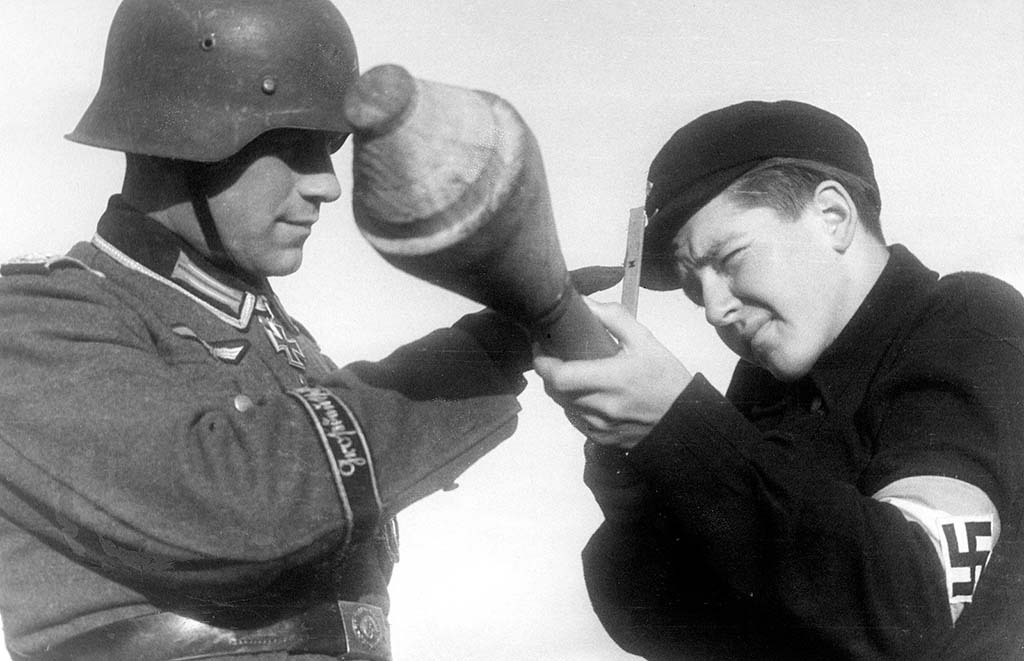 1944, Berlin, Germany. A non-commissioned officer of the Panzer-grenadier Division Großdeutschland conducts a lesson with a teenager from the Hitlerjugend (Hitler Youth) with a wooden model of the first production, small warhead Pzf 30 Gretchen. Its distinctive hourglass-shaped sight cutout is for this model's optimal 30m range. Noting the soldier's Iron Cross medal, he is probably a Panzerknacker hero, bringing great authority to the task of inspiring and training a young boy who will need to grow up fast.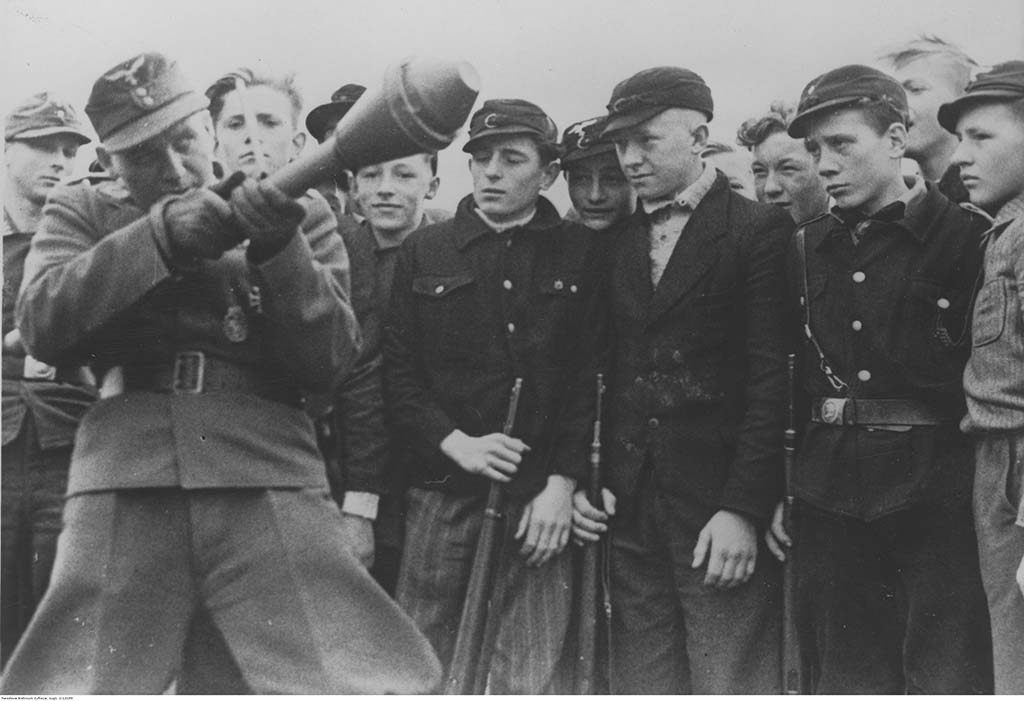 November 1944, Germany. A Luftwaffe (Air Force) officer, another Iron Cross recipient, demonstrates the proper underarm firing position for sighting and firing a Pzf 30 for a group of German teens who have been conscripted into the Volkssturm. Because at this late stage in the War the German Air Force had been devastated, most of its officers and men were assigned to ground defense roles.
POLISH NATIONAL ARCHIVES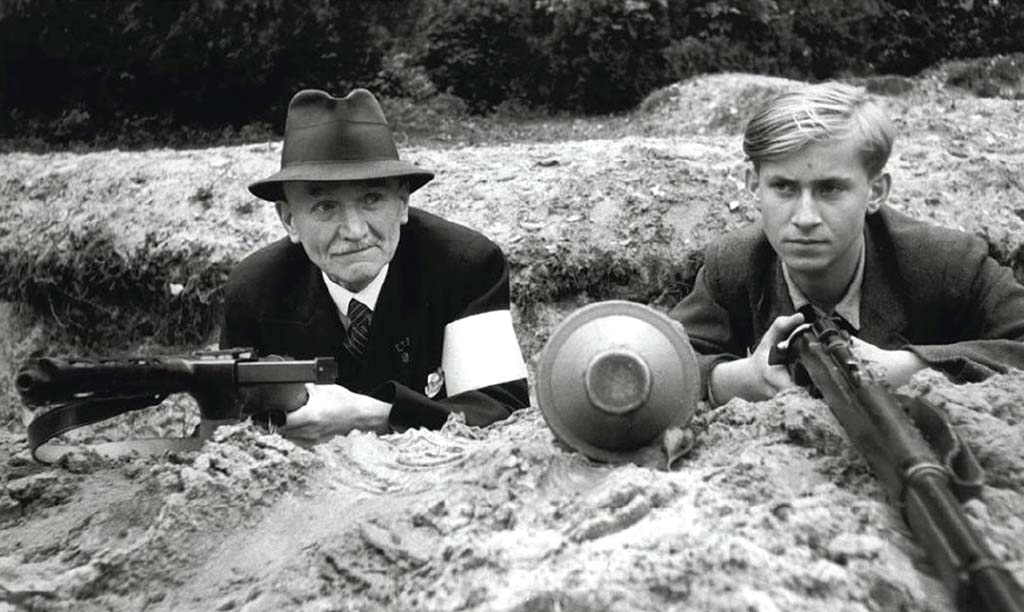 October–November 1944, Berlin, Germany. Clearly illus-trating the vast age difference in Volkssturm draftees, this dapper oldster and his youthful companion are said to be get-ting "training in weapons skills in Berlin." With a Panzerfaust at the ready between them, the serious teen is armed with what is probably a standard German Army 7.92mm K98k rifle. His apparently bemused senior partner in the trench has what's identified as a 9mm Erma EMP 35 submachine gun. This com-bination is well-suited to strike at long and close angles against what they'll soon face from Red Army infantry and armor.
BUNDESARCHIV VIA WARALBUM.RU
March–April 1945, Berlin, Germany. Preparing for the defense of Berlin, a Obergefreiter (Chief Corporal) of a panzer (tank) unit teaches a Hitlerjugend how to shoot a Panzerfaust. Owing to nearly identical external features including the same size warhead, the weapon could be a Pzf 60 or 100, differing mainly in effective range. The squared-off sheet metal firing mechanism of both weapons is simpler and safer than earlier models. In its down position, the sight locks the safety/arming slide on SAFE, while raising the sight clears the way for thumbing the slide forward into FIRE position, and the prominent abzug (triggering lever bar) tips upward. Quite prudently for this staged training photo session, the Panzerfaust is seen in SAFE mode—sticking out at the sight base is one side of the safety slide's round rod crossbolt that must be thumbed forward, allowing the abzug to rock upward, arming the leaf spring striker for firing. Pulling the slide back immediately restores it to SAFE.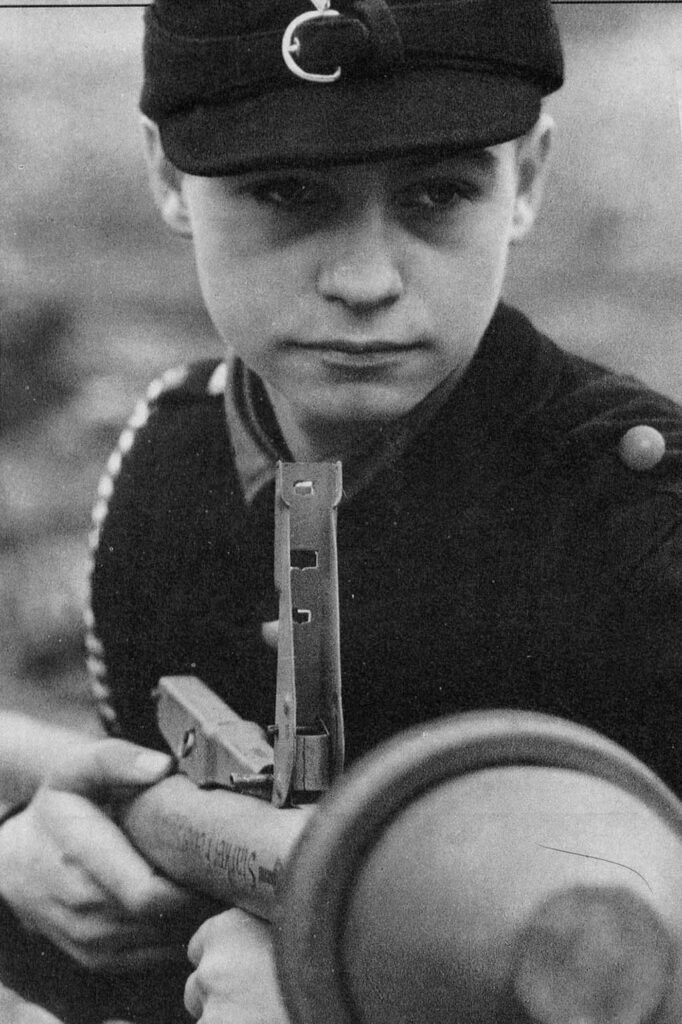 March–April 1945, Berlin, Germany. In this companion photo, the aspiring Hitlerjugend Panzerknacker must be seriously contemplating what his fate will be as the Soviet horde closes in. With an enemy tank in sight, he will use the correct sight window on his Panzerfaust depending on range to target—top for longer to send the warhead in a high arc, bottom for closer. In the center is the large rectangular aperture for optimal range (60m or 100m depending on Pzf model). Those V notches at the bottom are to align with a small front sight stud at the 12 o'clock position on the warhead's rim. It can be pulled rearward to re-safety the weapon.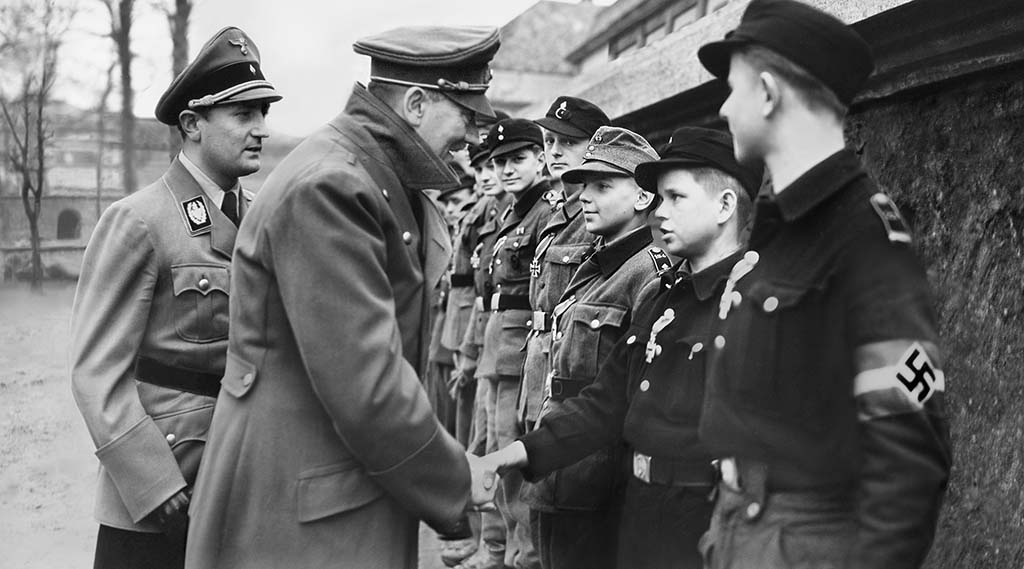 March 20, 1945, Berlin, Germany. Seen in the garden of the Reich Chancellery in one of the most famous photos and newsreel segments from World War II, Adolph Hitler, der Führer (the Leader) himself, has emerged briefly from his elaborate bunker to con-gratulate 12-year-old Hitlerjugend Alfred Czech, awarded the Iron Cross for heroism in battle action against Soviet forces. Standing to Czech's right is 16-year-old Wilhelm "Willi" Hubner, also an Iron Cross recipient. Panzerfaust weapons in combat figured prominently in the reasons for these boys being honored. Miraculously, both survived the War, and the incredibly brutal Soviet retribution and occupation that followed.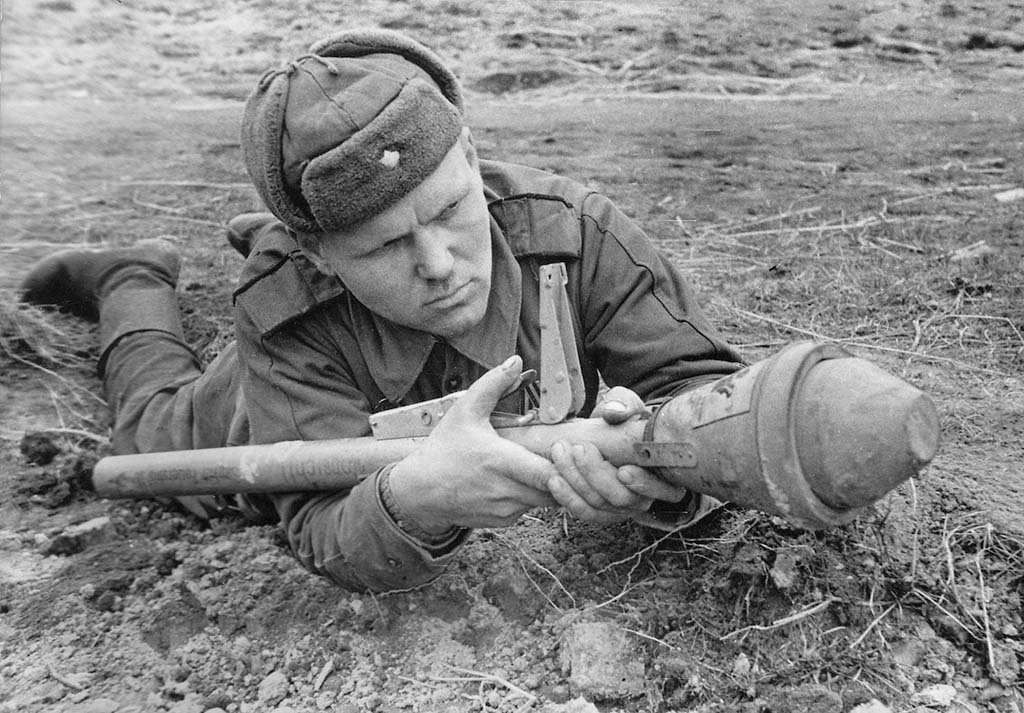 March 1945, 1st Ukranian Front, Germany. Guard Senior Sergeant Ilya Amelin from the Red Army's 15th Guards Rifle Division with a captured German Panzerfaust grenade launcher. While the one he's holding has the safety forward and is ready to fire, being so close to the ground at this downward angle of the rear of the tube would be spectacularly bad from backblast. Amelin was decorated for heroism after using one of these weapons to destroy a German self-propelled gun. Having no equivalent weapon, Soviet soldiers were quick and eager to use every Panzerfaust they could get against their hated enemy. American and British soldiers became enthusiastic panzerknackers too.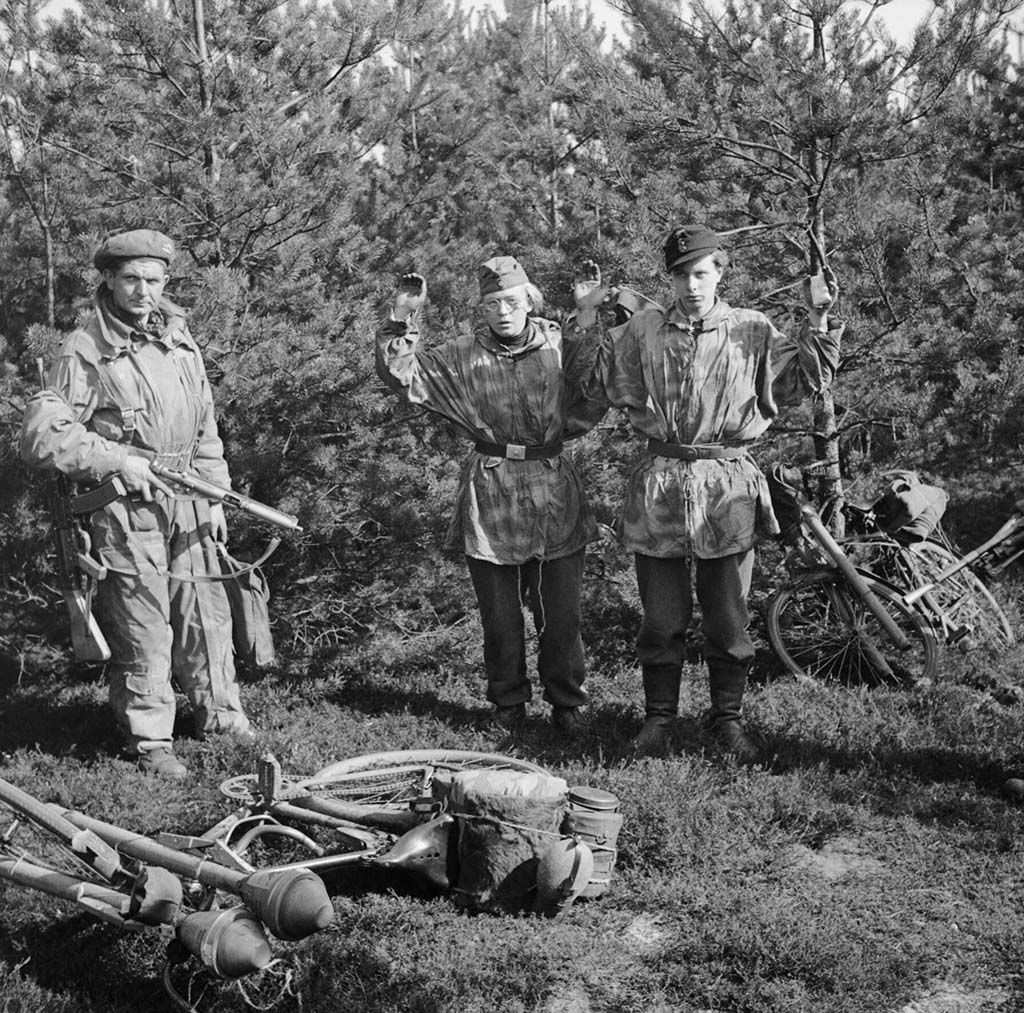 April 7, 1945, Germany. A British soldier from the 11th Armoured Division guards two youthful German prisoners and a haul of Panzerfaust anti-tank weapons secured to the front forks of their military-issued TF38 bicycles, commonly used for mobility of tank hunting squads. The Brit-ish soldier is armed with a British 9mm Mk III Sten submachine gun and has slung a captured German 7.62x33mm Sturmgewehr (assault rifle) from his right shoulder. The boys are lucky to have been taken by the British; Soviet tankers were far more likely to shoot on sight.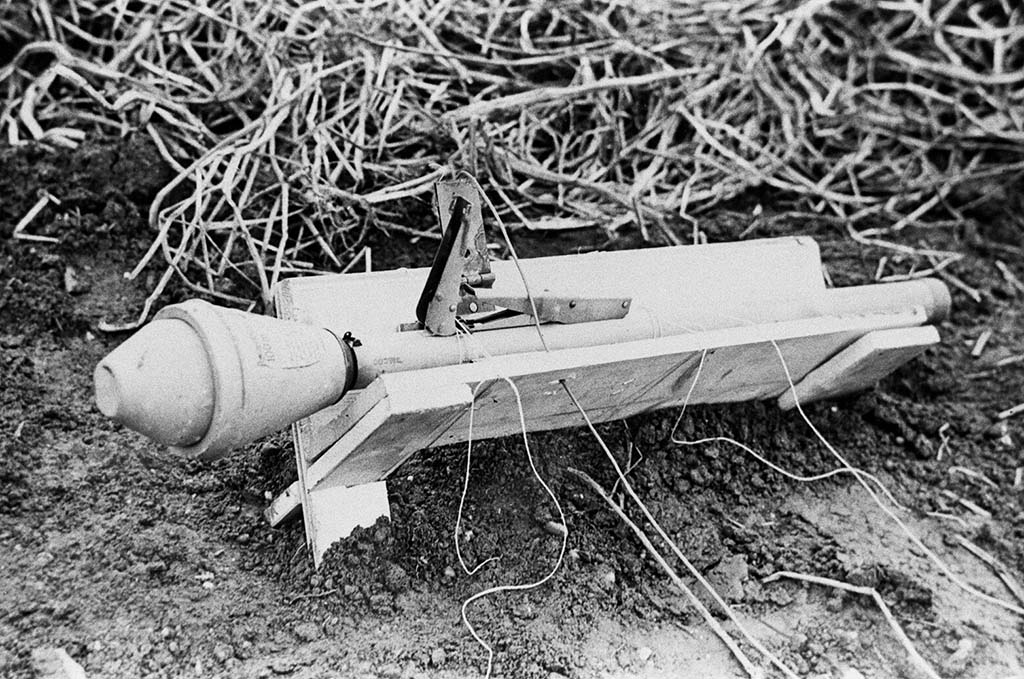 March 28, 1945, Neupotz, Germany. The Army caption states, "Panzerfaust 100 on a remote launching platform." Note the simple expedient of positioning an ordinary door hinge so that a tank running into its attached tripwire would pull the lever down on the triggering bar. According to the WWII U.S. Army's TM 5-223C, all types were being encountered, rigged as "ambush" anti-tank mines. While the one seen here is secured to a wooden cradle, they were equally effective when attached to a handy tree or other suitable mounting place.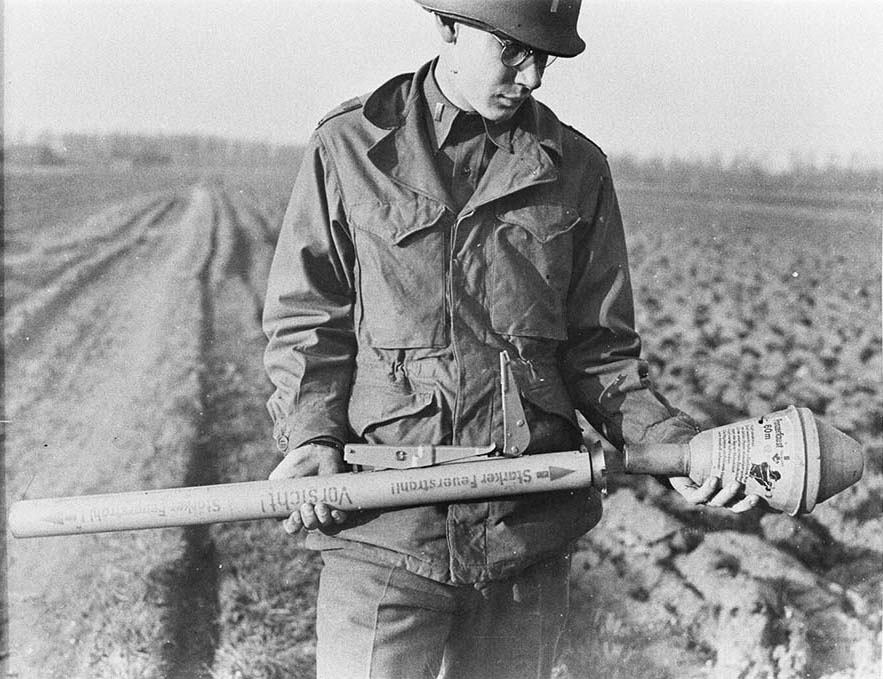 March 14, 1945, Germany. Lieutenant John Reller, 9th U.S. Army in another widely pub-lished photo from WWII that can be mined for all sorts of interesting information about the Pzf 60. First off, the kopf (head containing the shaped charge warhead) has been uncoupled and removed as required for inserting the primer and booster charges in its stem. Handy step-by-step arming and firing instructions are provided on a paper sheet glued to the head with a drawing showing a proper over shoulder aiming and shooting position. Moving to the left we see the sheet metal cup protruding from the rohr (launch tube) that is the front end of the tailboom assembly inside. It has a coupling notch that locks the warhead in exact position on insertion so that its small front sight stud (seen in line with the base of the vorsicht arrow drawing on the warhead) is at 12 o'clock for sighting. A rectangular sheet metal tab, riveted to the warhead, is snapped in place to a stud on the front cup to further secure the whole warhead and tail-fin assembly. The latch pin securing the top of the sight to the tube at the base of the cup has been pulled and the sight lifted into upright position. This frees the safety slide at its base so it can be thumbed forward immediately before firing. With the safety forward into the fire position, the abzug (trigger bar) rocks upward, providing a generous surface for even a thick, winter-mitted hand to press it down to fire. Stenciled red paint markings on the rohr (tube) read right side up to warn the firer: Starker Feuerstrahl (Strong Jet of Fire!) Vorsicht! (Caution!) Smaller lettering on the other side warned that the launch tube is loaded even when the head is removed.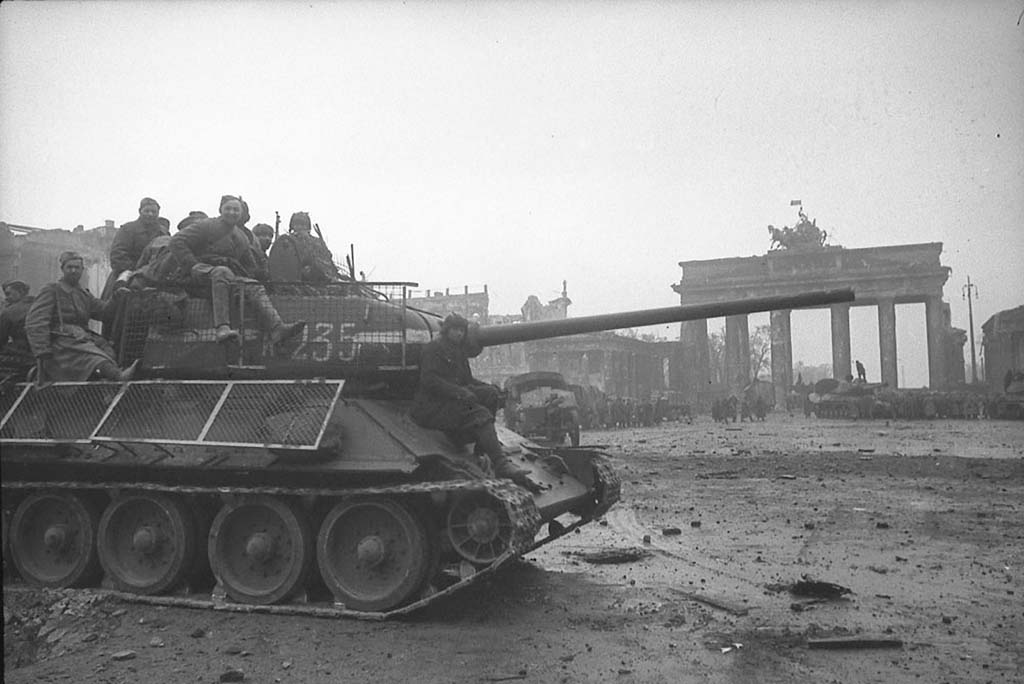 May 1945, Berlin, Germany. At the bitter end of Hitler's Thousand-Year Reich, this Soviet T-34/85 (85mm main gun) medium tank with crewmen and protective infantrymen aboard is seen at the capitol city's famous Brandenburg Gate. Most notable for the purpose of this feature is the addition of apparently improvised wire screens—perhaps even some bed spring frames—hoping for protection against the dreaded Panzer-faust. In ideal circumstances, these standoff screens would provide enough resistance to detonate the hollow charge warhead before it could hit the tank's armor; an idea that has been brought forward right up to today.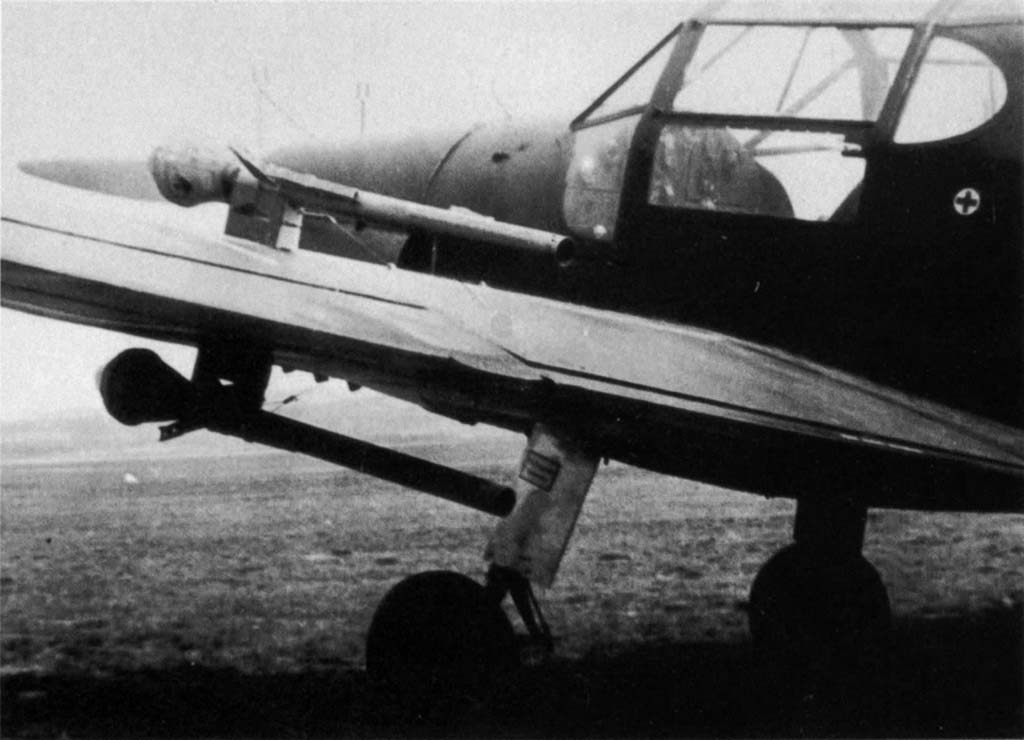 March 1945, Germany. Ever more desperate measures
in the last days of the War inspired the valiant but quite impractical attempt at adapt-ing the Panzerfaust as arma-ment for a tank-killing aircraft. Here we see an example of Germany's anti-armor combat plane, one of just a handful of Büker Bü 181 trainers fitted with two Pzf 100s on each wing. Aimed by a crude wire sight for the pilot and fired by thin steel cables leading into the cockpit, it was not only sadly inaccurate, but it was found the top ones would set the plane's plywood and fabric wings on fire.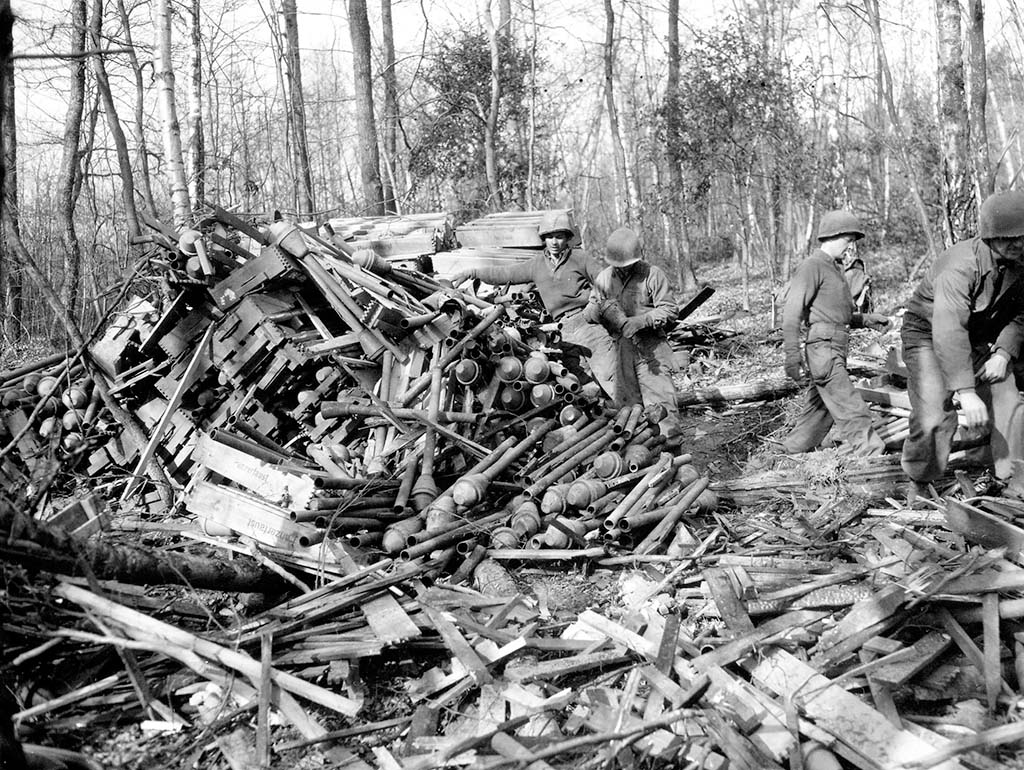 March 16, 1945, Bad Neuenahr-Ahrweiler, Germany. U.S. 2nd Infantry Division Combat Engineers examine a forward-area Panzerfaust supply dump, abandoned by hastily retreating German forces. Production figures for all Pzf types indicate that more than 8 million were manufactured between 1943 and 1945. Despite Allied bombing raids on the three primary factories, coupled with strafing and rocket attacks on supply trains, a substantial number of these made it into the hands of Germany's soldiers. Additionally, Germany supplied its allies with considerable numbers; mainly Finland, Hungary and Italy.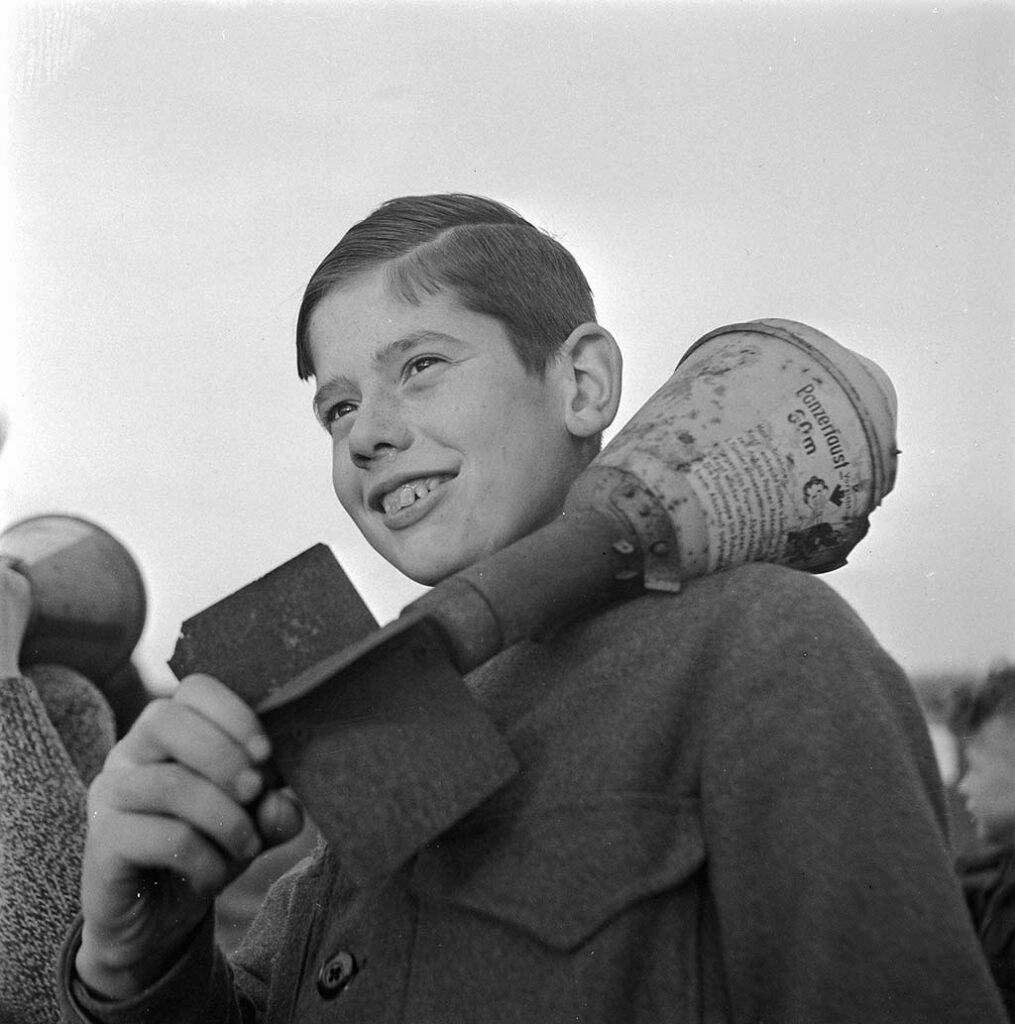 December 1945, Southern Netherlands. In a photograph accompanying a report on the dangers to children at play from mines and ammunition left behind at the end of WWII, this youngster has found what appears to be a Pzf 60 dud, complete with its 1.6 pounds of Cyclonite/Pentolite high-explosive, shaped-charge filling! This is what the complete projectile looks like when fired, with its sturdy wooden tailboom and thin sheet metal fins covered in soot from the black powder propelling charge. Failure to detonate is not uncommon for a number of reasons including a faulty impact fuze or even a battle-stressed firer forgetting or improperly inserting the booster and primer.
Panzerfaust Epilogue
German improvements and experimentation continued right up to the very end, beginning with 150m and 250m range versions. These were also intended to be reloadable with some special purpose warheads including fragmentation, caseless, incendiary and chemical. Everything stopped when Germany formally surrendered on May 4, 1945.
U.S. Army Ordnance Corps considered further development but ultimately abandoned the effort in favor of its existing 3.5-inch "Super Bazooka." Post-War Ger-many adopted the reloadable Panzerfaust 44mm DM2 Ausführung 1 Lanze (lance), reportedly a further develop-ment of the Pzf 250.
While it is commonly asserted that the Soviet RPG-2 was based on the German experimentation, experts dis-count the idea, citing development work starting years earlier. But without a doubt, the WWII German Panzerfaust inspired a host of similar man-portable tank killers that followed.
References
Book
Panzerfaust and Panzerschreck by Gordon L. Rottman, 2014, Osprey Publishing.
YouTube Videos
"Männer gegen Panzer," youtube.com/watch?v=3L0LffV2obA "Panzerfaust—Close Combat Training," youtube.com/watch?v=puguQI1hIUA
Next Time
In the next installment of Männer gegen Panzer, we'll provide an extensive photo feature on the Panzerschreck (tank terror), Germany's powerful answer to America's "bazooka."
This article first appeared in Small Arms Review V25N1 (January 2021)