By Todd Burgreen –
Recent events illustrate what a dangerous world we inhabit with terrorist attacks growing in frequency. If there were only one piece of advice conveyed to readers, it is to receive professional firearms training. This especially applies to all civilian practitioners of concealed carry no matter perceived skill level. If a hostile situation is encountered, the civilian will most likely be defending herself or himself with a handgun. A handgun is definitely not the optimum choice, especially when compared to a rifle. A handgun is a compromise between portability and performance. A compact concealed carry handgun is even a further compromise along this continuum; i.e., not your preferred full-size, high-capacity blaster. What if there were ways to maximize potency of your personal defense handgun?
GLOCK handguns have evolved into the benchmark for personal defense, law enforcement and military handguns. GLOCK handguns are ultra-reliable, accurate, tough and simple to operate. A stalwart in the GLOCK product lineup is the GLOCK 19 (G19). It was one of the earliest offshoots of the G17. The G19 is effectively a reduced-size G17. It was first produced in 1988, primarily for military and law enforcement. The G19's barrel and pistol grip are shorter by about .5 inch than the G17, and it uses a magazine with a standard capacity of 15 rounds, yet still can accommodate the G17's 17-round magazine. When aficionados are asked to give their opinion on the best all-around personal defense weapon, the GLOCK 19 is inevitably mentioned. Why? The G19 can handle most conceivable defensive scenarios. It is a prime example of the modern combat pistol. It can serve as a duty weapon while still compact enough for concealed carry and inside the waistband (IWB).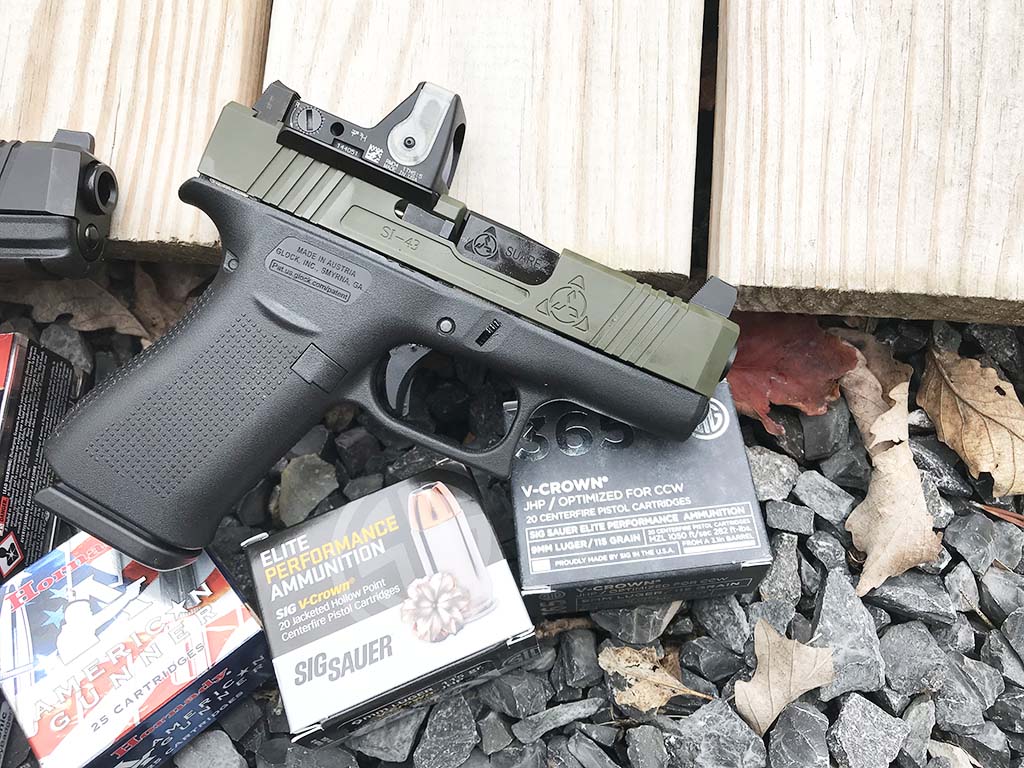 The GLOCK Slimline 9mm has been around approximately 4 years in the form of the G43 with over 1 million sold. Not resting on its laurels, GLOCK listened to consumers' requests for other Slimline models with increased round capacity. The G43X was the result approximately a year ago. The increase in capacity from 6 to 10 rounds resulted from lengthening the grip approximately ¾ of an inch—well worth it. This makes a surprising difference in terms of balance and recoil management. The G43X maintains a minimal profile of approximately 1 inch. This is important for concealed carry consideration, especially with IWB. The slide for the G43X is the same sub-compact length as the G43's at 6.06 inches.
The G19 and now G43X were surely responses to the U.S. concealed carry market that continues to expand and generate firearm sales at a prodigious pace. All civilian practitioners of concealed carry want to carry the most potent handgun they can handle proficiently. Unfortunately, constraints caused by weather, clothing or social environment can preclude this, at times forcing a compromise in terms of size and caliber.
Suarez International
Suarez International has emerged as a leader in customizing handguns to better deal with concealed carry personal defense and tactical situations. While complete handgun packages are available, Suarez recognized the need to allow users to upgrade their existing GLOCKs via specific accessories consisting of triggers, magazine wells, control levers, match barrels and ultimately complete upper slide assemblies that can be installed on existing GLOCK frames. This is the path followed in this review which features a new G43X and a well-used Gen 3 G19.
Suarez International began work on the red dot handgun concept years ago when seeking answers to questions posed by many of their students as to how best enhance their primary method of defense—the handgun. Suarez International will never be confused with advocating gear as a substitute for skill ingrained by training and practice. However, CEO Gabe Suarez felt gear enhancement could assist in this particular quest. Suarez quickly established himself as a leader, driving the handgun-mounted, red dot sight concept both in theory and application.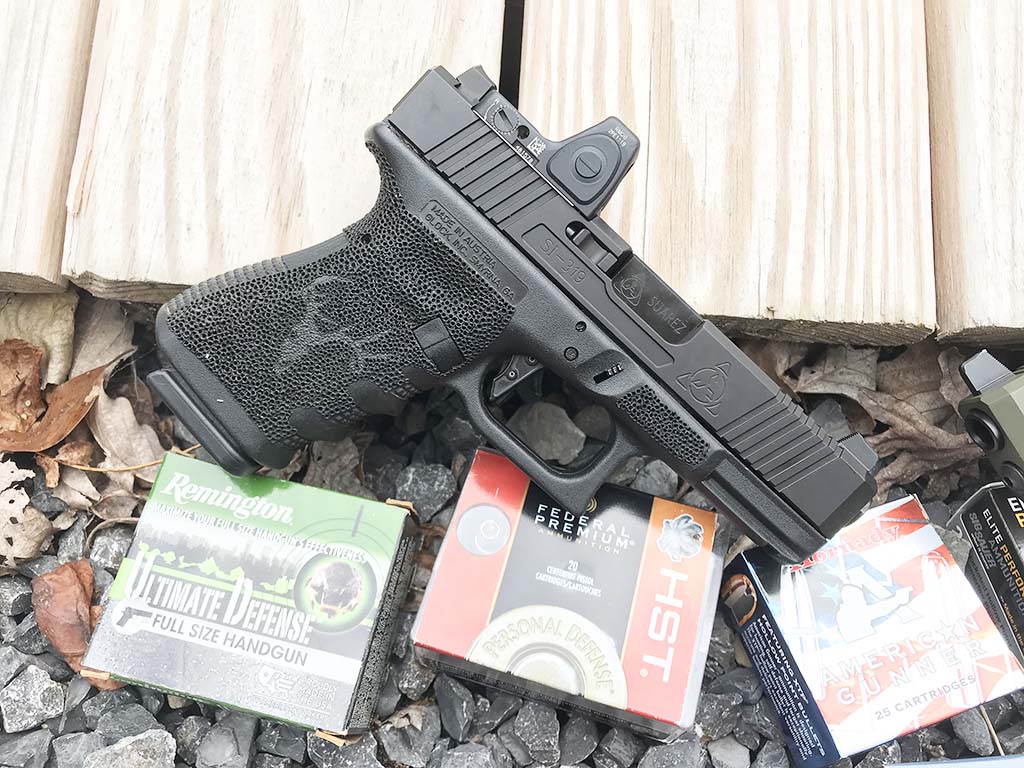 Proficiency with a handgun is one of the most perishable weapon skills. This is further impacted as we get older due to changes in our vision causing difficulty in transitioning focus between front/rear sights and target. Suarez's solution to this was the same as what most had already opted for with their rifles. While a little more challenging technically due to size restrictions with a handgun, adding a red dot sight to an AK or M4 generally improves one's shooting skill in terms of accuracy, speed and proficiency when engaging moving targets. This is what Suarez decided on as the best course of action with handguns.
Suarez Super Match Slides
Mounting Suarez Super Match slides featuring Trijicon RMR® red dots immediately enhances stock G19 and G43X performances. The dovetail for the Trijicon RMR is cut to exacting detail during the manufacturing process with two locating bosses used to keep the RMR centered and securely zeroed. "Blood groove" slide serrations and the Suarez logo indicate something out of the norm is present. Suarez Super Match slides are not merely flashy; tighter tolerances and custom touches increase accuracy, reliability and performance. The slides are manufactured from heat-treated, 17-4 aerospace stainless steel. The aesthetically pleasing slide serrations are ergonomically angled and shaped for ease of use under duress. Suarez's U.S.-made match quality barrels with polished bores and fully supported SAAMI match spec chambers combined with tighter to the frame lockup are capable of 1.25-inch accuracy at 25 yards. The ejection ports on Suarez Super Match slides are lowered by .100 inch and contoured for reliable and predictable ejection of spent cases.
The Suarez Super Match slide for the G43X kicks everything up a notch with its ingenuity. The ability to mount a Trijicon RMR on a G43X slide sets Suarez apart from most other custom slide shops. The Suarez Super Match-fitted G43X has the slide cut for the Suarez Narrow Slide Adaptor 2.0 (NSA2) mount. The NSA2 mount is designed to mount a Trijicon RMR to slides that would normally be too narrow to accept that red dot unit; e.g., Slimline GLOCKs. The NSA2 mount allows for Trijicon RMR use with the GLOCK 43X and other Slimline models just like the full-size GLOCK-compatible slides. The Trijicon RMR is recognized as the gold standard for pistol red dots. The ability to adapt it for use on the G43X is important. Notable with the Suarez NSA2 is that you retain slide-mounted, independent front and rear sights. This is a crucial attribute if you truly want to co-witness iron sights with the red dot—a must for a red-dot-equipped personal defense handgun. There are many reasons for this. Anything electronic can fail, no matter how rugged; it's important to have backup sights ready. Secondly, Suarez International's training efforts have discovered the fastest way to get on target is quick location of the front sight with the red dot soon to follow. Another advantage of the Suarez decision to retain elevated irons around the red dot is that it provides instant verification of red dot zero.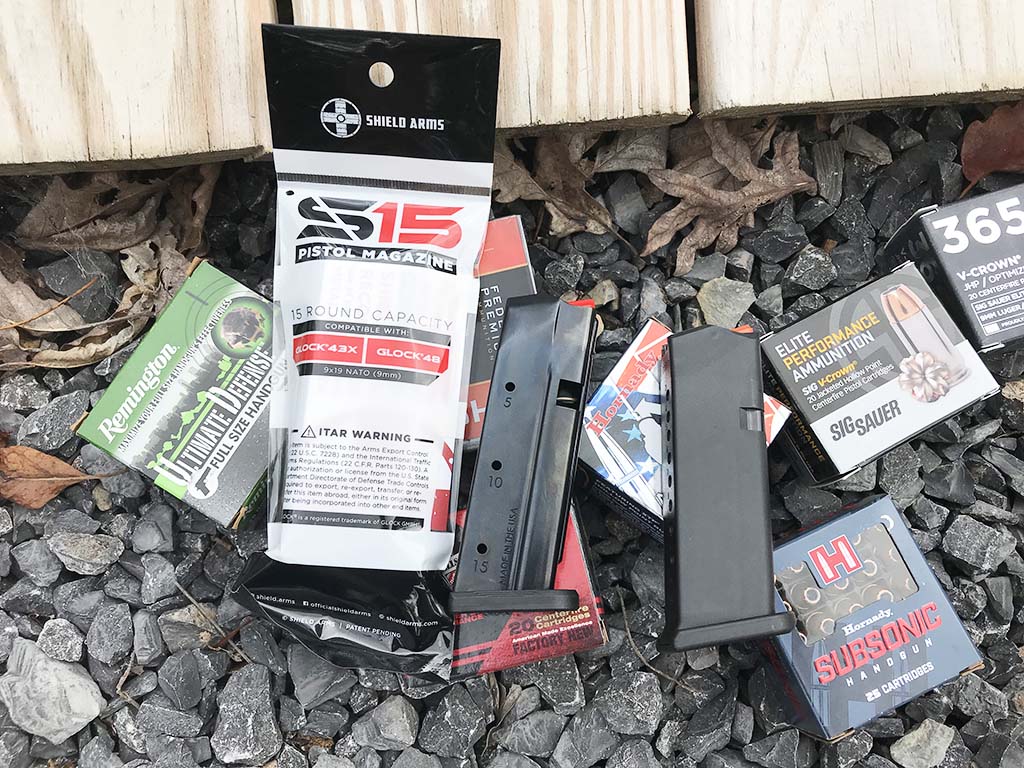 The Suarez-equipped G43X and G19 are a perfect blending of concealed carry compactness with red-dot producing capabilities that exceed weapons of such compact size. The Suarez Super Match-enhanced G43X and G19 are superior covert carry handguns that excel in gunfighting; not just reactive defense most associate with smaller framed handguns. Users of the Suarez Super Match slide fitted with Trijicon RMR find that they no longer have to switch their focus from target to sights, which invariably eliminates the "front sight focus" so difficult for older shooters. They can now do as nature intends for them to do, focus on the threat. Moreover, because the indexing of a red dot is far easier than three pieces of steel, they find they can take shots beyond what was considered feasible with iron sights. Hitting steel at 100 yards on the first shot is very possible with the Suarez-enhanced GLOCKs, as well as running close-quarters battle (CQB) drills at times that were considered impossible to achieve before—all simply because the concept uses the eyes in a more normal manner.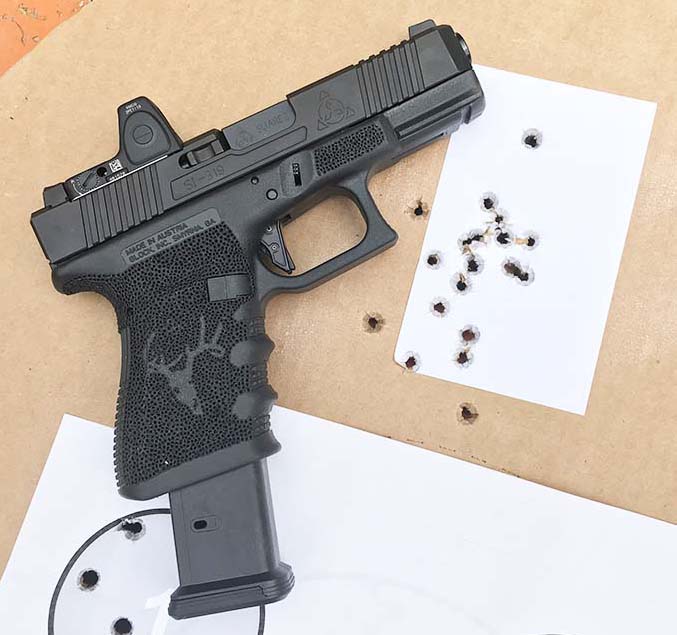 Does It Meet Expectations?
Range testing of the Suarez-slide-equipped G43X and G19 took place at Echo Valley Training Center. This author's T&E priorities were to ensure that GLOCK reliability was not compromised, and the Trijicon red dots proved to be worthy additions, increasing capability beyond what was expected from a compact, normal, iron-sighted GLOCK. Another concern was being able to find the Trijicon dots just as quickly as what is expected with the traditional iron sight front post, especially in quick/fast close-range affairs. Suarez's orientation of the suppressor-style iron sights around the red dot acts as both backup sights and quickly orientates the shooter's eye to the red dot stationed above the front post.
It was determined that the Trijicon RMRs assisted in engaging targets at close distances, with the red dot easy to pick up rapidly, and the RMRs facilitated shooting with both eyes open. The Trijicon RMR offers the capability to engage multiple targets in rapid sequence with faster transition between targets compared to open sights; at the same time providing adequate accuracy out to at least 100 yards due to the red dot. This is achieved because the RMR superimposes an aiming point on the target while still not totally obscuring the target, due to the dot not being that large. As expected, the RMR sight withstood the recoil and heat generated by repeatedly long strings of fire.
Holsters with generous open cut tops were the easiest to use with the Suarez RMR-equipped slides. Even then, gentle persuasion via a Dremel tool was required with the G43X due to a slight increase of width caused by the RMR install. Drills consisted of drawing from concealment to see if the RMR red dot was easy to obtain when operating in haste. Various scenarios engaging targets from behind cover or on the move were also utilized. Magazine change drills were done for the dual purpose of getting a feel of manipulating the G43X and G19 with the Suarez slide installed and seamlessly picking up the RMR dot once reload was complete and back on target. It was quickly determined that the Suarez-enhanced GLOCKs have great potential in terms of accuracy, speed and extending effective engagement distances.
Point shooting with the Suarez Super Match slide GLOCKs is still very possible by using the RMR's window as a ghost ring—albeit a large ghost ring—if forced to react spontaneously to a threat. The Trijicon RMRs came into their own for precise fire at any range desired by placing the dot on the target and applying correct trigger control. Speed drills involving plate racks and dueling trees were run with times superior to iron-sighted GLOCKs. The advantage offered in using red dot sights in the competition environment is well-known. The ability to place the red dot on the plate and not having to align front and rear irons proved much more adept at moving rapidly from plate to plate.
It is never good to have favorites within a family. The Suarez G43X proved irresistible. The G43X's slim profile and Suarez's engineering called out like a Greek siren. This was only compounded when using a Shield Arms flush-fitting, 15-round magazine which proved trustworthy in the G43X. The enhanced G19 is certainly a solid choice; however, the extra capacity offered by the Shield Arms magazine produces an equal-capacity 43X with less weight, length and width of a G19. Here is an ideal everyday carry handgun equipped with a red dot that pushes the envelope of performance. The Suarez Super Match slides increase the effectiveness of the compact G43X and G19 concealed carry handguns beyond what many thought was possible.
This article first appeared in Small Arms Review V25N1 (January 2021)