Mesa Tactical is excited to announce a new agreement with Kyntec Technologies, culminating from a years-old partnership, providing Mesa Tactical the exclusive right to distribute KynSHOT's entire shotgun line of hydraulic recoil reducing buffers. These recoil buffers mount to Mesa Tactical's US-patented LEO and High-tube line of telescoping AR stock adapters. The new agreement will provide Mesa Tactical customers with additional recoil reducing options by up to 90%.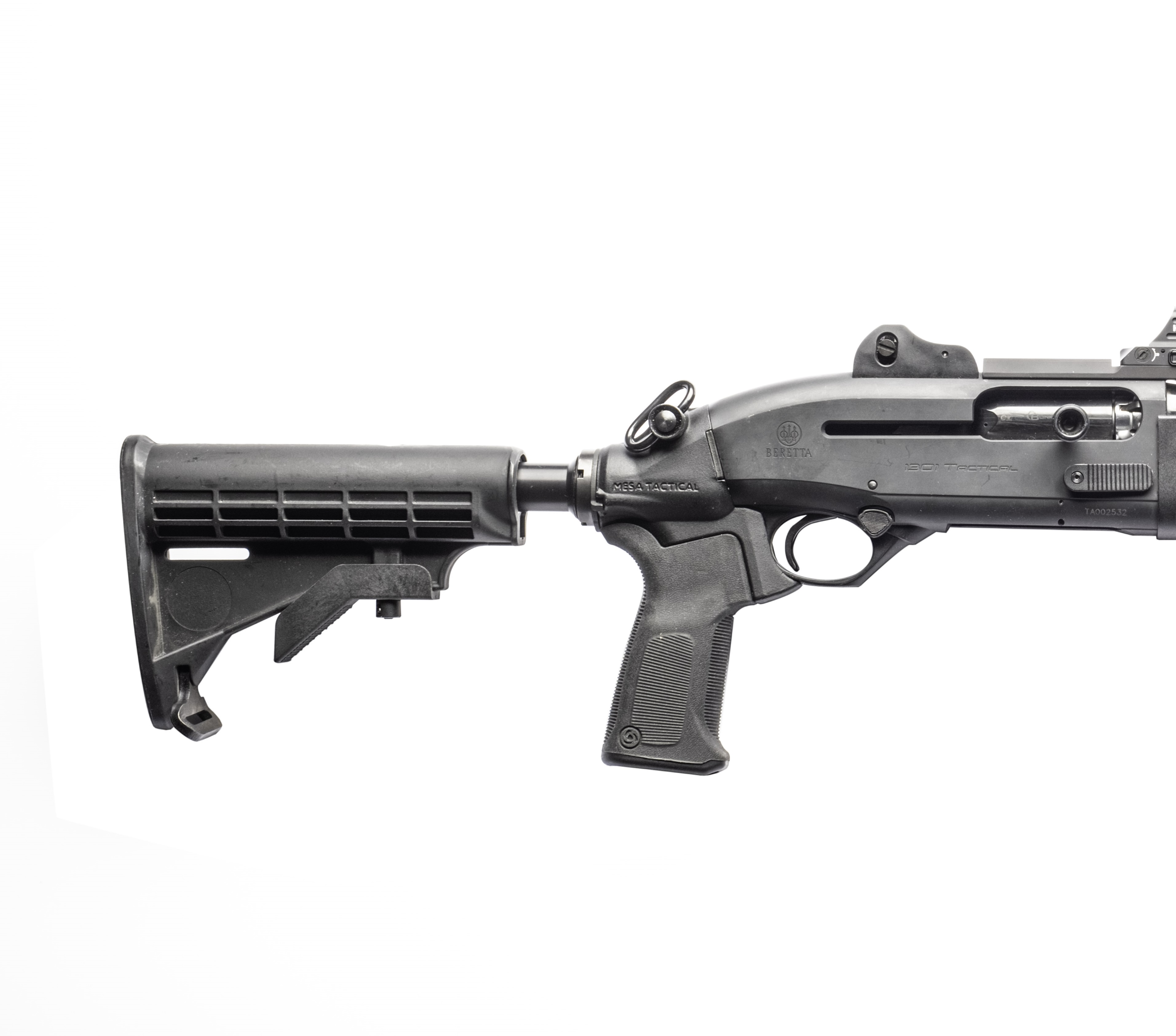 Any Mesa Tactical telescoping stock kit can be upgraded with a KynSHOT adjustable or non-adjustable hydraulic recoil buffer which replaces the receiver extension tube, converting the AR-15 telescoping stock into a recoil-buffered stock assembly. The products combine KynSHOT's time-tested hydraulic recoil buffers with Mesa Tactical's precision-machined, investment cast aircraft grade aluminum stock adapters, meeting the stringent standards of military and law enforcement users. The new adjustable hydraulic recoil buffer offers the greatest upgrade by allowing professional operators to reduce recoil by up to 90%. The recoil reducing hydraulic buffer kits are available for both LEO and High-Tube telescoping stock systems, or the hydraulic recoil buffers can be purchased separately. These recoil buffers accept Mil-spec collapsible buttstocks only.
Zuly Rivera, Marketing Manager at Mesa Tactical, expressed her excitement about the new agreement stating, "KynSHOT has been a great vendor for many years and has been devoted to reducing recoil since their inception. The chance to partner with KynSHOT and combine their adjustable and non-adjustable buffers with Mesa Tactical's American-made, quality stock adapters is something we are excited about. KynSHOT's hydraulic recoil buffers offer customers a robust and precise recoil management system that will rival anything on the market."
"We are very excited to have taken our partnership to the next level with Mesa Tactical. For years we have had a successful working relationship with Mesa Tactical, starting with the launch of our non-adjustable shotgun buffer in 2020." said Jacob Spyche, Sales Manager at KynSHOT. "With Mesa Tactical's experience in the firearms industry, and success with our non-adjustable shotgun buffer, we thought it made total sense to have them distribute our entire shotgun line, handling many of the major names in the firearms industry. By taking our partnership with Mesa Tactical to the next level, we are very excited for what the future has in store, and we look forward to providing the industry with the highest quality products together."
Mesa Tactical's telescoping stock adapter kits replace the factory buttstock with an adapter that accepts AR style collapsible stocks and pistol grips. LEO Gen II stock adapters have a stock height that allows use of open or bead sights; High-tubestock adapters feature an optional optics rail and are designed for AR height optic systems. Complete telescoping stock kits include a stock adapter, M4 carbine buttstock, Mesatac® Trego® pistol grip and a push-button sling swivel. Hydraulic recoil starter kits include the stock adapter and a hydraulic recoil buffer, plus installation hardware (no stock or grip). No gunsmithing required for installation. These hydraulic recoil buffers are exclusive to Mesa Tactical and will arrive to customers with or without the AR stock adapter.
KynSHOT Adjustable Hydraulic Recoil Buffer (Mil-spec) $200
The KynSHOT RB5100 (SKU: 91320) is a patented adjustable shotgun buffer that fits in any Mil-Spec style thread on the Mesa Tactical shotgun adapter or tactical shotgun. The RB5100 comes with three adjustable damping settings (low, medium, and heavy damped), weighs 13.5 ounces, and can be used with any mil-spec collapsible stock. As each adjustable setting is increased on the RB5100, the hydraulic damping force increased approximately 15% (from low damped all the way up to heavy damped). The RB5100 reduces felt recoil up to 90%, allowing users to stay on target, reduce muzzle rise, and increase target acquisition speed, making this one of the most effective recoil reduction solution you can put on a shotgun.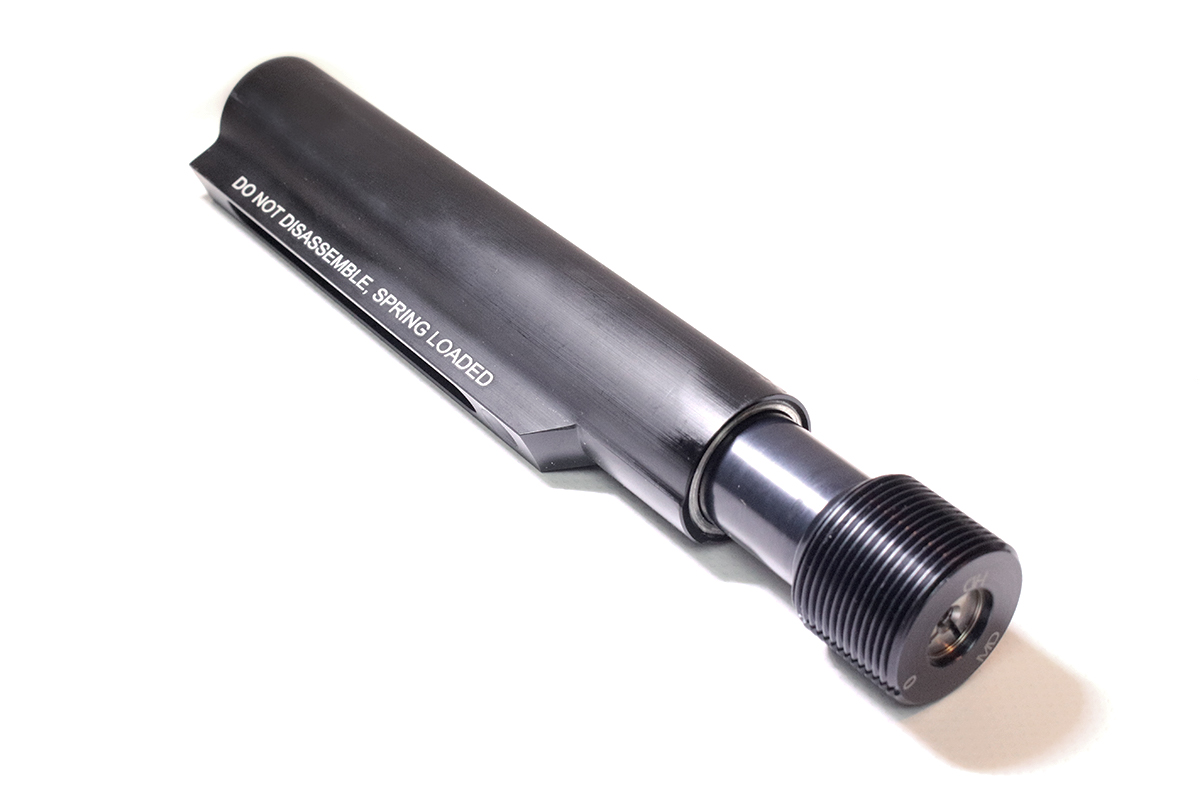 KynSHOT Non-Adjustable Hydraulic Recoil Buffer (Mil-spec) $186
The KynSHOT RB5103 (SKU:92240) is a non-adjustable shotgun buffer featuring the latest advances in recoil management, at an economic price point. The buffer is permanently set at the medium damped setting (featured on our adjustable buffer) and offers the same dramatic recoil reduction, without the adjustability feature. The RB5103 can fit any Mil-Spec style thread on the MESA Tactical shotgun adapter or any tactical shotgun and can be used with any mil-spec style collapsible stock. The RB5103 reduces felt recoil up to 70%.