By Mark Genovese

Over here in the land of coconuts and palm trees, it's few and far between that one gets to look at, let alone handle an absolutely outstanding Curio & Relic. Years ago, while thumbing through my well worn Complete Illustrated Encyclopedia of the Worlds Firearms by Ian V. Hogg, I came upon what looked like a real neat World War II submachine gun. Needless to say I fell in love with the piece. But it wasn't in the stars, for I never saw or heard of it again.

Just a few weeks back I was having some good conversation with Craig Newnan, owner of Maui's only legitimate gun store and this state's most prolific early Smith & Wesson collector. When I happened to mention the Light Rifle, Craig lit right up and said, "Why I have two Mark I's and two Mark II's right here at the bottom of my safe somewhere". To really appreciate his statement, you have to see this man's office and workspace. A Hawaiian Tsunami would be kinder. A moment later, out came the most spectacularly preserved Smith & Wesson 9mm light rifle Mark I, dripping with oil. My heart raced when he placed this treasure in my hands and uttered those magical words, "I'll sell ya a pair."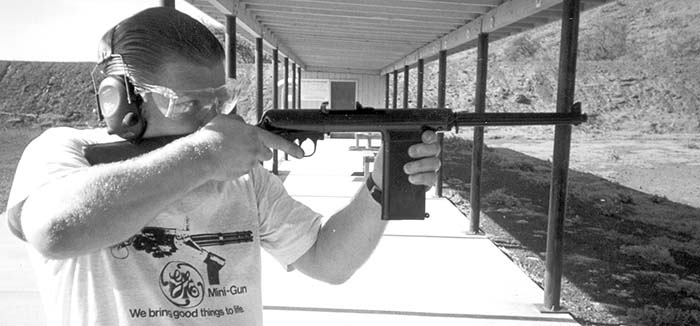 Instantly a crescendo of visceral terror – no cash! I was lucky though, a good friend did have the money and said one had my name on it. Thank God. These rifles were produced by Smith & Wesson for the British Government early in the Second World War. Contrary to popular belief, this is a semi/automatic open bolt arm and not fully automatic. The barrel is only nine and three quarter inches long, which technically classified it as a "firearm" that required the two hundred dollar transfer tax and licensing in compliance with the National Firearms Act. A "Short Barreled Rifle", but they were removed from the National Firearms Act and listed as Curios and Relics not requiring registration. Some states have laws on barrel lengths, so be careful on these. These guns have since left Hawaii to the "Free zones".

The initial shipment was made to the British in April 1941. But, the rifle failed to pass British endurance tests. Smith & Wesson agreed to a British request to redesign the rifle to accommodate a two-grain increase in the powder charge of the 9mm cartridge. This new design was called the MARK II, and incorporated a heavy corrugated sleeve over the bolt operating handle. This sleeve functioned as additional support against the frame and served as a rotating safety. When used with the two grain overloads, the rifles again failed to pass firing tests set up by the British. This is really amazing to me after you handle these rifles, for you must agree they are built like the proverbial brick outhouse. We're talking battleship quality, drop forged manganese steel, chrome nickel steel lock-work, nickel steel bolt, and chrome barrel. They weigh almost ten pounds when loaded.

Serial records show only one thousand and ten of the Mark I's were produced and shipped to the British. Legend has it that at the close of World War II, all 9mm light rifles owned by Britain were destroyed by cutting them in half and disposing of them in the English Channel. Five units were preserved and these are located in the tower of London, British Military Museum, MOD Pattern Room, and the Enfield Arsenal. The one in the MOD Pattern Room has the experimental aluminum stock.

Now, this is what legends are made of. In 1974, Smith & Wesson discovered a limited quantity of crated unfired 1940 light rifles. These were classified as Curios and Relics, and sold as collector's items. In the group were 173 Mark I's and 80 Mark II's. These were finished in the factory by Smith & Wesson personnel, and sold to a Georgia dealer, who helped obtain the exception to the NFA. From this legendary stash of two hundred and seventeen rifles, to my knowledge, these four are the only ones to make it to the 50th state, safe and sound in the old whaling town of Lahaina.

According to Smith & Wesson, under no circumstances should these rifles be loaded or fired. When they were sold to the dealer, there were stickers applied to the buttstocks that stated that. It is suggested that anyone who does fire them use downloaded ammunition. My friend was so excited after taking possession; he immediately made his way to the Ukumehame firing range. Determined to defy logic, he shot a box of ammo through it without incident. The gun ran great- a real pleasure to shoot.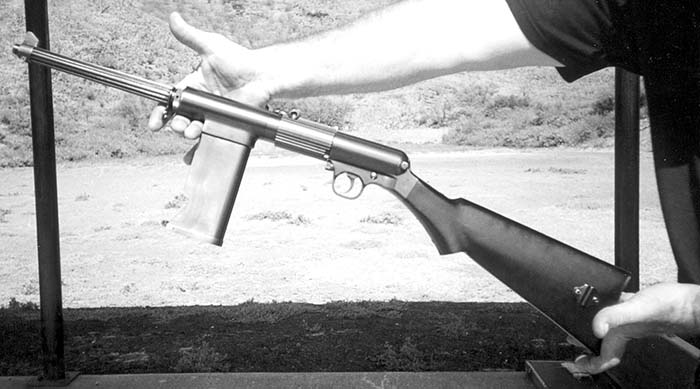 Aloha from Maui!

Mr. Craig Newman, AKA Captain Craig, passed away on June 12, 1999 while taking his morning walk along Kaanapali Beach. He was 53 years old. Craig was a wealth of knowledge especially when it came to Smith & Wesson firearms. He is deeply missed in the gun community on Maui.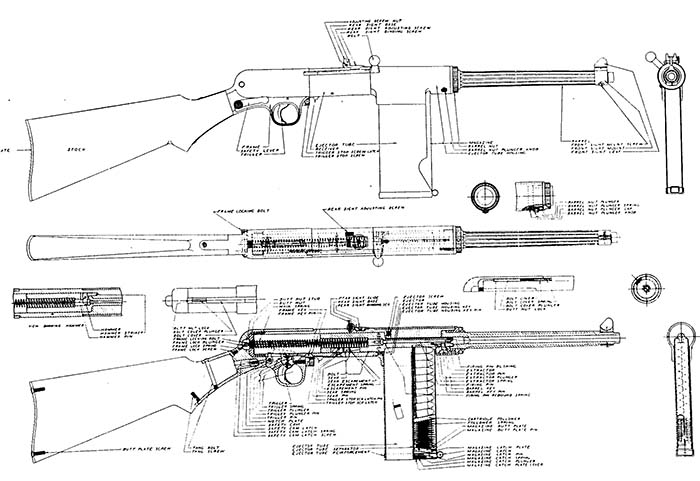 This article first appeared in Small Arms Review V4N11 (August 2001)