Looking for a modular chassis for your P320? Check out Strike Industry's new SMC-ALPHA for the SIG Sauer P320. It provides 20 or more firearm configurations, allowing you to set up your pistol any way you like. Simply insert a P320 fire control unit (9mm/.357SIG/.40S&W), along with a complete slide assembly and your favorite SMC accessories and you're ready to go.
It's machined from 6061-T6 aluminum, making it sturdier and more durable than polymer competitors. The SMC Standard length is designed to work with the full-size P320 4.7in slide and barrel. When used with a carry or compact P320 3.9" slide and barrel, the SMC chassis' dust cover will overhang the muzzle. (Using the SMC Standard with a P320 3.6in slide and barrel is not recommended.)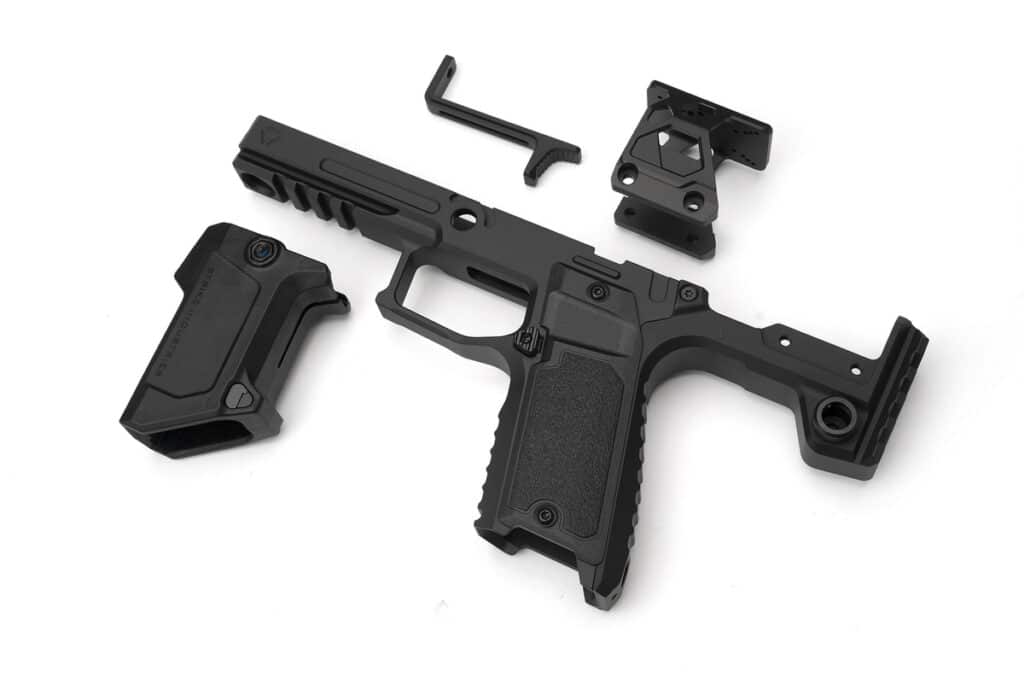 Included in the box is an ambidextrous side charging handle with slide cover mount so an SMC-equipped P320 can be racked from either side of the slide. The SMC rear module backstrap is pre-installed, giving you rear ambidextrous QD sockets and a rear Picatinny rail mount to attach accessories. The SMC Multi-Optic Mount allows you to use just about any mini red dot sight (MRDS). It's compatible with optics that use footprints from C-More, Leupold DeltaPoint Pro, Docter/Noblex, Trijicon RMR, Shield Sight and all SIG Sauer open reflex sights. The SMC chassis and optional it's optional spare magazine holder both include the SI Modular Magazine Release.
Product Features:
Included Ambidextrous Side Charging Handle with Slide Cover Mount
Works with SMC Rear Module Backstrap (included) and can be configured as a conventional P320 grip module with optional SMC LITE Backstrap (sold separately)
SMC Multi-Optic Mount (Footprints: C-More, DeltaPoint Pro, Docter/Noblex, RMR, Shield and all SIG SAUER Open Reflex Sights)
Ambidextrous QD sockets located on SMC Rear Module Backstrap
Picatinny rail located at front bottom of chassis and on Rear Module Backstrap for accessories
Optional to use Spare Magazine Holder for SIG SAUER P320 with SI Modular Magazine Release is included
SMC ALPHA for SIG SAUER P320 (Standard) uses SIG SAUER P320 OEM fitment takedown lever and P320 magazine release, SI Modular Magazine Release is pre-assembled and included
Machined from 6061-T6 aluminum, sturdier and more durable than polymer