The base model of the Mossberg MVP 7.62 Patrol Rifle as it was received for testing. The rifle comes with highly viable rifle sights as well as a Picatinny rail mount for optics. The rifle is also shipped with Mossberg's own 10-round magazine.
By Chris A. Choat
When Mossberg first introduced their MVP (Mossberg Varmint-Predator) Rifle it was available in .223/5.56. The rifle combined the accuracy of a bolt-action rifle with the ability of being able to use high capacity magazines like a semi-auto using commonly available AR-15 magazines. The MVP rifles were available in both wood and synthetic stocked models. It was a great rifle and sales were brisk
When Mossberg came out with the .223 MVP Patrol Rifle with a threaded muzzle, a vast number of shooters asked the Mossberg team if they were going to come out with a magazine fed 7.62/,308 version. Mossberg has responded with just that and have introduced the MVP Patrol Rifle in 7.62/.308 that has proved to be not only very accurate but is an ideal, fast handling rifle for either a pick-up truck or patrol car.
The rifle received for testing was the base or basic model. The 7.62 MVP Patrol Rifle comes in two models; the first is the basic model like was used in our test and the second model is the same rifle but equipped with a scope and a padded slip-on cheek piece. Both models are available with either a black or tan stock and are shipped with a 10-round Mossberg magazine.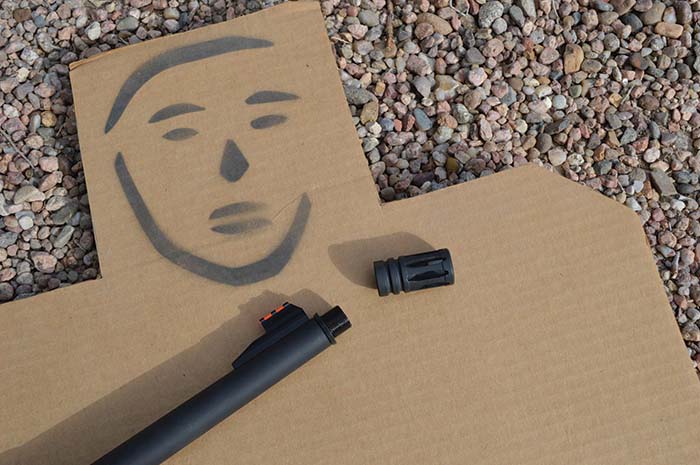 The MVP Patrol 7.62 NATO has a synthetic stock that is textured and has pressed-in checkering on both the grip and forearm. The stock comes with a cushioned recoil pad and has sling swivels mounted both front and rear. The rifle is shipped with sights that include a fully adjustable rear and a front sight that includes a red fiber optic rod that produces a very vivid sight picture even in low light conditions. The rifle also comes with a Picatinny scope rail already mounted. The scoped version of the rifle comes with a 3-9x32mm scope. The gun has a 16.25 inch barrel that has a medium bull profile and is threaded 5/8 x 24. The threads are protected by an A2 style flash hider. The barrel has a 1 in 10 inch right hand twist. The MVP series of rifles all come equipped with Mossberg's LBA (Lightning Bolt Action) trigger that is user adjustable down to about 2 pounds. The test rifles' trigger came from the factory with a 2.1 pound trigger pull – very crisp for a factory trigger. The overall finish of the barrel and action is what Mossberg calls a Matte Blue but in reality is a matte black that looks like black Parkerizing. The gun weighs in at a very light 7.5 pounds.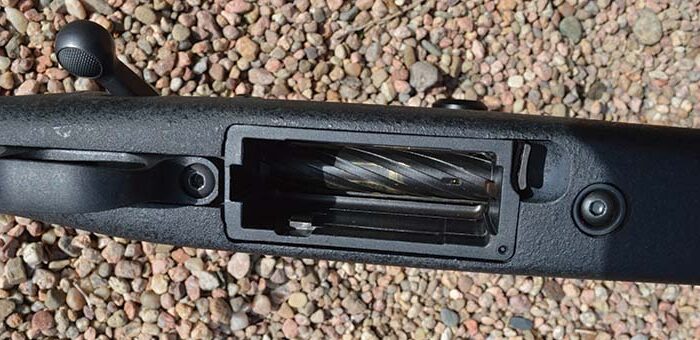 The rifle is fed from a supplied Mossberg 10-round box magazine. The unique thing about the gun is the fact that it will accept both M1A/M14 and LR-306/SR-25 style magazines. This is accomplished by the use of a double magazine catch. When viewed from the bottom the magazine well has a front mounted catch as well as a side mounted catch. So whether the magazine has a front mounted or side mounted notch it will fit the rifle. The magazine catch is located right in front of the magazine well and just off to the right hand side. It is in the perfect position for a right hand shooter's index finger to release it. Magazines used in the test included the original Mossberg 10-rounder, a DPMS 19-round, the 10-round, 20-round and the new 25-round MagPul P-Mags and the just released Lancer L7 Warfighter 20-round magazine. All magazines fed and functioned without any problems. The Mossberg magazine locked into the mag well the most solid followed by the Lancer. The DPMS mag and the P-Mags fit the mag well a little loose, even rattling a little, but caused no problems with functioning even loaded to capacity.
During the testing most shooting was done from a rest at 100 yards. The MVP proved more than capable of outstanding accuracy. The short 16.25 inch barrel seems to produce groups equal to rifles with much longer barrels as long as the shooter did his part. Groups with a very steady shooter measured right at 1/2 inch with a couple slightly smaller. The MVP's barrel has a 1 in 10 twist rate and all the ammunition tested in it had bullets in the 168, 175 and 200 grain ranges. All of these loads shot extremely well with none of them being much different in the accuracy department.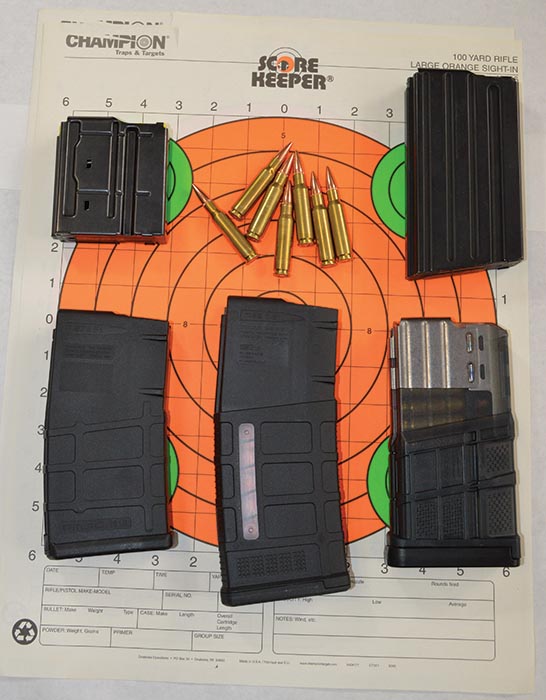 As the MVP Patrol 7.62 rifle comes with a threaded barrel, it just begs for a quality suppressor to be added to it. The author has been testing a couple of new suppressors from APD (Asymmetric Product Development) LLC and, at least in this author's opinion, are the Rolls Royce of suppressors being produced today. Two of these suppressors, one in 5.56 and the other in 7.62 caliber, were received several months ago and have been in test on various rifles since then. In 2007, Asymmetric Product Development, LLC began research and development of a suppressor design that would offer all of the benefits of an efficient device, be able to withstand daily punishment from professional operators and competitive shooters yet would not require rebuilding or even frequent cleaning. These efforts have rendered a product with excellent sound as well as flash suppression and afford the end user a very low maintenance alternative to the more common K baffle designs. Taking a cue from the aerospace industry and applying manufacturing and assembly principles used to keep jet aircraft engines intact under harsh operational conditions allowed APD to develop highly efficient designs. Using additive manufacturing concepts and a proprietary assembly process results in a can made from the highest quality materials with far less waste at a competitive price. All of their suppressors are produced using 17-7 and 304L stainless steels and Inconel 718. APD suppressors are extremely durable and have been torture tested to literally tens of thousands of rounds without cleaning or failure. These are really tough suppressors. As far as this authors knows these are one of the only suppressors that will stand up to continuous full-auto fire from short barreled rifles in either 5.56 or 7.62.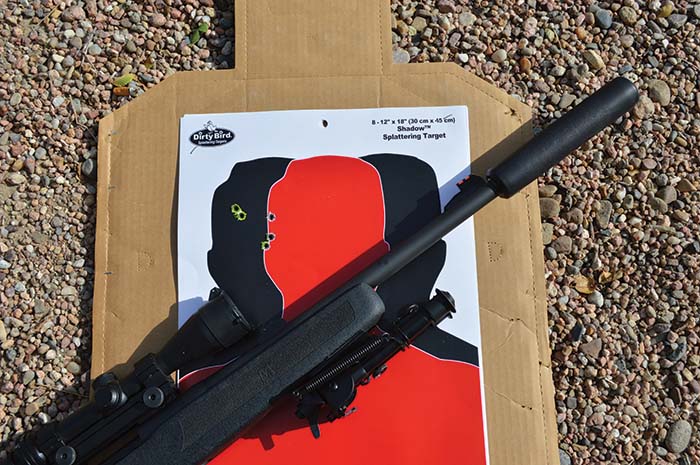 The accuracy testing with the 7.62 suppressor installed proved to be very surprising. There was absolutely no point of impact change with the suppressor installed. The APD suppressor used in this test was their Mark II which is 1.5 inches in diameter and 7.25 inches long. The suppressor has what looks to be a "stippled" texture on its outer surface. Added benefits of the APD suppressors include zero flash signature as well as no first round "pop" as experienced with other suppressors. The suppressor offer a solid monolithic construction and are sub-caliber compatible with minimal efficiency loss. This allows one suppressor to work on multiple caliber firearms. If you are looking for a suppressor with outstanding decibel reduction and superior durability you need look no further than APD.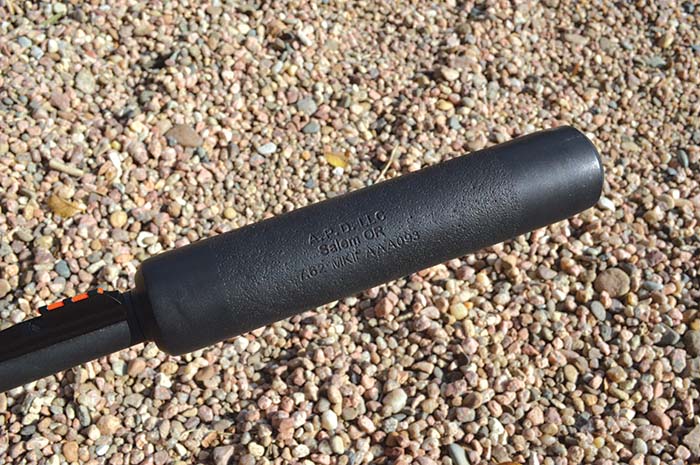 In conclusion, the Mossberg MVP Patrol Rifle in 7.62 is a handy, lightweight rifle that has the time proven Mossberg name behind it. Our test rifle showed outstanding accuracy with perfect fit and finish. The addition of a factory threaded barrel allows the rifle to be used in dual roles of either a tactical or a hunting rifle as now more and more states are allowing hunting with suppressed rifles. With a retail price of just over $700 this rifle can fit into any tactical team's budget or can outfit a hunter for less than most other rifles out there. All this and the fact that it accepts readily available magazines make it an all-around winner.
This article first appeared in Small Arms Review V19N3 (April 2015)