By Robert Bruce

(Editor's Note: The National Defense Industrial Association's annual international infantry meeting is a priority for Small Arms Review because this is where the key players from industry, science, government and military get together to support arming and equipping current and future soldiers. As the Global War on Terror continues, US and allied troops are benefiting enormously from the latest developments in guns and gear, many of which can be traced back directly to challenges presented in previous NDIA gatherings. Urgent requests of today will be put in front of the organization's membership to accelerate solutions to new threats. Soldiers of the near and distant future will also benefit from work set in motion by papers presented at NDIA by forward thinkers. These visionaries screen the vast outpouring of scientific endeavor then chart a course toward giant leaps in protection of our forces and destruction of our enemies. Contributing Editor Robert Bruce, with the distinct advantage of having attended and reported on many of these meetings over the years, provides some highlights of NDIA's 2005 International Infantry and Joint Services Small Arms Systems Annual Symposium, Exhibition and Firing Demonstration. – Robert G. Segel)
GI Joes and Janes fighting the Global War on Terror (GWOT) are getting some damn good stuff through the system these days. Among noteworthy pieces of gear are a variety of day optics that help pinpoint bad guys in crowds of ordinary citizens and increasingly sophisticated night sights that strip away the cloak of darkness and even "see" through smoke and sandstorms. Just about everything from pistol magazines to "smart munitions" is more and better as America's vast technological advantages and economic resources are directed toward supporting the warfighter. Who thinks this has resulted from the collective wisdom and dedication of legions of bureaucratic bean counters? SAR argues that troops fighting terrorists today – and those who will undoubtedly be doing so well into the foreseeable future – should credit NDIA in general and its Small Arms section in particular.
This worthy organization's 2005 annual gathering was held in Atlantic City, New Jersey's impressive Convention Center over three information packed days beginning on 17 May. Each morning kicked off with a general session, giving all an opportunity to benefit from prepared remarks by authorities like Marine Corps Systems Command's top general and the Army's Program Manager for Small Arms.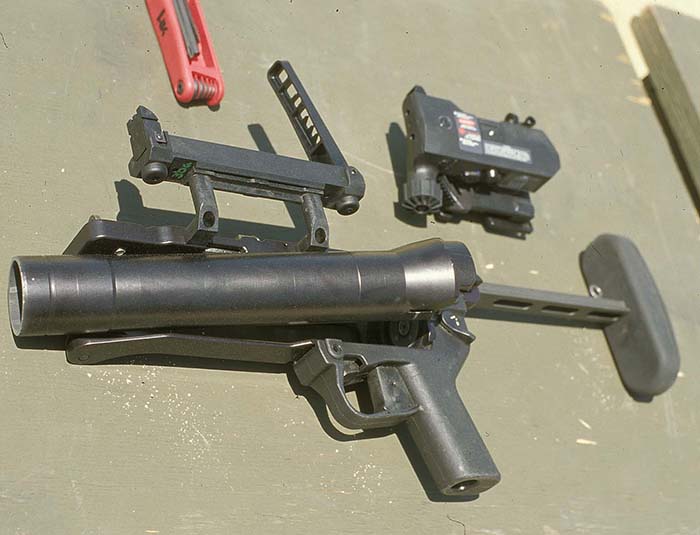 Back to School

Afterward, attendees had to make some hard choices among more than fifty multi-track panel discussions, informational and technical papers. So, there was a fair amount of shuttling between conference halls where experts explaining ammunition innovations spoke concurrently with those of mortars. Or small arms at the same time as international infantry, then fire control vs. weapons and ammunition. Luckily, PowerPoint files with many of these presentations are readily available to all though the internet. Inexcusably, most postings omit the text of prepared remarks so one is left for the most part with meatless bones to gnaw on. Wise to this frustrating situation, many attendees run tape recorders but that presents the equally daunting task of reviewing hours and hours of poor quality audio. Note-taking requires a fast pencil and a keen eye for essential points. What follows are some brief points from downloads, tapes, slow pencil, and jaundiced eye.

Those needing more are strongly encouraged to log on at www.dtic.mil/ndia/2005smallarms/2005smallarms.html and scroll down to the titles listed here in the order posted.
LETHALITY 101 by Shawn Spickert-Fulton, US Army ARDEC. "When a shooter asks the experts about his weapon's 'lethality,' he is likely to get more responses than he has rounds. These answers, like the shots, will all be off target to some degree." The Joint Service Wound Ballistics Team is working to clarify, define and standardize methods of gauging relative lethality. Will this someday put an end to endless silliness written about "knockdown" and such?
MORTAR OVERVIEW by Major Paul Shuler, APM for Army Mortar Systems. This set the stage for seven in-depth papers on the latest developments in the infantry commander's "hip pocket artillery," including smart ammo and mortars linked to the digital battlefield.
PROGRAM MANAGER SOLDIER WEAPONS OVERVIEW by Colonel Michael Smith, PMSW. Colonel Smith led an in-depth presentation by key members of his team on what's in the pipeline for near term and later issue. (Editor's Note: SAR was given the opportunity to conduct a wide-ranging interview with the colonel and his two top deputies. A comprehensive feature on the vital work of PMSW may be found in Small Arms Review, Vol. 9, No. 3, December 2005.)
JOINT SERVICES SMALL ARMS CAPABILITIES UPDATE by Joel Goldman, JSSAP Chief. JSSAP is working to correct identified shortcomings in current infantry weaponry with respect to target acquisition, lethal and non-lethal capabilities, personal defense, and detection avoidance. The US Army National Small Arms Center and the National Small Arms Technology Consortium are actively seeking technologies that advance state-of-the-art and improve capabilities to sustain military supremacy so JSSAP can plug these in to both today's weapons and developmental platforms. Among JSSAP's many cutting edge programs may be found the 25mm XM109 Anti-Materiel Rifle and XM29 Integrated Airburst Weapon System.
LIGHTWEIGHT SMALL ARMS TECHNOLOGIES by Kori Spiegel, JSSAP, and Paul Shipley, AAI. In February 2005, AAI won JSSAP's multimillion dollar contract for further development of what may emerge in about two years as a replacement for the M249 Squad Automatic Weapon. "Alternative materials" are being explored for the receiver and barrel along with caseless or plastic cased ammo. See also: COMPONENT TECHNOLOGY INVESTIGATIONS FOR LIGHT MACHINE GUN APPLICATIONS by Lucian Sadowski, ARDEC.
FUTURE FORCE WARRIOR UPDATE by John Edwards, ARDEC. Tomorrow's high tech infantryman is on track from a Stryker Integrated Land Warrior sometime around 2007 to the Objective Ground Soldier System of 2014. Along the way technological developments now in the works will be incorporated to increase survivability and lethality.
FCT (Foreign Comparative Testing) and SOCOM SHOULDER FIRED WEAPONS by Keith Martin, SOCOM. It's no secret that American special operators – Rangers in particular – have a great affection for their awesome 84mm Carl Gustaf M3 recoilless launchers. The family of off the shelf ammo includes some spectacular rounds such as the newly procured ADM 401 Area Deterrent Munition packed with more than a thousand flechettes.
MINIATURE DAY/NIGHT SIGHT DEVELOPMENT by Barry Gatewood, NSWC Crane. Shortcomings in SOPMOD sighting components are being addressed with new COTS (commercial off the shelf) products including Elcan's quick switch 1 to 4 power day Enhanced Combat Optical Sight-Carbine, Litton's "starlight" Miniature Night Sight Version II and Insight Tech's Clip On Night Vision Device Thermal.
LIGHTWEIGHT REMOTELY OPERATED WEAPONS SYSTEMS by Anthony Sebasto, ARDEC. Recently demonstrated combat success of the formidable 600 pound CROWS (common remotely operated weapon station) compels development of smaller and lighter systems at ARDEC. One is the Picatinny Lightweight Remote Weapon Station, only 200 pounds ready to shoot. Another is SWORDS, familiar to our readers as the weaponized TALON robot.
S.C.A.R. – SOF COMBAT ASSAULT RIFLE by Troy Smith, NSWC Crane. FN won the initial contract for the 5.56mm SCAR Light so the Belgian firm has a lock on further development and manufacture of the 7.62mm Heavy version and the 40mm Enhanced Grenade Launcher Module.
MPRS – MULTI PURPOSE RIFLE SYSTEM by Alon Guttel, Israel Military Industries. While Uncle Sam continues long-track development of the XM29 Integrated Airburst Weapon System, IMI is said to have already fielded something with very similar capabilities. MPRS is a modular bolt-on system consisting of a sophisticated fire control system that interacts with tube launched "smart" airburst programmable 40mm grenades or advanced muzzle launched ordnance. Need quick aerial recon but no spy drones available? Shoot a Rifle-Launched Reconnaissance Grenade carrying a miniature TV camera that sends pictures back to your GI issue Palm Pilot!
40MM AIR BURSTING MUNIITON SYSTEM AND LIGHT WEIGHT AUTOMATIC GRENADE LAUNCHER by Fong Kok Chung and Aw Chen Hok of Singapore Technologies Engineering. Similar in capabilities to General Dynamics' 40mm MK47 Advanced Lightweight Grenade Launcher, the STE LWAGL boasts a computerized day/night fire control system and a "smart" airburst blast and fragmentation warhead. Total system weight of 65 kg breaks down into three loads of 23.5 kg or less for individuals to carry.
Mysteriously absent from the posted proceedings is a presentation by Transformational Defense Industries' Tim Lindsay and Andrew Finn on "Super V," an exciting new recoil-mitigating technology demonstrated in the prototype KRISS submachine gun firing full power .45 ACP ball at 1,300 rpm. TDI expects to apply "Super V" to long arms as well and has promised SAR a live fire evaluation as this program matures.

Awards

This year's George M. Chinn award was presented to Rich Audette of Program Manager Soldier Weapons and the Carlos Hathcock award went to Christopher Mitternight of Naval Surface Warfare Center Crane. Also honored for years of exemplary professional service were Sal Fanelli and Jim Schatz of Heckler and Koch, Marvin Maule of Aberdeen Test Center, Colonel Michael Smith and Lieutenant Colonel Matthew Clarke of PM Soldier Weapons, as well as Lieutenant Colonel Robert Carpenter, now with National Defense University.
Dr. Stephen Small, JSSAP's own national treasure, succeeded again this year in telling a century-old story that was spot-on relevant to today in his Awards Luncheon address "A Bold Initiative: Colonel Miles and the Lee Magazine Rifle in 1879." This fast-cycling bolt action became better known in later times as the British Army's beloved Short Magazine Lee Enfield. Small's postscript had heads nodding in agreement that true visionaries should not expect to be warmly embraced by entrenched bureaucracies. "As for the Lee rifle, it has the dubious distinction of being the most successful rifle 'never' to be purchased by the U.S. Army."

Hardware Show

Welcome respite from information-rich presentations was provided by numerous breaks in the large exhibit hall where more than sixty commercial firms and government entities showed their wares. The diverse subjects of many dry technical papers and an alphabet soup of acronyms took form there in an array of things to pick up, point, look through, and discuss.
From AAI with a model of JSSAP's conceptual "Lightweight Machine Gun" and ammo mockups (www.aaicorp.com) to Weibel Scientifics' precision instrumentation (www.weibel.dk), attendees got up close with new hardware and knowledgeable product reps – many of whom are the engineers responsible for design and production.

SAR Editor-in-Chief Dan Shea and this reporter started at opposite ends of the hall searching for what's new, improved, and noteworthy. Some observations from our pooled notes:
NSWC Crane, the superstore for SEALs and Special Boat units, has combined a deck mounting soft recoil heavy machine gun mount with smoke projectors. Shoot, screen, scoot!
JSSAP is working diligently on reducing the bulk and weight of remotely-aimed weapons stations and PMSW is proud of many quick-fixes to urgent soldier requests. Some cases in point are the SWORDS robot gun mount, the eleven pound XM192 tripod and an M240 with titanium receiver. www.peosoldier.army.mil.
Elsewhere in the hall we found Savit, supplier to PMSW for those handy soft pack belted ammo carriers and a neat little collapsible stock for the M249 SAW.
Reed Knight's candidate in PMSW's XM110 Semiautomatic Sniper System competition, a highly evolved SR-25 with a custom-built Leupold day optic, adjustable buttstock, and URX (Upper Receiver Extending) Picatinny Rail. www.knightarmco.com
Aimpoint's new 3Xmag, a quick-mounting three power magnifier optimized for in-line use with the M68 Close Combat Optic (Aimpoint CompML3). www.aimpoint.com
Elcan's SpecterDR, a dual-role combat sight that switches instantly from 1x close combat to 4x for extended range engagements. www.elcan.com/specter
Buffer Tech showing Enidine's remarkable new M16 buffer, as well as an improved MagCinch with built-in bottom pull tab and several sizes of MOLLE compatible pouches to hold multiple cinched mags. www.buffertech.com
Otis Technology continues literally "on a roll" with a bunch of different compact weapons cleaning kits built around a flexible, coiled-up cleaning rod. Uncle Sam and most everybody else dealing with anything dirty from pistols to grenade launchers are using Otis kits – now available in stylishly practical desert tan. www.otisgun.com
Brownells nifty 3-way combo cleaning head for 40mm blooper barrels and plenty of other stuff from their indispensable catalog. Don't go to war without it! www.brownells.com
MEI's Hellhound and Draco 40mm enhanced effect ammunition (www.martin-electronics.com), perfect companions to Milkor USA's MGL-140 six-shooter 40mm blooper.
McNett's "Camo Form" stretch material for guns and gear in all the favorite disruptive patterns including USMC MARPAT and the new Army ACU digital. www.mcnett.com
Cobb Manufacturing's FA50(T) bolt action sniper rifle in .50 BMG caliber. www.cobb50.com
RUAG Ammotec's button-tipped, high energy transfer 9mm "green" ammo that is reputed to be in widespread SOF use including Germany's famed GSG9. www.ruag.com
Metal Storm is continuing development of its unique stacked caseless ammo/launcher technology on several fronts including the planned live fire demonstration featuring an unmanned helicopter equipped with a cluster of downward-blasting MS tubes. www.metalstorm.com

Range Time

Atlantic City has just about everything one might expect in an oceanside vacation playground with the glaring exception of a suitable military multipurpose range. So attendees climbed aboard chartered busses late Thursday morning for a pleasant hour-long drive up the Garden State Parkway to the US Army's Fort Dix.

HK's Sal Fanelli once again did most of the hard work in coordinating and emceeing the Small Arms Symposium's traditional government and industry live fire demonstrations on good old Range 59C. With its sweepingly panoramic vista of Dix's enormous impact area, the range's "safety fan" allows everything from popguns to air strikes so collateral damage wasn't an issue.

What was a big issue arose from New Jersey's draconian and punitive gun laws, discouraging all but the most determined commercial firms from bringing in weapons and ammunition for the event's demos. While a suitable subject for a full page rant, suffice to say that the NJ State Police's petty prohibitions and absurd obstacles to law-abiding defense contractors contribute nothing to national security. If half the attention NDIA got was directed at Newark, all of the Garden State would be a safer place to live.

Fortunately, the US military doesn't face such harassment so planned demonstrations by some of Picatinny Arsenal's better-known organizations could proceed. The buzz among attendees centered on plans by JSSAP and Program Manager Soldier Weapons to show and shoot most of the lineup of experimental weaponry so it made sense to drive out early to cover setup and test firings.

Sure enough, ARDEC and contractor technicians soon rolled in with truckloads of hardware and plenty of ammo for all the promised XMs. Apparently because SAR works hard to stay on the "good guy list," we were allowed to not only stick around but also get in close for detailed photos.

The pictures accompanying this feature document the extraordinary first "public" firing of a HEAB (high explosive airburst) round from ATK's 25mm XM25 airburst weapon, the newly-selected 40mm XM320 grenade launcher from HK, and General Dynamics' cleverly convertible XM307/XM312 in 25mm and .50 caliber respectively. Additional Picatinny demos included the Barrett .50 cal. M107 Long Range Sniper Rifle and its astonishing big brother, the 25mm XM109 "Payload Rifle."

The final government demo was PMSW's CROWS (common remotely operated weapon station) fitted for the occasion with the delightfully anachronistic M2HB, John M. Browning's 85 year old design that's still going strong worldwide. CROWS, usually mounted atop an up-armored HMMWV, is a remotely aimed and fired techno marvel that allows a gunner seated at a computer station inside in relative safety and comfort to find and fire on enemies in all light and weather situations.

Industry Demonstrations
More homage to the influence and importance of NDIA Small Arms Symposium attendees came from a determined firearms industry cadre with the strength and fortitude to jump through New Jersey's flaming hoops.

HK Defense led the way by unveiling its innovative HK416 Enhanced Carbine. This complete rework of the Stoner/Colt M4 features a short stroke gas piston, simplified bolt assembly, no-rebound buffer, and free-floating barrel inside a four quadrant rail forearm. A slightly modified version of its underbarrel mounted 40mm side-opening grenade launcher was recently selected by the Army's PMSW as the XM320.

HK is always savvy to what makes demonstrations impressive and memorable. HK's Rob Tarter completely submerged the carbine in a barrel of water then immediately fired a thirty round burst. Similarly, Phil de Garis' grenade blooping was done with some special 40mm tracer rounds that arrest the eye as they lazily arc to the impact point then smash open to release a cloud of orange powder. www.hkdefense.us

Armalite's president Mark Westrom got some help from Kathy Roa, PMSW's public affairs officer, for a suppressor muffled demo of his firm's entry in the Army's hotly-contested XM110 SASS (Semiauto Sniper System) trials. www.armalite.com

Lietner-Wise Rifle Company's petite Marianne Rosato showed there was nothing to fear from recoil in firing the LW15 .499 in semi and full auto. This M16 type rifle is cleverly modified to reliably feed and fire L-W's astonishing 300-grain .499 caliber cartridges, delivering a stunning 1,875 foot pounds of energy at 200 yards. www.leitner-wise.com

Grenade blooping reached epic proportions as Milkor USA's Richard Solberg Jr. repeatedly popped 40mm target practice rounds from his firm's MGL-140 six-shooter at a menacing lineup of silhouettes. Reloading is fast and easy with the launcher's swing open design and all six rounds can be squeezed off in about three seconds. Sadly, safety nannies had previously ruled out any firing of MEI's spectacular new DRACO and HELLHOUND grenades. www.martin-electronics.com

Remington is aggressively in there for some PMSW competitions including the XM26 Modular Shotgun and the XM110 SASS. Mike Haugen showed how his firm's 12 gauge 870 based Modular Combat Shotgun could be quickly customized in four versions from high capacity conventional to underbarrel accessory.

Haugen used the shorty Breaching version to demonstrate the safety and effectiveness of Remington's no-lead and frangible Disintegrator Number 4 buckshot ammo by blowing open a door without skipping a beat in his narration. www.remingtonmilitary.com

Once the last round had been fired in formal demonstrations the line opened up for event attendees to come forward and put a few rounds downrange. Regulations kept all but active duty military and government program personnel from firing the JSSAP and PMSW weapons but all were welcome by the industry presenters.

Want bragging rights from full auto with a .499? Line up at Leitner-Wise. Curious about how HK made the troubled M4 workable for special operators? Slam a High Reliability mag into a 416 and pump it dry. Always hated to reload after every round from your M203? Thump out six 40 mike-mikes from an MGL-140. Worth the price of admission all by itself….

This article first appeared in Small Arms Review V9N4 (January 2006)